The Japan Open was the third leg of the newly established FINA World Series, and saw the home team sweep four out of the five gold medals. This year's edition was the biggest yet, with 20 nations participating and giving them a chance to prepare and (literally) test the waters ahead of Tokyo 2020.
The Japanese national team swept all events but the solo, where Spain's Ona Carbonell made her international season debuts by unveiling highly-anticipated new choreographies in both the technical and free events. Her technical solo saw her transform into a snake, while her free routine was to a version of Edith Piaf's "Padam Padam," where she showcased creative and risky moves along with numerous original transitions.
"[I tried] a very emotional, different, innovative choreography," said Carbonell during the press conference. "It's a very difficult routine, non-stop, all the time I have one leg or one arm up — very new skills for me for the solo angle. I want to show a good technique, and to express myself and do a really good artistic routine."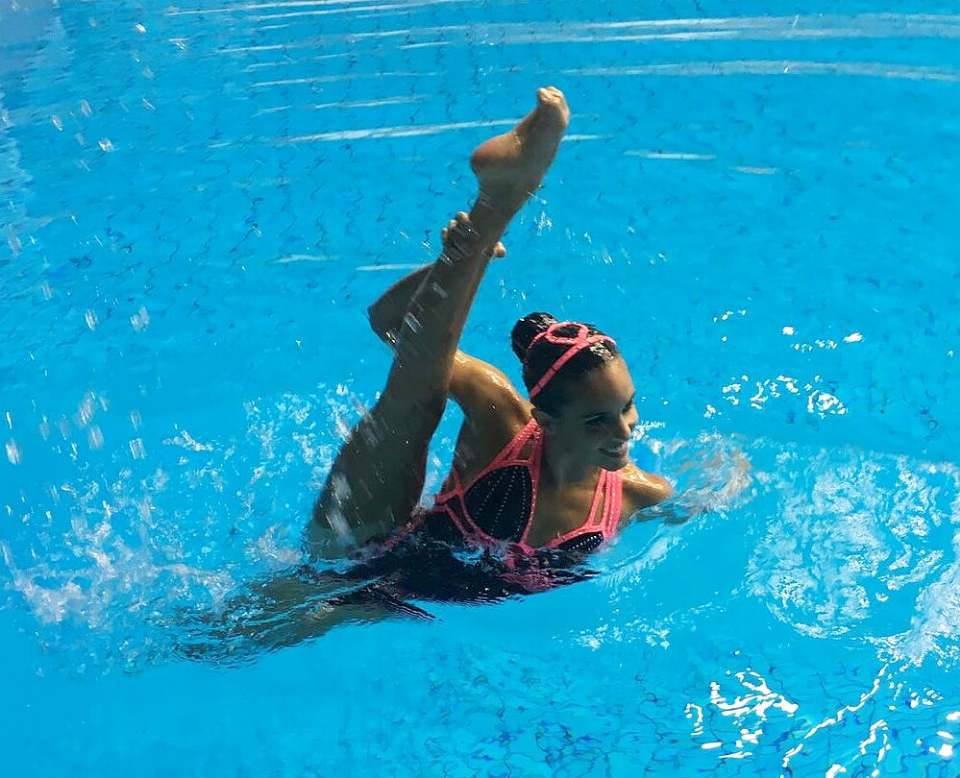 Three-time World Champion Virginie Dedieu has worked with Carbonell on both of these new solos, and her artistic 'touch' is definitely apparent in the choreography. Hate it or love it, the Spaniard definitely stepped out of her comfort zone and it was great to see her go for it. As this was her first international competition and her first chance to get feedbacks, we can expect many changes to be made before her next appearance likely at the Spanish Open later this month. The solo podium was completed by Yukiko Inui from Japan (182.9121) and Jacqueline Simoneau (178.7234) representing Canada.
Evangelia Platanioti from Greece also made her season debuts here, and showcased a new free solo to a soft, piano version of "Swan Lake." While the theme and music has been quite overused in synchro, she displayed a great artistic research and some interesting moves that highlighted her flexibility. France's Eve Planeix, one of the youngest swimmer of the competition, placed fifth in the free event. She is looking more and more likely to become the nation's soloist at Worlds in Budapest as she once again placed ahead of teammate Maureen Jenkins, and with Estel-Anais Hubaud seemingly focusing on the duet event for the rest of the season.
In the duet competition, Japan won the gold with the pairs of Inui and Mai Nakamura in the technical event, and Inui and Kanami Nakamaki for the free routine. Canada's Olympic duet of Simoneau and Karine Thomas competed for the first time this season and grabbed the silver medal.
"We performed this free routine at the Olympics in Rio," explained Simoneau. "The theme is heartbreak: a relationship goes through the anger, the frustration, the sadness, the happiness and the joy, and we live through these emotions in our routine."
They had some direct competition with a second Canadian duet of Claudia Holzner and Gabrielle Brisson vying for that Budapest spot as well. However, Simoneau and Thomas proved they have not miss a beat since Rio by distancing themselves from this new senior pair, even though they have not been able to train together as much as they would have liked. Indeed, Thomas has been living hundreds of miles away, but from now on both her and Simoneau will be in Montreal to properly train for Worlds, which is set to be Thomas' last hoorah in synchro as she has already announced she's retiring after this season.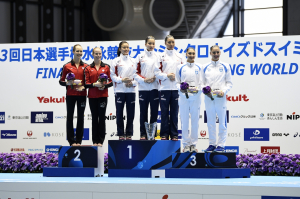 The Greek pair of Platanioti and Evangelia Papazoglou won the bronze medal and shook up the duet hierarchy established in Rio where they had finished behind France and the United States. Here, the two left both of these nations in the dust as they displayed maturity and a strong intention on coming back up the European and World rankings. Similarly, Mexico continued its rise within the international standings, further distancing itself from its direct rivals France. The French pair actually had a bit of a rough showing in the technical event, and it led its duet to also be unexpectedly overtaken by the Nemich sisters from Kazakhstan in the overall standings.
In the mixed duet competition, Japan's Atsushi Abe and Yumi Adachi took gold by virtue of being the only participants in the event. They tremendously improved on their scores since the MUFE French Open, scoring one to one and a half points higher here than in Paris in both events. In Tokyo, the pair recorded 83.0235 in the technical routine and 85.3667 in the free for a total of 168.3902.
The Japanese once again came out on top in the team event with a total score of 184.7684 over silver medalists Mexico (171.2769) and Kazakhstan (158.1626) which won the bronze. In the free combination event, Japan dominated as well and easily won gold with 93.1667 over France (84.8000) and Kazakhstan (82.7000). The French are once again swimming a free combination after four years, and have decided to highlight their capital city Paris.
"We decided to do a choreography on Paris, and tried a different way to swim the combo, with soft music," explained head coach Julie Fabre. "Synchro is really athletic and everyone swims fast, so we tried to do something different. It's a new choreography, so the challenge was to see if the choreography was good. We have a lot of things to improve — technique, synchronisation and strength — but overall it was good."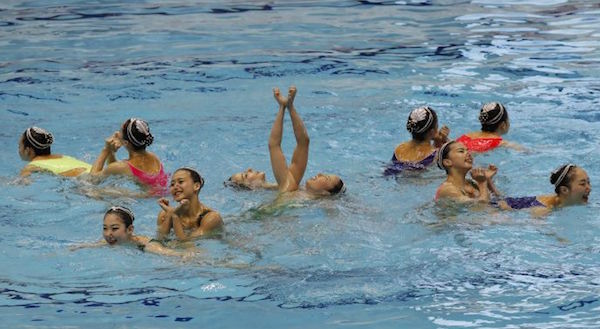 The World Series continue this week with the Canada Open competition from May 2 – 6 in Toronto before heading to Spain at the end of the month.
Article by Christina Marmet