Every day before practice at the Chinese Olympic Training Center in Beijing, Mayuko Fujiki finds a neatly stacked pile of notebooks waiting for her. As her swimmers warm up for the long practice ahead, she takes time to read through each of them and to make notes of any of her athletes' questions, comments, or anything else they wrote down for her that day.
When Fujiki was named the head coach of China's national synchronized swimming team in 2014, she faced a challenge she hadn't quite met yet in her coaching career: how to communicate with her athletes.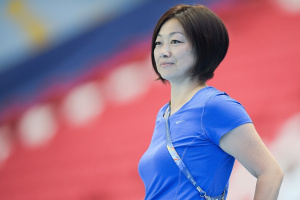 An Olympian swimmer for Japan and a former Olympic coach for Spain and the U.S., Fujiki was not familiar with the Chinese language. Upon realizing a translator was not only slowing practice down but also could not convey exactly what she wanted to say, she decided to try the written word.
"I really wanted the girls to not pretend they understood, and smile and nod when I gave them a correction," she explained. "I can tell each of them has the talent, but if I can't communicate with them directly or get them to answer me truthfully, I don't think I could get to know them well enough and make it work."
To overcome the language barrier, she gave each of her swimmers a notebook for her to write down technical corrections, individual reviews, questions, or random thoughts after each practice. She pencils anything she knows the swimmers would not be able to answer right away and that they need to translate. The next day, each team member gives them back to her with written answers, acknowledgments of her remarks, or more questions. Slowly but surely, a unique dialogue was created between her and her swimmers.
"It's so much better now," she said. "They can really get me, they understand me, and they even started to make jokes in English. In that process, I also got to know each of them better."
Indeed, the athletes not only improved their English skills and their understanding of Fujiki's personality, but they also opened up about their families, childhood memories or long term goals. As a result, she was thus able to successfully bond with her team and establish trust in order to properly prepare for the 2016 Olympic Games.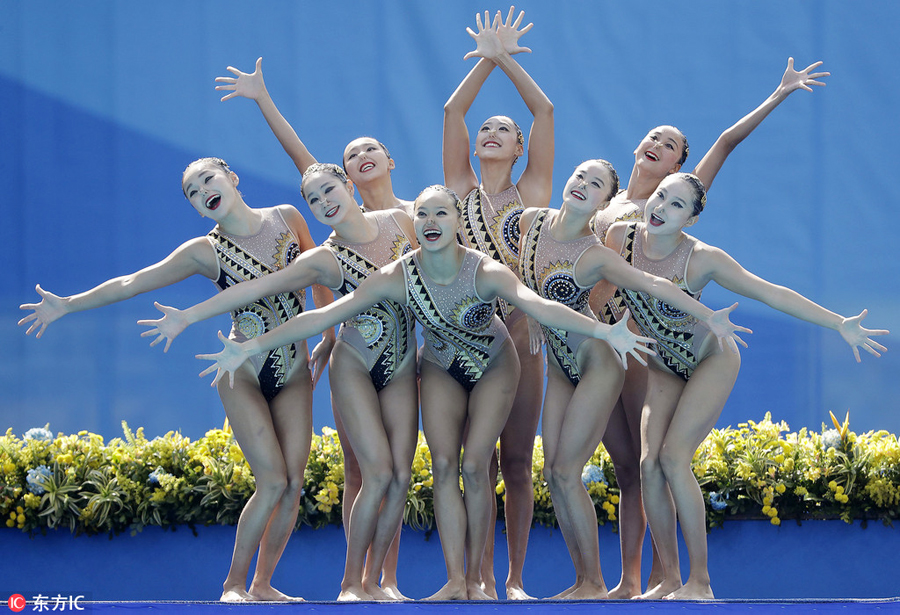 Like many coaches, Fujiki was first a synchronized swimmer herself. With her mother a synchro coach and judge, and her father a speed swimmer, it was only natural for her to follow in their footsteps. At the age of seven, she took on synchronized swimming in her home country Japan, but she quickly developed a fascination for the U.S. team while growing up.
"[The U.S. team] was my idol," she admitted. "I watched all [their] swims at the Olympics, when they came to Japan… I watched videos of them over, and over, and over."
As a junior in high school, she was given the opportunity to train with the Walnut Creek Aquanuts (WCA) team in California. With the full support of her parents, she traveled across the world to spend one season with WCA, and it felt like a dream come true for her to swim in the U.S. and to be amongst swimmers she had idolized for so long.
Back in Japan for her final year of high school, Fujiki continued her career with the national team and was then selected to compete in the 1996 Olympics, where she won a bronze medal in the team event.
Soon after, the only thing she wished for was to go back to the U.S. Fujiki had always preferred the American style of swimming over the Japanese way, and she was longing for it. "I missed enjoying swimming," she confessed. "In America, it's a completely different atmosphere, it's much more joyful."
According to Fujiki, the swimmers in Japan are very focused on technique and basic training. There, coaches first decide and agree on choreography only if it's possible to synchronize it. If it's impossible to do so, then the complexity or the angle of the movement is minimized. In the U.S., or in the Western synchro world in a broader sense, coaches "just go for it," and it doesn't matter if it is harder to match between all swimmers. What's important in this method of coaching is to create unique movements that nobody has done before.
"There is not much meaning to the choreography [in Japan]," she explained. "But I can't say which method is better. I respect how the Japanese are great at technique, but I feel they are missing movements."
Yearning to go back to a style of synchro that matched her personality, Fujiki graduated university in Japan and went back to WCA to swim with the team for two years. During her second season there, she started coaching the 11 and under team and found she thoroughly enjoyed it. She decided to call it quits with her swimming career, but to stay on as a coach. At the same time, she would help the Japanese national team whenever possible when they travelled to international competitions as a team manager, and she would lend a hand with translations, meetings and other administrative tasks.
The first contact with Spain happened in 2000, when she was competing with WCA at the Spanish Open. There, she got to meet Anna Tarrés, the then-head coach, and to befriend some members of the Spanish team. Two years later, Fujiki was back in Europe as Japan's team manager at the World Cup in Zurich, Switzerland. It was then that Tarrés offered her an assistant coach position with Spain as she wanted someone to help the team with technique before the 2003 World Championships in Barcelona, Spain.
At the time, Fujiki was still deeply involved with WCA, so she turned down the offer. In April of 2003 after the U.S. National Championships, Tarrés asked her again. This time, Fujiki agreed but clearly stated that it would only be to help the team for the few months before the World Championships.
"I went to Barcelona with just one bag thinking it would be a four-month deal," she laughed. "I ended up staying almost eight years."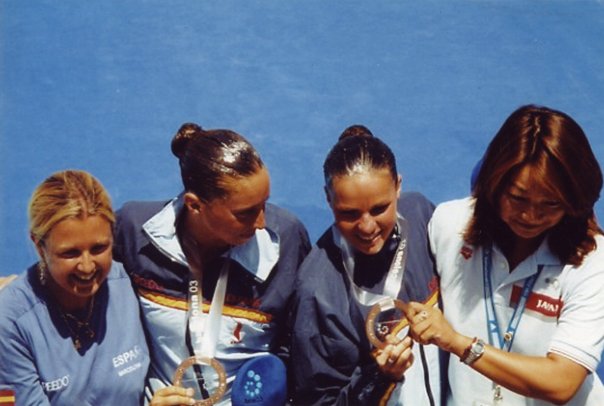 Fujiki quickly realized how much different the Spanish situation was than she expected, and especially compared to what she had been used to in Japan or in the U.S. "I was in shock by how different it was," she said. "They didn't have a good underwater speaker. They never even tapped the figures or land-drilled the routines." [Editor's note: land-drilling occurs when swimmers work on a synchro routine out of the water with hand movements.]
Nonetheless, Fujiki was given the green light from Tarrés to do any technique work she'd like. Despite the initial difficulties, it was an exciting time for both her and Spain. Over the years, Tarrés had created original and memorable routines so the sport could keep growing and become more popular in the country. Synchro was slowly gaining in reputation and funding, and hosting Worlds created a pressure that Fujiki had never experienced before. The home team was aiming to medal for the first time ever, so it was Spain's time to shine.
"I learned a lot from Anna and the swimmers," Fujiki said. "How to be open-minded, how great it is to have your own style and to stick with it, and to always look for something new that nobody has done."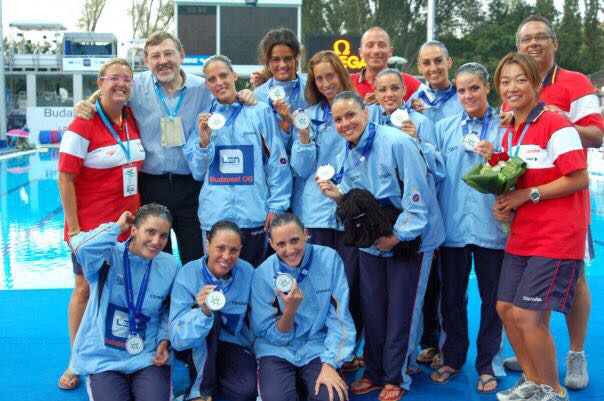 Things were going so well in Spain that after the 2003 World Championships, she decided to stay and not return to the U.S. Fujiki had bonded right away with the Spanish athletes. She not only helped with the senior team and duet of Gemma Mengual and Paola Tirados, but she was also right there coaching the younger generation of swimmers like Ona Carbonell or Marga Crespi when they first joined the national team training center CAR Sant Cugat in Barcelona. These two, among others Fujiki coached, would go on to become some of the best swimmers in the world a few years later.
"I still remember the first day I met Ona," Fujiki recalled. "I stayed for these younger swimmers for extra training after the national team had finished. We worked on figures a lot because they were still in the junior category. They arrived very young and were trying to catch up to the older swimmers, but little by little, they became the stars."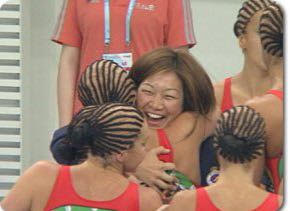 She was alongside the Spanish national team as it racked up the medals at the various European and World Championships over the next years. At the 2008 Olympic Games in Beijing, China, she helped Spain win the silver medal in the team and duet events, the nation's best-ever finish to this day (the second-place finish was repeated in 2012 by the duet).
Fujiki contemplated taking a break after 2008 but she was asked to continue as Spain would be facing one of its first major generational changes for the 2009 World Championships, and so she did.
Shortly after, the U.S.' national governing body USA Synchro contacted her, and wanted her to guide the national team to the 2012 Olympics. She was well-aware this would not be a simple task and that the U.S. was having a hard time climbing back up the rankings to be as successful as it had been in the late 1990s to early 2000s. Nevertheless, it did not take long for Fujiki to reach a decision. Being asked to coach the U.S. national team was for her simply one way to give back to the country that she loved dearly and that took her in as one of its own as a teenager.
"It was an honor for me to help and work for USA Synchro," she explained. "Because if it hadn't been for American synchro people, I would not be where I am today."
Indeed, Fujiki attributes most of her success throughout her career to her U.S. coaches and mentors. Gail Pucci, one of the Walnut Creek Aquanuts coaches, gave her the opportunity to swim in the U.S. and to live her dream when she was a teenager. Later on as Fujiki slowly entered the coaching world, coaching legend Chris Carver took her under her wing, helped her and mentored her.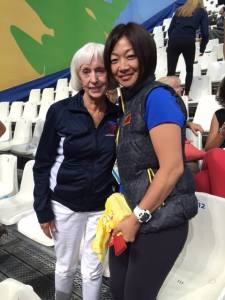 Carver has been a longtime coach at the successful Santa Clara Aquamaids club, has coached more than 50 percent of the U.S.' Olympians since 1984, and has taken numerous national teams to the top of international podiums. As Fujiki returned to coach the U.S. team, Carver advised her and gave her her full support. While she never was Fujiki's coach, a full understanding and trust quickly built between them.
"She was so open to guiding me and teaching me," said Fujiki. "But at the same time, she always told me she respected me, and she knew how to help me and make swimmers respect me. It always felt weird because she's this legendary coach! I don't know how many long distance conversations we had. In good or bad, I talk to her. She was more than great for me."
Nevertheless, her time as head coach was full of ups and downs, and Fujiki doesn't hide the fact that it was a very tough couple of years. She arrived the year USA Synchro decided to move the national team to Indianapolis, Ind. from California. The city offered a great strength training support, but she felt quite isolated from the synchro world, as many of the top teams and swimmers train in California.
Furthermore, she had to adapt to the university system and to a synchro culture that's very different from anything she had experienced before. In the U.S., being part of a collegiate team after high-school is a huge deal. As student-athletes, swimmers get to pursue a university degree while continuing with the sport they love.
According to Fujiki, in any other country most synchronized swimmers' goal is to be a member of the senior national team, but it's quite the opposite in the U.S. There, most swimmers first want to be part of a collegiate team and to proudly represent their school. As a result, the athletes on the national team may not necessarily be the very best in the nation.
"Their age during college is also the prime age to be on the senior national team," she explained. "So as a national team coach, you know you're probably missing some talent to be the absolute best U.S. team you could possibly be because they are in college."
She was eventually able to assemble a strong roster ahead of the 2012 Test Event, the qualification round for the London Olympics, but it wasn't quite enough to notch one of the last three available spot for the team event. For the first time ever, the U.S. would not have a team at the Olympics in synchronized swimming. While this missed qualification was a significant setback, she remained very proud of her swimmers and their hard work, and she cherishes to this day the bond that formed between them as a result of these difficulties. She also knows she became a stronger and better coach as a result.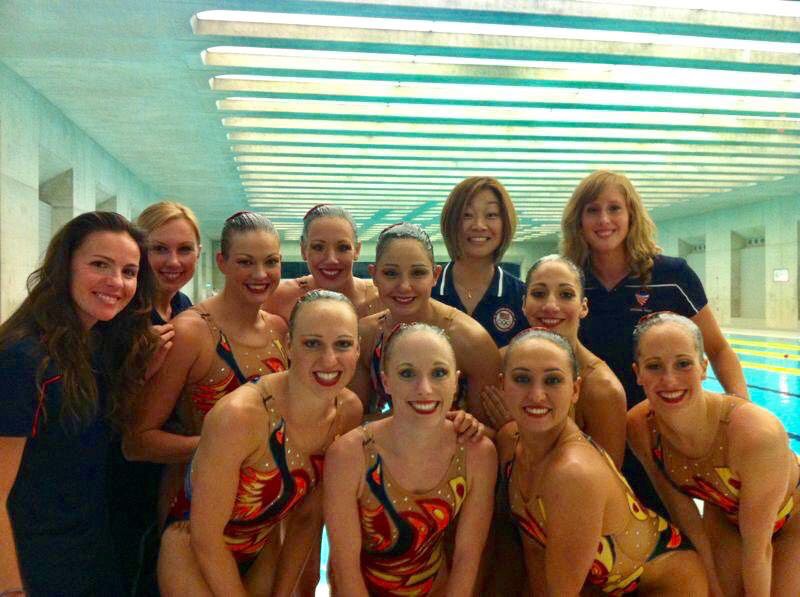 "I would do it all over again even though it was tough," she admitted. "I am so thankful for that experience. Now I can handle and do many things with the Chinese national team thanks to my time in the U.S."
After taking the U.S. duet to a 10th place finish at the 2012 Olympics, Fujiki again contemplated taking a break from coaching. But once more, things did not go quite as planned.
During all these years, Fujiki had also been helping the Jiangsu province team in China as a choreographer for a month or so. After the Olympics, China's national governing body eventually noticed her work, and contacted her as they felt the national team needed change.
"They told me they were struggling to have a breakthrough," Fujiki said. "They felt like they had been doing the same thing for the last four years, and feared they might not even medal in Rio."
Indeed, the Chinese national team faced a quick turnover after the 2012 Olympics where almost all of its swimmers retired. On top of that, the same criticism kept coming back: China always had the same the style and music more or less, the routines weren't memorable or that it was hard to connect emotionally.
That same year, the Chinese federation's officials asked for Fujiki to serve as a head coach and consultant for the team ahead of the 2014 Asian Games held in Incheon, South Korea. However, she was hesitant and turned down the offer. Instead, she went back to Spain for the 2013 season to help coach the solo and duet ahead the World Championships held once again in Barcelona, Spain.
Furthermore, she felt her style did not match what China might have been looking for at that time. Japanese Masayo Imura had been the Chinese head coach until that point. She had been highly successful with the Japanese national team beforehand, collecting four silver and seven bronze medals over the span of six Olympics. As she took over China's national team in 2006, she brought it to sixth in the world to bronze medalist at the Olympics for the first time ever in 2008, and to silver and bronze in 2012.
While Fujiki identifies with the Western-style of synchro, Imura's style is entirely Eastern, or "Asian style" as Fujiki calls it, focused on technique, precision and little risk-taking choreography.
"If the expectations were for me to do the same thing as her because I'm also Japanese, then I just couldn't do it," said Fujiki.
She explained that in the elite level of synchronized swimming in China or Japan, swimmers are expected to follow their coaches no matter what, to show them respect and to not ask any questions or give their own opinion. Moreover, laughing or smiling during practice would be understood as not being serious and being extremely disrespectful to the coaching staff.
"That's just the way it is there," she said. "You have to be Asian to coach in these nations, and you have to understand this culture. For Westerners, some methods would be shocking but that's just how it is. You should be doing what the coach tells you to."
Fujiki knows that this method has good sides, but she is also very well aware that it is not how she wants to work. It is actually one of the main reason why she never coached in Japan, and was extremely reluctant to coach in China at first.
The opportunity came up again for Fujiki to become China's head coach in 2014. Her skepticism was swept aside when the officials told her they looked at her previous work in Spain and in the U.S., and convinced her that she was exactly what they were looking for.
"They weren't expecting me or wanting me to be 'Japanese,'" she explained. "They really wanted me to change the Chinese style. I felt very motivated that I could bring my own style and learning experiences."
At first, she only agreed to help them sporadically during the few months before the Asian Games, but she refused to be the head coach for that competition. There, China swept the competition and won all three gold medals. It was afterwards that Fujiki accepted to finally become the full-time head coach of the national team.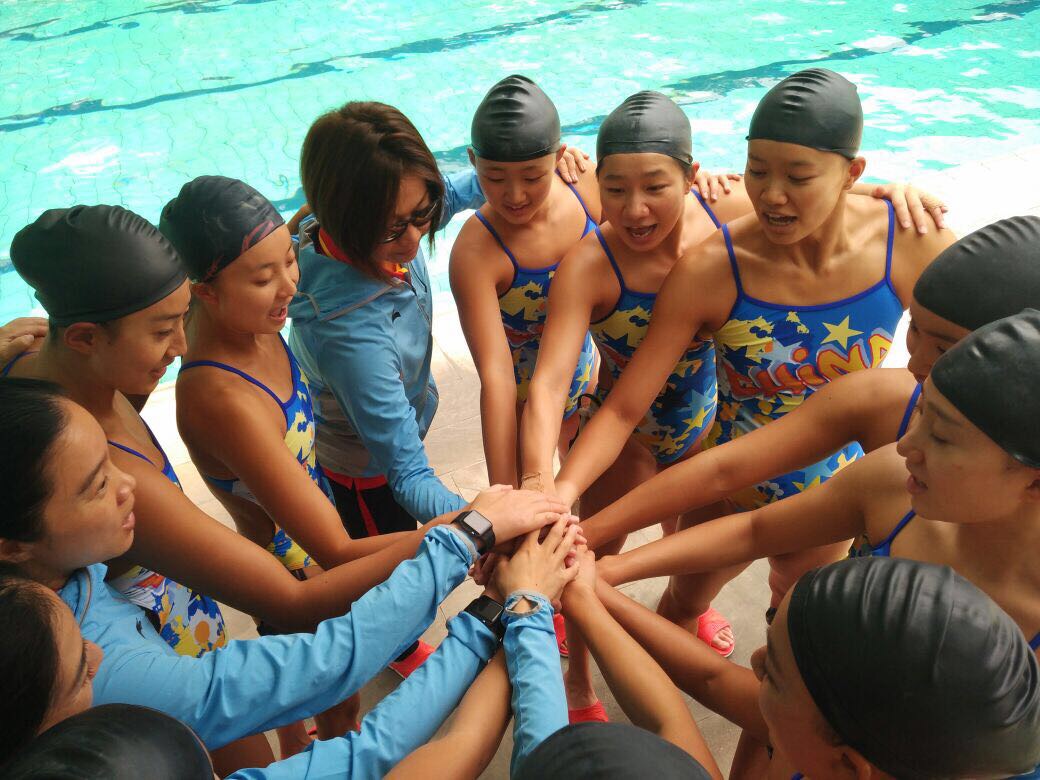 The federation not only wanted changes away from the typical training and choreography style, but it also wanted Fujiki to teach and help the younger Chinese coaches develop their potential so they could in the future become national team coaches themselves. Chinese officials wanted to eventually stop relying on international coaches, and thought that the younger coaches would be able to carry on whatever teachings Fujiki would communicate to them and perpetuate that style.
Fujiki came in with the vision of synchronized swimming as an art, and as a discipline that needs to be enjoyed and not considered as only a job. She wanted to infuse some of the artistry and innovation she learned in Spain and in the Western world into the Chinese program.  Not only did she face the challenge of the language barrier at first, but she also had to find ways for her swimmers to actually enjoy practice and truly love the sport.
"I asked them who actually liked synchronized swimming, and only two out of 15 raised their hands in that moment," she recalled.
Fujiki did not want to be a tough coach who always had to tell her swimmers what to do, and whose swimmers would not feel comfortable speaking to if any issues arose. She had to find a way to get past that local sport's culture where a relationship between a coach and a swimmer is not amicable. Heading into the 2016 Olympics, she wanted to build a team that her and her athletes felt good about, and that they knew they were comfortable with.
In addition to her notebook idea that allowed her to communicate and get to know her swimmers better, Fujiki put in place a captain system, where each girl gets to the lead the team for one activity or another that they are good at or enjoy. For example, Zeng Zhen is the "deck warmup captain," Liang Xingpin is the "dance captain" who leads dance classes, and Sun Yijing is the "team fieldtrip captain" in charge of organizing fun trips outside of practice for the team.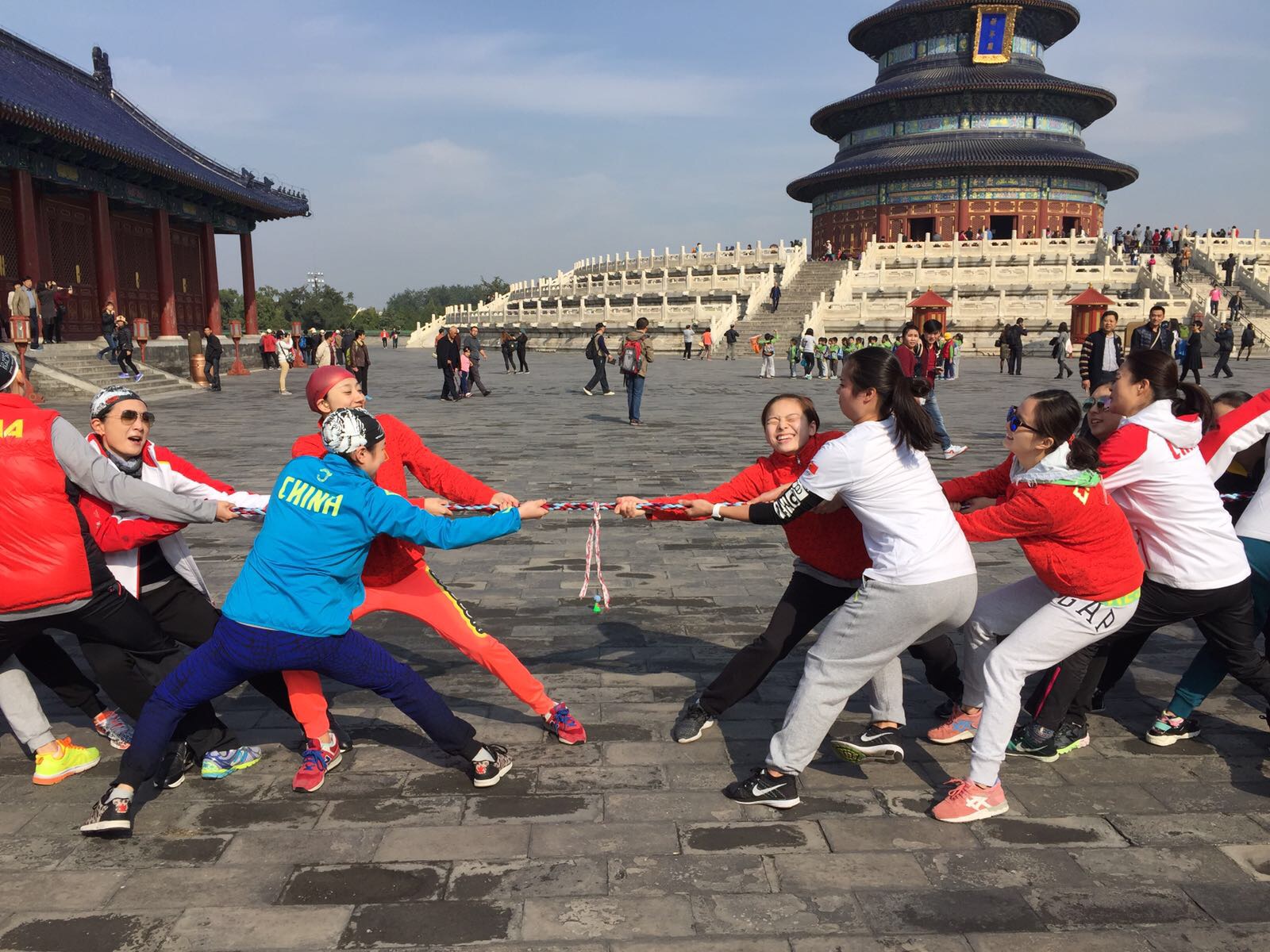 Fujiki would meet with each of her athletes on Sunday afternoon or any other downtime to discuss what they liked to do, or to guide them on how to successfully lead the team. "When they are in their moment, I let them do however they want," she said. "It's their moment to be a captain, get attention from all team members and be a leader."
As the team started to bond and become open-minded to her coaching, Fujiki slowly implemented her vision for a renewed Chinese style. For further guidance and help in the selection process for the Olympic team, she never hesitated to go back to her lifelong mentor Chris Carver. Carver even flew out to China to be a judge and to give her input during the Olympic team selection process.
"When I became China's head coach, I really wanted her to be a part of this project, so she came to help with the Olympic team procedure," said Fujiki. "I felt more confident talking to her to select the right swimmers, and to get her opinions."
Fujiki already knew she wanted to bring something new to the table for Rio. While she had already decided that it would have to be traditional Chinese music for the free team and free duet routines, she had always known that the technical routines had to be something new and different. Fortunately, her swimmers were also convinced this was the right way to go.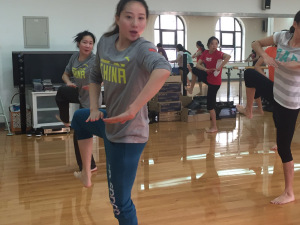 "[The swimmers] wanted to prove they can do something different than the previous Chinese national teams," Fujiki explained. "They wanted to break the Chinese style, and to do something more modern."
Fujiki suggested the idea of samba to her athletes for the technical team routine, and picked a selection of 10 different songs for them to listen to, dance to, and get inspired by. Admittedly, they were not entirely convinced they could actually do it at first.
"They really looked like Chinese people trying to do samba," Fujiki laughed. "You know, not much shaking, not much body movement at all or anything like that."
It was a slow process, but the swimmers welcomed that change and developed pride over their music selection and what they were about to unveil at the Olympics. Evidently, the novelty was also very well received by the international judges.
In Rio, Fujiki led the duet to second place, its best finish ever, with a score of 191.4355. In the team event, China repeated its finish from London by also finishing second with a score of 192.9841. Earning two silver medals at the Olympic Games is the best ever occurrence in the country's synchro history. It takes a lot to bring a nation to the top, but it takes just as much to maintain it there, and Fujiki succeeded in doing so.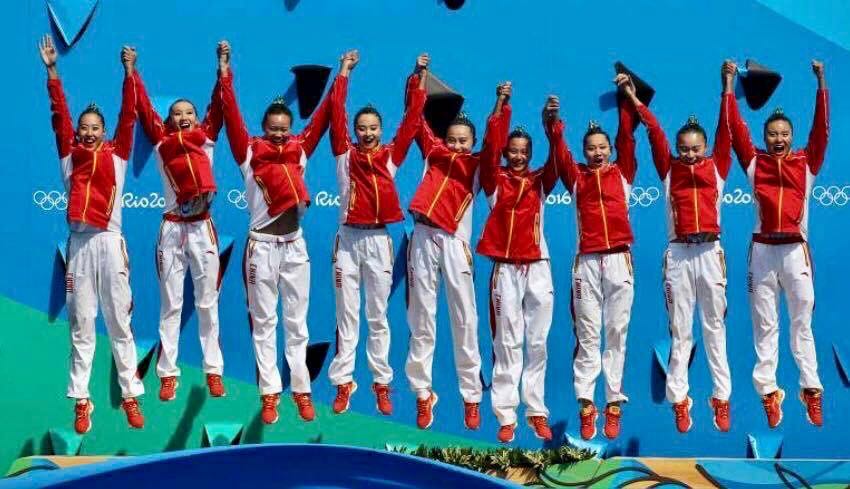 The 2017 season has been successful so far for Fujiki and her athletes. Her duet of Li Xiaolu and Sun Wenyan representing the Hunan province won gold medals in technical and free routines at the China Open in April. As of May 16, they were gearing up for the 13th Games of the People's Republic of China. Afterwards, the team will be fully getting ready for the World Championships in Budapest this summer. She remained purposefully vague on what we can expect from them there.
Nevertheless, we can be certain that they are working hard to inch closer to the unbeatable Russian team, and with this renewed vision of the sport, the nation is poised to continue winning many medals on the international stage over the next quadrennium.
Article by Christina Marmet
All photos courtesy of Mayuko Fujiki unless stated otherwise.