The Russian federation led by 2016 Olympians Vlada Chigireva and Maria Shurochkina was back on top during today's technical team final, reassessing its dominance with a huge score of 96.0109 for the gold. China won silver with 94.2165, and Japan grabbed its first medal of the competition, a bronze, with a score of 93.1590.
Since the technical elements are changing next year, many of the teams competing here kept the same technical routines we saw throughout last season and at the 2016 Olympics.
Russia hasn't lost in a team event since 1998, and it was not about to start today. The Russians swam the same routine as in Rio, "Rhythms of a City" with a few minor changes, but it was just as fast, impressive and close to perfection as it was then. The roster is fairly new with only two 2016 Olympians, and it was the first big senior international outing for many of these swimmers.
"It was the most difficult for the new girls who joined our team," explained Shurochkina.  "They had to reach our level and had to do everything possible to join the team and mingle with us. But they took the challenge and they are now here with the team."
Nevertheless, the transition to a new roster was seamless as they made it all look effortless, and won gold by a fairly large margin of 1.7944 ahead of China. When asked if there was a limit to Russia's dominance in the sport, Chigireva simply answered: "There is no limit to perfection."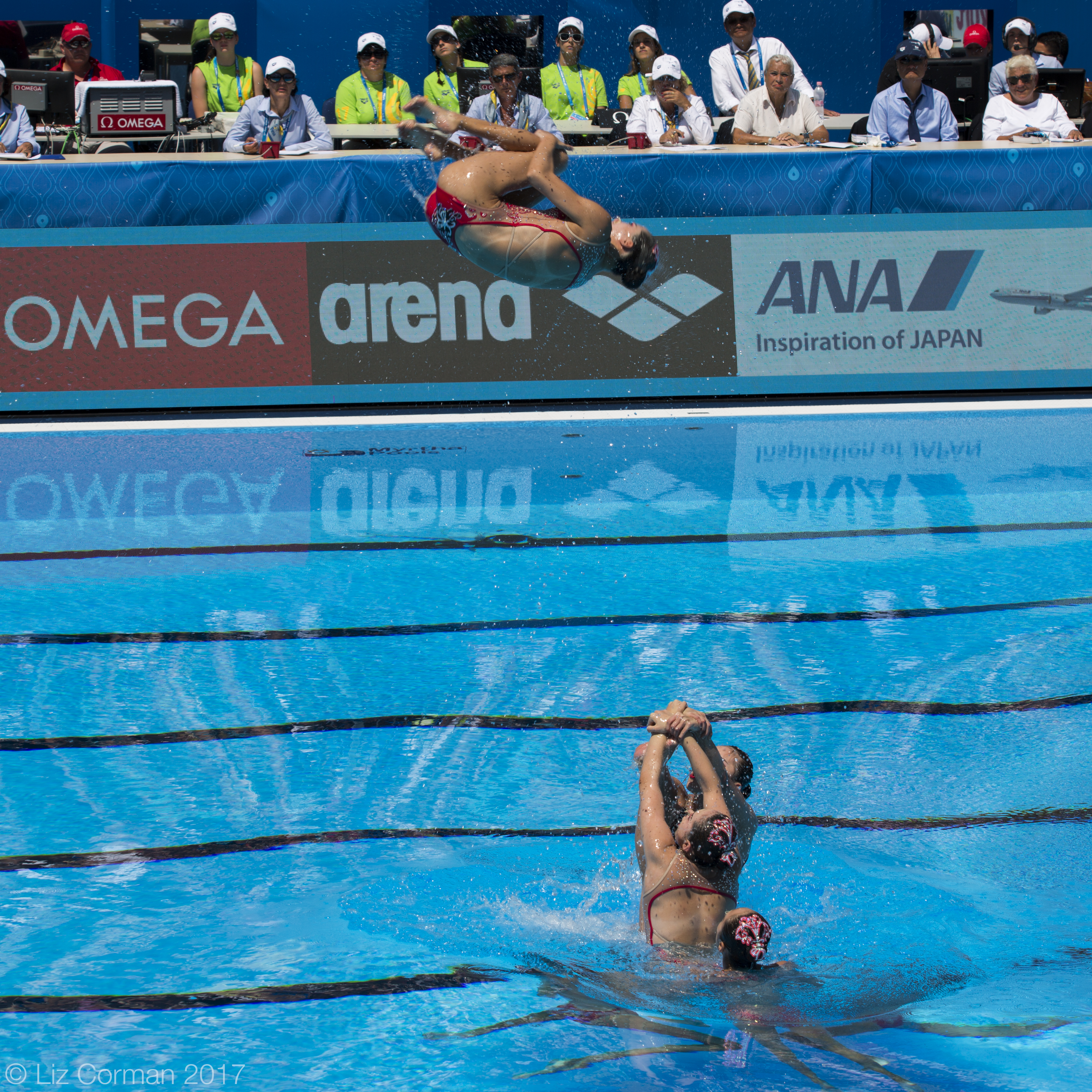 The Chinese team won silver with 94.2165. The routine did not feature the same technical difficulty as the Russian's, but it was insanely clean, precise, and tight in the patterns. Considering this is not the best team China could have sent if it had time to go through trials, this is a fantastic result, and one can only guess the Chinese would have been very close to Russia at full strength.
"Six weeks ago we had a big competition in China," said Guo Li. "So we only had [those] six weeks for preparation, so of course we had a difficult time with it." 
That said, the team roster is nonetheless very impressive and loaded with talent: Guo Li, Liang Xinping, Tang Mengni and Yin Chengxin are all 2016 Olympic silver medalists. Additionally, the Wang twins were the Chinese duet at the Jr. World Championships in 2014, and have competed in smaller international meets since.
Rounding out the podium is Japan, grabbing its first medal of the competition so far by winning bronze with a score of 93.1590. Just like Russia, the Japanese kept their Olympics routine that also won them the bronze there.
"It was hard until today of course," admitted Inui. "But we felt we really would like to get a medal so we did everything to take a medal."
It has been quite the battle between Japan and Ukraine pretty much since 2015, and so far Ukraine had the edge in the technical solo and duet events in Budapest. Today however, the Ukrainians weren't able to pass the Japanese, and scored a 92.3596 for fourth place with their techno routine.
Italy landed in fifth with a score of 90.7617 for their "Interstellar" routine also to a techno, dubset remix. This is a very talented Italien roster that include six 2016 Olympians (Callegari, Cerruti, Deidda, Ferro, Flamini, and Perrupato). Spain followed in sixth with 88.4687. Its upbeat and fun routine is set to a remix of the Beach Boys' "California Dreaming." Unlike Italy, this is a young and renewed team, but it showed potential and consistency in this event.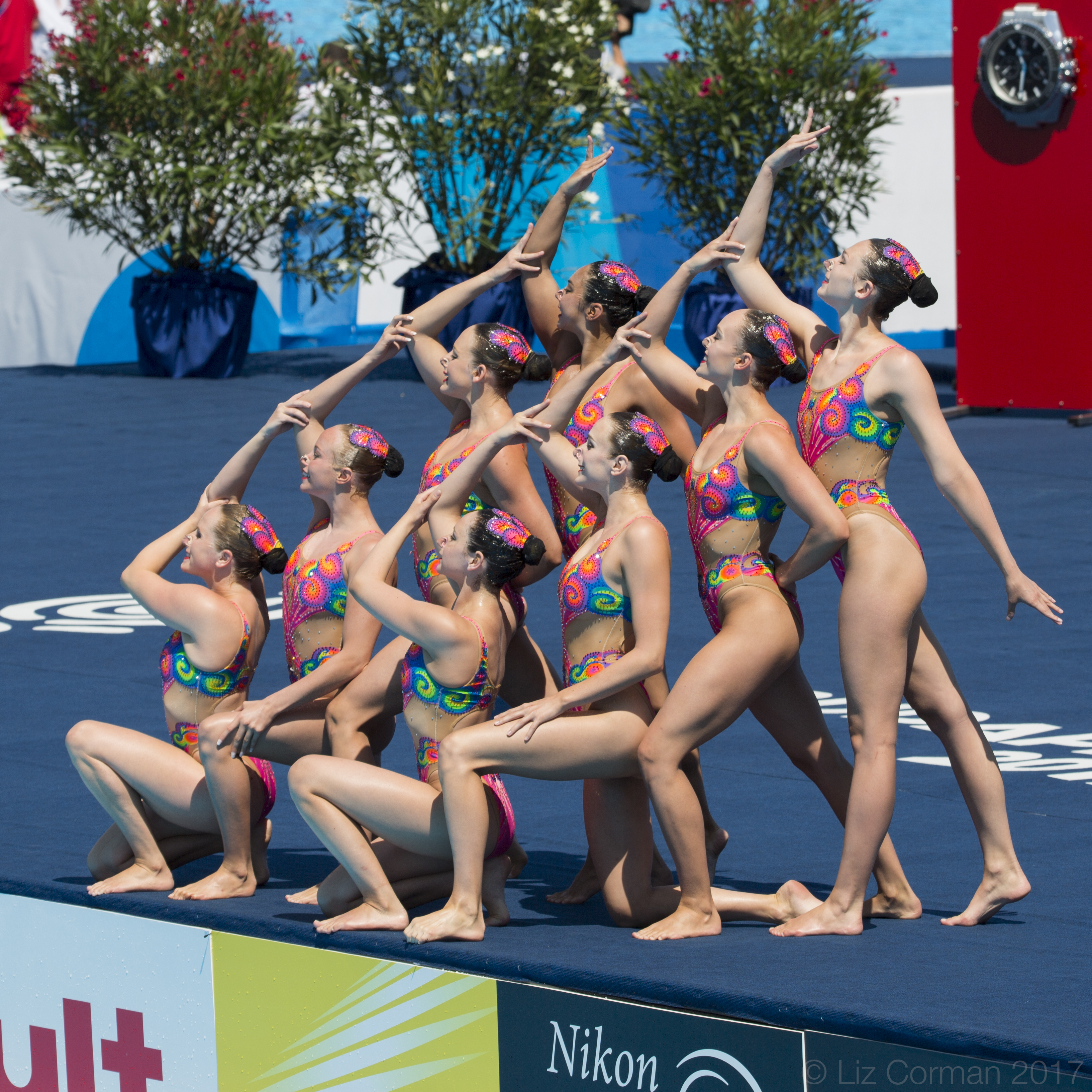 Canada finished in seventh with a score of 86.2044 for its 'Violin' routine. The team has had a rocky season, including the departure of then-head coach Meng Chen at the end of May. The Canadians actually weren't even certain they would compete at these world championships until recently.
"It was a different [preparation] from what we are used to," said Claudia Holzner. "We had a few federation changes, things within our system that are normally pretty rock solid. So for us that was a big change, but I think we  really pulled it together and stepped up to the plate to compete here."
Despite the difficulties, they were overjoyed to be in Budapest, felt more confident in their performance,  and were all in all thrilled to have a successful swim in this technical team final.
Mexico grabbed eighth place with 85.9664, with a fun, clean and quick routine. The Mexicans used a jazzy/blues cover of Rihanna's "Umbrella" song, and displayed a huge opening throw where it really seems like the flyer was suspended in the air. This is a big progress for the Mexicans as well, scoring about 1.1 points higher than in 2015.
Greece swam to "Burlesque" by Christina Aguilera to end in ninth with a 83.9112. North Korea was tenth with a clean and sharp "Cancan" routine. The theme is honestly a bit overdone in synchro, but the North Koreans pulled it off well and showed progress. They were 13th in 2015, so ending tenth here is huge for them.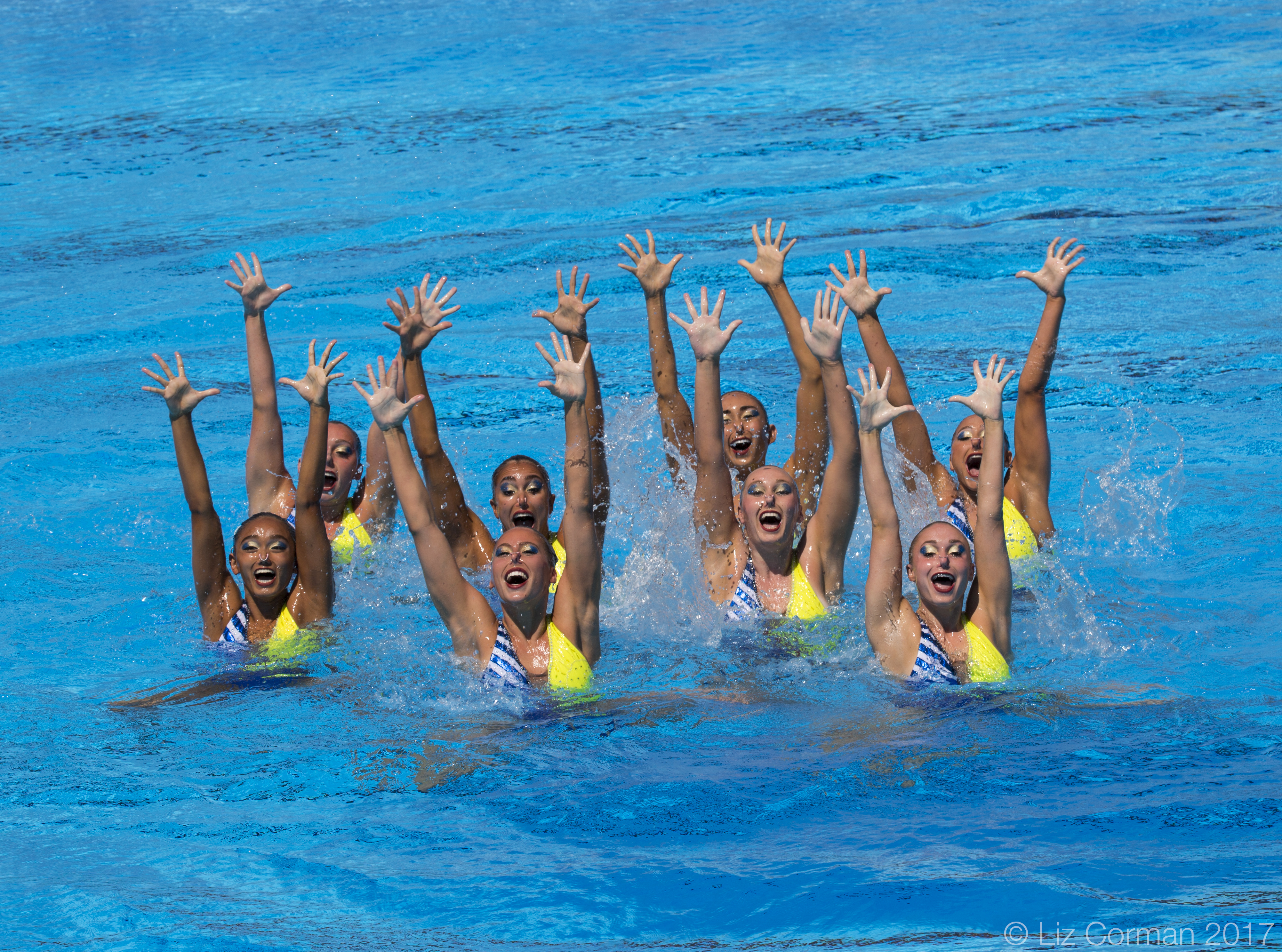 The U.S. presented a routine set to the soundtrack of Broadway musical "High Button Shoes" for a score of 82.8546 and 11th place.
"Our coach Jenny [Ekhilevsky] chose the theme," explained team captain Elizabeth Davidson. "It's a really fun, upbeat, very American tech routine so it was a lot of fun to swim." 
Belarus rounded up the field of the team finalists, and placed 12th with a routine set to traditional music for 82.2796. This was the first time we saw them as a team this season, and the routine was very reminiscent of the early days of Ukrainian synchro. This is another country that is on the rise, as it was only 14th in 2015 and has also gained two points since.
Article written and interviews by Christina Marmet.
All photos by Liz Corman.