The top three medalists in the technical solo event confirmed their superiority as soloists by repeating their rankings during the free solo final in Budapest on July 19.  Russia's Svetlana Kolesnichenko took first with 96.1333, Spain's Ona Carbonell landed in second with 95.0333, and Anna Voloshyna from Ukraine was in third with 93.3000.
This free solo final was very exciting as it featured a great mix of veteran, experienced swimmers like Carbonell, Voloshyna, Yukiko Inui or Linda Cerruti, and young, upcoming soloists from countries we do not often get to see here, like Belarus, Great Britain or Austria.
Kolesnichenko impressed in the technical solo event by her lightness and fluidity in the water. In her free program, she turned into a more aggressive swimmer, representing an Amazon woman. The last time Kolesnichenko represented Russia in solo was nine years ago at the Jr. European Championships, and she knew the level and expectations were very different this time around.
"The level set by our teammates [Ischenko and Romashina] was quite high," she said. "It was not easy to compete then and after them. [Solo] is a different type of work where you synchronize with the music. You have your own vision and interpretation of the music and you have to convince the judges and transmit your feelings about the music to them. It's a different work approach."
Spain's Carbonell swam to a cover of "Padam, Padam" from Edith Piaf for silver and a score of 95.0333. Carbonell's routine is about a crazy love story where a man and a woman just love each other too much, to the point of losing themselves in it.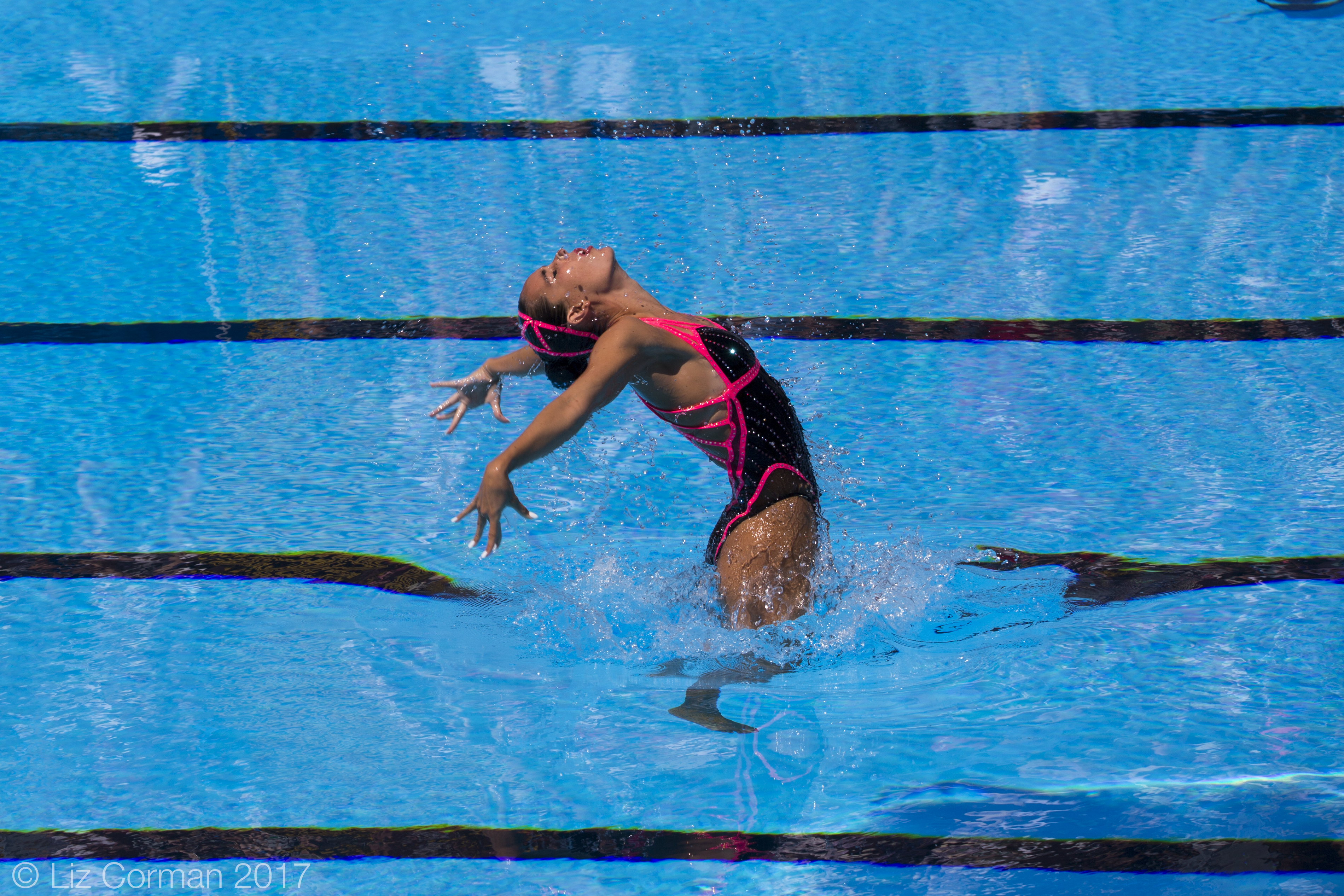 "[I want to] bring emotion to people," said Carbonell. "We tried with this routine to show really difficult elements with very difficult transitions, and all the emotion too."
She worked a lot with three-time world champion Virginie Dedieu on this routine. Dedieu actually would have wanted to swim to this song in the past, but ended up suggesting it to Carbonell who loved it. On why she decided to have Dedieu help with the choreography, Carbonell mentioned she is like family, thus making it easy to work together:  "I worked with her for Barcelona [World Championships] in 2013", she explained. "When I was young, she was my idol, now she's my friend. And it's really easy to work with [a friend]."
Carbonell was satisfied with her performance at already her sixth world championship, but also of the strides and progress she's made this season. However, she knows her work is not done.
"I fight to win [against] Kolesnichenko but it's not easy," she admitted. "I will keep fighting to win."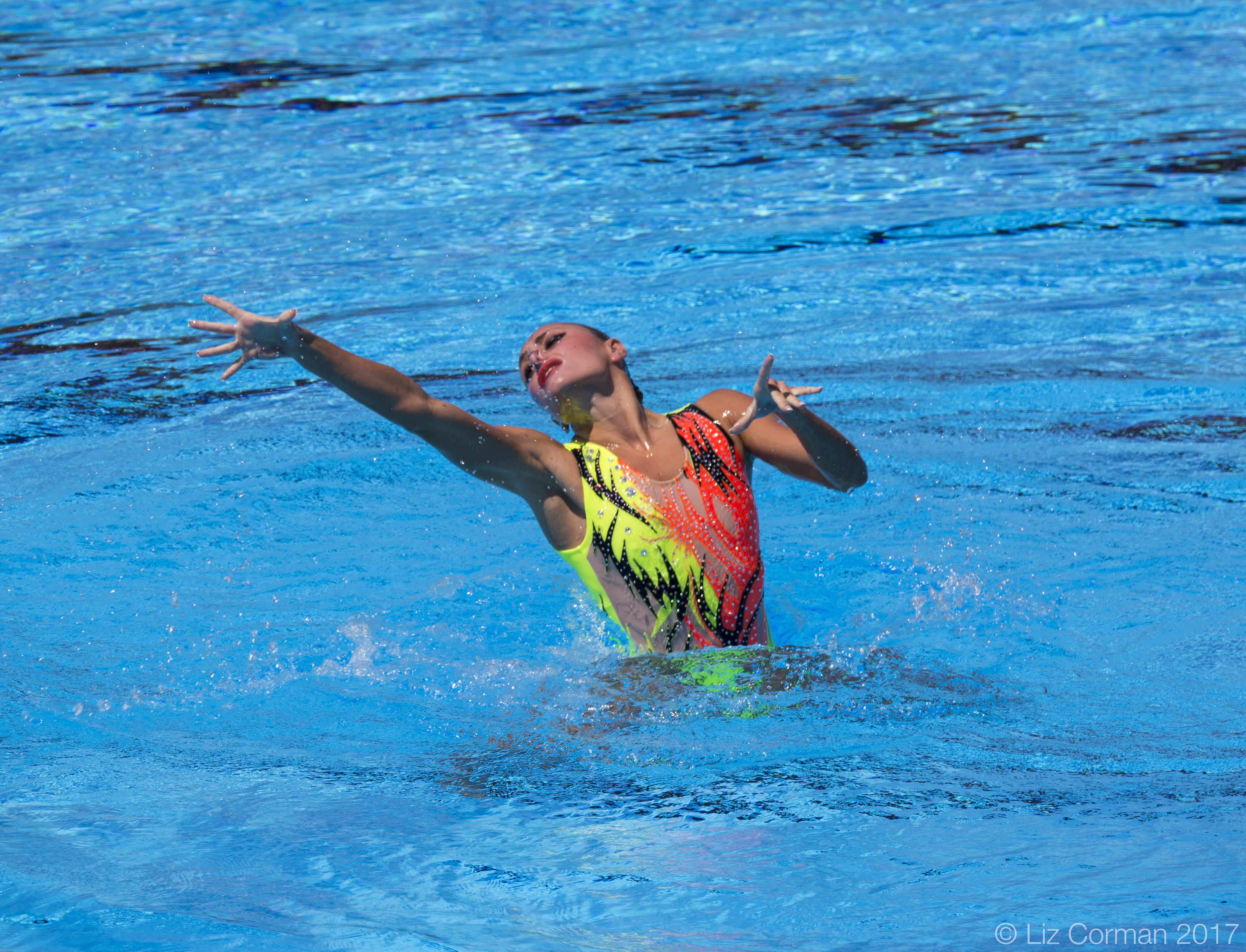 Ukraine's Anna Voloshyna grabbed her third bronze of the competition here with a score of 93.3000. Voloshyna had to turn it around quickly as she was still competing the night before at 11:00 pm in the free duet preliminaries, and had to be back early in the pool this morning to prepare for this final.
"Yes indeed it was tiring," she said.  "I went to bed at around 1:00 am, but when we are competing we have to do the maximum, so in my solo program I performed to the limit of my possibilities. But I have to say thank you to my mom and my husband whose support gave me strength to move on and perform well today."
Yukiko Inui from Japan was not able to overtake Voloshyna and had to settle once again for fourth place with a score of 92.0667.
Italy's Linda Cerruti kept more or less the same solo routine as in 2016 to a fast violin version of "Thunderstruck" by 2Cellos, but she was able to overtake Canada's Jacqueline Simoneau in finals with a score of 90.6000.  Cerruti's routine is intricate and filled with interesting details and moves, which is one of the trademarks of Gana Maximova's choreographies.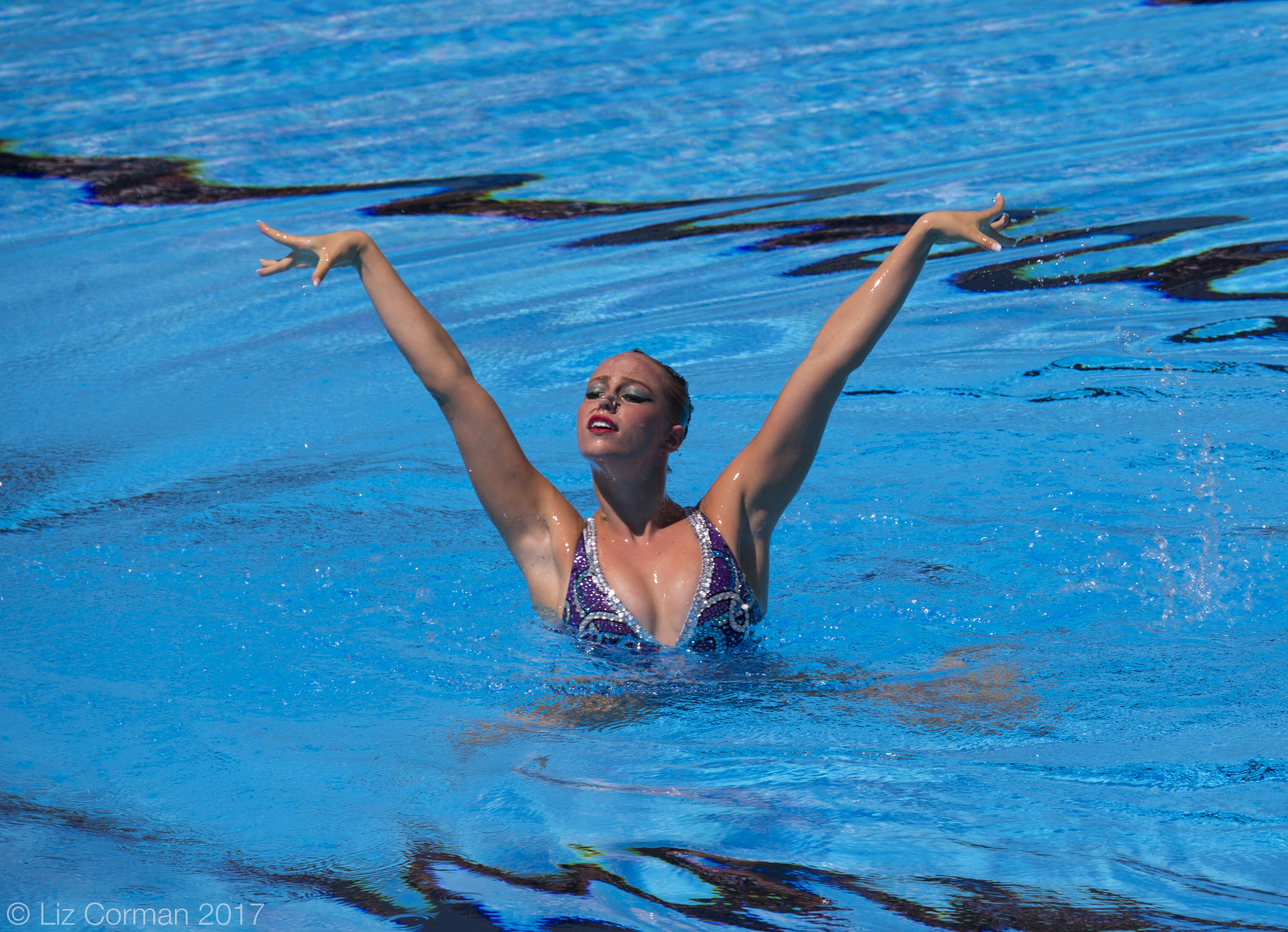 Simoneau swam a gorgeous, heartfelt, and emotional routine for sixth place and a score of 90.1333. In her solo set to a beautiful piece from Italian pianist Ludovico Einaudi, she portrays a girl who loses her sight and slowly gains it back. However, this routine has a much deeper meaning to her.
"The theme isn't only blindness," she explained. "It's also about losing sight of a goal, of motivation and then getting it back. The past five years have been a big, big struggle for me mostly in synchro, and during this routine I really live through the emotions I've lived in the past five years. It's really dear to me, this routine."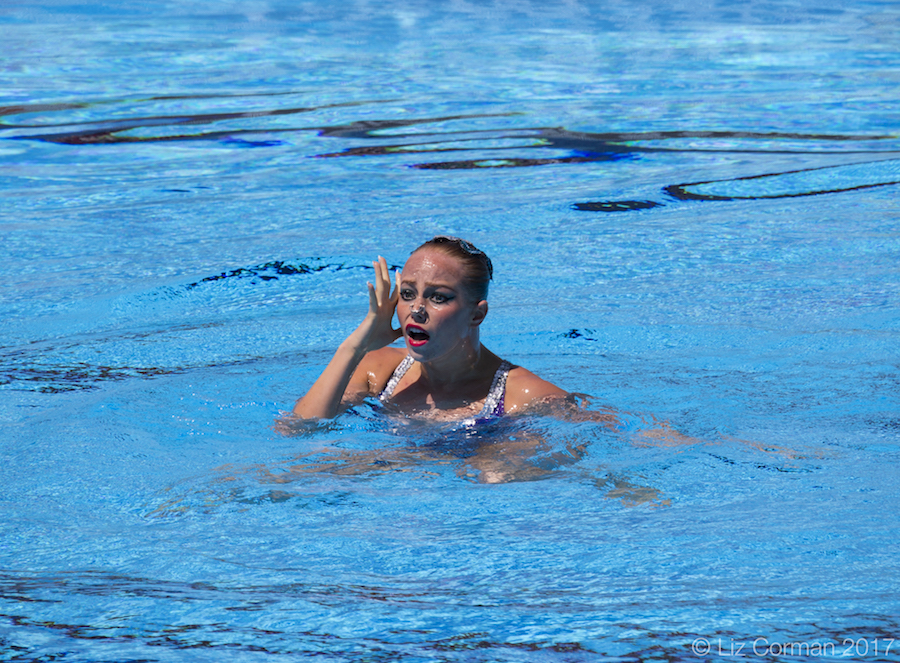 As the routine goes, Simoneau slowly gains her sight again, matching with her personal journey over the last few years: "When I finish the swim, I am where I am today. I've been able to finally see the light and to overcome so many challenges."
Evangelia Platanioti from Greece followed in seventh with 88.000 and a 'Swan Lake' routine. The second half of this final was dominated by promising young swimmers, most of them being at their first world championships. Austria's Vasiliki Alexandri scored a 86.333 for eighth place with a routine on the theme of an impossible love. Alexandri was thrilled to pass the 86 mark for her last solo swim of the season.
16-year-old Eve Planeix officially represented France in solo for the very first time in her career, and landed in ninth with 84.6000 in a routine where she portrays an angel, and that was choreographed by Charlotte Massardier. She won the hearts of many in Budapest with her presence, strength and height especially in her boosts and arm movements.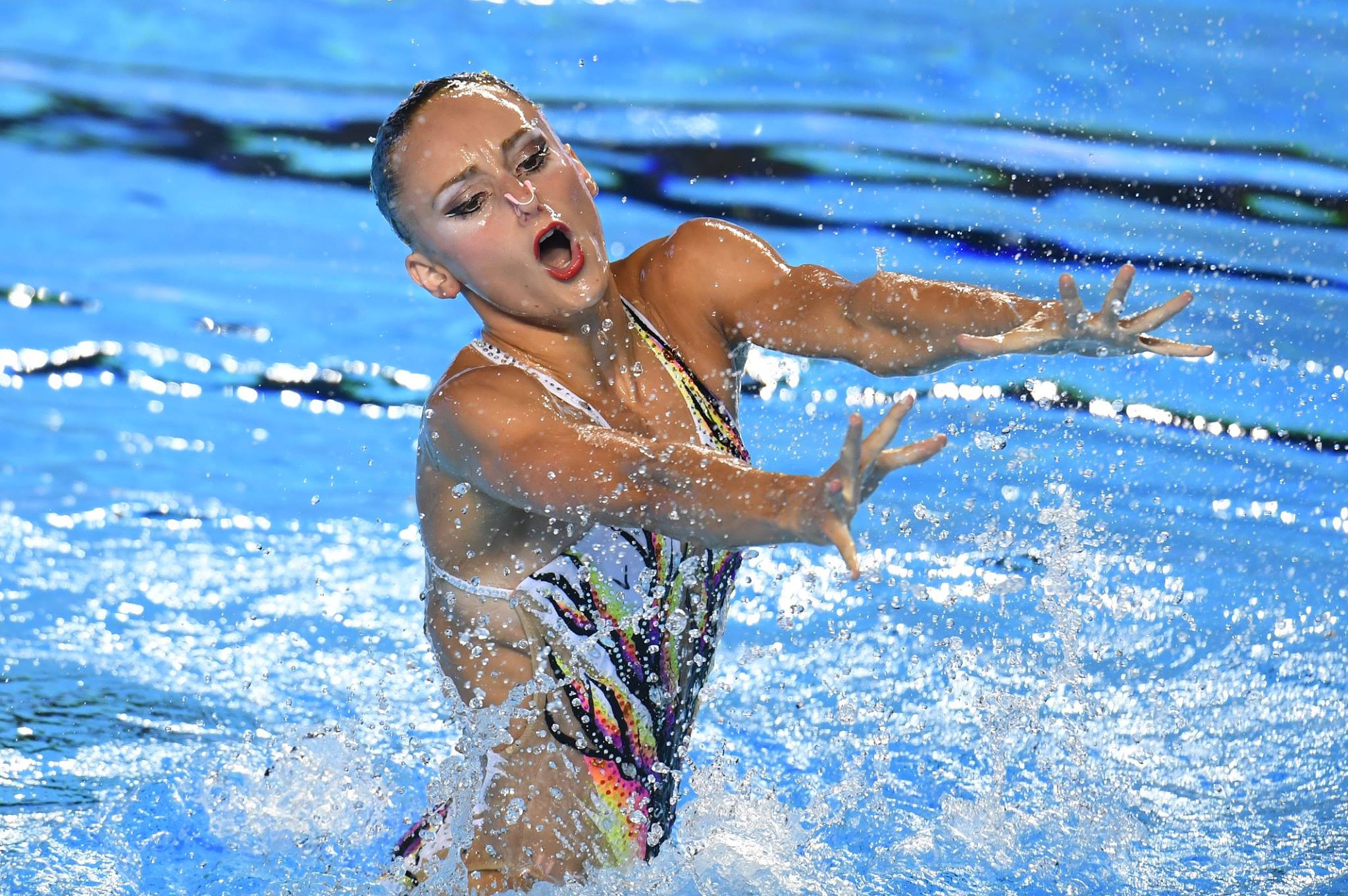 Planeix was still in disbelief of the entire experience, and of making finals for her first time out: "It's just… wow! I don't know if I'm even realizing that I'm at Worlds. It's like my dream is coming true."
Belarus had not entered a swimmer in the solo competition since 2005, but it was no surprise to see the young Vasilina Khandoshka out here. She had a stellar 2016 season in the 13-15 and junior categories, and was just as successful this year at the Jr. European Championships where she placed fourth in solo and as a first-year junior. In Budapest, she made history for her country by finishing tenth with a score of 83.7667. Watch out for her in the next few seasons as she will undoubtedly continue filling the record books for Belarus.
Just like in the technical competition, North Korea's Hae Yon Min made finals and finished in 11th place with a score of 82.9000, one spot higher than her compatriot in 2015 who finished 12th at the time.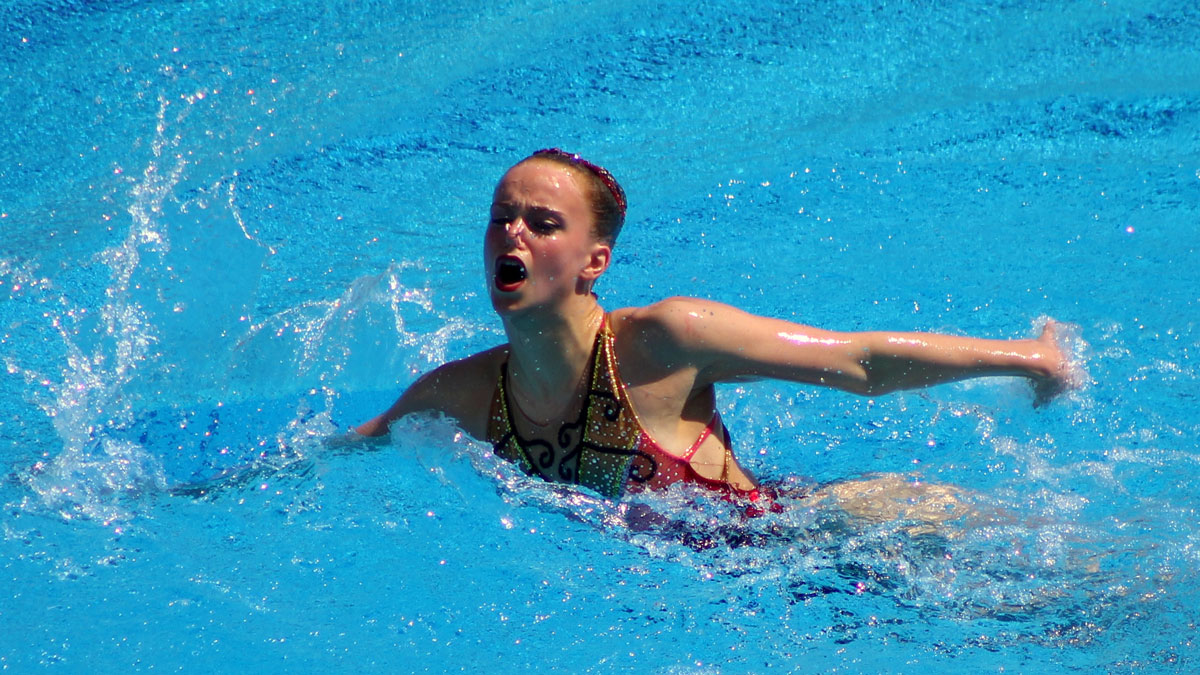 Another rising talent is Kate Shortman, representing Great Britain and making finals for her first time at Worlds and as the youngest competitor. The British were used to making solo finals with Jenna Randall, and it looks like Shortman is more than up to the task of following in Randall's footsteps. She finished 12th with a score of 82.3667, and was absolutely thrilled to be here.
"Our target was the top 20," she said.  "But when the score came up in the prelims and it said 12th and that I got into finals, I was literally ecstatic."
Shortman could not believe she was competing against the likes of Kolesnichenko, Carbonell or Inui: "I've watched them for so long on YouTube and dreamed about being with them and as good as them. I just aspired to be like them, so to compete against them is amazing."
Focusing on the big picture during the press conference, all three medalists echoed one another and agreed that synchro needed to gain more popularity, which could be done by competing more often and increasing visibility and media coverage.
Voloshyna actually was quite puzzled by the lack of popularity of synchro: "This is quite a paradoxical situation because there are so many pretty girls performing in this sport, and it's a spectacular sport so we should definitely get more attention."
ARTICLE WRITTEN AND INTERVIEWS BY CHRISTINA MARMET.
Photos by Liz Corman except when specified otherwise. Cover photo is Svetlana Kolesnichenko.