The 2017 FINA World Championships concluded the synchronized swimming events on July 22 with the free mixed duet final. While the scores were extremely close in the technical event where Italy come out on top, Russia was above and beyond its other competitors in free, wining the gold with a score of 92.6000. Italy won silver with a 91.1000, and the U.S. grabbed its second bronze with a 88.7667.
Essentially nothing separated the gold medal winners from the silver medal finishers in the technical mixed duet event. However in the free mixed duet, Mikhaela Kalancha and Aleksandr Maltsev from Russia were clearly above everyone. The Russians surprised by presenting a fun and upbeat swing routine to the music of 'Sing, Sing, Sing' to win the gold by 1.5 over Italy.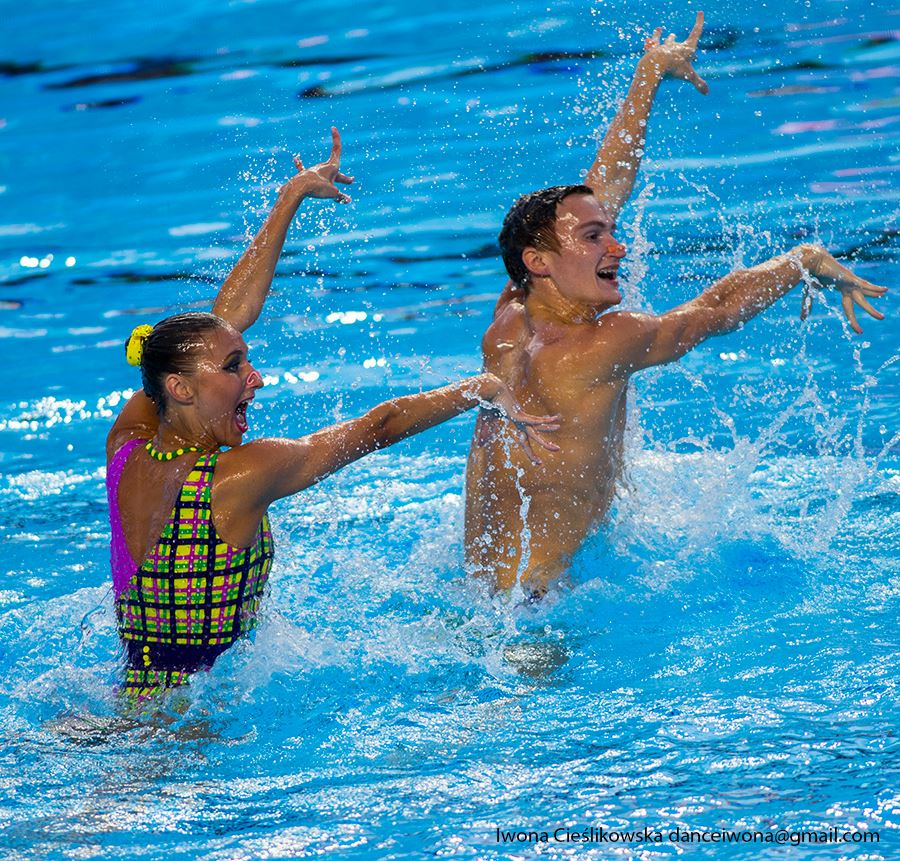 This change of style was extremely refreshing coming from a country that usually presents dramatic or more classical routines. The music choice and choreography were decided and constructed by Gana Maximova.
"Yes indeed we wanted to include humor in our program," explained Maltsev. "We really tried to add some joy."
"We listened to jazz music and we watched twist and dancing moves," continued Kalancha. "It was easy to feel the music and to feel the atmosphere of the choreography."
This song has been overused in synchro so it was a bit disappointing at first to see them go for something that probably every swimmer has swam to in his or her career, but they absolutely made it work here with intricate, difficult and original choreography.
Giorgio Minisini was paired with Mariangela Perrupato this time around, and they won Italy's second medal of the competition, this time a silver, with 91.1000. Their idea was to present a more conceptual program on 'Adam and Eve' until the modern days,  with an original music score composed by Michele Braga called 'Paradise Lost.' This was the third version of the duet, and it was choreographed by Anastasia Ermakova.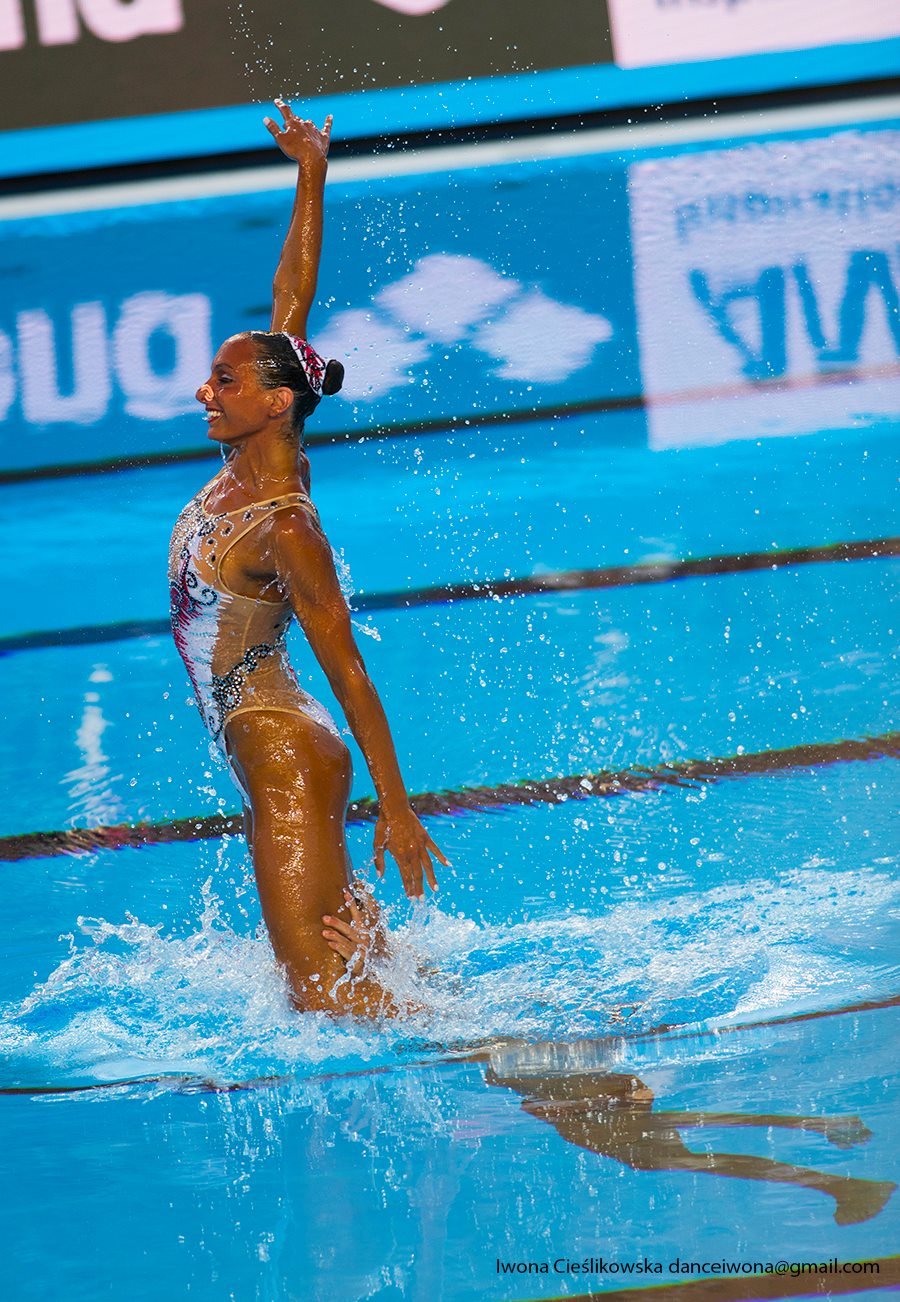 "Until February, we did our duet a lot more technical but it was a bit cold, less artistic," said Minisini. "Then we tried another duet but it was too artistic and less technical, so this is the last version. We have finished it 30 days ago, so we were a bit worried in this competition since it's so new."
While the two felt a bit tight during their prelims swim, they were more confident and calm in finals and were thus able to comfortably take silver ahead of the U.S. pair by a 2.3 points margin.
The Americans Bill May and Kanako Spendlove earned their second bronze with a score of 88.7667 and a routine on Medusa.
"[Kanako] is very flexible and very artistic so we wanted to use that and again play that role between man and a woman," said May. "It's one of the most famous myths around the world, Perseus and Medusa… We thought it would be a great opportunity to showcase the different strengths and talent a man and a woman can have in a routine."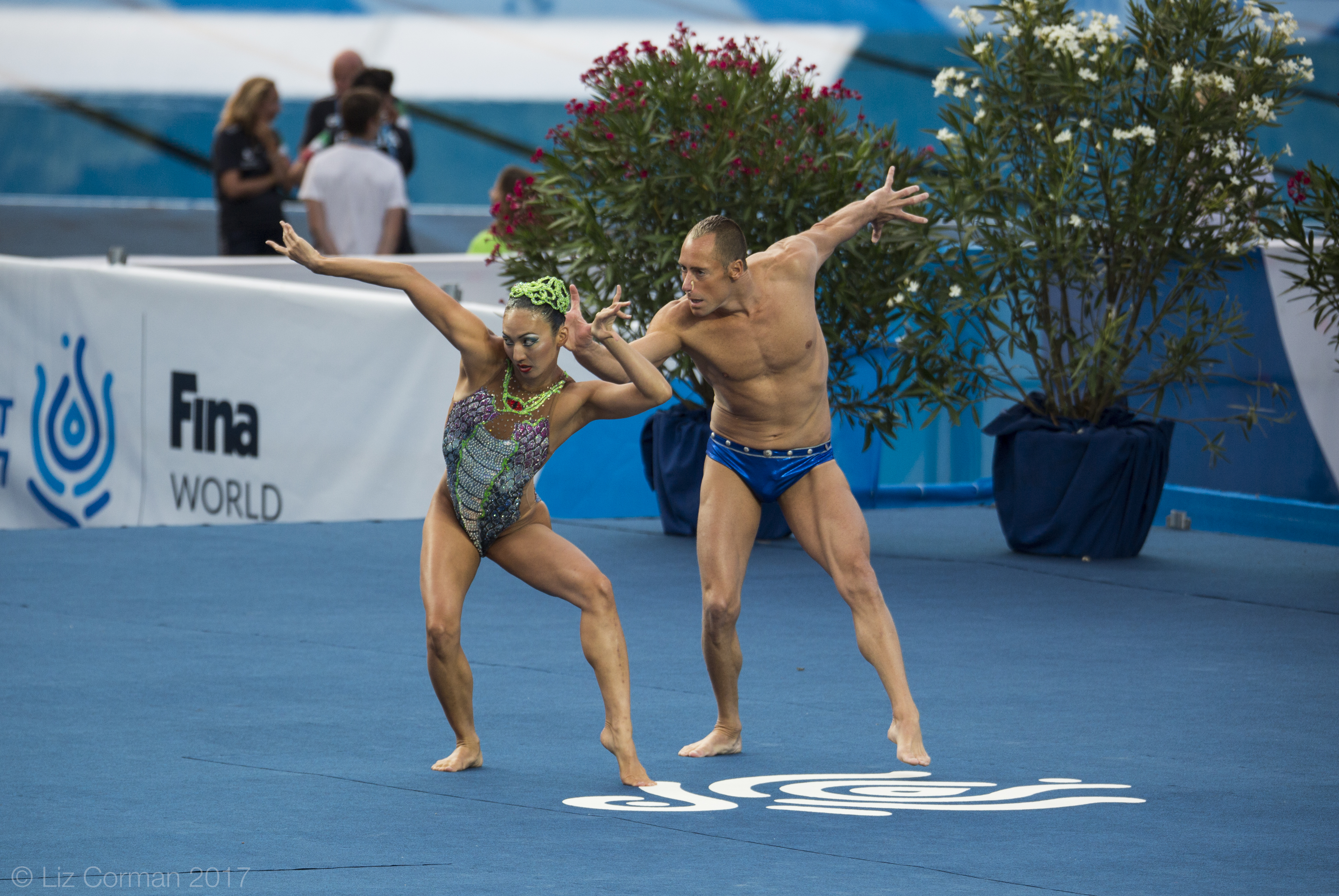 Japan's pair finished in fourth with a huge 88.000 for their 'Rattlesnake' routine. This duet is one to keep our eyes out for in the next few seasons, and it would not be surprising to see Atsushi Abe and Yumi Adachi on the podium come 2019. We had seen their huge progress already this season at the MUFE French Open and at the Spanish Open, but they really won the crowd over in Budapest, and even got their score booed in prelims.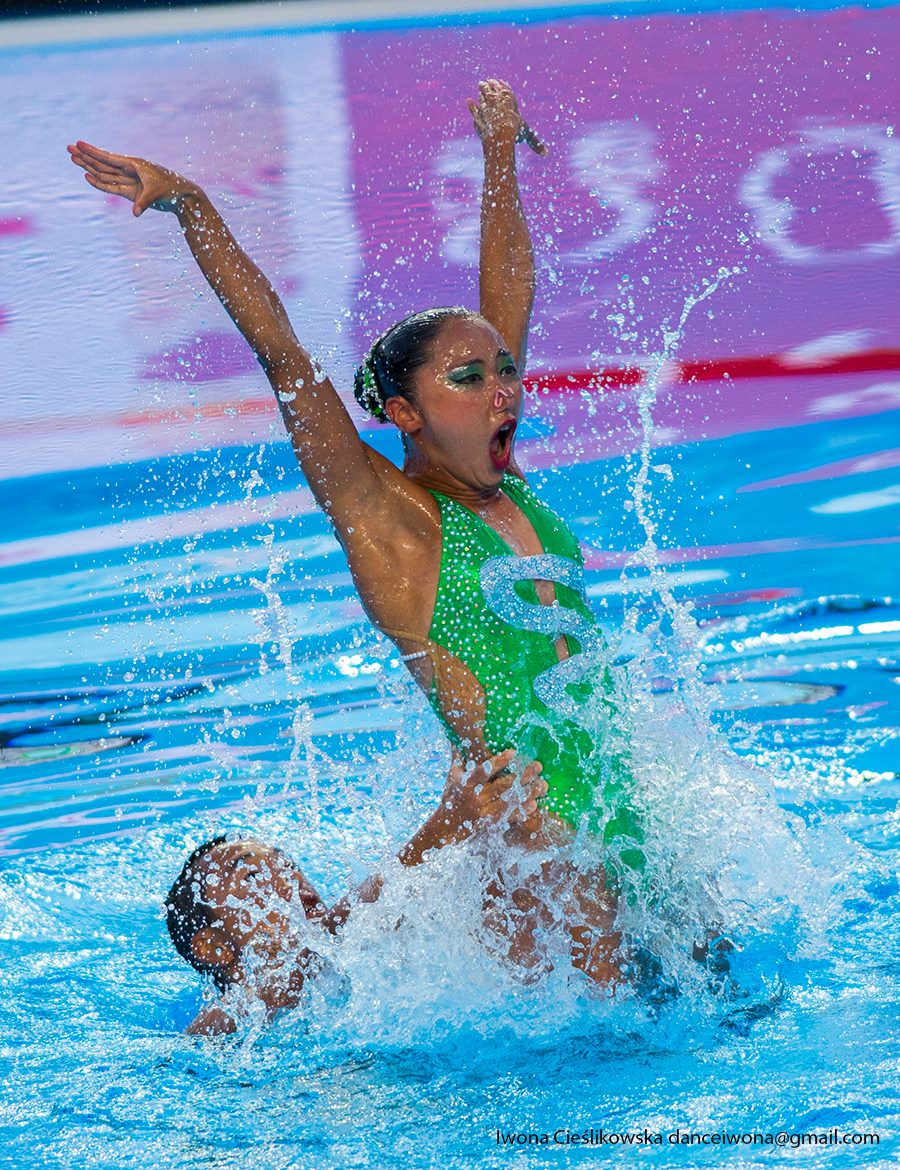 In finals, it felt like the judges heard the crowd's complaints and gave them 1.1 points more than in prelims, and it was well deserved for a clean and impressive swim. The Japanese have never been so close to that bronze medal in this event. Considering they were in eighth place with 84.9000 in 2015, this is an incredibly fast progression in a sport where the hierarchy is tough to shake.
Another duet that's shown nice progress is the one of Spain with Berta Ferreras and Pau Ribes, who swam a 'Romeo & Juliet' routine for 85.7333 and fifth place finish. In 2015, Ribes was paired with Gemma Mengual, who now coaches the two. They also ended fifth then. The improvement is especially visible in Ribes' swimming and technical solidity, and he and Ferreras have really cleaned up as a pair since the beginning of the season.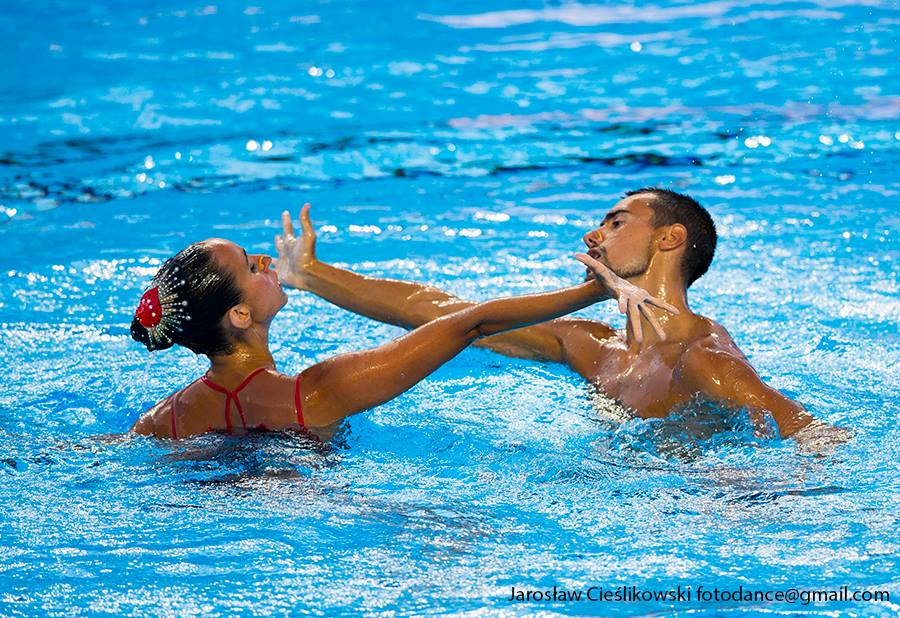 For Canada, Robert Prevost was partnered with Isabelle Blanchet-Rampling. They earned 83.5667 to finish in sixth. They found inspiration in the work of the artist Pina Bausch for their choreography, and have been working on it since the beginning of the year.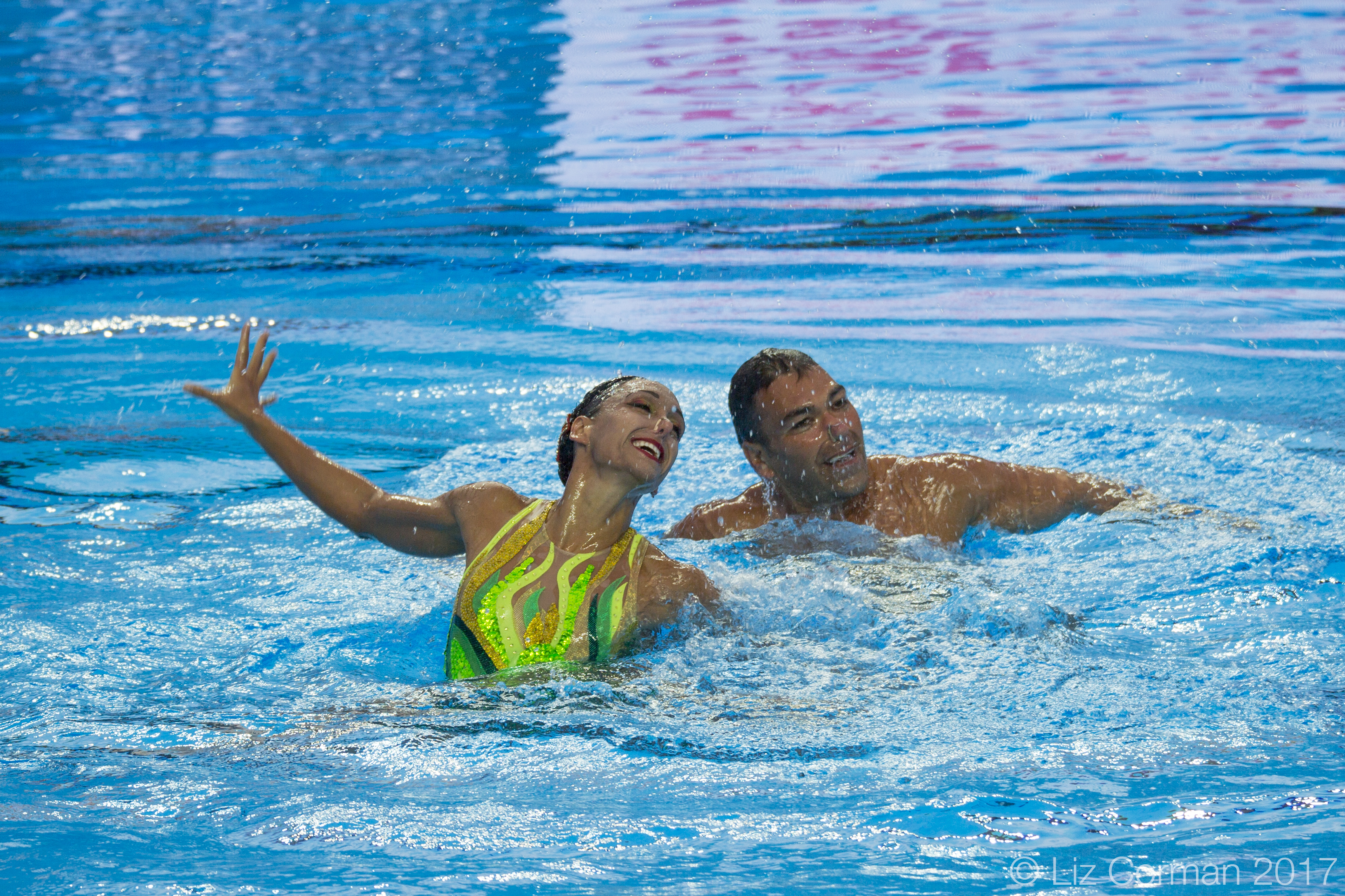 "This program is our baby," said Blanchet-Rampling. "It's our favorite. There are lot of things that are quite intricate and cool that we were very excited to present. It's more in a very abstract manner, and we were trying to present a bank of ideas we were able to collect by being very much inspired by this artist."
Brazil and China presented a mixed duet for the very first time. Renan Alcantara and Giovana Stephan also used the theme of 'Romeo and Juliet' for seventh place and 80.0667. Sheng Shuwen is paired with the young Shi Haoyu, born in 2001, but they fared pretty well and finished eighth with 77.2333. They swam to Frank Sinatra's 'Sway,' and these two have a lot of potential and match up very well in terms of leg extensions and strengths.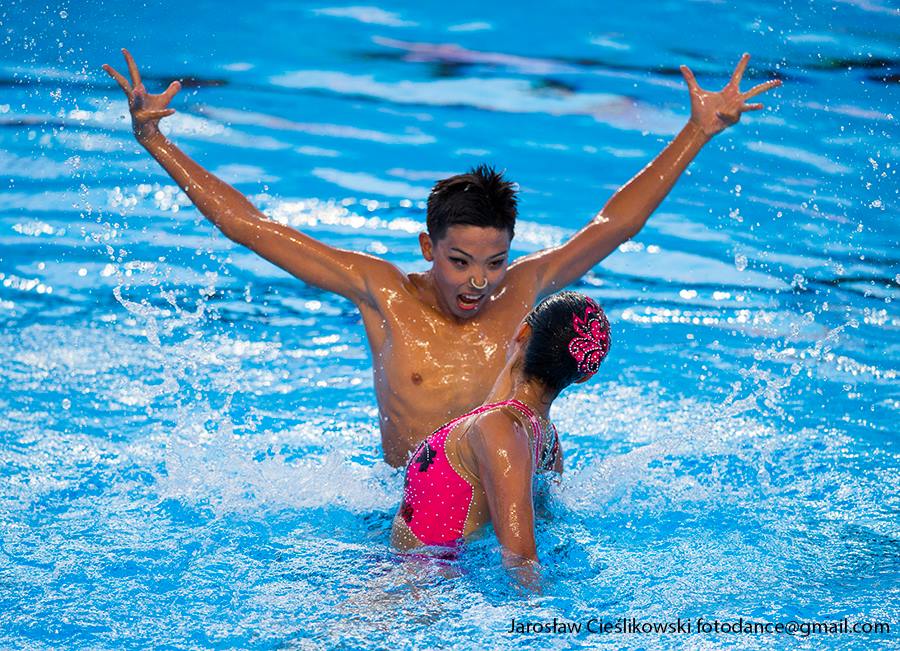 Germany's Amelie Ebert and Niklas Stoepel finished ninth with 74.5000. Greece was also new to the mixed duet event this season, and presented a slow free routine to 'Je T'aime' by Lara Fabian for 10th and a score of 69.8333. Similarly, Panama sent a mixed duet for the first time as well, which finished 11th with 60.7667.
The questions have been more or less the same for all three men medalists throughout the competition on how to grow this event and to help popularize men  in the sport. Synchro is changing, and May has always emphasized the need to further accept men into the sport so it can continue to do so. He also insisted on the big and positive difference between same-gender duets vs. mixed duets.
"Diversity is what makes a sport grow," said May in the press conference after the free final. "Without diversity our sport stays small. That alone is the biggest thing. Second, a mixed duet is very different than a same-gender duet, and people need to realize that."
"I think the resistance with men in synchro is that [people] don't have a lot of experience with it," explained May after the free preliminaries. "But I think if they see the world championships and the difference when men can compete, it will do a lot and men will be accepted more quickly." 
The mixed duets competed here in front of nearly sold-out stands, and the number of participants has almost doubled since 2015. The event is growing, and these men will not stop until they finally get to compete at the Olympics.
"All mixed duets are going for the same goal to be in the Olympics," said Minisini. "Being in the Olympics is the evolution of synchro."
Synchronized swimming is evolving and it cannot do so without the mixed duet.
Article written and interviews by Christina Marmet.
Photographs by Photo Dance and Liz Corman.