The Chinese team made history this morning by winning the country's first ever World title across all events during the free combination final on July 22. In the absence of Russia, the race for the title was wide open, but China quickly asserted its superiority following the preliminary rounds and once again during finals by scoring 96.1000. Ukraine continued its dominance over Japan to win silver with a brand new routine for 94.000. Japan won its second bronze of the competition with a score of 93.2000.
Under a pouring rain in Budapest, Hungary, China swam to its first ever World title, and used the free combination routine 'Master & Commander' that the Beijing province team competed with this season. It was using parts of Russia's 2016 free team music, and maybe that's just the secret to it all and a good luck charm to become winners (although the Russians weren't too thrilled about it). This was the final event for the Chinese swimmers, who were very much relieved to be done competing and to end on such a high note.
"It was a real struggle," they explained. "The competition time was very long and we were competing for many days so it was a challenge. But we are all really happy and really moved about that [title]…It feels nice (laughs)!"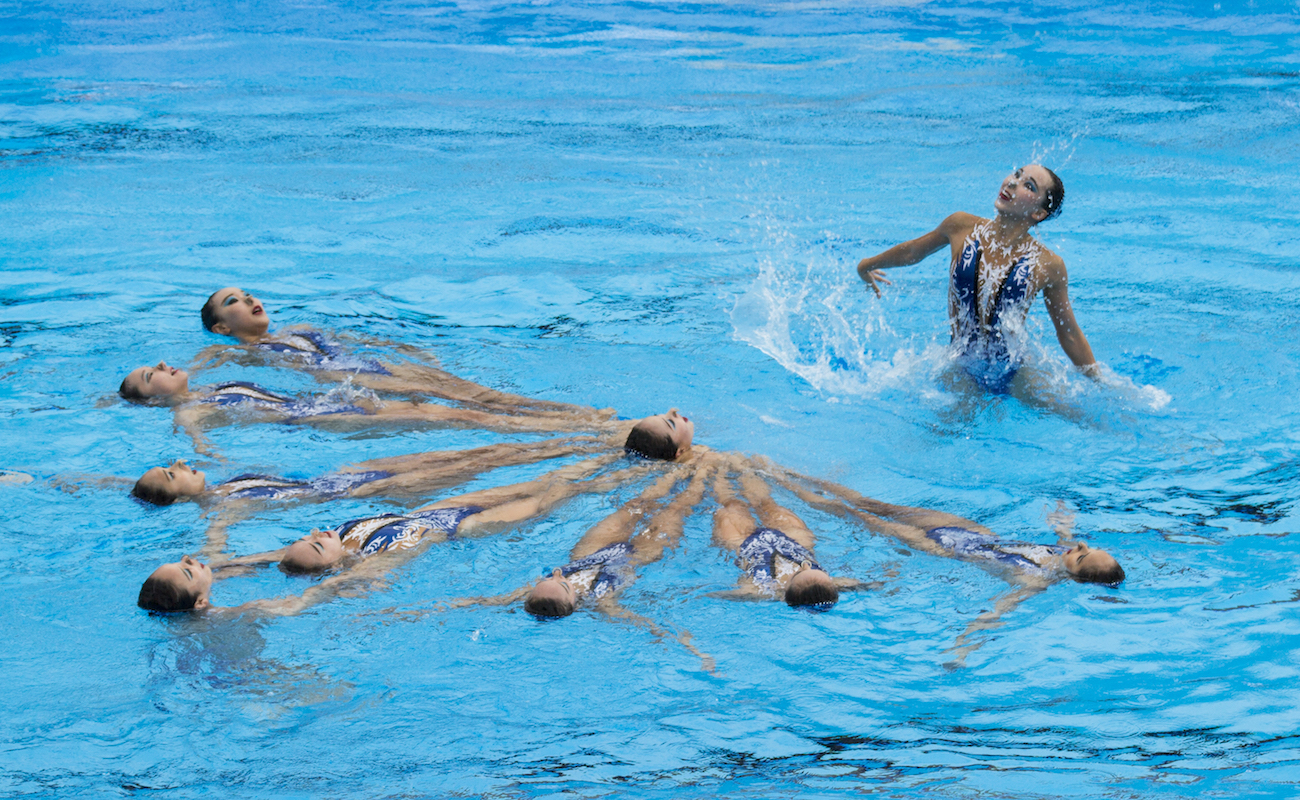 Ukraine finally unveiled a new program after keeping their old one for nearly three years and competing it the entire season. This new routine's theme is "Beauty and the Beast," and they displayed unique, never-seen-before lifts for a score of 94.000. The Ukrainians concluded their great showing at this year's world championship with a sixth medal, this time in silver.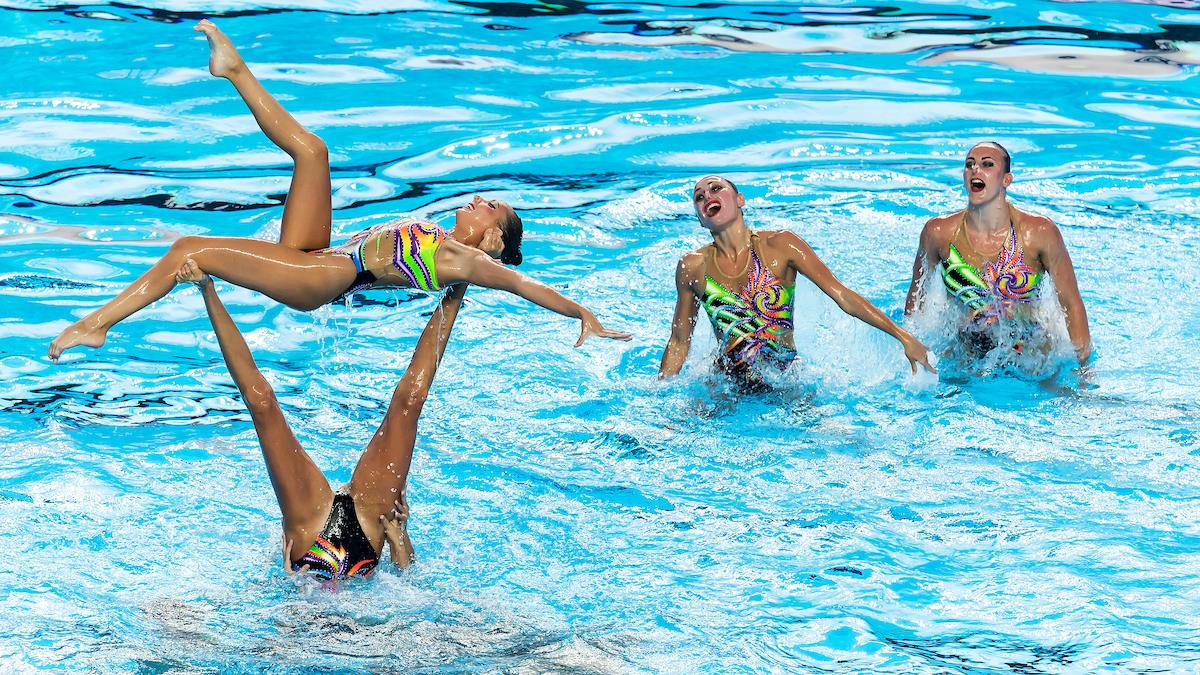 "After the [Spanish Open] competition in Spain we started developing this new free combination," said Anna Voloshyna. "It was an amazing work that we did up to the last moment before this competition started. Our previous program was quite light and romantic, and it was presented in the music and the whole atmosphere.  But this one is a bit different, it's more characteristic, more emotionally saturated but still elegant."
Japan's 'Mermaids' combo earned the nation its second bronze medal of the competition with a score of 93.2000. It was a rough meet for the Japanese who were coming in as the defending 2016 Olympics bronze medalists in duet and team, and four-time bronze medalists in 2015. Fortunately, they were able to end the meet with another medal.
The choreography is breathtaking and is quite a change from the other routines we have seen from the Japanese this year. This is a fairly new combo as they introduced it internationally for the first time back in March at the MUFE French Open. The first lap is surprising, as the swimmers split into two groups and swim to the opposite sides of the pool in front of the judges, as if to 'charm' them and attract them into their world. They then move very quickly back together to the center of the pool. Since the sport has evolved to a trend of very tight patterns and fast moves, this opening choreography is a huge risk, but it works extremely well with the theme and routine itself.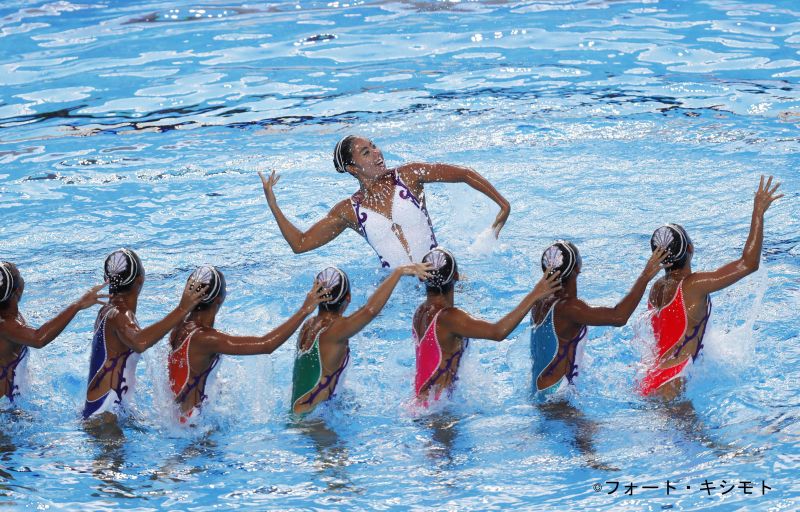 The Italians were at a great fifth place with their brand new routine choreographed by Anastasia Ermakova on the theme of 'Dolphins.' The theme is a bit difficult to decipher at first as the music and expressions are fairly intense, but the routine is filled with great artistry. They continued their progression by scoring 91.6667, about two points higher than in 2015.
Unfortunately, Spain's combo was nothing new as it was already using it in 2015. Parts of the choreography has changed since, but it was still disappointing to not see a different combo this year. The country ended fifth with 90.6667.
Mexico has been a crowd favorite this whole week, and it was no different this morning when it swam its ABBA routine, to huge claps and roars from the public. This routine is smart: it uses fun and known music, it's well executed, it features huge throws and impressive lifts. Of course the crowd is going to love it. The Mexicans have definitely crossed a threshold here, with multiple judges not afraid to go 9.0 on that routine. They ended with 88.7333, easily beating Greece and earning two points more than in 2015.
Greece finished eighth with their 'Angel and Demons' combo with a score of  87.000. France was right behind at 85.0667 with a 'Paris' routine aimed at highlighting the good and the bad events that have happened in the French capital over the years.
"This routine is very dear to our hearts," said Marie Annequin. "It tells our story, and it really belongs to us. We wanted to orient it not only in regards to the terror attacks, but we also wanted to give a good image of Paris so people remember its joyfulness, and that's why we end on a happy music. That… despite all the difficulties this town and the people had, we got back up and we continued on living."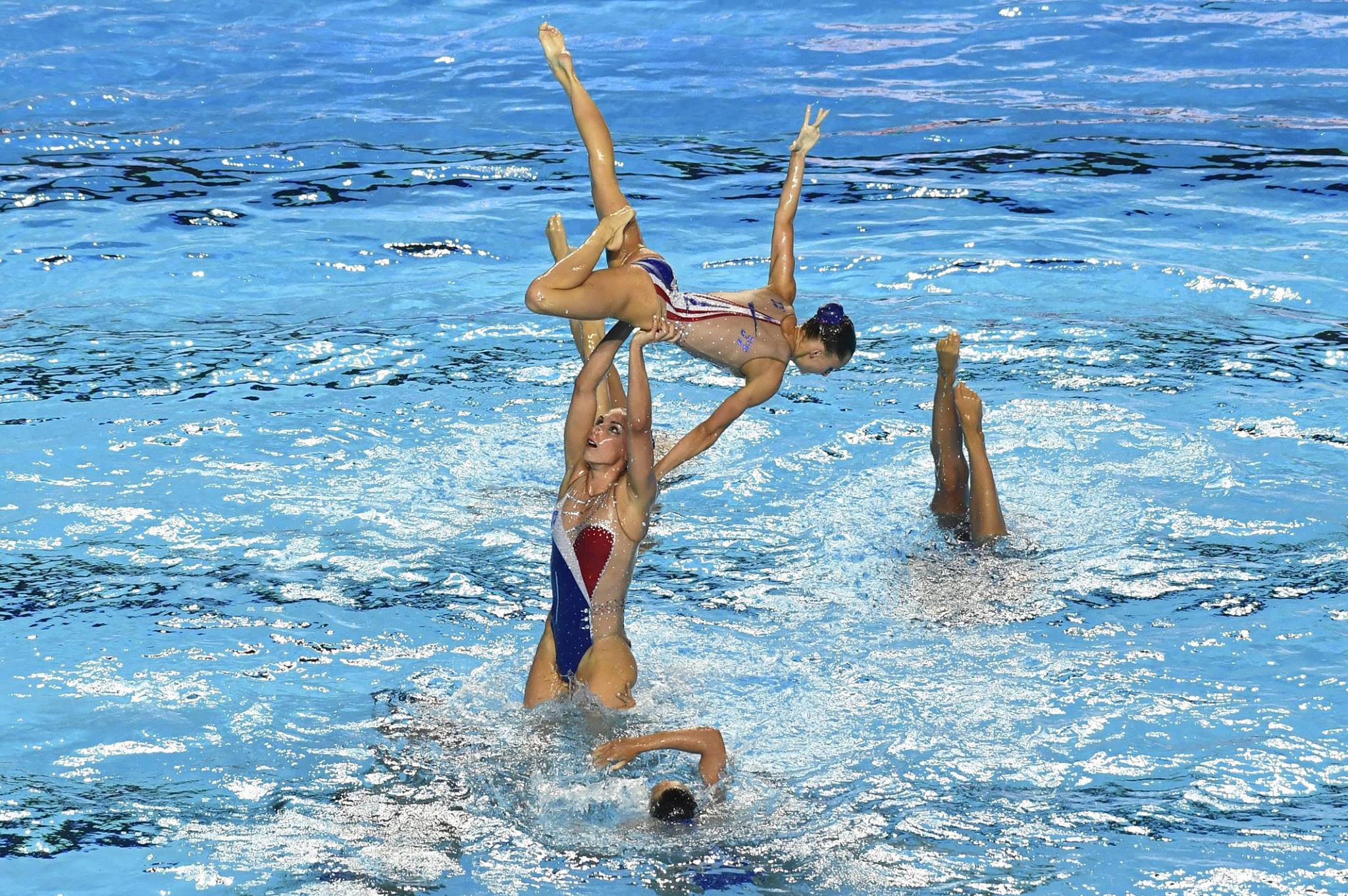 Just like in the free team event, the swimmers were able to participate in the creation of the routine and the music. Inesse Guermoud, out for the season due to injury, contributed to the soundtrack, and you can hear her whispers throughout on the "I love Paris" bits. Additionally, France has also had to rework its configuration with the injury of its flyer Maureen Jenkins a few days ago, but fared well in this final to end these championships on a high and emotional note.
2016 Olympian Laura Auge announced her retirement shortly after, visibly moved to end her career in Budapest: "I am very, very emotional, and so proud to bow out with this young but very talented team. These girls are wonderful and I am so happening to pass the torch on to them."
North Korea finished ninth with 84.2000. Belarus placed 10th with 83.4000 and with a traditional folk routine. Switzerland participated in its first final as a team with a Cabaret-themed combo, and it finished 11th with 82.0333. The Swiss were 13th in 2015, and have been progressing ever since: "It was great, we swam with joy and we enjoyed it. It was the last one… and the best one!"
Kazakhstan was the last country of this final, and it finished 12th with a score of 82.0000.
All competitors interviewed echoed one another on their state of fatigue and on being thrilled to be finally be done with the competition:
"We are very glad this is the last day," admitted a tired Voloshyna. "Because the last nine days have been a real marathon…Personally it was my 14th performance here."
Unfortunately, the FINA World Championships are not going to get shorter anytime soon, as the technical committee approved a few days ago to add Highlights, which will thus likely be adding another day of competition for the next edition in 2019.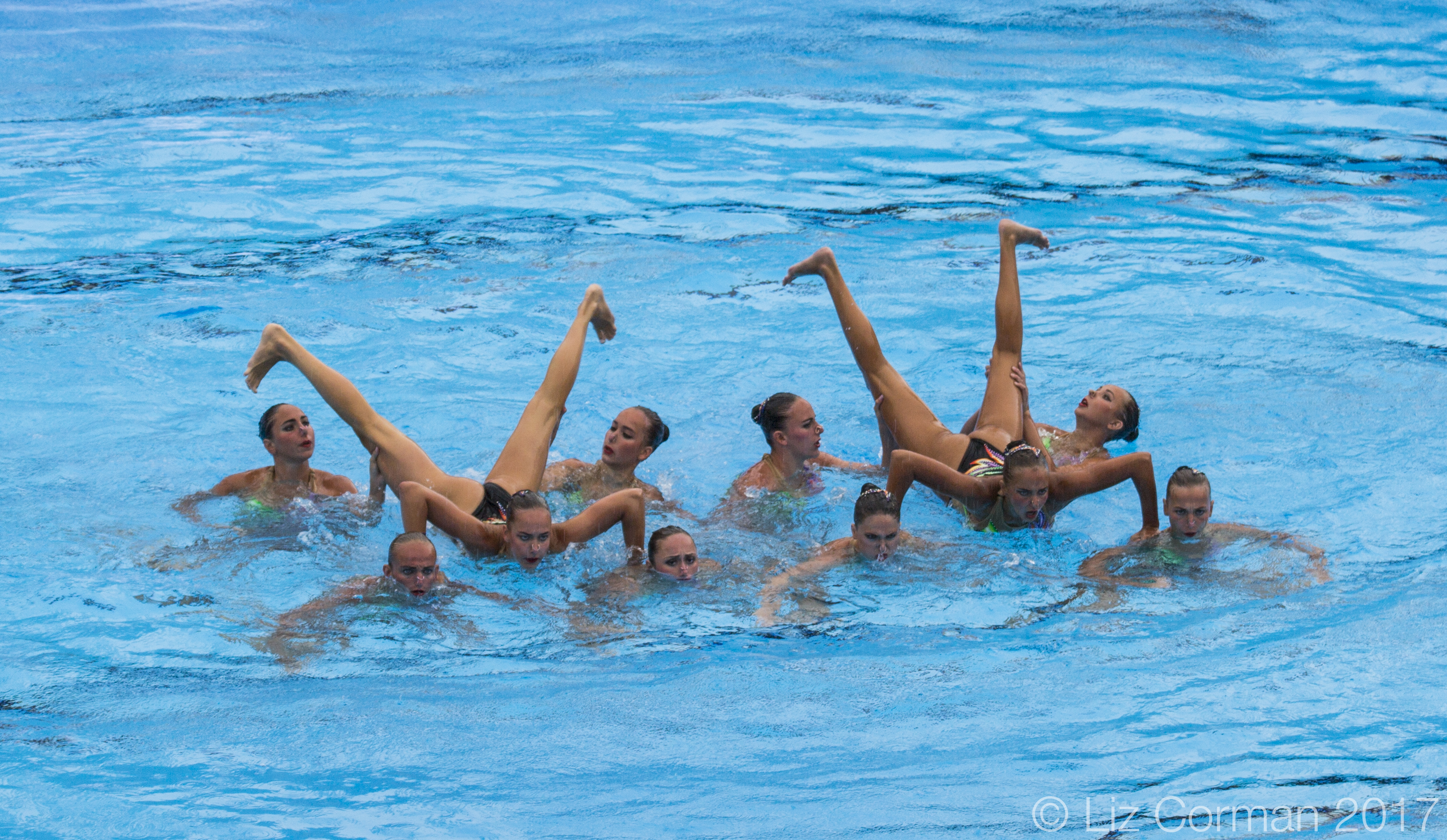 Article written and interviews by Christina Marmet.