Eve Planeix just wrapped up her first season at the National Institute of Sport and Physical Education, or INSEP (editor's note: the INSEP is a centralized training institute that hosts and trains elite athletes in over 25 sports) near Paris with the French senior national team. 2017 was a busy year for the 16-year-old who competed in both the junior and senior categories. Her schedule was filled with national and international competitions in France, Japan, Serbia, Italy and Hungary.
Planeix's season concluded in Budapest, Hungary, at the FINA World Championships, where she competed as a soloist for the first time of her career for the national team, a feat quite rare in synchro where soloists have usually been tried and tested in the 13-15 and junior categories before coming out on the big stage.
After this first year with the 'big guns' of the sport and before the start of the 2018 season, Inside Synchro sat down with Eve to talk about her career up to this point, the 2017 season, and what's in store for her in the next few years.
First of all, congratulations on this fantastic season! It's been a long and intense one, between the French nationals with your new club Ballet Nautique Strasbourg, and all the international competitions with the national team… How do you feel now that it's over?
This year has been very, very… very intense indeed! But it was also an incredible one. I started the season wanting to do my best and with an infallible motivation. But early on, I was injured and it felt to me like it would never end. I was mad at my body for not following my brain. I learned to be patient and to work differently. I was well surrounded with the staff and coaches at the INSEP, and they really helped me through this rough patch where I felt useless.
Then in March, I was finally able to swim my solo at the Make Up For Ever (MUFE) French Open. It was my first competition of the season, and I was so happy to finally be able to put on my suit and to swim that I felt alive again. And I was thrilled to show my hard work to my family… The walls of the pool could have crumbled around me that I would have continued swimming my solo!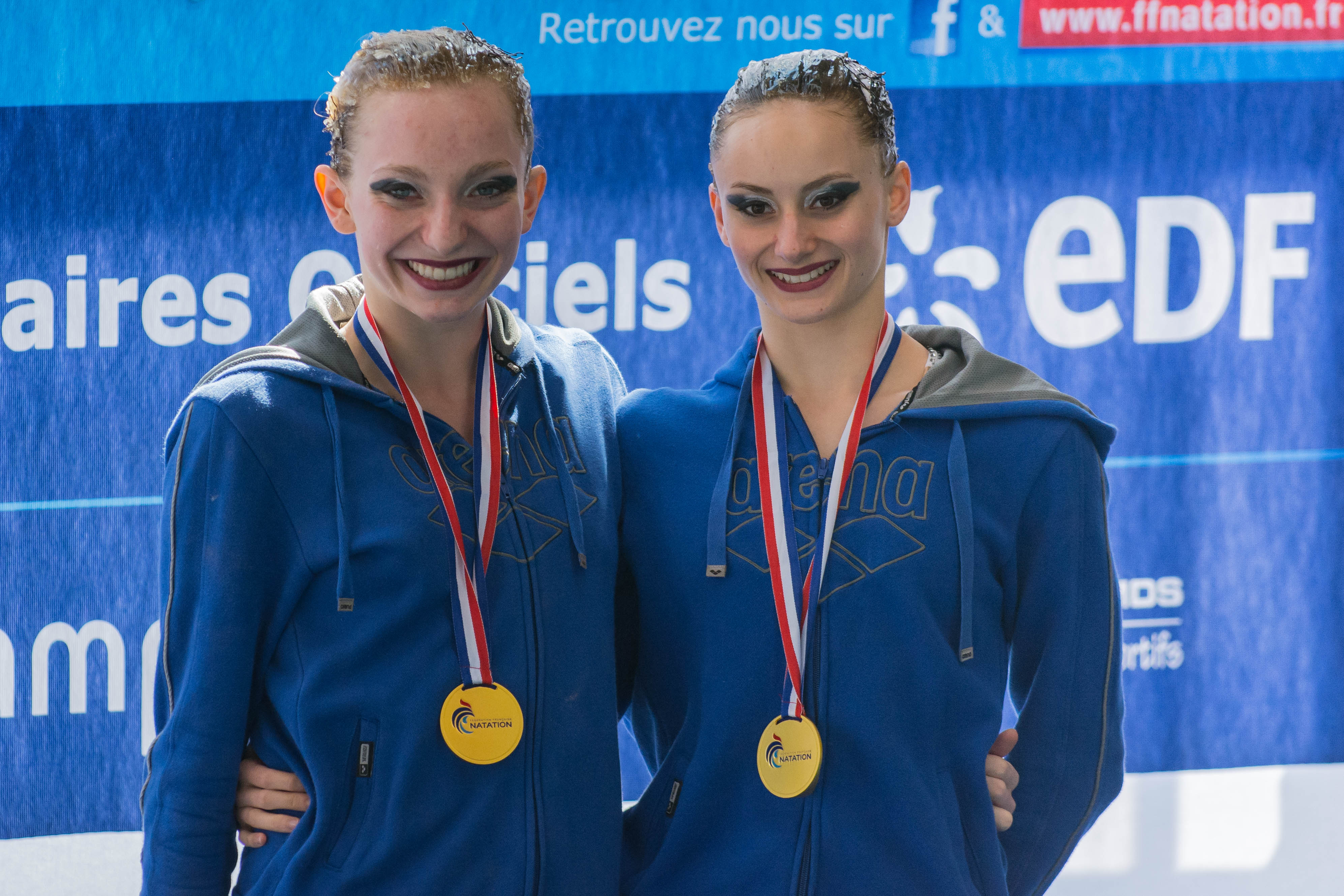 2017 was also the end of the 'pôle' section at my previous club of Sète (editor's note : 'pôles' are certified clubs around the country that welcome young elite athletes and that help them train and study in structured environment), and I had to make a very difficult choice… I had to leave my Sète family, so I decided to join the same club as my national team duet partner Maureen Jenkins: the Ballet Nautique de Strasbourg. Right from the start I felt welcomed there and all the swimmers, coaches, parents and staff took me under their wings right away. With Maureen, we actually won the French national title in duet this year.
It was also a very busy season internationally, with MUFE, the Japan Open, the European Cup, the Junior European Championships and the World Championships…I gained a lot of experience and became even more motivated because it's those international meets I really love and that I work hard for.
You burst onto the international scene this year as a soloist at MUFE, and you were later officially selected for Worlds as the French soloist for the first time in your career. Did you expect that at all, and how did you feel swimming your solo in Budapest?
I really did not expect that and I was so surprised (laughs)! Especially with my injury at the start of the season, I really thought at one point I wouldn't even swim anything at all… I don't take anything for granted anyways; I always train hard in practice and I let my work pay off. Good surprises come when they are supposed to… When I learned that I was going to swim my solo at Worlds, I was on cloud nine! But I really quickly came back down to Earth and I started training even harder with my coaches and teammates.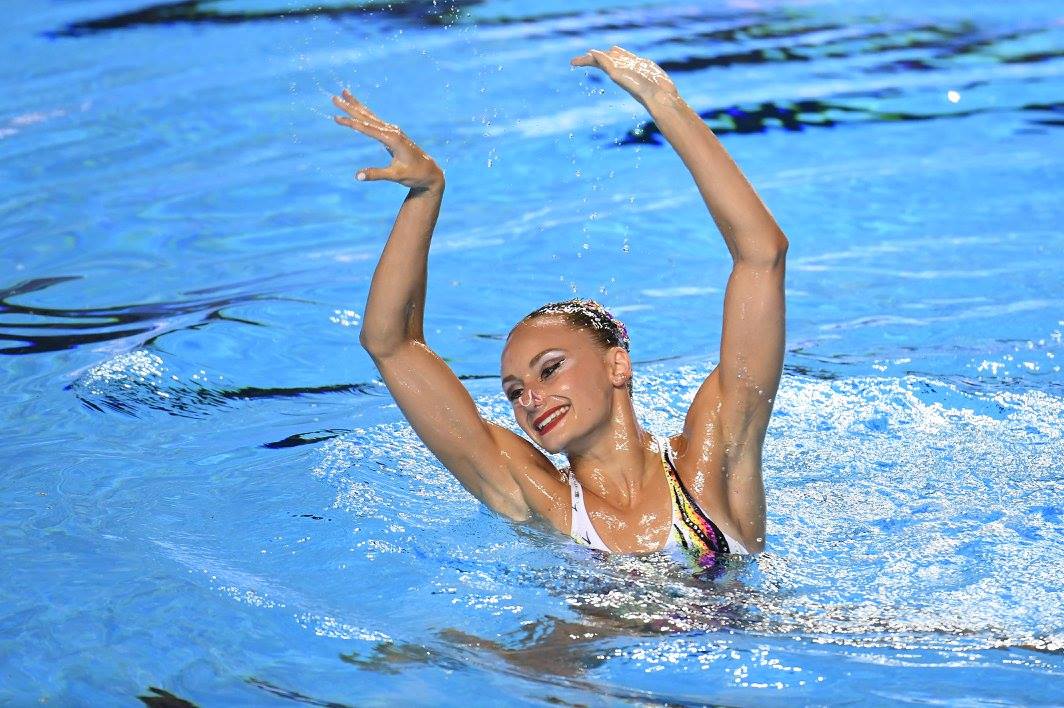 In Budapest, it was incredible! Everything was gorgeous, gigantic and impressive. The first time I saw the pool and the bleachers, I felt so small… Well, I am also not very tall either (laughs)! I was very emotional to be there, to swim with the team and of course to do my solo. Then official practices started, and I didn't think of anything else but train hard.
Let's talk about your solo… What's the story behind the choreography and the music choice?
I've always liked searching for and suggesting my own solo music… Pieces that inspire me and speak to me. This year, I also did find this music that I really liked from the start! Then my coach Charlotte (editor's note: Charlotte Massardier, coach with the national team and choreographer of Eve's solo) agreed that this music matched me. We started using it and choreographing on it… Charlotte then suggested to add a little section with voices at the start that she had found.
As for the story, I listened to the music over and over, and it just came to me. As the solo goes, the person I portray becomes an angel walking in a forest that's sometimes magical and other times scary. That's why it's hard to qualify my solo as only on the theme of 'Angel.' It's a whole story!
In Budapest, you had to replace Maureen [Jenkins] at the last minute on all throws and lifts after her knee injury just a few days before the start of the team events. How did you handle this situation that rarely happens in synchro?
When it happened, I was heartbroken for Maureen, just like all of us really… Then I understood I was going to be on all the lifts and throws and I honestly started stressing out because I had never worked on them all year. But I like challenges, so I told myself "Alright, let's do this! You have no choice, you're at Worlds, so let's go!'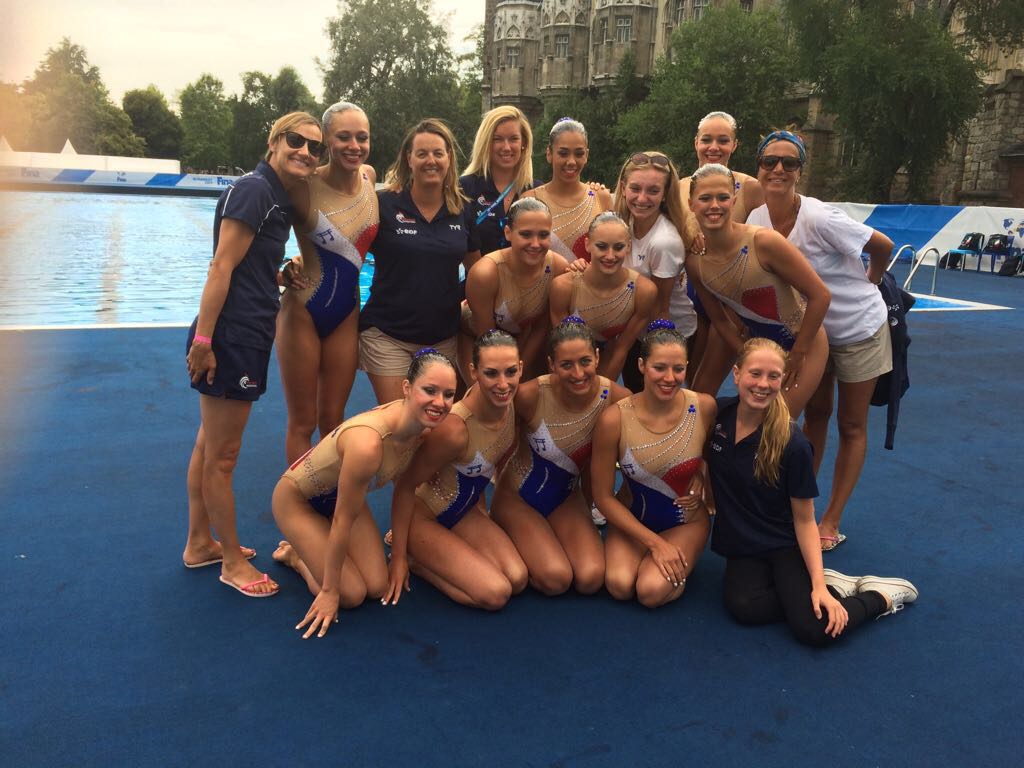 I like being on throws, so that helped. We only had two days to adapt to all these changes and we all really pushed ourselves, swimmers and coaches, to do the best we could. All of them really cheered me on during practice when we worked on the throws and it helped so much. I really liked this team spirit, and this experience really made us all stronger and will help us going forward.
Can you talk about your career so far in the sport?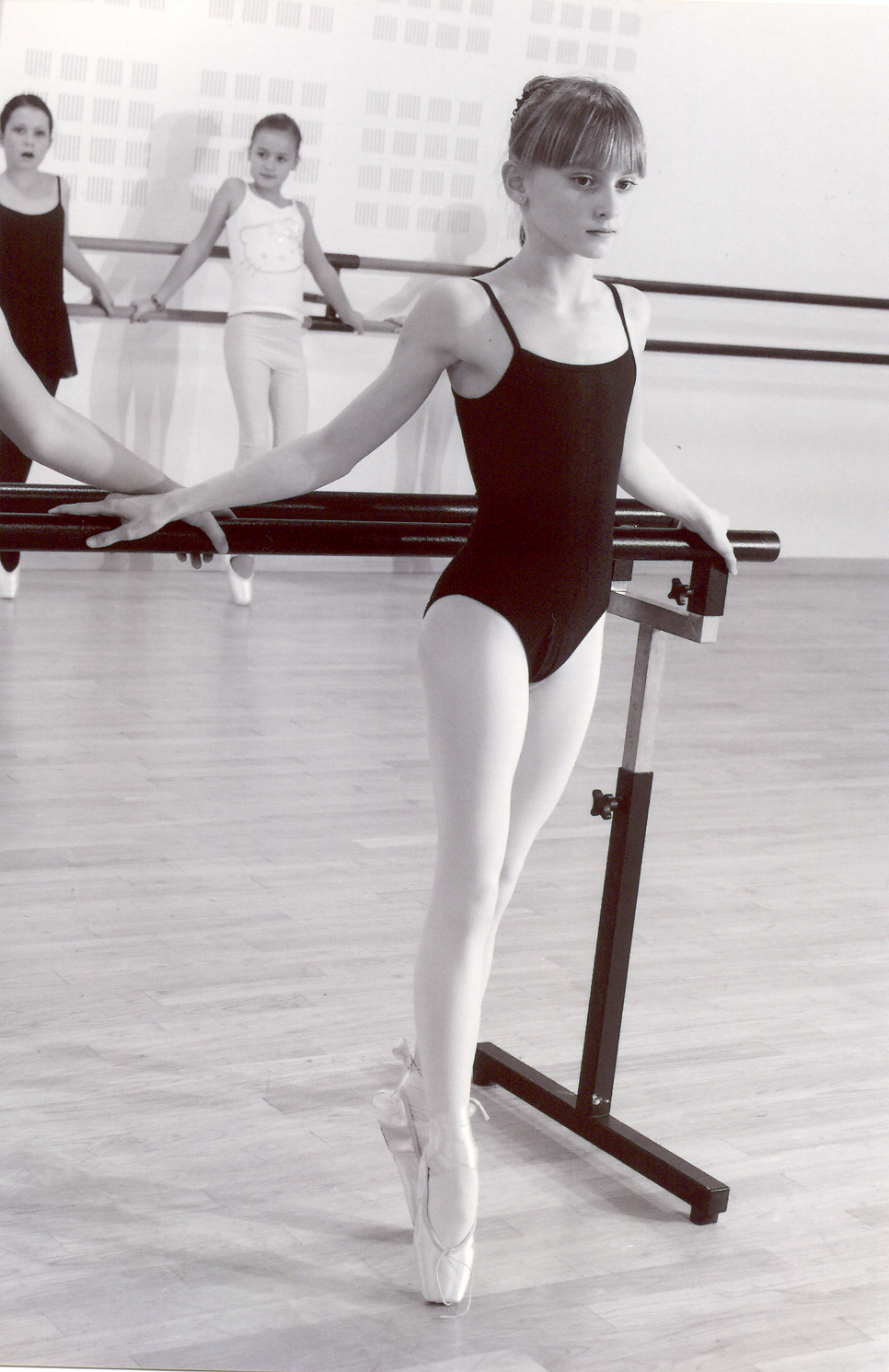 I started synchro at nine years old in a club very close to home called Synchro Riom. I had been taking ballet classes and I really liked it, but I wanted to win medals like my brother did in wrestling. I discovered synchronized swimming randomly watching the 2008 Olympics on TV. It became so obvious to me… That was what I wanted to do!
My first competitions with Synchro Riom were in the age group developmental levels. I was always dissatisfied by my performance; I always believed I messed everything up. It's only after a few months that my first coach Vanessa Lamarque told my parents that synchro was actually a sport perfect for me (laughs)!
I was also doing small, regional meets, and it's at one of those in 2012 that I met Rachel Le Bozec Chaffes, who was then the head coach of the 'pôle' in Sète. It wasn't until the 2014 season that I swam at my first national championship with that club though. As for my first year on the national team, it was for the 2015 COMEN Cup where I swam the duet and team… It was an incredible experience.
How was the move to the training center of Sète and to leave your family home at the young age of 12?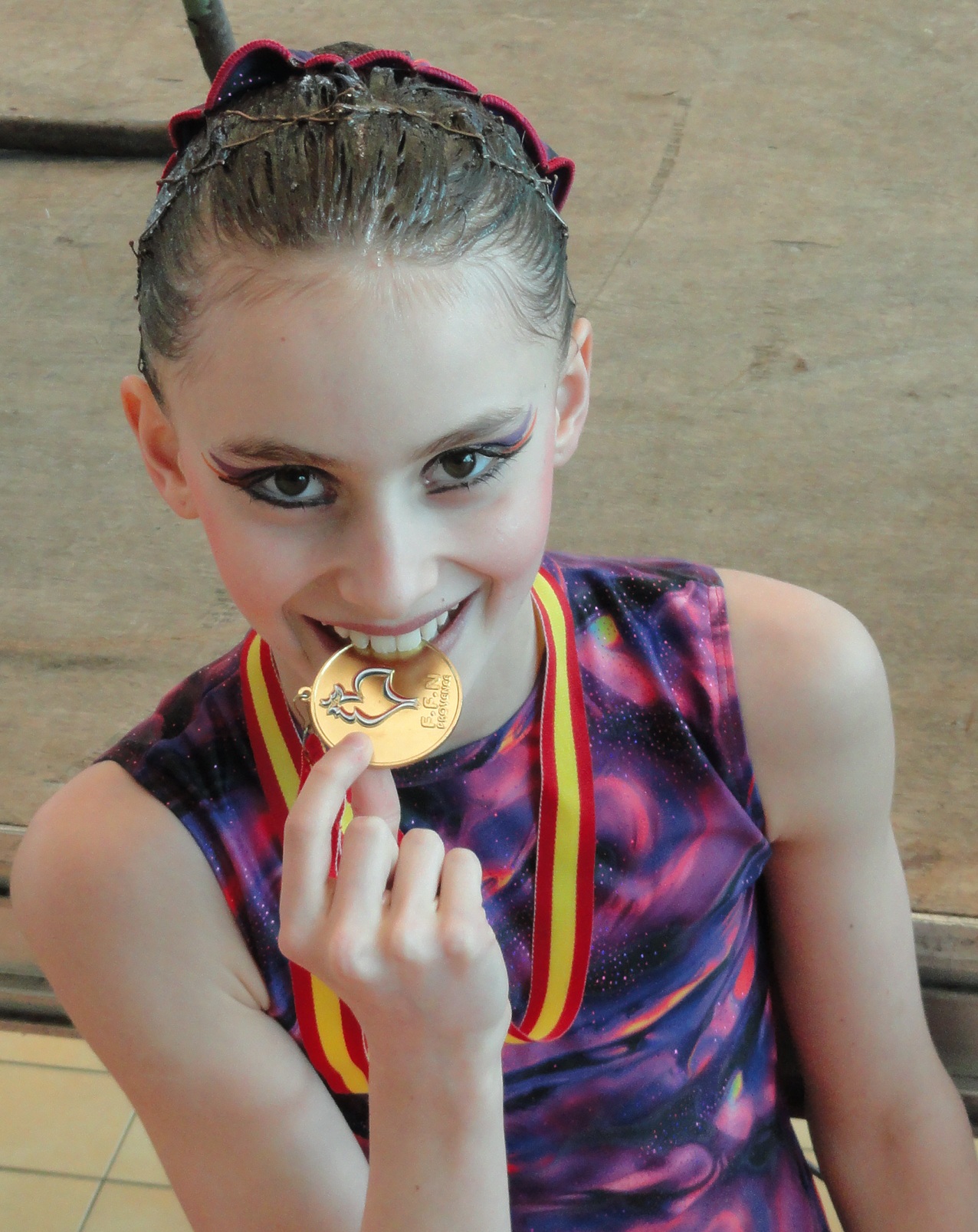 So I met Rachel Le Bozec Chaffes in 2012 and after the competition, she suggested to my parents I join the Sète training center, but I was only 11 then and my parents said no. I was so disappointed… I wanted to go! So Rachel worked something out with my club of Synchro Riom so my departure would be more gentle. That next season, I continued training in Riom, but every school holiday and one weekend a month I'd go train in Sète. I loved it right away and I was eagerly awaiting these weekends in Sète.
At the same time, my parents had signed me up for trampoline classes as suggested by Rachel to get myself ready and used to being on throws. I even won a couple medals there actually!
The next year in September 2013 and at 12 years old, I fully joined the 'pôle' training center of Sète. It wasn't always easy and I missed my family a lot but my motivation to get better was stronger than anything else. The first two years, I lived in host families with other swimmers from the training center, and I was still able to get that sense of family I still really needed.
The third year, I was ready to join the boarding school section, and I really liked it. Since I couldn't go home very often, my parents and my brother Luc would come down to Sète every other weekend. They did everything they could to help me follow my dream and to maintain our family's relationship. Despite the long distance, we have stayed really close… And that's for life!
My first year in Sète, I was coached by Emeline Ithier and I did my very first solo with her [see above]. During my first French winter nationals in 2013, I was so excited to swim my routine and to show off my work that I wasn't even feeling nervous! The 2013-2014 season was the season of firsts (laughs)… First solo, first duet, first French nationals, first time winning silver at nationals with the team… and first time far away from home.
These three years in Sète taught me a lot. I grew up and matured, I learned to be independent, to work hard, and I met incredible people who I'll never forget. I cried a bunch too, but my parents have become champions at consoling me from far away.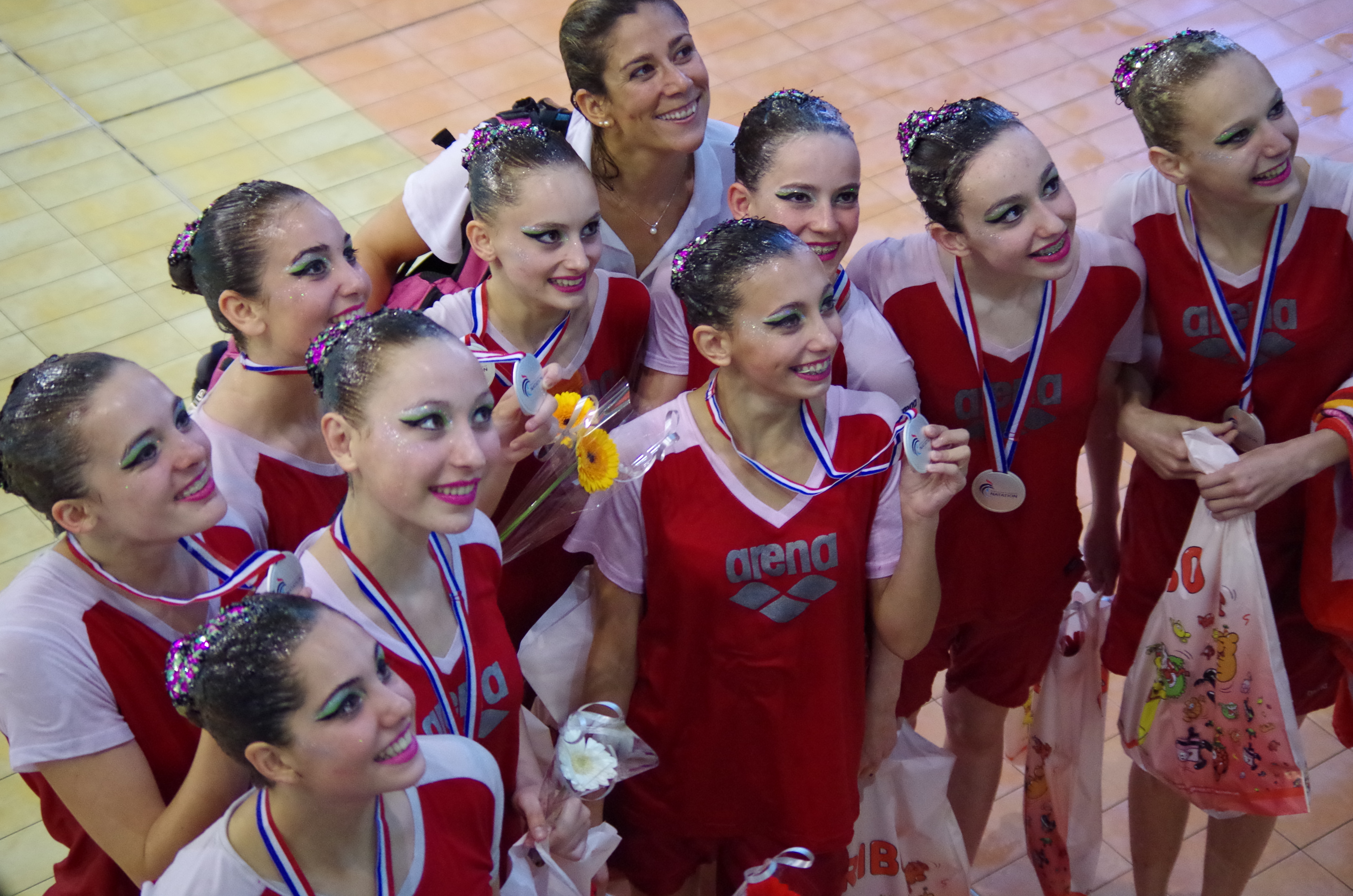 And then, you joined the INSEP last September at 15 years old…
Yes. It had already been a year that I was dreaming about it. I'd go regularly last season to work on figures and the duet, so the transition wasn't hard. And I was already used to living far away from home, so I felt at ease quickly. The intensity of training was something else though and it took me a while to get used to, but I love it now.
How is a typical day for you at the INSEP, juggling between practice and school?
Well… a day at the INSEP can be far from relaxing that's for sure (laughs)! In the morning I wake up around 6:50am and I get ready to get breakfast at the dining hall. Then I bike to class… Yes, the INSEP is huge, about 28ha, so biking everywhere is a must (laughs)!
Classes in the morning start around 7:45am and end at 10:30am. After that, I'm back on my bike and try to snack as I head to the pool. Practice starts at 10:45am and lasts until 1:00pm. At around 1:20pm and still biking, I go get lunch and take a break in my room until 2:10pm. Afternoon classes start at 2:15pm and go until 4:10pm, and then back to the pool from 4:40pm to 7:30pm.
In the evening, I have dinner around 8:00pm and have to do my homework. I have mandatory study hall for an hour on Monday and Thursday. Around 9:50pm I am finally back in my room where I can relax and get ready to sleep. I try to fall asleep between 10:30pm and 11:30pm. Wednesday afternoons are reserved for exams that can last up to four hours. On weekends, it's usually training or rest… The hours of practice during the week vary from one to the other. It can go from 25 hours to up to 35 hours when we train on the weekends.
This coming September, I'll be in 12th grade in the economics track. It's not always easy to deal with practices and classes with so little free time. But I'm really doing my best because I want to succeed in both. I am not exactly sure what I want to do after high school study-wise. I just know I want it to be compatible with my training schedule so I can give myself the best chances to be successful.
What do you like about synchronized swimming?
Synchro combines everything I love: dance, rigor, and it's in the water where I've always felt at ease. And it's so beautiful it almost looks so easy. It's like ballet: extremely hard and technical, but so beautiful that it's hard to grasp how difficult it is.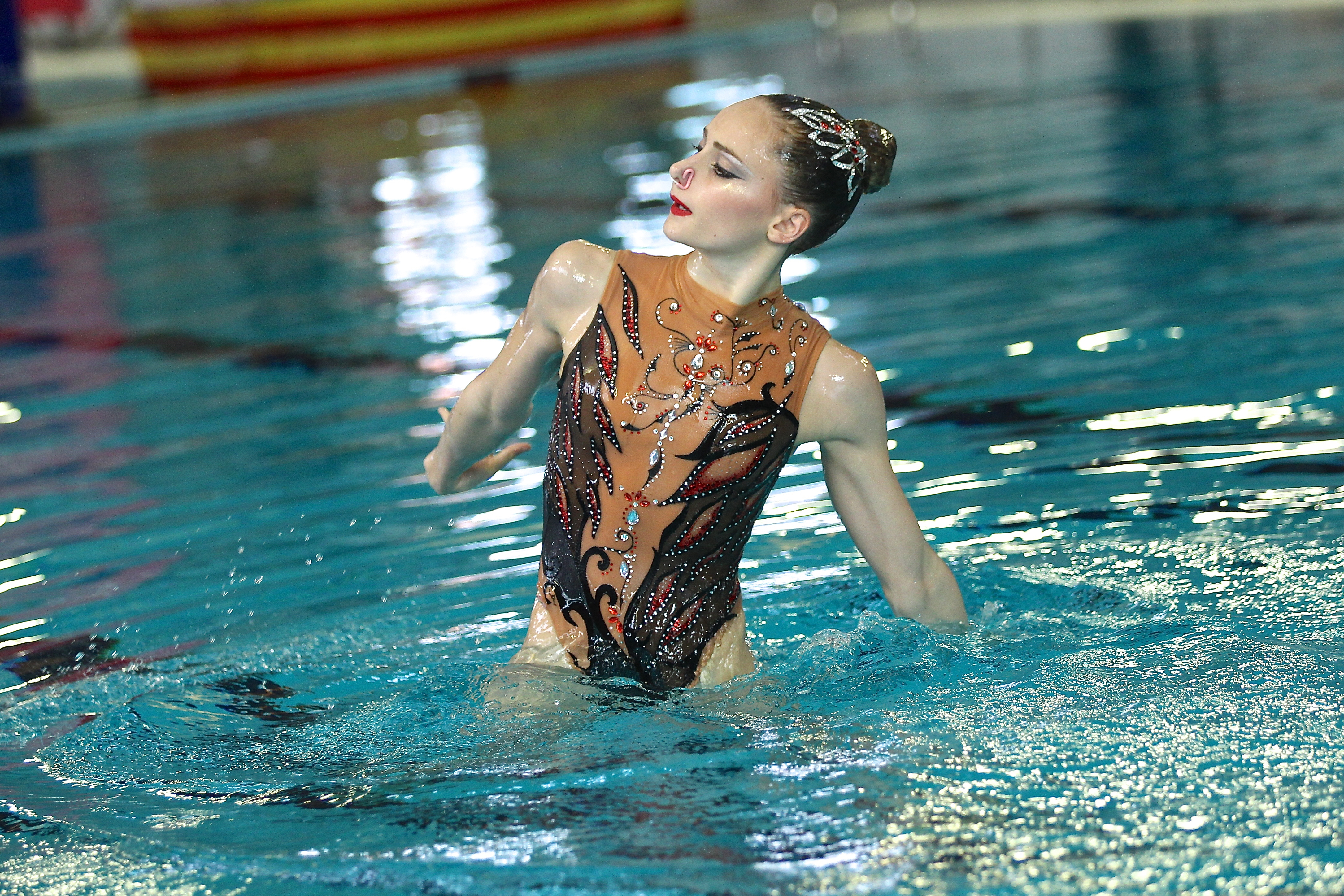 I also like the variety of the sport. Solo gives me a freedom of expression, the duet is all about the bond with your partner, and the team spirit is strong with all the team events. It's grueling, we hurt like hell, and it's hard… really hard. But we all go through it together and we become closer. I also really like flying and being on throws, which brings me just the right amount of adrenaline that I love.
Do you have a favorite competition, or a memory you're particularly fond of to share with us?
Every international competition with the national team gives me even more motivation to work hard. I love these moments where we get to show our work, and we are right with each other to do the best we can.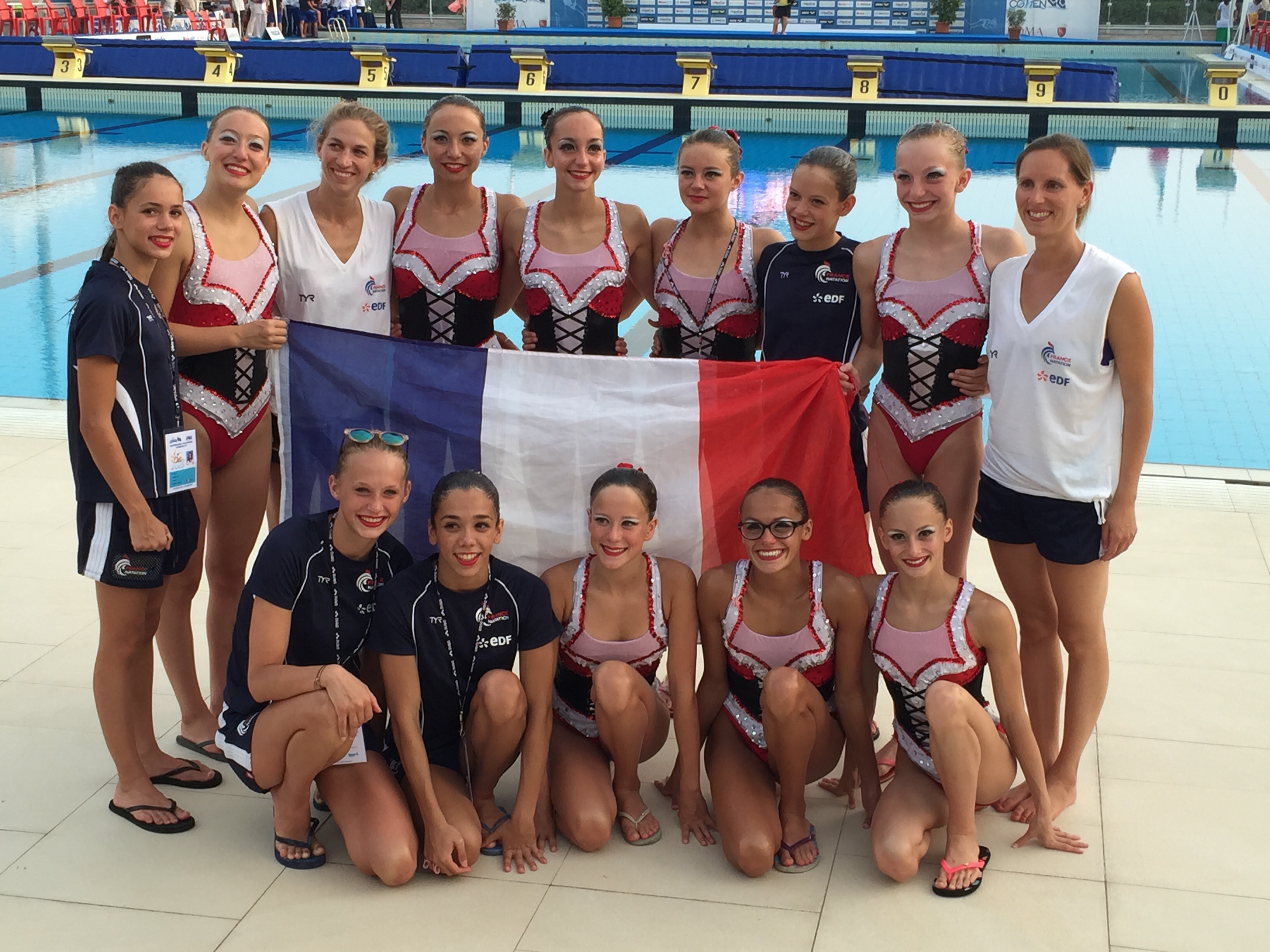 My first international competition was the 2015 COMEN Cup, and I always get emotional thinking about it. But really my best memory up to this day is the World Championships in Budapest! It was just…. wow!
When I interviewed last year to join the INSEP training center with [head coach] Julie Fabre, I remember saying I wanted to compete at Worlds eventually… One year later, here I was and I still can't believe it. I really hope to do many more [Worlds] to experience such intense moments again with my teammates, and to maybe get to do my solo again. I really loved that! And there is also another big competition that would be a dream come true… The Olympics!
What are your goals for the 2018 season? And your long-term goals?
In 2018, I want to continue improving and earn my spot on the team for every international competition. In the long run, I'd like to swim at the next Worlds [in 2019], to continue pushing myself with my teammates to earn a spot as a team for the 2020 Tokyo Olympics and of course… the 2024 Olympics at home!
Outside of the pool, I'd obviously like to pass my baccalaureate exam! And to then find my way in university… I also want to continue enjoying family time as I'm really close to them and it's so important to me.
Thank you so much Eve for answering our questions, and we wish you a fantastic 2018 season!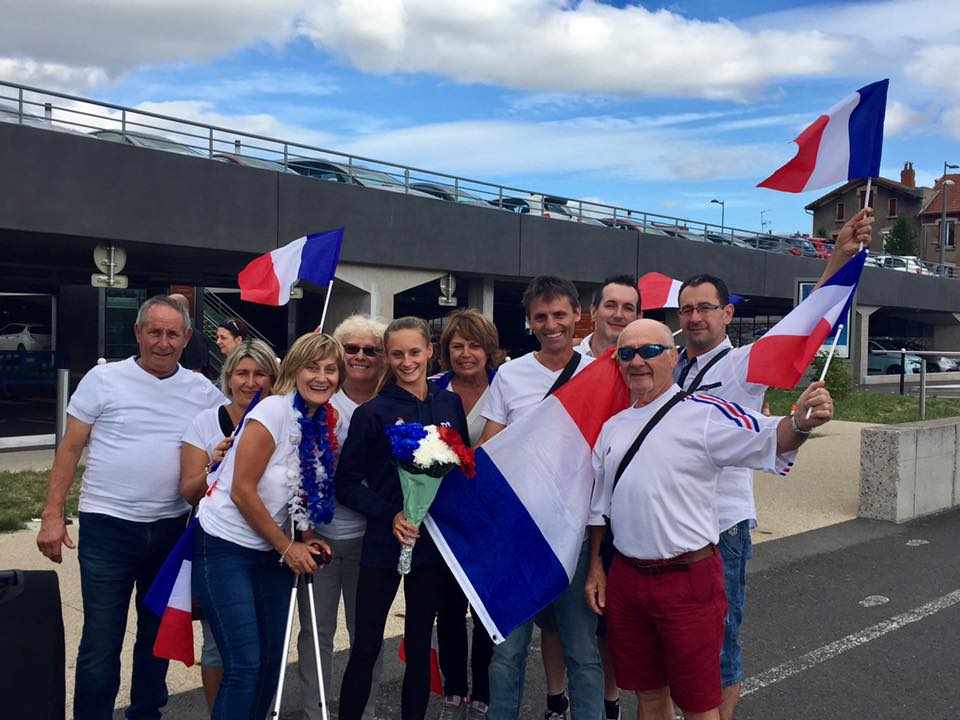 Article by Christina Marmet.
The interview was originally conducted in French, and you can find it here.