Kristina Lum-Underwood was one of the duet partners of Bill May during the inaugural mixed duet event at the 2015 FINA World Championships in Kazan, Russia. Lum-Underwood and May earned a silver medal in the free duet category. Two years later, we caught up with Lum-Underwood to talk about her experience in Kazan, what she's been up to since, and her thoughts on the evolution of the mixed duet event.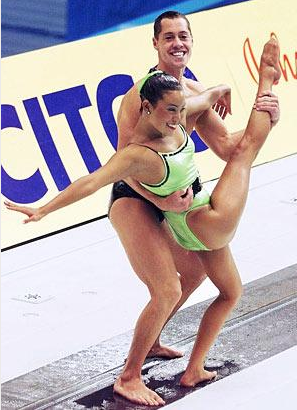 Lum-Underwood competed at the 2000 Olympic Games in Sydney, Australia, with the U.S. team and finished in fifth place. Lum-Underwood and Bill May have a long history together, and were already swimming as a mixed duet in the late 1990s. They won silver together at the 1998 Goodwill Games, and went on to become four-time national champions in the mixed duet. She came out of competitive retirement only a few weeks after giving birth to her second child, something very few in the sport have ever done. But despite the hardship of this incredible feat and a busy career with Le Reve show in Las  Vegas, it was only a natural and obvious decision for her to compete at worlds for the first time in the mixed duet with May.
What have you been up to since the 2015 FINA World Championships, and how did you reach the decision of not continuing on with the mixed duet?
I returned to work at Le Reve-the Dream at the Wynn hotel in Las Vegas the next day from flying home from Kazan. I am still currently in the show where I am a synchronized swimmer and also do a bit of aerial work. I have been doing this for 11 years now. I do two shows a nights, five days a week while taking care of my two kids who are 4 1/2 and 2 1/2 years old now.
I knew that I probably wasn't going to continue to swim after worlds in Kazan while we were training. The kind of commitment that needs to go into maintaining an elite level for synchronized swimming is not something I can keep up with a full time job and a family. I felt like my family sacrificed enough for those five months I was training and it is not fair for me to continue to ask them to do that. I felt like I got some closure being able to compete in mixed duet at worlds with Bill. My life is on a different path now and I was fortunate enough that my whole family supported me so I was able to fulfill a dream that we all thought would never happen.
Can you talk about your experience in Kazan, and how it felt to be one of the very first medalists in this new event?
Kazan was such an incredible experience in so many ways. The decision to come out of retirement was a difficult one, only because Bill had asked me to be his partner again while I was eight months pregnant and I had no idea how I could accomplish all of this. I had already gone back to work post-pregnancy before, so I knew what to expect. I knew I had to be back to work six weeks after giving birth, so around mid February I started training to get back into the show and as soon as I went back to work, I could start slowing training with Bill. I had another six weeks to work with our trainer at work to pass the strength tests required to be back on stage. On top of that, I needed to be competition ready, which is completely different than being show ready. But if I got injured and couldn't work, I couldn't train for worlds, so I really had to balance and not overdo it.
I also hadn't considered that I would have to do our national team trials requirements, so I had to learn all of the tech elements which I had never done before, do timed sprints, the required skills and strength testing, while still trying to lose the baby weight and struggle with my extra mobile post-pregnancy joints. I also needed to adapt to the changes in style and to what present-day synchro has become. Routines are shorter and the choreography is so much faster than what I was used to and packed full of difficulty. I wasn't really even fully able to swim sections of our routine until May. There were many times I doubted this was even possible. I was so fearful of letting my country, my coach Chris [Carver] and especially Bill down. But I had an incredible support team, and Bill and Chris and Christina [Jones] never wavered in their belief in me.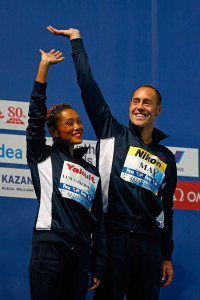 Needless to say, walking into the stadium in Kazan for the first time was just a flood of emotions. The second we stepped foot inside the pool area, I started to cry.  It was the culmination of so many years of Bill and I fighting for this moment that we were finally getting to experience together and the recent struggles of an insane schedule for the past five months of trying to balance a full time job, newborn baby, a three year old and training for the world championships in every spare moment in between.
In some ways, it all felt so new because so many things had changed since my last competition 12 years prior, but also so familiar at the same time. To be with the same people we started all of this with was pretty incredible. Standing on that podium was an amazing feeling, not only be able to bring home a medal for our country after so many years, but especially knowing we choreographed our free routine how we felt a mixed duet should be done.
How was it working with Bill and Chris Carver ahead of Kazan? 
When we were together, it was as if no time had passed at all. Since Chris was in Santa Clara and we were in Las Vegas, we didn't get to be together every day like we used to, so we had to adjust and talk everyday and send videos. But when she flew out to Vegas or we went to Santa Clara, we fell back into how we always used worked with each other. The only difference this time is we would have to tell her when we had to stop either because we had to go to work or I would need to feed my daughter. She did joke that she felt like she couldn't yell at me anymore since I was a mom now!
Did Chris Carver come up with the 'Firebird' choreography, or was it a collaboration between all three of you? 
The choreography was a collaboration between the three of us. Any of us can have ideas and we'll try everything to see what works and what doesn't. We might have other people come and look at what we have done and we'll listen to suggestions, but ultimately it's the three of us that decide on the choreography. It's special that we all contribute in creating our duets. We have always worked that way.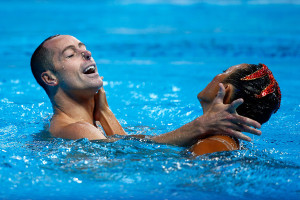 How was your duet received at the time?
We got really positive feedback. We knew going into the competition that it was most likely going to be judged the same as a two girls swimming, but we didn't want to compromise on how we wanted to present a mixed pair. It needed to showcase the beauty of the differences between a man and woman and set it apart from the girls swimming with each other. This was our only chance to show what we had been doing all those years ago.
What do you think of the new U.S. pair of May and Kanako Spendlove?
I am so happy that Bill has Kanako as his new partner. They are both so passionate about the sport and I think they are great together. Kanako has so many beautiful qualities and strength to add to their duet and which also complements Bill's. I have been able to make it to the pool to see them a couple times and I love what they are doing.
How did you take the news that mixed duets weren't (for now) approved for Tokyo? What do you think needs to be done to continue pushing for the event to be added?
I was extremely disappointed and heartbroken. I really believed they would add the event for Tokyo since it seemed to have such a positive response at worlds. I think we need to bring even more awareness and get more support to show that this event will bring a much needed change and evolvement in our sport.
ARTICLE AND INTERVIEW BY CHRISTINA MARMET.
This interview was originally conducted in July, a few days before the start of the world championships.