This photograph of former and current U.S. national team members Christina Jones, Kristina Lum-Underwood and Bill May, as if frozen in time and space, eerily floating in the dark, eyes closed, is one of Liz Corman's most famous shots and part of a series that really marked her breakthrough on the artistic swimming photography scene.
Corman was a synchronized swimmer herself for 14 years, and remembered looking up at posters of her favorite athletes on her bedroom walls, wishing to be just like them. She felt inspired watching the 1996 U.S. team win the very first team gold medal on home turf in Atlanta. Her passion for synchro never ceased, to the point where she had to find a way to make it into a career where she could highlight the intensity and athleticism of the sport.
"I want to make our athletes back into heroes," she said about her work. "I want to have people go 'I want to be the next Bill' or 'I want to be the next Anita [Alvarez]'."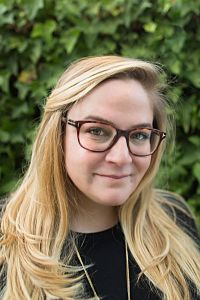 Corman's love for the water goes back to her childhood, and again to watching the 1996 Olympic Games: "Everything was so beautiful, and creative, and perfect. That's when I realized that yes…that's what I wanted to do." Back home in Minnesota, she started synchro at the age of eight with Stillwater Synchro. She later became one of the founding members of the St. Paul Stars club in 1997.
In 2003, Corman went on to compete for Wheaton College in Massachusetts, where she was the captain of the team for three years while studying studio art and art history. Originally aiming to focus on sculpture, it was after a semester abroad in Florence, Italy, that she decided she would rather study photography. "I couldn't understand why it was so hard for other people," she said, recognizing it came more naturally to her than sculpture.
She immediately looked for a way to include synchronized swimming into her senior thesis project. The end result was a series of abstract bodies in the water with a black background.
Corman graduated in 2007 and continued her studies through a Post Baccalaureate year at the School of the Museum of Fine Arts in Boston. This allowed her to develop her style and to explore different ideas that eventually led to her thesis work inspired by Alice in Wonderland.  The character of Alice was important for her growing up, not only for the visually wild story, but also for the iconic young female character that goes into this other world in search of her identity. "I identified as Alice at that time," she said. "It was a lot of soul-searching and figuring out who I was. And being in the water felt more comfortable than being on land."
Corman wanted to play with the 'Alice' narrative structure, and to recreate the vision of passing through the other side of the looking glass, so she naturally used the surface of the water. As she worked in pools around the Boston area, setting up her black backdrop in diving wells, her vision started to come together. The 'Alice' series was her very first done entirely underwater.
She then moved to San Francisco for a Master of Fine Art (MFA) degree from the San Francisco Art Institute (SFAI). During her time there, the synchro world slipped away quietly, as her projects focused more on anxiety and towards a style in between abstraction and narrative.  After graduation, she accepted a position with Apple. 
In 2012, she started coaching at the San Francisco Merionettes. "I didn't really know where I was going with my work after my MFA," she said. "It was a transition period to figure out what I wanted to get out of it." Corman was a head coach at the Merionettes for three years, and was able to network with many coaches in the area, including at the Santa Clara Aquamaids. Corman would watch videos of the Aquamaids incessantly, and drew inspiration for her own routines from coaches Chris Carver and Jennifer Ekhilevsky.
"I watched [their routines] over and over and over," she said. "What they came up with was everything to me. Their routines were what I gravitated towards."
Corman knew she wanted to thank them one way or another for their creativity and inspiration the two have brought her throughout the years. At the 2015 U.S. Nationals, she decided to give Ekhilesvky a few prints from her undergraduate thesis and a sampling of postcards from some other photography work. "I walked up to [Jenny], gave her a box of prints and said 'I owe you so much of who I am'," recalled Corman.
This seemingly small gesture ended up being a turning point in Corman's career. Ekhilesvky showed the photographs to Carver, and both had only praise for Corman's work. "At this point adrenaline flooded in and my ears were ringing," she said, laughing. "They were telling me how wonderful my work was. I literally blacked out; I can't even remember most of what they said. It was just an intense experience to hear that level of praise from my heroes."
Carver loved the photographs so much, she offered her the opportunity to work with the U.S. mixed duet, composed at the time of Bill May, Christina Jones, and Kristina Lum-Underwood. The three were getting ready to compete at the 2015 FINA World Championships in Kazan, Russia.
"It was one of these moments where I was like… 'I don't want to wake up someday and go what if?'" said Corman.
Her first underwater shoot with May and Jones lasted two hours, but the photographs gained in popularity very quickly and it marked a pivotal moment in the evolution of her work and in her professional career.
Corman works exclusively in swimming pools, and uses several backdrops of various sizes to fit the needs of any given shoot. Before going in, she works with her models ahead of time to fully explain the scenes envisioned, and provides them with a sketch of what the pose looks like. 
To stay underwater, she wears a weight belt and free-dives down, having retained much of her breath-holding abilities from her synchro years. A shoot can last for several hours, with her longest lasting eight hours, and a single dive goes from 10 to 45 seconds. The amount of shots produced depends on many variables like the light patterns, body, hair, face, costume, or surface reflection. 
Corman's inspiration comes not only from her interest in art history but from all aspects of her life, from traveling and collecting artwork with her family, to some of her favorite photographs or simply finding a unique vintage dress that would work well underwater.
'Brahma', one of her most famous photographs with Jones, Lum-Underwood and May, was also one of her most difficult: "We probably spent an hour just figuring out how to be able to hold the pose and get it just right. None of them have any body fat, yet remarkably, Christina floats like crazy, Bill sinks like a rock, and Kristina is somewhere in the middle. They are completely attached, so if they were off balance at all, they would topple over as one unit. Their eyes are closed, so they would literally hit the bottom together, face first. We had a lot of laughs, and had to shoot it over two days, using what we learned from the previous day. It was just one of those poses where we all knew it was worth it."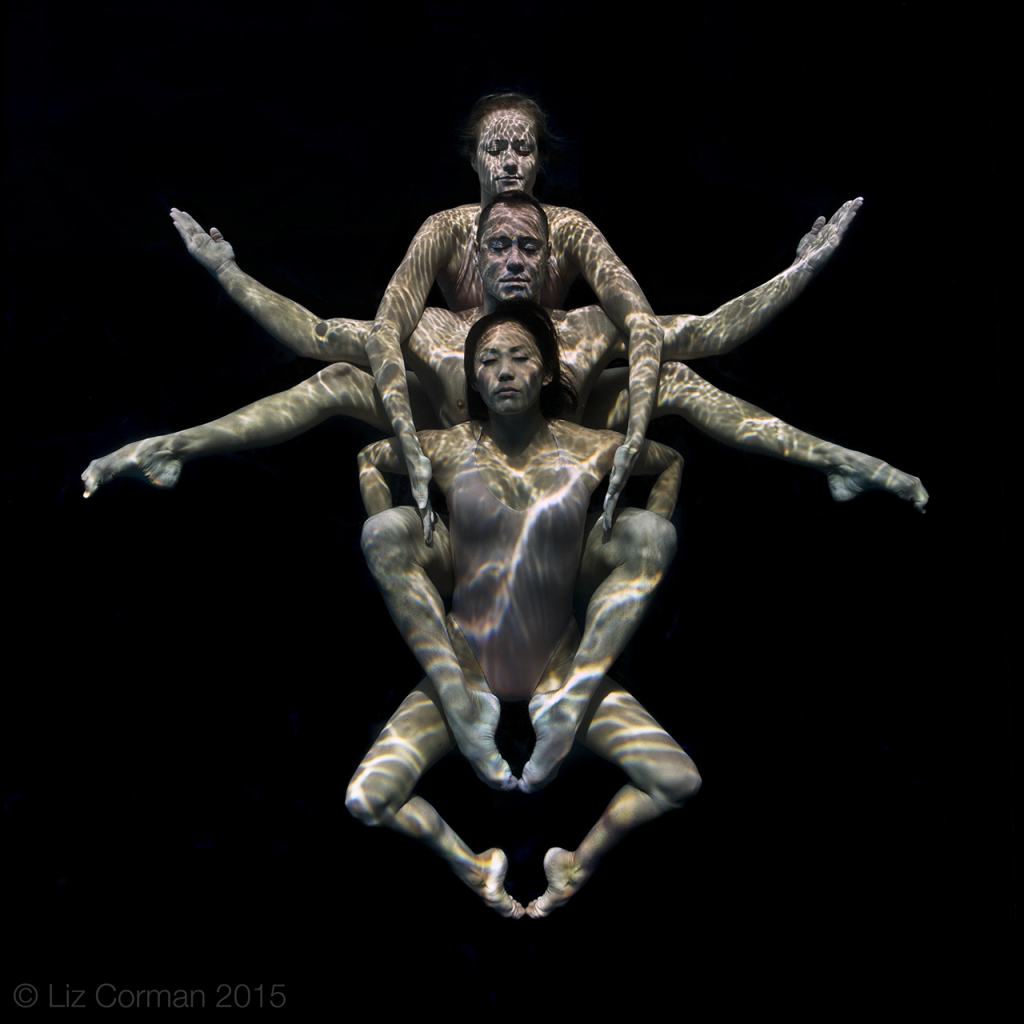 Jones and May went on to become the very first world champions in the technical mixed duet event in Kazan in 2015. A few days later, Lum-Underwood and May won the silver medal in the free mixed duet event. Unfortunately, Corman wasn't in Russia to see it with her own eyes. 
Shortly thereafter, she started working with the USA Synchro national team and the duet ahead of the 2016 Olympic Games in Rio de Janeiro. 
In 2017, she continued working with the U.S. mixed duet consisting this time of Bill May and Kanako Spendlove. The three spent a significant amount of time together as the duet was preparing for the FINA World Championships in Budapest. Corman gained their trust and was able to document their journey behind the scenes, at practices or during smaller competitions leading up to worlds. She also expanded her repertoire by photographing the U.S. team during practice from an underwater perspective.
This time around, Corman was able to watch May and Spendlove in person in Hungary as they went on to win two bronze medals. In the future, she does hope to eventually publish a photography book showing unique behind-the-scenes images of May and Spendlove's journey to these world championships.
In Budapest, Corman served as the official photographer for both the U.S. and Canadian teams, but also tried to capture other nations whenever possible. Despite being obviously limited to event and sports photography there, she carefully selected her photographs so they would only show the perfect moment, the perfect lines, the perfect synchronization.
Heading into 2018, she refined her business model to offer a series of private portrait shoots with clubs all across the U.S., and would like to continue attending international competitions. But most importantly, Corman wants to continue on her quest to highlight the athletes and the beauty of the sport, and help it grow: "I think there is a tremendous opportunity for photographers and journalists with a deep understanding of the sport to guide the conversation around synchro and enable growth within the community as well as develop a larger fan base around the world." 
To see more of Corman's work, check out her website at Liz Corman Photography.
Article by Christina Marmet.