Aleksandra Patskevich, a two-time Olympian and 2017 duet member for Russia, has announced she will not compete during the 2018 season.
Patskevich said in an interview with R-Sport that she wanted to take some time out, but planned on returning eventually. Patskevich has been one of the veterans of the Russian national team, and has essentially competed non-stop since 2009.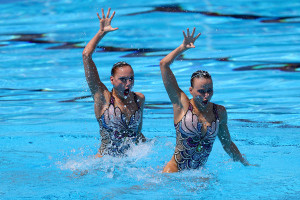 She won gold with the team at the 2012 and 2016 Olympic Games, and is a 13-time World champion with the Russian Federation. She most recently won two gold medals in the technical and free duet with Svetlana Kolesnichenko at the 2017 FINA World Championships.
This also evidently suggests we can expect a new Russian duet to debut at the 2018 European Championships in Glasgow, Scotland. Junior phenom Varvara Subbotina served as the duet alternate in Budapest, and would be the next logical choice to be paired with Kolesnichenko. No official announcement has been made on the new duet composition yet, however.
Article by Christina Marmet