The fourth leg of the FINA World Series in Šamorín, Slovakia, saw a relatively low attendance, with only 11 countries, including a few clubs and junior squads from Spain and Ukraine, and a few puzzling scores along the way. The Italians dominated the solo and duet events, while Belarus, Ukraine and Slovakia each grabbed one or more gold in the team events. Spain was the sole competitor in the mixed duet events.
Right off the start, the technical events were baffling as we saw a few low and puzzling scores that made both athletes and fans scratch their heads. The biggest dip happened in technical duet, where the Italian pair of Linda Cerruti and Costanza Ferro obtained 84.6770 despite no obvious mistakes, after being consistently and comfortably in the 88 – 90 range for the last two and a half years.
Low scores also occurred in the technical solo competition. In Japan just a few weeks ago, Cerruti scored 86.3904 in technical and 89.8000 in free. In Slovakia, she had to settle for 84.7075 and 88.7000, respectively. Similarly, Belarus' Vasilina Khandoshka received 80.0172 in technical solo, three points less than in Japan and nearly a point and a half below her score in Paris. Austria's Vasiliki Alexandri also lost two points compared to her last international outing in Paris.
While variations in scores are expected and normal throughout the season and from one year to another, such big gaps, sometimes up to four points here, can however be concerning and can lead to questioning the legitimacy of these scores, even though in the long-run, this is just one meet amongst many. Whether this one should be considered as an outlier remains to be determined (somebody get on these stats!).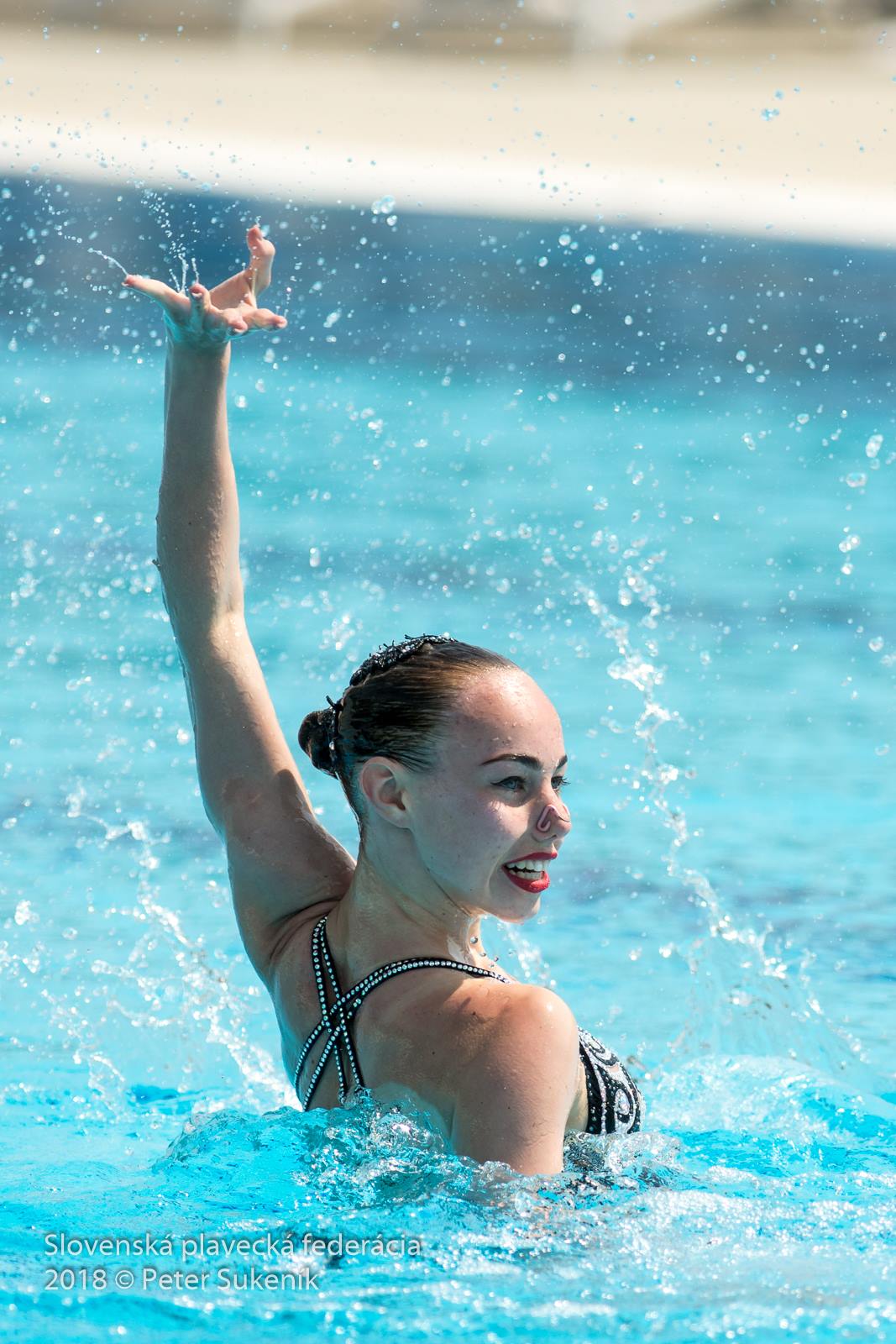 In spite of this, Cerruti won both solo events, and added two golds to her collection with Ferro in the duet events in the absence of any direct competition. In solo, the battle between Khandoshka and Alexandri continued as well. The two have been close in scores, and Khandoshka has now taken the lead in free solo and reversed the rankings of the 2017 world championships. However, Alexandri does continue to be ahead in the technical event, but both athletes are progressing so it could be a close fight at the European Championships in August.
In addition to two medals (one silver, one bronze) from Khandoshka in solo, it was a highly successful competition for Belarus as it earned a medal in every event it was entered in. The Belarusians were able to edge out Ukraine for gold in the technical team event by 0.3656 points, earned silver in free solo, technical duet and free combination, and bronze in technical solo, free duet and free team.
Spain's junior team competed here for the first time this season. Its young junior duet of Irene Jimeno and Iris Tio managed to grab silver in the free event ahead of a few veteran pairs like Belarus or Slovakia. The two kept the same 'Fear' choreography they had shown at the 2017 Jr. European Championships in Serbia and at the 2017 COMEN Cup. They have progressed greatly since last season and are poised to do well in the junior competitions this season.
The team also earned a silver in the free event using the old choreography from the senior team during the 2015 and 2016 seasons. Finally, Spain had entered its 'B' mixed duet of Ibon Garcia and Nayara Maria Pena, who are both technically in the senior category, and won gold by default of being the sole competitors.
Ukraine was also present with its junior squad for the team events for its first outing of the season. The Ukrainians earned silver in technical team and gold in free; using the same 'Illusion' routine as the senior squad in the latter event. This hopefully is a sign that the senior team is getting ready to unveil a different free routine, as it has already been over two years of 'Illusion' in that category. The juniors also won gold in free combination with a routine using the soundtrack of the Addams family.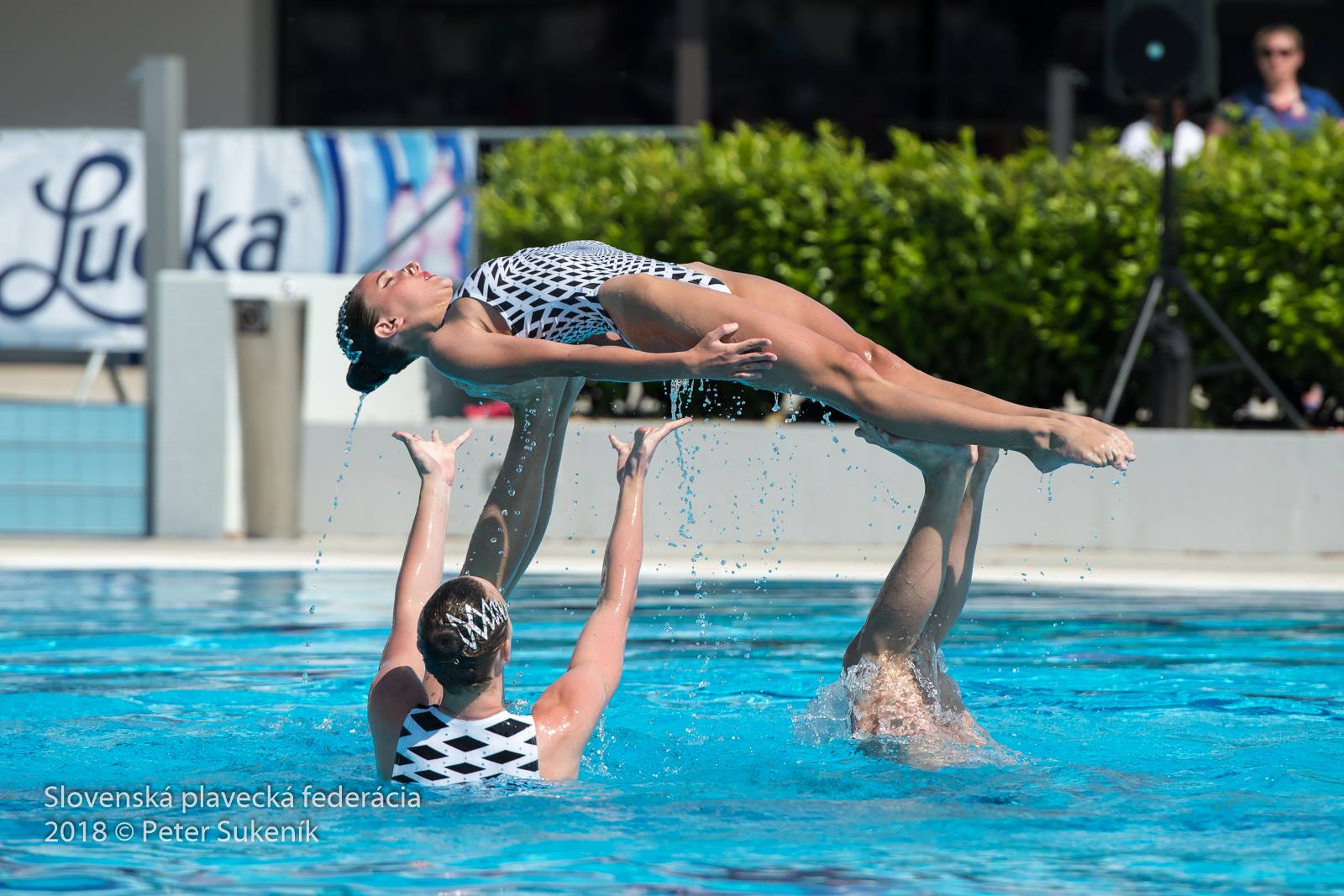 Finally, the home team of Slovakia earned a gold medal in highlight, to the delight of the crowd. Hungary also had its first team outing as a year with a very young squad mainly composed of junior swimmers, but managed a bronze in free combination.
Article by Christina Marmet
Cover photo by Photo Dance.