Russia swept the gold medal in every event it was entered in at the 2018 Budapest Open, the fifth meet of the FINA World Series. Whatever Russia didn't win, Ukraine won it. The nation imposed itself in the pool by earning a gold or a silver in every single event.
After wonky scores last weekend in Slovakia, things were relatively back to normal in Budapest for this next leg of the FINA World Series. This competition attracted most of Europe's top swimmers, and some nations even introduced a few of their junior routines ahead of the Jr. World Championships to be held in the exact same pool in July.
Russia won the technical and free team events with 94.6289 and 97.000, respectively. The Russians swam their 'Shaman' free routine for the first time since the world championships last season. 2016 Olympian and team flyer Maria Shurochkina was also back in the squad.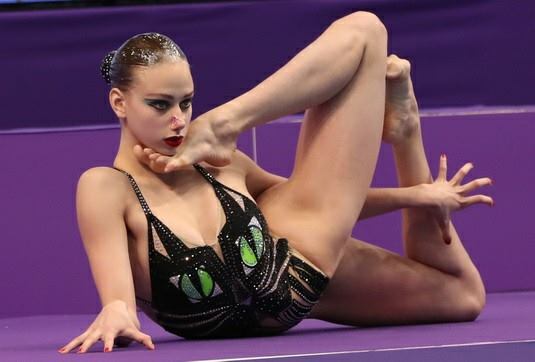 Varvara Subbotina, heir apparent of Russian synchro and of basically the entire sport, swam both technical and free solo. She absolutely and unsurprisingly crushed the competition. We had already seen her technical solo at the French Open, but judges were in a much bigger disagreement here over her last element – the Barracuda 720° – than in Paris, with scores ranging from 7.9 to 9.3. That said, she still earned 94.1510.
Subbotina also swam a free solo on the international stage for the first time since 2016, and dominated the field by scoring 95.3330, nearly three points higher than the next competitor. Her score is also essentially on par with what her teammate Svetlana Kolesnichenko obtained at the French Open in March for her free solo (95.5000), so there's that.
It appeared her solo was on the theme of the black panther, and she showed off her ridiculous flexibility and lack-of-joint-ness. Her talent is out of this world, and I can't wait to see her push the envelope and the limits of our sport soon.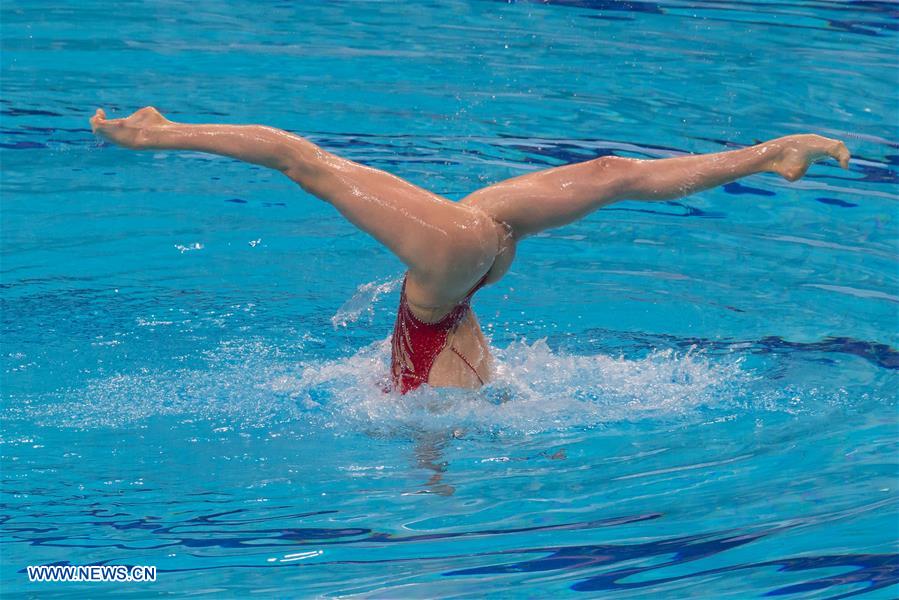 She revealed in an interview that she will be participating in the 2018 Jr. World Championships… as yes, we do need to remind ourselves she's only 17. She is undoubtedly going to rule over that meet and probably score in the 99… Well, maybe not, but she is just way too good. It is however understandable that she will still compete in the junior category for the solo event, as Russia is very much a "you wait your turn" country with a lot of depth, and as long as Kolesnichenko is around as a senior soloist, Subbotina will just have to wait. Kolesnichenko was held out of this competition due to some nagging knee issues, but she is expected to be back for the European Championships.
Ukraine also had a fantastic showing at this competition and debuted multiple new routines across three events. The Ukrainians scored 92.0168 in technical team, which is a little over two points better than their last outing in Paris, and they are inching closer to Russia. It is hard to compare scores across competitions, but keep in mind that China obtained 92.5899 in Paris. Ukraine is improving fast, although these two countries won't compete against one another in any major meets this season.
As expected after we saw their junior team compete the 'Illusion' routine last week, the Ukrainians presented a brand new free team choreography. The music is quite intense and aggressive, but they had clean swim for a first time out and continued playing with shapes and angles. They also remained outstanding in terms of throws and lifts; they opened with a sky-high double arabian (for the gymnastics experts out here), while a lift in the middle of routine involved a handstand in a straddle split position while spinning 360°. It's amazing.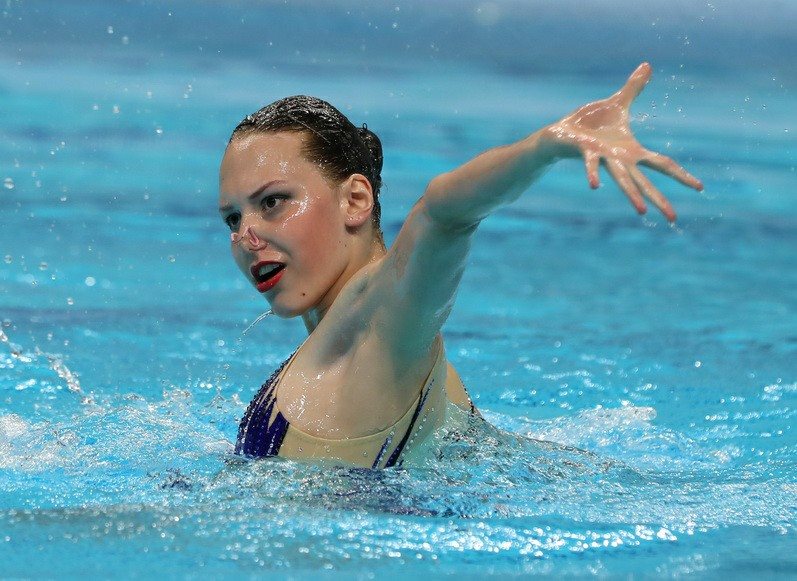 Ukraine also introduced two solos from Marta Fiedina, their latest talent born in 2002. Fiedina was already highly successful last season in the junior category, and she will likely represent the country again during this year's junior meets. She still a bit more fragile technically than the other two (senior) soloists Yelyzaveta Yakhno and Anastasiya Savchuk, but she has a great presence in the water and is likely going to develop into a beautiful soloist. Despite her young age, Fiedina still managed fourth place in technical solo with 87.3226, and fifth in free solo with 89.8332. Keep your eyes out for this one in the next few years.
Finally, the twins Marina and Vladyslava Aleksiiva competed in both duet events and had satisfying performances. Despite a synchronization mistake in the final hybrid, they placed third in technical duet with 87.1012. The ranking was the same in free duet (88.8669), but they couldn't earn bronze medals in either events in the FINA World Series rankings due to the one-per-country rule as their teammates Yakhno and Savchuk were ranked above. The twins are born in 2001 and are thus eligible to compete in the junior competitions this year.
Italy debuted its new technical team routine, which involved some sirens and sounds of cars racing around (…why?). The execution was good for a first time out, but there were a few synchro mistakes here and there. Their score of 88.3951 is a bit lower than last season's, but it does match the general pattern we've seen of lower technical scores for many countries. However, this means we could be in for quite a battle at the European Championships later this summer between Italy and Spain, as the Spanish recently scored 89.2206 at the Japan Open. Once again, it is not ideal to compare scores across different competitions, but it is something to keep in mind.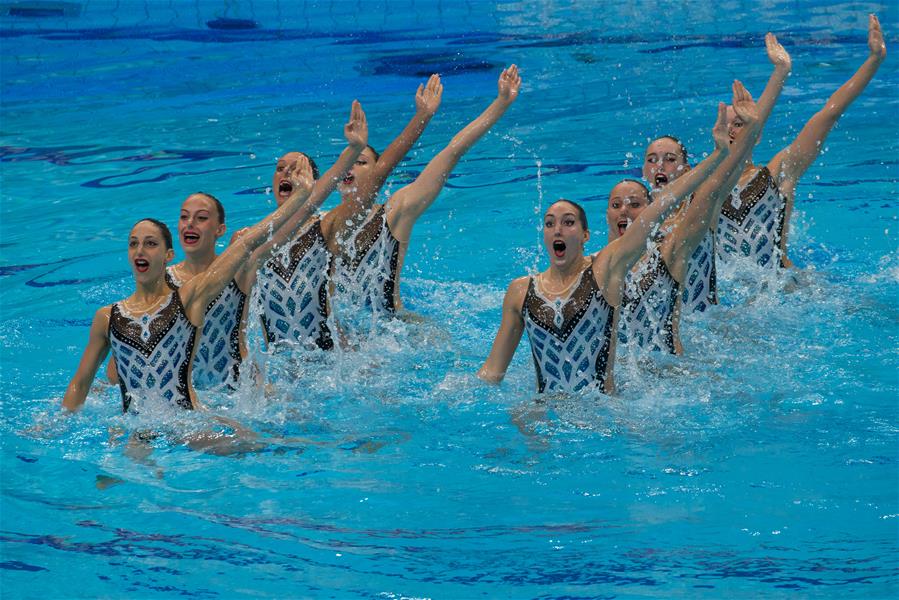 Spain was in Budapest for about five minutes to only compete in the free combination event where it won silver with 90.2000. The fight in the solo events between Austria's Vasiliki Alexandri and Belarus' Vasilina Khandoshka, another one part of that talented 2001/2002-born generation of swimmers, continued on. Alexandri did manage to move ahead of Khandoshka for the first time since worlds by 0.3 points in the free solo.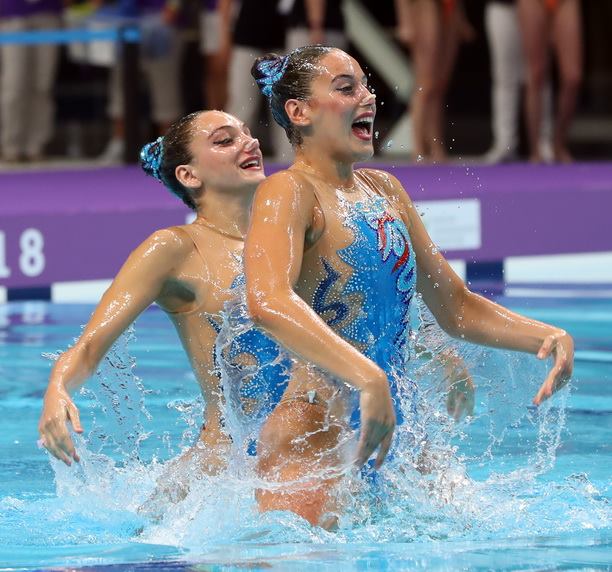 Greece sent Evangelia Platanioti in solo, but also debuted what is likely its junior duet for the season with Anna Maria Taxopoulou and Georgia Vasilopoulou. Taxopoulou was already part of the junior duet last season.  The two swam in both events, and are swimming the old senior free duet choreography from the 2016/2017 season.
Switzerland had two senior duets in competition, one with Vivienne Koch and Noemi Peschl, and the other with Maxence Bellina and Maria Piffaretti. These four are likely battling it out to ultimately represent the country in the bigger meets later this year, but the latter pair represented the nation at the world championships last year.
Both duets ended up within 0.33 of each other in free, but the big difference happened in the technical event, where Bellina and Piffaretti had a clear edge. The pair of Koch and Peschl did not have a clean swim, with a mistake right from the start on their opening barracuda, and on their last technical element, the Barracuda Fishtail 360°. These two duets will compete at the Spanish Open next for the next step of the selection, and things could get interesting with a better swim from Koch and Peschl.
Israel only competed in the team events, but proved it was for real this year by scoring once again above 80 points in free team and free combination, and by improving its scores in technical team and highlight.
Article by Christina Marmet
Cover photo: Xinhua/Attila Volgyi