And SpongeBob SquarePants made an appearance. Thank you, North Korea for this unexpected surprise. Out of everybody, you were the last country I expected to ever see this from, but I am delighted.
On a more serious note, the 2018 FINA Junior World Championships concluded on July 22 in Budapest, Hungary, and it was a complete Russian sweep in all nine events.
Varvara Subbotina unsurprisingly crushed both solo events and successfully defended her world title from two years ago. She obtained 93.5667 for her free solo and 92.6551 in technical solo, a mere three and four points away from second-place finisher Marta Fiedina from Ukraine, respectively. Subbotina was visibly emotional on the technical solo podium while singing the national anthem, but was beaming a few hours later for the free solo medal ceremony.
The Russians competed a new young duet of two first-year juniors with Kseniia Ladnaia and Elizaveta Minaeva. The two had already won the European junior title a few weeks ago in Finland, and both swam at the 2017 COMEN Cup, although not as a duet. They repeated their results here and won by about two points in both events, and proved once again that Russia has nothing to worry about for the next few years. In the team events, the Russian kept the same free and free combination routines that we saw last season at the 2017 Junior European Championships in Serbia, while their tech routine was to the theme of Samurai.
In the inaugural mixed duet events at the junior level, the pair of Alina Mantulenko and Mikhail Vasilev won both gold medals. The Russians had an energetic technical routine to Elvis Presley's "A Little Less Conversation", while their free routine (see below for their euros performance) was choreographed by Olga Brusnikina, which earned them a score of 85.1333 despite a mistake at the very end of the routine.
Ukraine had a more than successful showing in Budapest by upsetting both Japan and China in all seven categories it was entered in. At the last edition in 2016, the Ukrainians often had to settle for bronze or fourth place behind these two nations. Here, the pattern of progression seemed to match and even top that of the seniors. Both solo, duet, and team routines comfortably won silver medals, and the swimmers could not contain their joy and excitement at times. They earned their final silver with their Addams Family free combination routine, a huge improvement from their fourth-place finish in 2016.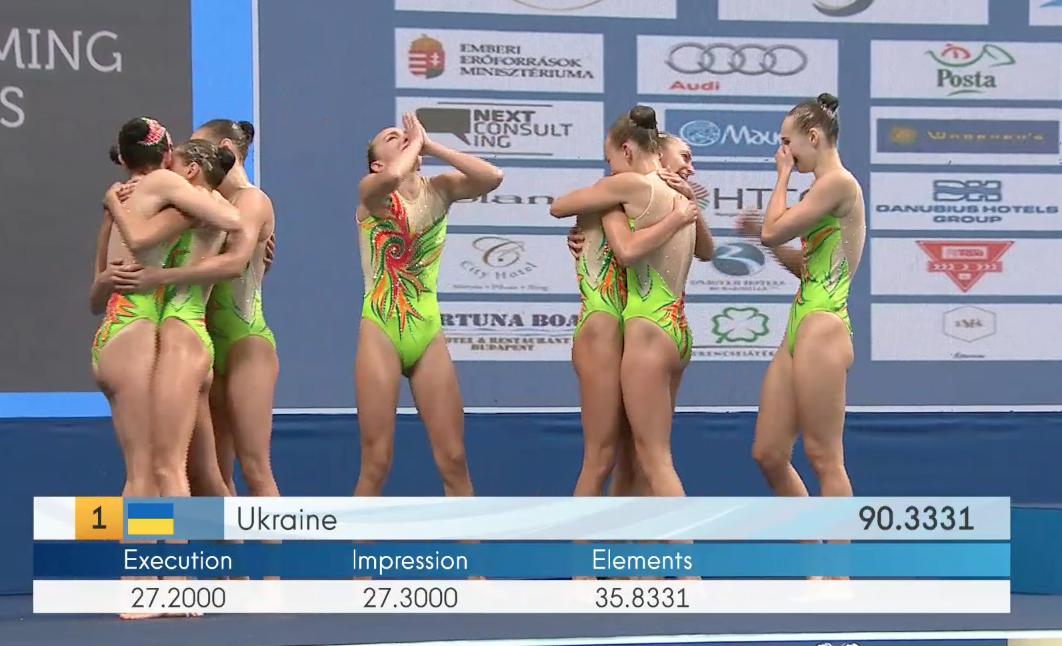 Ukraine's future star Marta Fiedina was rock-solid in her two solo routines, and displayed shades of Anna Voloshyna in her confidence and presentation. The twins Maryna and Vladyslava Aleksiiva also successfully earned two silver medal in the duet events. These three will now return to the senior team to undoubtedly prep for the European Championships in a a little over one week.
Japan collected eight bronze medals throughout this competition, and was able to stay ahead of China in all but three events – the technical duet, and the technical and free mixed duets. Much like Ukraine, the Japanese very absolutely thrilled with their scores and their comfortable lead ahead of their direct rivals from China. The Japanese mixed duet of Jimma Iwasaki and Kana Miyauchi won bronze in both events.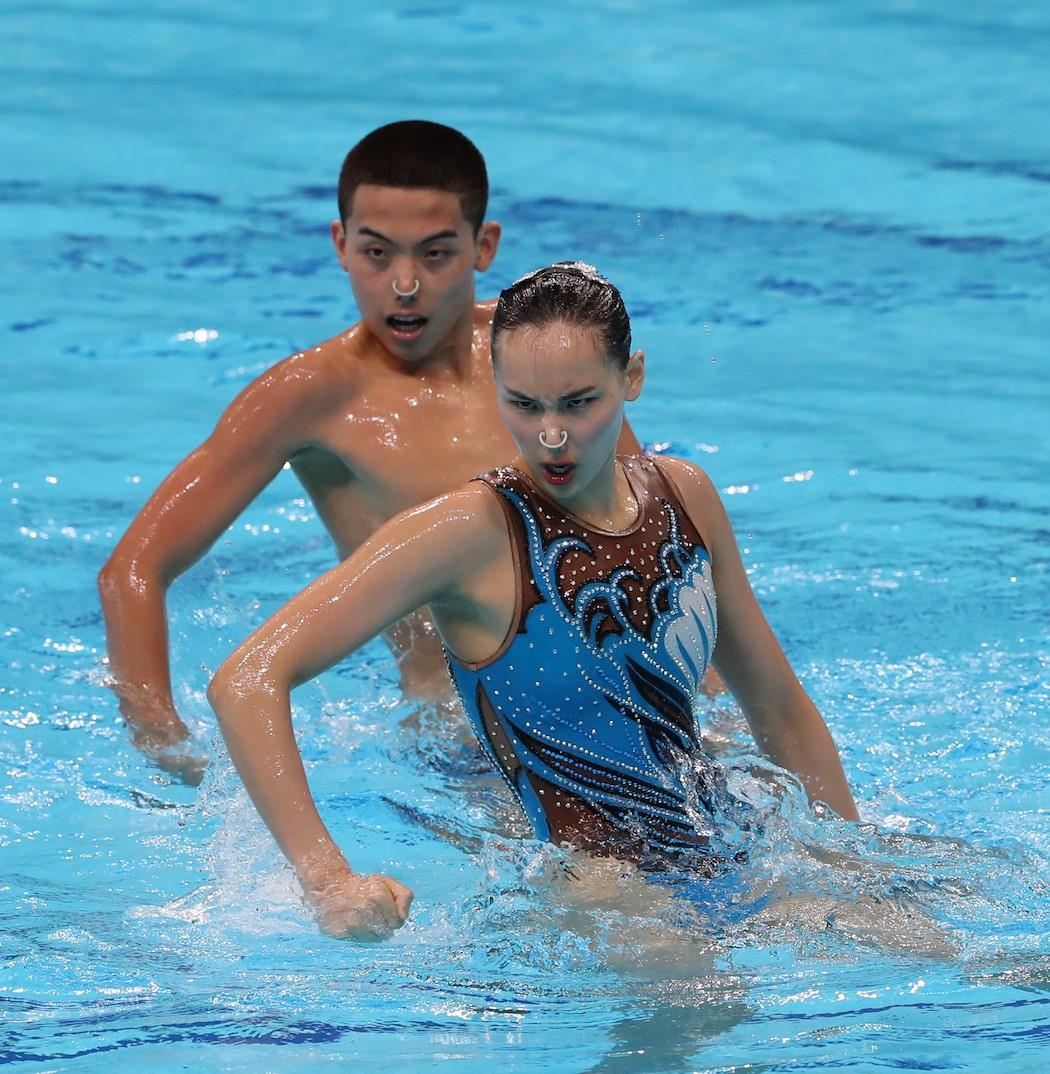 China landed in fourth place in most events except the technical duet where it grabbed bronze, and both mixed duet events where the pair of Shi Haoyu and Zhang Yiyao earned two silver. Shi Haoyu has made tremendous progress since last year's senior world championships and even since his appearance at the French Open in March, as the free mixed duet score improved by over four points, although we are comparing scores across senior and junior meets here.
Towards the middle of the rankings, the hierarchy, particularly the European one, was shaken up a bit. Spain went back to dominating over Italy in all the events compared to the junior European Championships a few weeks ago. Irene Jimeno was able to maintain her lead in the technical solo against Italy's Francesca Zunino; the latter had earned a bronze medal at junior euros. Then, the Italians had also edged out Spain for a third-place finish in the combo, but in Budapest, Spain was clearly and comfortably ahead.
In the technical solo, results got interesting as Anna Maria Taxopoulou from Greece took quite a dip and allowed for Kate Shortman (Great Britain) and Noemi Peschl (Switzerland) to move ahead. In the team events, Italy was able to top the Canadian team, while the U.S. managed to beat Greece; both results a big change from 2016.
Great Britain is one country on the rise, and we should keep our eyes out for Kate Shortman and Isabelle Thorpe. The two showed tremendous progress in both duet events, and Shortman in the solos, with choreographies by Stefania Speroni. The pair scored a new career-high of 82.9000 in free duet to finish ahead of the U.S. and Mexico, and only 0.2667 behind Greece. The British were absent from the 2016 Junior World Championships, but they managed to make finals in every event they entered here, and to place in the top 10 in five out of seven of them.
North Korea made a rare appearance at this competition, but only in the solo and duet events. Their soloist Kyong Ryong Han was quite impressive and displayed fluid movements and great technique. If we look past the SpongeBob suits, the duet was just as solid and full of potential as it scored 84.6677 in technical, placing it above nations like Italy, Canada or Greece, and 84.5667 in free.
Mexico's junior team displayed the same qualities as its senior team, with precise and clean routines, and sky-high throws and lifts. Its technical team was set to Michael Jackson while its free was to the soundtrack of the Greatest Showman. Unfortunately, the Mexicans were disqualified in the free combination event "for breaking quantitative composition rule of the competitions"…. whatever that means.
The free combination event was however exciting for a few other nations like Hungary, Croatia and Slovakia who had historical results after qualifying to the final.
Article by Christina Marmet