Spain's head coach Mayuko Fujiki officially announced its roster today for the European Championships during media day at the CAR de Sant Cugat training center. The 12 members of the senior team have already competed throughout the season and come as no surprise. Moreover and in very exciting news, fans will get to have a look at the nation's two up-and-coming junior talents Iris Tió and Irene Jimeno, who will compete in the free and technical solo events, respectively.
The 14 swimmers part of the Euros roster are Leyre Abadía, Abril Conesa, Berta Ferreras, Emma Garcia, Helena Jaumà, Irene Jimeno, Carmen Juárez, Meritxell Mas, Elena Melián, Paula Ramírez, Pau Ribes, Sara Saldaña, Iris Tió and Blanca Toledano.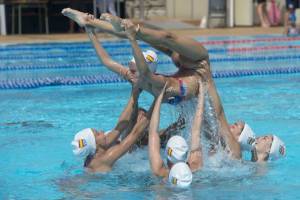 The team last competed at the Spanish Open in May where it obtained 88.1682 for its 'Bollywood' technical routine, although its season-high is 89.2296 recorded at the Japan Open. The free team, set around the story on the life of a factory, was only shown once at the Spanish Open and earned a score of 91.8332. These scores are encouraging and have the potential to challenge Italy for a podium finish.
As expected, Paula Ramírez and Sara Saldaña will compete in the technical and free duet events. This will be the first major international competition for this young pair, although they have already swam together at two World Series meets this year; the Japan Open and the Spanish Open. The new pair is coming in with less pressure than in years past.
"We have much to gain and nothing to lose," said Saldaña.
"In this sport is very difficult to beat a team, to get a medal, let alone gold. It is very difficult to shift the rankings," said Ramírez. "We are a very young team, a new duet and we are not going to set ourselves a goal that we are going to be second, third or fourth because we don't know where we can fall in the rankings"
First-year juniors Iris Tió and Irene Jimeno will try to follow Carbonell's footsteps in the solo events. Both have already competed extensively this season, and most recently at the Junior European Championships and the FINA Junior World Championships. With her 'Mermaid' free solo, Tió won a bronze medal at euros, and placed fourth at worlds, only 0.0666 away from the bronze medal.  Jimeno placed fourth at both competitions in the technical solo.
"I think that the two have a bright future as soloists," said head coach Mayuko Fujiki. "Especially Iris Tió, who is very talented, even more than Ona (Carbonell) or Gemma (Mengual). But now they have to gain experience to keep improving."
Finally, the mixed pair of Pau Ribes and Berta Ferreras will aim to maintain its status as third-best in Europe, and to close the gap with the duets of Russia and Italy. The two have competed a lot this season in the world series circuit, with already four meets under their belts. They reached both of their season-high scores at the Japan Open, with 82.8135 in technical duet and 85.6667 in the free duet.
Article by Christina Marmet
Cover photo: Rodolfo Molina