One of the biggest senior competitions of the season is upon us, and it is time to start previewing each event to discuss the medal contenders and other names fans should be on the lookout for. The solo events are a perfect occasion for each individual swimmer to shine, and it should once again be a battle of the big names in Glasgow.
At the last European Championships in 2016, both technical and free events saw Russia, Ukraine and Italy medal, in that order. These results are very likely to repeat this year in Glasgow.
Current world champion and 2016 Olympic gold-medalist Svetlana Kolesnichenko is the obvious favorite to win both gold medals. She only competed once at the French Open this season and just in the free solo where she obtained 95.2036. She is however set to also compete in the tech event in Glasgow. Both of her solos will be the same routines as at last year's world championship. Her free is fast and dynamic to the theme of the 'Amazons', while her tech is a lot softer and set to opera music.
Ukraine's Yelyzaveta Yakhno is a shoe-in for the silver medals. This is Yakhno's first year as a senior soloist after Anna Voloshyna decided to take the season off, but she is handling the pressure perfectly. Yakhno competed in the solo events in four world series competitions this season, and managed to earn two gold, five silver and one bronze medals. Both of her routines are set to Russian and Ukrainian songs, but it is possible the routines may have changed since her last time out, because Ukraine does like to change routines randomly during the season. Realistically and with good swims, she will not get anywhere close to Kolesnichenko, but she will also stay comfortably ahead of the other soloists.
Linda Cerruti should be able to defend her two bronze medals from 2016. Her free solo is set to "Angel" by Massive Attack and was choreographed by Gana Maximova. It is quite intriguing to watch and is full of little details that make it riveting. Her technical solo is more classical as she uses music from the Tosca opera of Giacomo Puccini.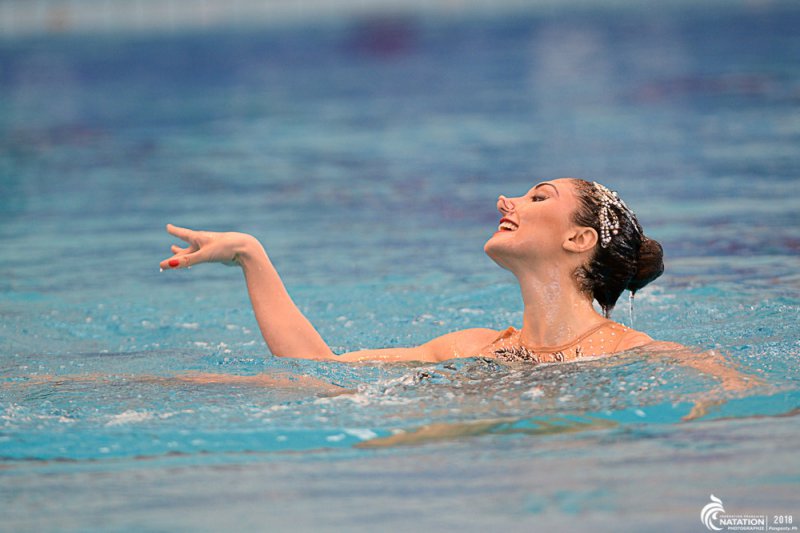 It will however not be as easy as it appears for Cerruti with Greece's Evangelia Platanioti right on her heels. Platanioti and Cerruti have competed head to head a few times this season, and Platanioti did manage to upset Cerruti in technical solo at the Japan Open in April, beating her 87.3993 to 86.3904. There, Platanioti also ended 0.7 points behind the Italian in the free event. Cerruti did manage to maintain her lead in the other world series meets.
While Cerruti is the favorite for bronze, Platanioti is very capable of an upset if Cerruti is not at the top of her game. However, the Greek did miss a few weeks of training in early June for an emergency appendicitis intervention.
Technical Solo Scores:
| | | | | |
| --- | --- | --- | --- | --- |
|  Competition | Svetlana Kolesnichenko (RUS) | Yelyzaveta Yakhno (UKR) | Linda Cerruti (JPN) | Evangelia Platanioti (GRE) |
| French Open | — | 88.2743 | — | 84.9037 |
| Japan Open | — | — | 86.3904 | 87.3993 |
| ASWS #4 – Slovakia | — | — | 84.7075 | — |
| Budapest Open | — | 91.0814 | 88.5434 | 85.8667 |
| Canadian Open | — | 89.6622 | — | — |
| Synchro America Open | — | 89.4811 | — | — |
Free Solo Scores:
| | | | | |
| --- | --- | --- | --- | --- |
|  Competition | Svetlana Kolesnichenko (RUS) | Yelyzaveta Yakhno (UKR) | Linda Cerruti (JPN) | Evangelia Platanioti (GRE) |
| French Open | 95.2036 | 91.5667 | 89.6667 | 87.4667 |
| Japan Open | — | — | 89.8000 | 89.7667 |
| ASWS #4 – Slovakia | — | — | 88.7000 | — |
| Budapest Open | — | 92.7999 | 90.5668 | 88.3001 |
| Canadian Open | — | 91.3667 | — | — |
| Synchro America Open | — | 91.3667 | — | — |
Spain is a huge wildcard but it will be very exciting to see what this new generation of swimmers can do. As announced previously, Iris Tió will swim the free solo while Irene Jimeno will compete in the tech event.
Spain's head coach Mayuko Fujiki has already said in an interview that Tió is "very talented, even more than Ona (Carbonell) or Gemma (Mengual)." So… if somebody says that about a new soloist, make sure you watch her.
Both are first-year juniors and they will be the youngest soloists of the competition. They have already competed extensively this season, and most recently at the Junior European Championships and the FINA Junior World Championships. With her 'Mermaid' free solo, Tió won a bronze medal at euros, and placed fourth at worlds, only 0.0666 away from the bronze medal. Jimeno placed fourth at both competitions in the technical event.
It will be interesting to see how the two fare, although a medal will realistically be difficult against the big names listed above. It will however be thrilling to see where they fall in this European hierarchy, but either way the future is very bright for these two.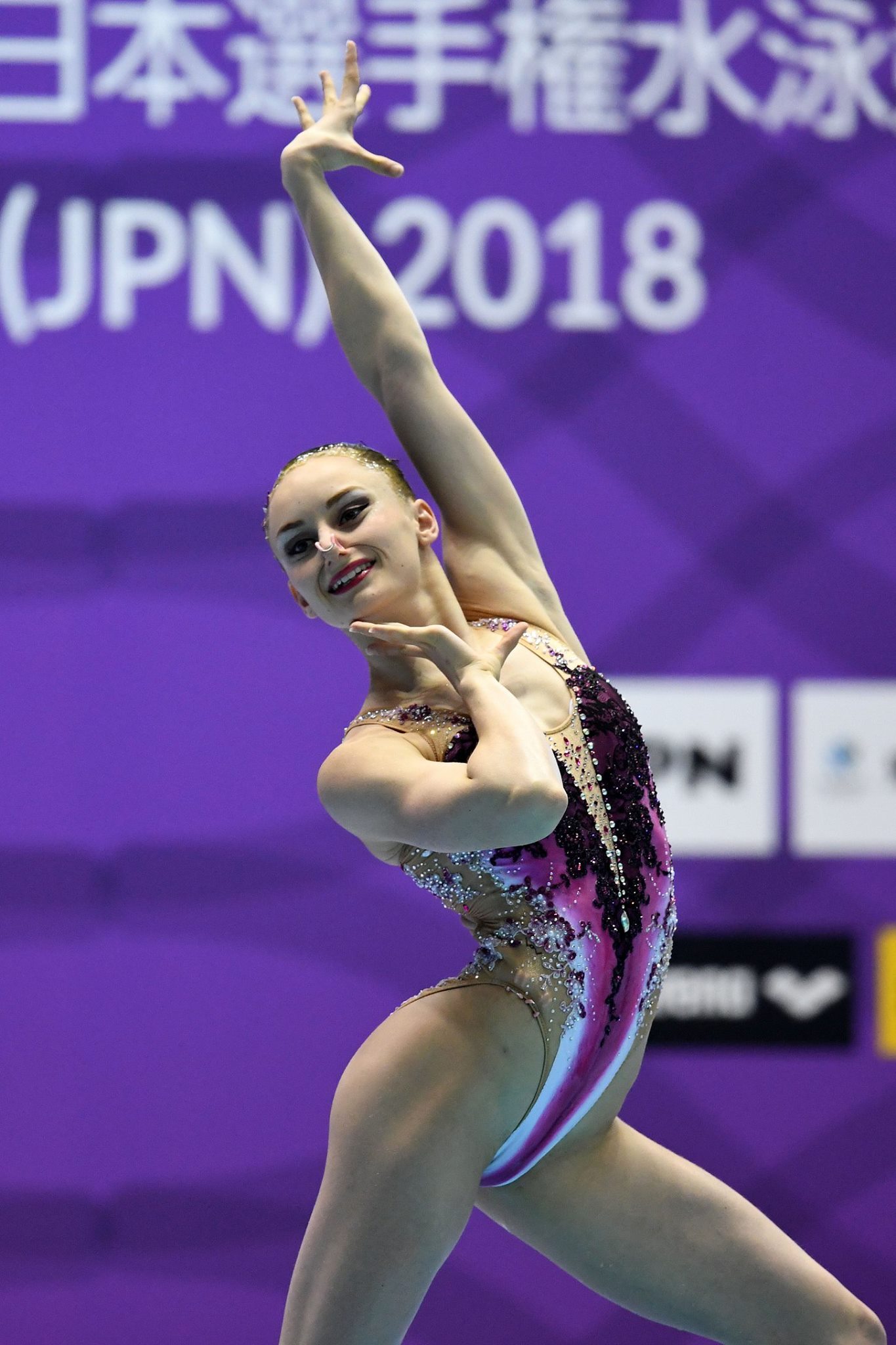 Right in the mix will be Vasiliki Alexandri from Austria. She should be comfortably in the middle of the pack, as her direct competitor Vasilina Khandoshka from Belarus will not compete in Glasgow (* see correction below). Both French soloists Eve Planeix (free) and Maureen Jenkins (tech) should place towards the middle of the rankings as well, but neither should be a big cause of worry for Alexandri quite yet.
Jenkins' season-high in the technical solo is of 81.5163, while Alexandri's is 84.8867. However, Planeix' season high is at 85.3000 while Alexandri's is 85.5333. The latter is the favorite to finish ahead but do not count Planeix out for a potential upset.
Kate Shortman, representing Great Britain, will be right in the hunt. At the French Open, her one and only senior competition this year, she scored 80.0406 in tech and 83.4000 in free. However just a few days ago at the junior world championships, she received 83.1096 for her tech routine set to "I'm Afraid the Masquerade Is Over" from Jimmy Scott, and 83.8333 for her free "I Put a Spell on You" routine.
It is impossible to use that technical score for comparison since the elements are different between the two categories, but Shortman is certainly improving and gaining in confidence and attitude, and could very well start poking at the established European hierarchy.
Also fresh off competing at the junior worlds is Lara Mechnig from Liechtenstein. Switzerland's Vivienne Koch will likely be fighting it out with Mechnig to determine who finishes ahead, as the two are usually very close. At the 2017 FINA World Championships, they finished within 0.6 points of each other in the free solo with Koch ahead, but Mechnig was ahead in the technical solo by 1.5821. The two have not competed against one another this season yet.
Hungary will be represented by Szofi Kiss, Slovakia by Nada Daabousova, Germany by Marlene Bojer, and the Czech Republic by one of the sport's veterans Alzbeta Dufkova. These four swimmers are fairly leveled in terms of scoring potential and can rank interchangeably among each other from one meet to the next, and from the technical to the free event.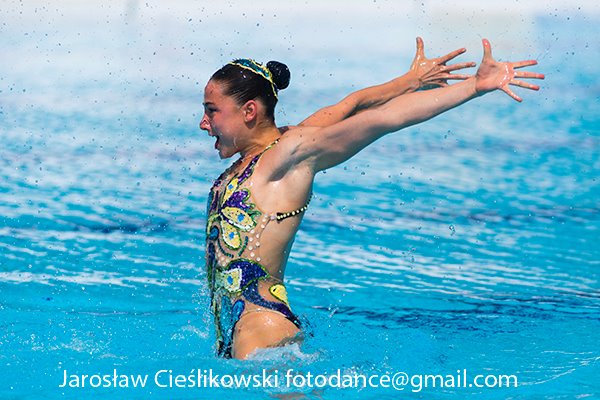 Defne Bakirci from Turkey and Nevena Dimitrijevic from Serbia will only compete in the free solo event. Aleksandra Atanasova and Hristina Damyanova will swim for Bulgaria in the free and technical events, respectively. Finally, Poland's Swietlana Szczepanska rounds up the field of competitors
*at the time of writing, Khandoshka did not appear on the entry list. As of August 1, this has been corrected and she will compete in Glasgow.
Article by Christina Marmet.