Continuing our previews of the upcoming European Championships, we will tackle today the duet and mixed duet events.
DUETS
Very much like in the solo events, we are likely to have a repeat of the 2016 podiums which saw the duets from Russia, Ukraine and Italy medal.
The new Russian pair of Svetlana Kolesnichenko and Varvara Subbotina is the obvious favorite to win both gold medals, and nobody will even come close to bothering them at this year's championships. The routines will be the same as worlds, meaning a jazzy tech duet and the 'Mermaids' free duet. They have only competed once this season at the French Open in March, where they swam the tech routine for a score of 94.6415. The two are great together and match really well in terms of strengths in the water. Despite her young age, Subbotina has looked very confident in the duet and can definitely keep up with both Kolesnichenko and the choreography.
Ukraine has also a new duet this season with Yelyzaveta Yakhno and Anastasiya Savchuk. Yakhno was already swimming in the event last season with Anna Voloshyna, while Savchuk was the alternate. They have competed quite extensively this year and participated in four world series events: the French Open, the Budapest Open, the Canadian Open and the Synchro America Open. They changed both choreographies halfway through the season in Budapest, and have been able to stay within the same scoring range as the Voloshyna/Yakhno duet. With season-highs of 90.9190 in tech and 91.8333 in free, the Ukrainians are in good shape to end with two silver medals.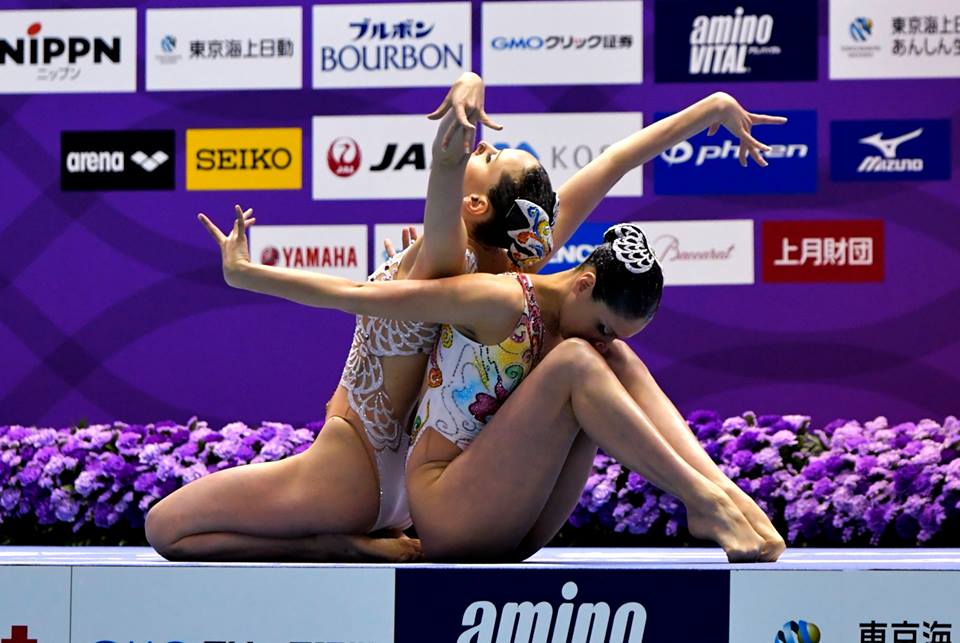 Contrary to the two nations discussed above, Italy and Greece will be sending out their experienced duets, with Linda Cerruti and Costanza Ferro for the former, and Evangelia Platanioti and Evangelia Papazoglou for the latter.
The Italians also competed this year in four world series meets in France, Japan, Slovakia, and Budapest, and they should be able to defend both of their bronze from two years ago. In 2016, the Italians were helped a little on their way to the podium with the absence of Spain, but this time around, they might just medal and beat Spain because they are the stronger pair. Italy actually did beat the Spanish duet at the Japan Open this season, a big move in the synchro hierarchy.
Platanioti and Papazoglou competed at the French Open (only in free) and the Japan Open this year. The two were supposed to show off in front of their home crowd at the Hellas Beetles Cup, but Platanioti had to withdrew because of a medical emergency. They wear shark suits and shark fins headpieces for their free routine, so that is an automatic win in my heart at least.
Spain will enter a new duet with Paula Ramirez and Sara Saldana. The latter was the alternate to the Ramirez/Carbonell duet last season, but she is in the spotlight this year. The two competed their new technical routine for the first time at the Japan Open, to the song "Superbad" by James Brown. They were able to remain ahead of the Greek pair but only by 0.6617 points. Later on at the Spanish Open, they received a 86.3442, which is realistically within reach for Platanioti and Papazoglou.
Ramirez and Saldana's free routine is the same flamenco routine that Ramirez and Carbonell swam in 2017, except slightly faster. All in all, this new pair is a bit inexperienced compared to the ones above, and while a podium is highly unlikely at this point, the goal here will be to keep Greece at bay particularly in tech, and to edge closer to Italy in both events, as the latter now appears to have the edge over it. Expect a close fight between these three nations nonetheless.
Technical Duet Scores:
| | | | | | |
| --- | --- | --- | --- | --- | --- |
|  Competition | Russia | Ukraine | Italy | Spain | Greece |
| French Open | 94.6415 | 89.7790 | 87.7899 | — | — |
| Japan Open | — | — | 88.4489 | 87.0721 | 86.4104 |
| ASWS #4 – Slovakia | — | — | 84.6770 | — | — |
| Budapest Open | — | 90.3170 | 88.0272 | — | — |
| Canadian Open | — | 90.9190 | — | — | — |
| Synchro America Open | — | 89.8886 | — | — | — |
| Spanish Open | — | — | — | 86.3442 | — |
Free Duet Scores:
| | | | | | |
| --- | --- | --- | --- | --- | --- |
|  Competition | Russia | Ukraine | Italy | Spain | Greece |
| French Open | — | 91.6000 | 88.7333 | — | 87.4667 |
| Japan Open | — | — | 90.5000 | — | 89.3333 |
| ASWS #4 – Slovakia | — | — | 88.9000 | — | — |
| Budapest Open | — | 91.7333 | 90.5998 | — | — |
| Canadian Open | — | 90.9190 | — | — | — |
| Synchro America Open | — | 91.8333 | — | — | — |
| Spanish Open | — | — | — | 89.9332 | — |
The Austrian sisters Anna Maria and Eirini Alexandri will also be on the lookout to shake up the European hierarchy and to inch closer to Greece and Spain. They competed at five world series meets this year. They kept their 2017 "Alice in Wonderland" free duet choreographed by Anastasia Ermakova, which is just absolutely lovely and really highlights their strengths and lightness in the water. And much like many nations, they have a new technical routine with Spanish-inspired music and choreography.
Fans should be on the lookout for another interesting battle amongst the duets of France, the Netherlands, and Belarus, as these three have been neck and neck all season.
The French couldn't decide quite yet who would be their 'official' duet for the road to the 2020 Olympics, so we will get to see both once more. They will actually be the only country to adopt this strategy, as every other nation will have the same duet swim both tech and free. Charlotte and Laura Tremble will swim in the technical event with their fast-paced and energetic routine to Prodigy. They competed in that event already at last year's world championships. Maureen Jenkins and Eve Planeix will make their first major appearance as senior duet with their "Swan Lake" routine in the free event.
The Netherlands will be represented by Bregje and Noortje de Brouwer; who have improved tremendously this season with the coaching of Esther Jauma. Belarus will have its pair of veterans and 2016 Olympians Iryna Limanouskaya and Veronika Yesipovich, who have also slowly but surely improved their scores this year.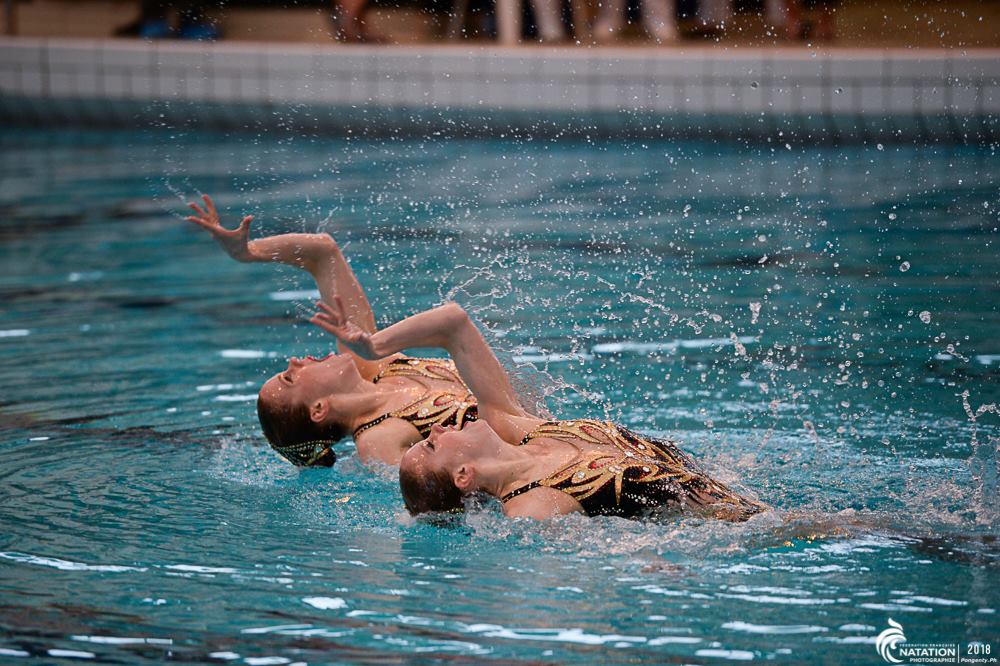 While both French duets have better season-high scores than these two other pairs, they have already all competed against one another once at the Japan Open and it ended up being very, very close in the tech event with France at 82.8736, Belarus at 82.8721 and the Netherlands at 82.3997. Jenkins and Planeix should have a little more leeway in the free, but do not count these other two nations out for a potential upset.
Great Britain will be represented by Kate Shortman and Isabelle Thorpe, both fresh out of competing at the junior European and world championships. Don't miss the first lap of the free duet set to "Heroes" from David Bowie. Switzerland will be represented this year by Vivienne Koch and Noemi Peschl, who upset the other Swiss pair of Maria Piffaretti and Maxence Bellina, who represented the nation at the 2017 world championships, for the duet spot this season. They are a fairly new duet on the senior scene, but have season-high scores of 80.8343 in tech and 81.7668 in free.
Israel's duet of Yael Polka and Eden Blecher will make its first appearance of the season. Watch out for them as they truly are the wildcard pair in this event, especially if they have been improving as much and as fast as the team this year (we shall discuss that in the team preview).
A few other nations will be sending seasoned duets: Slovakia (Daabousova/Miskechova), Turkey (Bakirci/Gundes), Germany (Bojer/Reinhardt), Liechstenstein (Mechnig/Schierscher) and Portugal (Gonçalves/Vieira). Rounding out the field are duets from Serbia (Dimitrijevic/Kontic) and Bulgaria (Atanasova/Penkova). Hungary will only compete in the free duet event with Szofi Kiss and Janka David.
MIXED DUETS
Five nations will compete in the mixed duet events in Glasgow: Russia, Italy, Spain, Greece and Turkey. Just like in the women's duets, the same nations as in 2016 are likely to end up on the podium in Glasgow.
The Russians introduced a new pair this year with Aleksandr Maltsev and Maya Gurbanberdieva. She has been a strong partner for Maltsev, and the two have absolutely dominated the free event all season with their 'Sing Sing Sing' routine. They are the favorites to win the gold here. However, they have been hiding all season in the technical event, likely so their main opponents and reigning world champions from Italy don't know what to expect. One thing is certain, Russia wants to dominate over the Italians in both events, and they are coming for that tech gold.
Italy's Manila Flamini and Giorgio Minisini did not change their technical routine and kept their heart-wrenching 'A Scream from Lampedusa' choreography that earned them the world title last year. They did however recently unveil their new free choreography at the Synchro America Open to the theme of "The Duel", where they represent a fight between an angel and a demon. Their best score with that routine was of 89.5000 at the Hellas Beetles Cup, while Russia consistently hovers above the 91 mark.
The Spanish pair of Pau Ribes and Berta Ferreras is a likely candidate for the bronze medals, just like in 2016. The two have competed at four world series meets, and registered highs of 82.8135 in tech and 85.6667 in free.
Greece will be represented by its young duet of Vasileios Gkortsilas and Nikoleta Papageorgiou, and both just competed at the junior European and world championships. Turkey will make its return to the big international stage here for the first time since 2015. Gokce Akgun and Eda Tuncay already competed once this season at the Hellas Beetle Cup in free for a score of 73.8000. They will compete in both events here.
Article by Christina Marmet
Cover photo: FFN/P.PONGENTY