The team event is undoubtedly one of the most popular ones in synchro, and it should be another great showdown this year in Glasgow between the main European nations.
In 2016, the technical team medalists were Russia, Ukraine and Italy, while the free podium consisted of Ukraine, Italy, and Spain. As you can guess, the Russians decided to skip over the free event then. Just like in solo and duet, we are likely to see the same nations up on the medal stand, but it will not be as easy as it looks for the bronze medal.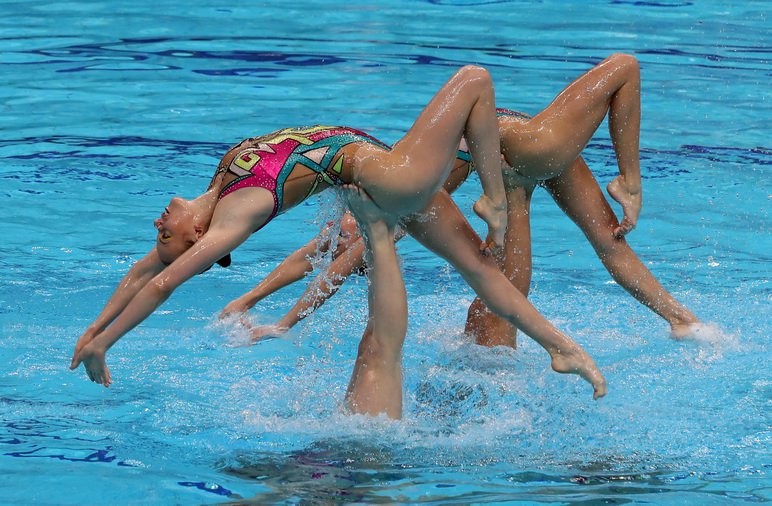 It sounds like a broken record by now, but once again Russia is the heavy favorite to win both gold medals here. The Russians actually already competed twice this season (I know, right!), so we have an idea of what to expect. Except if they decided to change choreography halfway through the year, which is also a likely possibility, because Russia does like to surprise.
The roster is very much the same as last season, except for Anastasia Arkhipovskaya who replaces Vlada Chigireva, still struggling with injuries. The Russians competed their "Rhythm of the City" technical routine, the same as in 2016 and 2017, at the French Open and the Budapest Open, where they scored a season-high of 94.6289. They also kept their "Shaman" free routine that they first unveiled at the 2017 world championships. They competed that one only once in Budapest for a score of 97.0000. All in all, they should cruise to the gold.
On the contrary, Ukraine has two new choreographies this year, and is highly likely to win two silver medals in Glasgow. Both routines (see tech below) are fast and clean, and highlight the strengths of the team very well. The nation did start the season with the same 'Illusion' free routine as in 2016 and 2017, but it unveiled its new choreography at the Budapest Open in May. They remained outstanding in terms of throws and lifts, as they open with a sky-high double arabian throw, while a lift in the middle of routine involves a handstand in a straddle split position while spinning 360°. It's amazing.
It will be a pretty interesting battle between Italy and Spain for the bronze medal in both events. The Italians as a team have been very secretive all season, and we have seen basically nothing of them. They only competed their technical team routine, "Catch Me If You Can" with music by Michele Braga,  once at the Budapest Open where they scored 88.3951. Their free routine will be the same as last season with the theme "An Experiment with Time," choreographed by Anna Tarres and with music from Michele Braga and Mariona Casanovas. Italy's team is one of veterans with swimmers who have been on the national team for many years, and that experience might be what makes the difference against Spain.
Spain's team is young, but definitely has the potential to upset and take over Italy once again. This is the team's first year under the helm of Mayuko Fujiki as head coach, and the improvement has been evident. The 'Bollywood'-themed technical routine (see below) is fast, precise, clean, with a cadence that is seriously incredible. The free routine, based on the life of a factory, is very intriguing and intricate, but also very fast and filled with cadences as we can expect with a choreography from Fujiki.
These two nations have not competed against one another yet this season in the team events, but Spain has already improved on its scores from last season. It obtained a season-high of 89.2296 in tech at the Japan Open, and a 91.8332 at the Spanish Open in free. For comparison, the Italians scored 88.3951 in tech at the Budapest Open, and hovered around 90-91 points mark in free. Once again, we have no basis of comparison this season since Italy has been absent in free, but it was at 91.7000 at worlds with the same routine.  Either way, Spain is back to looking like a strong contender in the European hierarchy for medals, and it should be a fierce battle with Italy for that third place.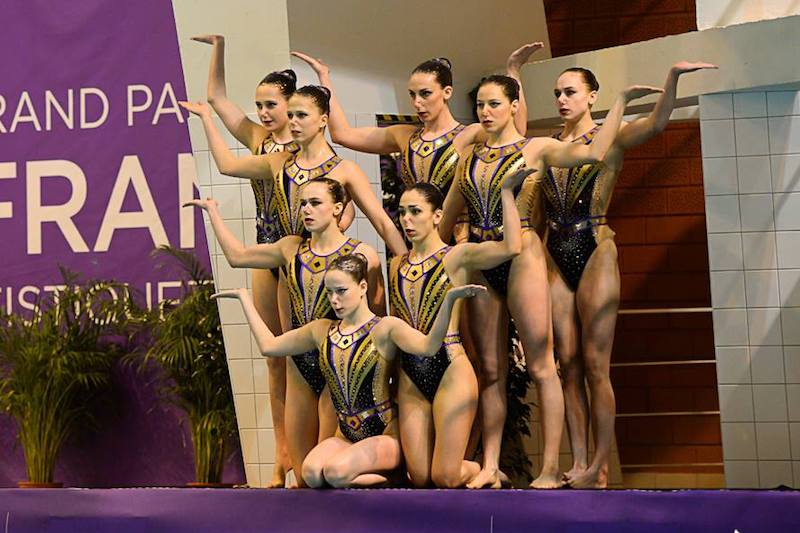 France, Greece and Belarus will likely be battling it out for the fifth and sixth place positions.
The French will be back in the technical event after skipping it last season. They have a new choregraphy to the theme of Cleopatra, while their free routine is still on the theme of "Feelings," but it has been reworked since worlds. The team's goal is clear this year: to beat Greece, and thus set itself up comfortably for one of the Olympic team spots in 2020. The French did manage to beat Greece at the Hellas Beetles Cup this year in the free event by 0.4333 points, and came close in tech by finishing only 0.5135 behind it.
While the French competed in four world series meet this season, the Greek only showed off their team routines at home at the Hellas Beetles Cup, where they got 81.93000 in tech and 84.8667 in free. It is hard to determine who will come out on top as we only have one score in each event to use for Greece, but France has been scoring consistently above both of these all year, so it may have a slight advantage there.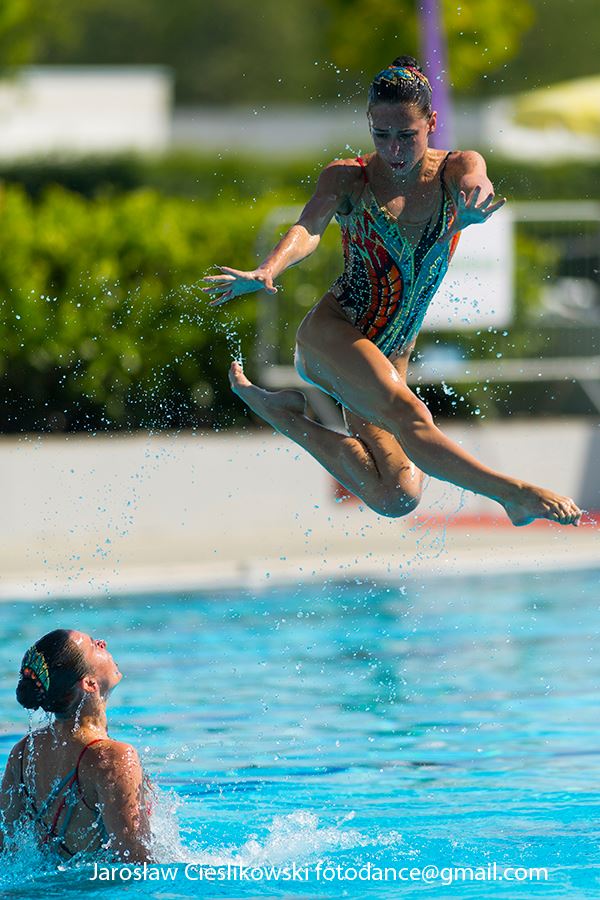 However, Belarus could potentially upset and make these two nations a bit nervous, particularly in tech. It was already the case at the French Open where the Belarusians ended only 0.1732 points behind France in tech, which was a little too close for comfort. The two have not competed against one another since, but Belarus did compete at the Slovakia leg of the world series and scored 82.4633, which is well within France's scoring range in the event this year. The French and Greek should be able to maintain a comfortable lead in free, but it could be a tight finish in tech amongst these three nations.
The big underdog nation of these championships is undoubtedly Israel. The team has been working all year with Anna Tarres, and the progress it's made were already apparent at its first outing of the season at the French Open. Its free team routine gained seven (yes, seven!) points compared to the 2017 FINA World Championships last summer, while the technical team score increased by five and a half points. Its improvement in both technique and choreography has been astonishing, and such a sharp increase in scores cannot be denied. It was not a fluke, as the Israelis were back out at the Budapest Open and scored even better than in Paris. Besides, the team is very young, with eight out of 12 swimmers still technically in the junior category, which is only encouraging and promising for the future.
Switzerland only competed once this season at the Swiss Open, where it scored 76.7200 in tech and 78.4667 in free. The Austrian team competed in three world series meets, and could challenge Switzerland if it were to falter. The nation did not compete as a team at the 2017 FINA World Championships, but the scores it has earned throughout the year are quite close to Switzerland's. Austria's season-high scores are 76.5721 in tech and 77.7000 in free, both received at the Spanish Open.
The young roster of Great Britain did not compete in many senior meets this year, but was most recently out at the junior European and world championships. They will probably in the mix particularly against Austria, but its only senior score came in the free event at the French Open (77.3667).
Germany and Portugal will make their first appearances of the year in the team events. Finally, Turkey rounds up the field of competitors in these events. It only came out at the Hellas Beetles Cup, where it scored 72.1202 in tech and 74.3000 in free.
Article by Christina Marmet
Cover photo: Yo Kobayashi