Jacqueline Simoneau has almost seen it all since she started artistic synchronized swimming more than a decade ago. She's gone through the highs winning multiple medals including gold on the 13-15 and junior scenes and competing at the Olympic Games, but she's also lived through the lows and heartbreaks like the missed 2016 qualification of team Canada for the first time ever, the abrupt head coach and duet partner changes mid-season, or the unforeseen consequences of the federation losing its entire funding after the 2016 season.
Through all of this, she has remained the steady face of Canada on the international stage and a reassuring, reliable presence on the national team. In the midst of uncertainty and adjustments, the 22-year-old had a relatively quiet 2018 season as she only appeared at two world series meets in Canada and the U.S.
She is now gearing up for a busy year where the Olympic qualification process will finally start. In her sight: show off new solo routines at the world championships, help bring team Canada back to the games, and qualify again as part of the duet at the Pan American Games, although who will make up the duet with her remains up in the air.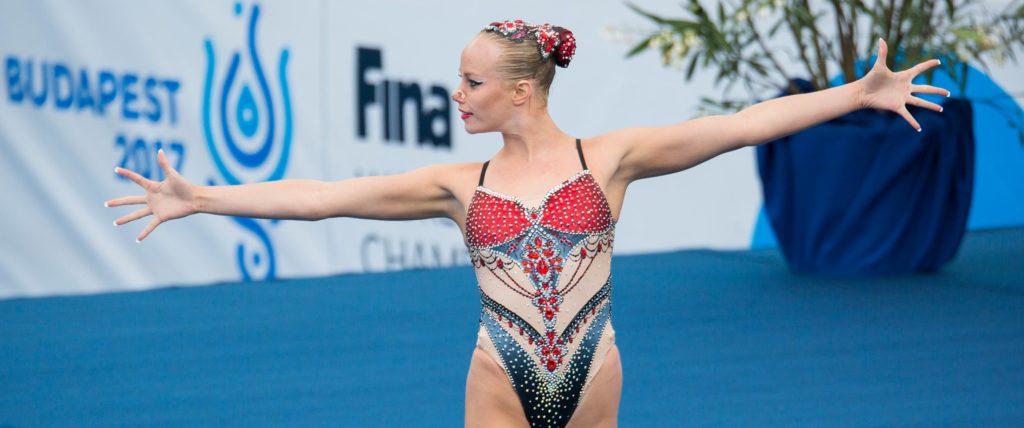 While she didn't always have an elite career as a synchronized swimmer in mind, she knew fairly early on that she did want to go to the Olympics: "I was five years old, and I remember telling my mom while watching the Olympics: 'I wanna go to the Olympics one day, mommy!' My mom just said 'fine,' and then asked me in what sport. I said 'Well, I don't know yet, but I'll let you know when I know!' (laughs)"
She first tried out a variety of sports that included hockey, tennis, running, and a handful of water sports like water polo, diving and swimming. She truly loved being in the water, and started contemplating the idea of going to the Olympics in diving. The excitement of flipping in the air, jumping off diving boards, performing unique and different skills were all a thrill to her.
That was until she saw a synchronized swimming practice across the pool working on lifts and throws during one of her diving training days. She knew right away she wanted to try it.
"They were doing the same moves that I was doing but without a diving board," she said. "I found that very fascinating and I told my mom I wanted to try it. Ever since I tried it, I knew that was the sport I wanted to go as far as I could in." She was nine years old.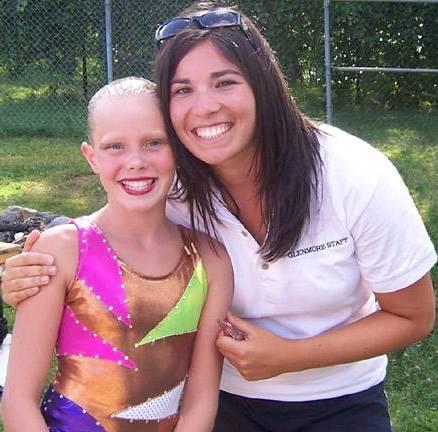 Much like many other synchronized swimmers, she loves the uniqueness and variety across all events. She enjoys expressing herself in solo, swimming with a partner in the duet, and bonding with the entire squad in the team events. Besides, she revels in the endless possibilities the sport offers, day to day and from one year to the next, and she appreciates the potential to push the envelope and come up with new movements.
It wasn't however always an easy road for Simoneau, 1m63 (5ft 4in) tall, in a sport where willowy figures are favored.
"When I first started the sport, it was actually hard to share my goals with my coaches and teammates because I am not a naturally-built synchronized swimmer," she said. "I'm not naturally tall, like Natalia Ischenko who is gorgeous, tall and with long legs. That's one thing I didn't have. And natural flexibility is also something I didn't have."
Rather than giving up on her newfound passion, she focused on what she could control. Height in the water, technique, power in her boosts, and flexibility were all factors she could work on to help her become the best she could be. Her coaches Heather Birenbaum and Johana Vasquez worked relentlessly on her flexibility, technical skills, spinning methods, until they could finally build a plan to reach the Olympics.
Only three years later at the age of 12, Simoneau made the 13-15 national team and also participated in the junior national team trials. With her impressive results in figures, she finished sixth overall but wasn't able to swim at the junior level that year because she was too young. She did compete internationally for the first time at the COMEN Cup in Serbia in 2009, where she finished third with the Canadian team and 37th in figures.
One year later at that same competition in Greece this time, her results drastically improved as she won the solo event, which meant she beat the Russian swimmer, a feat few have ever accomplished in the sport in any age category. She also earned silver in duet and bronze in figures. At her last COMEN Cup in 2011 in Italy, she won two silver medals in solo and duet, and another bronze in figures.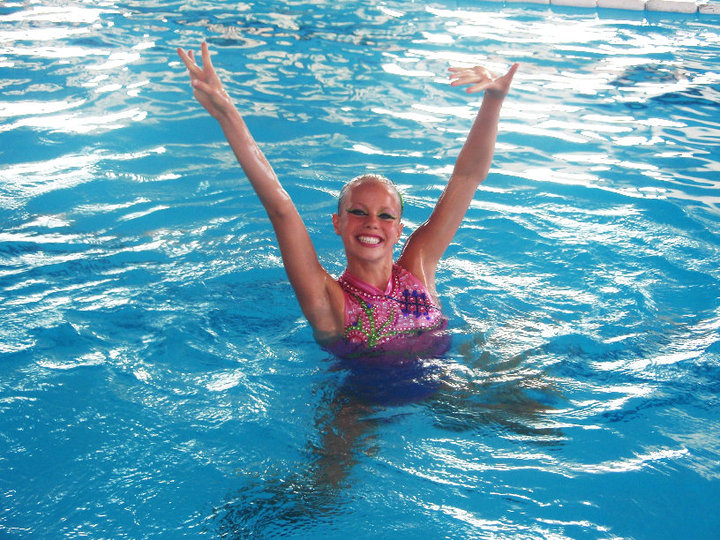 She was finally able to join the junior national team in 2012 for the FINA Junior World Championships in Greece. Her arrival on the bigger international stage was rapidly noticed as she won bronze in solo. She recorded a total of 162.4059 points to share the podium with Russia's Vlada Chigireva (170.9870 points) and Japan's Hikaru Kazumori (163.4881 points).
"I like to go into competitions never really thinking about the results," she said. "Because that's not something we control in this sport. What I can control is the performance, how I swim, and how I prepare to compete."
Two years later at the 2014 FINA Junior World Championships in Finland, she aimed to at least maintain her third-place finish from 2012, but hoped to improve on it because she did want more after winning bronze. She however refused to let the pressure of expectations get to her.
"Most people would take this type of pressure in different ways," she said. "I didn't really look at that as pressure. I looked at that as an opportunity to learn and to work harder. I always say when I give conferences or speeches that you have a choice in how you look at things. You could look at it as 'Oh my goodness, how am I going to do this, this is stressful, this is a lot of pressure, how am I gonna handle this?' Or you could say 'Well this is a great opportunity, how can I learn from this and how can I grow as a person?' And look at it from this different perspective."
With this mindset and a lot of hard work, she became a world champion in the figures competition, this time beating not one but the entire Russian team, and won silver in solo only 0.2423 points behind Russia's Anisiya Neborako.
"I was trying to be the best swimmer I could possibly be," she said. "I trained really, really hard. I worked on my flexibility every single day. I tried to find some unique movements to fit into my solo, and a catchy music so people could get along with it and enjoy watching the swim."
Simoneau not only had her junior career to train for at the time, but she had also made it onto the senior national team the year before. She competed at the 2013 FINA World Championships in Barcelona in all the team events. Team Canada finished fifth in combo and technical team, and sixth in free team. This meant that for an entire year, she did not really train the junior figures and rather focused on the senior technical elements.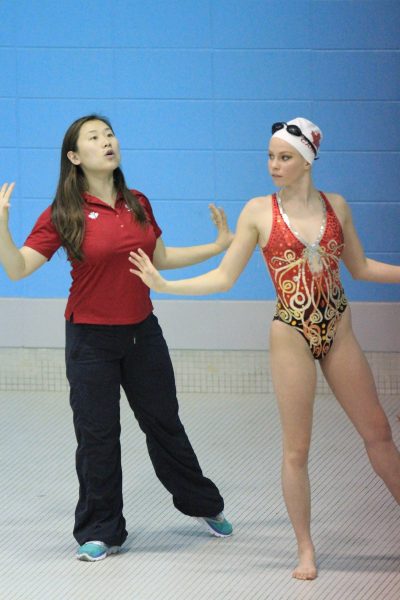 As a result, her preparation for the 2014 junior worlds were a bit different, and she and Meng Chen, her coach at the time, put a significant emphasis on figures. The work obviously paid off.
"I think [Meng] always had it in her in mind that I'd be able to come first," she said. "But of course in my mind I didn't really have that in there! I was just again trying to be the best swimmer that I could possibly be."
With her last year as a junior as successful as she could have hoped for, she fully focused on the senior category. She competed in everything but the mixed duets at the 2015 FINA World Championships in Kazan, Russia. Most importantly, she won gold in duet at the 2015 Pan American Games with her then partner and great friend Karine Thomas, meaning they had punched their ticket to the 2016 Olympics.
However, the qualification rules were different for the team as the number of spots was far more restricted. While the Canadians also placed first at that meet, it did not guarantee them a ticket to Rio as the continental team quota for the Americas had already been attributed to the host country Brazil. The team trained relentlessly for eight months until the qualification tournament in March, where only the top three teams would go on to the Olympics.
There, in a surprising turn of event, Italy shattered the hierarchy and moved up two spots since the world championships in less than a year, and positioned itself in third place ahead of both Spain and Canada. The Canadians landed in fourth, only 0.7139 behind. This meant Canada would not be at the Olympics as a team for the first time since the introduction of that event at the games in 1996.
"We were really a family and stuck together," Simoneau said. "We all shared this dream of going to the Olympics. And when we missed by a fraction of a point, it was devastating. Standing up after our performance and waiting for the marks to come out, standing in the line… Then the marks came out, and knowing that you're the only one standing in this line that's going to the Olympics and that your teammates, your family, is not going…(sighs) That was definitely heartbreaking. We trained together for such a long time, we pushed each other, and that was something very, very hard to get over."
Despite the incommensurable disappointment, Simoneau had to turn it around very quickly as she only had a few months left to hone in on the duet again with Thomas, an event they had put to the side to focus on the team qualification. It was Thomas' second Olympics but Simoneau's first, and it truly was a dream come true for her.
"Ah, the Olympics were an incredible, incredible experience," she said. "Having the Olympic rings on the side of the pool, having the judges dressed up all fancy and in their blazers, sharing the venue with different sports, and living in the Olympic village… It is something very, very special. I hope every synchronized swimmer who has that dream is able to get there one day because it is definitely worth it."
Simoneau and Thomas finished seventh in Rio with a combined score of 179.3583.
Back in Canada, the fallout from the 2016 season was complicated and difficult to handle for everybody. With the team's failure to earn a spot and the duet finishing lower than anticipated, the federation lost over $750,000 on average that it was receiving annually from Own the Podium, Canada's elite sport funding agency, for training, travel, and support staff expenses.
Moreover, a few swimmers decided to leave the national team or quit the sport entirely, while some stuck around for the 2017 season. The team was extremely limited during the regular season with numerous injuries to key members, and the squad was forced to withdraw from the Japan Open and to compete with a limited roster at the Canadian Open.
Additionally, only a few weeks before the FINA World Championships in Budapest, the then head coach Meng Chen left and was replaced by Leslie Sproule. The team had to adapt quickly to a completely different style of coaching: "Of course it was a little destabilizing for our team to constantly have some sort of changes and shifts in directions. But whatever was thrown at us, we were able to adapt," Simoneau said.
On top of it all, Simoneau faced another challenge, this time in the duet event. She had started the 2017 season still swimming with Thomas, but they lived in different cities and had very limited training time together. After competing at the Japan Open and the Canadian Open, Thomas decided to retire in May, leaving a short period of time for the coaches and Simoneau to build a new partnership for the world championships in July.
"I always knew Karine was going to be towards the end of her career after we competed at the Rio Olympics together," Simoneau said. "I knew and was able to see that she was ready to move on and ready to retire [after the Canadian Open] so that unfortunately happened. But I was very pleased for her."
Simoneau was paired up with Claudia Holzner, another veteran on the Canadian team. The two only trained for two weeks together before the next competition at the Synchro America Open, where they won a silver medal. They eventually went on to compete in Budapest where they finished seventh in both technical and free duet. The team also finished seventh in both events.
In the solo, Simoneau wanted to keep pushing the envelope like she had started as a junior and to improve her artistry. She had worked all year with three-time world champion Virginie Dedieu, one of her idols since she started the sport, to come up with something that she had never done before. She had already picked her free music: 'Experience' by Ludovico Einaudi.
In her routine, she portrays a blind girl, who "could have been me at the time," and who cannot see the light. She isn't seeing  the light at the end of the tunnel and what's next for her, and she fights through that blindness throughout the routine as she tries to find a glimpse of hope. Eventually, there is a silence in the music and the blindness starts to go away.
Simoneau admitted she has a hard time truly explaining the whole theme, and recognized she just lives her routine every time and tries to express a feeling rather than a theme when she swims it. It is so far one of her favorite solos. She finished sixth in the free event in Budapest with that routine, and fifth in technical solo.
"[Virginie] opened up my realm and my range of movement so much," she said. "What she taught me, some tips and tricks, how to interpret music, not just this given one but any given music, how to interpret it and how to live the music… That's something I'll never forget."
After the world championships, Canada Artistic Swimming (Synchro Canada at the time) decided to decentralize its national team that had been training year-round in Montréal. Each member scattered around the country to train with clubs, and Simoneau joined the club Dollard Synchro in the suburbs of Montréal for the 2018 season, where the majority of the national team also went.
With logistical and funding struggles, the national team only came together for training camps to practice competitive routines. The Canadians competed internationally only twice in 2018 – at the Canadian Open and Synchro America Open. Simoneau competed in the solo, duet and team events, and won three silver and seven bronze medals across both competitions. She was also paired once with newcomer Halle Pratt in the technical duet at the U.S. meet.
Last August, Simoneau decided to switch clubs and to train on her own at the Club Synchro Saint Laurent, also very close to Montréal. She trains at the moment six days a week, with the full awareness her hours in the pool are only going to ramp up to seven to 10 hours a day leading up to the Tokyo Olympics.
"After last season, I decided that what would be best for me as an individual athlete would be to train on my own," she said. "Every athlete has different needs, different weaknesses and different strengths. And with where I am personally now in my career as an athlete, I know my strength and weaknesses and I know what I need to become a better athlete."
Being in a decentralized phase and with the ability to train on her own time close to her home, Simoneau has been able to keep up with many activities outside the pool. Aside from being an elite athlete, she studies health sciences at Vanier College in the hopes of one day going into medicine. She also works part-time at the Royal Bank of Canada, where she helps coordinate events, gives conferences, attends community events or simply does time in the office.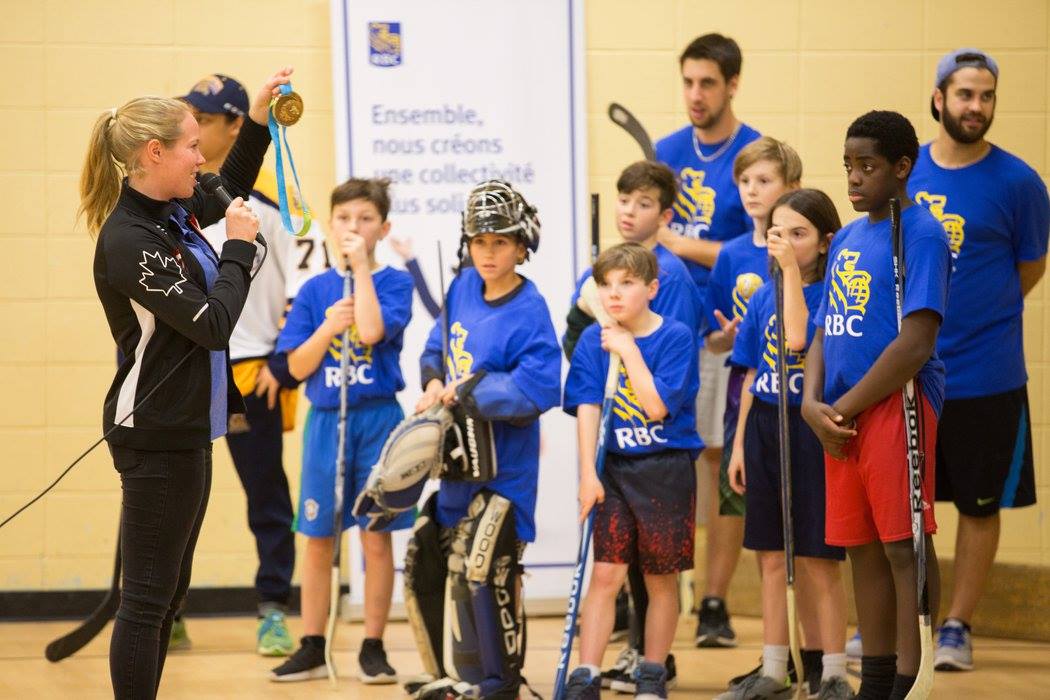 Even though the national team athletes now train more or less separately, each one is still held accountable for her training and is closely monitored by the national team staff via training logs that must be sent in every week.
Simoneau explained that what is asked of them varies depending on the time of the year. In the summer, it was more focused on foundational training and cardio, like running and swimming at least 15 km a week, doing a certain number of box jumps and chin-ups, or improving flexibility. Moving into preseason and the fall, the staff asked for more proper synchro exercises and the athletes had to send in videos of a given one like some synchro laps, a routine run-through, or technical elements.
The first trials for the national team is currently being held in Montréal. In January, the selected squad will be back in Montréal in a centralized training system once more to start heavier training loads and to fully gear up for the 2020 Olympic Games qualification procedure. Simoneau is hoping the national team will face more stability from now on.
"I think now with the new people in place going into this [season] and hopefully the next two Olympics, we will have some sort of plan set in place, some sort of consistency to be able to help strive for what we want to achieve," she said.
She is preparing not only for the 2019 FINA World Championships in South Korea, but also the 2019 Pan American Games which serve as the continental Olympic qualifier for the Americas.
The official duet that will represent Canada in 2020 is not set in stone yet. While Simoneau has been swimming with Holzner since 2017, she doesn't rule out the possibility of being paired with somebody else and is "keeping [her] options open." Pratt could also very well be in the running after her promising showing at the Synchro America Open this past summer.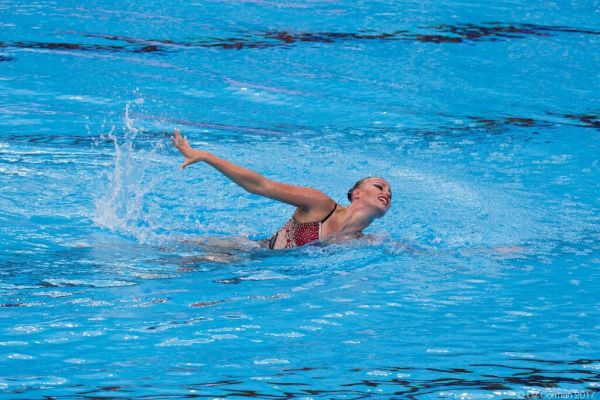 Finally, she has been working on two brand new solo routines that she is extremely giddy to unveil. One of her long-time goal has been to win a medal in solo at the senior world championships, and she is hopeful these brand new routines will help her get closer to that dream.
"[The solos] are completely different," she said, giggling. "I've honestly never swam to this sort of music before and I absolutely love it, adore it! I hope the crowd and everybody else will love it too and embark on it. I'm hoping to just swim the best that I can and hope for the best results possible with these solos."
Editor's note: The interview was conducted a little over a month ago. On November 13, Canada Artistic Swimming  announced the hiring of Gábor Szauder as the new head coach.
Article by Christina Marmet.
Cover photo by Liz Corman.