The Hellas Beetles Cup, the second leg of the FINA World Series circuit, just concluded in Alexandroupoli in northeast Greece. The home team, Canada and Ukraine debuted a handful of new routines across all events.
The spotlight really was on Canada and Greece at this competition, as both are vying for a spot to the 2020 Olympics as a team. The Canadians unveiled all new choreographies in technical team, free team, and highlight. This was the first time since the inclusion of highlight in major international competitions that Canada was entered in the event, and they scored 89.3333 for silver.
The team showed high-flying throws and impressive lifts across all three events, which has been a trademark of the country for decades. The free team choreography definitely screamed the name of Anastasia Ermakova, who did indeed work with the team in the fall on it. The music and theme revolved around 'the spectrum of time,' which was all quite reminiscent of Italy's 2017-2018 free team that was choreographed around the same theme. The technical routine was more intense and set to a modern interpretation of traditional ethnic music.
Greece did not reveal any new choreographies and kept all of its routines from last season –  its Africa free team, Chess combo, and its tech routine set to a mix of techno music. It is a wise and understandable decision to not work on anything new for now considering the inexperience and youth of the team. The nation had its best roster out only for the Olympic team events here, but it did still include over half of new faces on the senior team. Greece only had eight swimmers in the free combination and highlight events, and those rosters were slightly different as they included alternates and a few more junior swimmers who did not make the cut for the 'A' team.
Israel had a fantastic competition, and had greatly improved its execution and synchronization since Paris on all events. The team looked more energetic, and the work the athletes have been doing is paying off once more as they scored a huge 84.7667 in combo for a well-earned win over of Greece and Hungary, a historical finish for the small nation.
Ukraine competed in the technical event just like in Paris and scored 91.7261 for gold. The nation unveiled a new highlight routine as well, with its usual high-flying throws and risky lifts. The music was a lot more dramatic and intense than its former routine, which was so fun and such a crowd-pleaser.
Hungary was also making its first appearance of the season, and much like last year had a very young roster consisting for the vast majority of junior swimmers except for one. The team had to deal with a handful of retirements from some of its top swimmers after last season, including Szofi Kiss, Luca Renyi and Veronka Szabo. It was great to see the Hungarians back swimming the technical team however, an event it had not competed in since the 2017 world championships.
Moving on to the individual events. The technical solo event saw no new routines from the medal contenders. It's however getting very close between Canada's Jacqueline Simoneau and Greece's Evangelia Platanioti, as they were only separated by 0.29 points here, while Platanioti used to be quite a few points behind Simoneau only two years ago. The Greek's elements were however a bit steadier than the Canadian's, and the two are just neck and neck in both execution and artistic impression, so it will be interesting to see how it unfolds through the season.
In the free solo, both athletes unveiled new routines. Simoneau swam to Queen's "Somebody to Love," which was quite a change from her previous, more dramatic and intense routine where she portrayed a blind girl. Simoneau had great energy in the water, was always on the move, and seemed to really enjoy her swim, even singing along in a few parts. She did have a clear edge over Platanioti with a score of 90.0000, while the latter swam to "Torn" from Nathan Lanier for a 88.7667.  Two of Greece's up and coming talents and first-year juniors Eleni Fragkaki and Krystalenia Gialama also swam in solo here, and showed off great potential that will hopefully grow over the next few years.
Unsurpringly, Linda Cerruti kept her solo to Massive Attack, which is fantastic with a choreography that is hard to execute, but she was not able to keep Marta Fiedina away for the gold medal. The young Ukrainian comfortably took the lead by 2.6 points.
It was difficult to properly watch the technical duet event as the stream was very jumpy and missed more than half of the competition. With no surprises, Marta Fiedina and Anastasiya Savchuk from Ukraine won gold with 91.4462 and a cleaner performance than in Paris. The stream was not working for Italy so it is difficult to comment on the routine, but it won silver with 88.6696. Canada's Claudia Holzner and Jacqueline Simoneau swam a reworked version of last season's routine and won bronze with 87.3405.
The Greek pair of Platanioti and Papazoglou unveiled its new choreography to Nirvana's "Smells Like Teen Spirit." The two had unfortunately a very rough swim that they will probably want to forget, with some synchronization mistakes on elements and Platanioti essentially blanking out and missing the entire last hybrid. The choreography is however fast-paced, energetic, and quite different and refreshing from many of the other duets, so it can only go up from here, hopefully.
Bregje and Noortje de Brouwer from the Netherlands had solid and clean swims in both events. They ended up only 0.42 points behind the Greek pair in tech, and actually were nicely ahead in terms of artistic impression. The two obtained 84.8667 in free, a score that made a little more sense than the one they obtained in Paris, where they likely got hammered by swimming first. They are establishing themselves quickly as potential world finalists in those two events, a possibility that seemed far-fetched only two years ago, and are clearly making a statement that they belong in the conversation as contenders for Tokyo.
Switzerland was holding the first phase of its junior solo and duet selection. Ilona Fahrni showed great promise in the solo event and came out ahead of her other two teammates Paloma Mello and Babou Schupbach. She and Babou Schupbach paired up in the duet and also took a comfortable lead in both events by multiple points ahead of their direct opponents (Milla Egli and Tessa Zollinger, and Anouk Helfer and Margaux Varesio). The next stage of the selection will occur in a few weeks at the Swiss Youth International competition.
Giorgio Minisini and Manila Flamini from Italy competed for the first time this year in the free mixed duet event for the gold, but did end up hiding their new technical routine a little longer from the public. Japan's mixed duet of Atsushi Abe and Yumi Adachi continued to show their progress with their two new routines – "Mermaids" in tech and "the Jungle" in free. Russia tested out its new junior pair of Kristina Averina and Mikhail Vasilev, and the two are well on their way to defend the nation's junior European titles in that event later this summer.
But who am I kidding, this was 1,000% my highlight of the competition and this is how I'll enter the pool every time I go swimming from now on. Thanks to Alzbeta Dufkova from the Czech Republic for pulling this off. I am obsessed.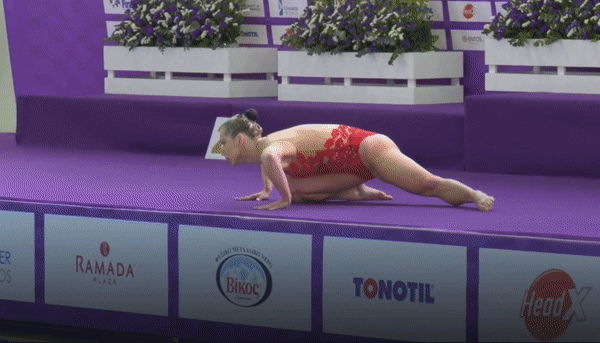 Article by Christina Marmet.