The Japan Open proved to be extremely successful for the home team as it was entered in every single event, a feat none of the other nations even came close to, and medaled in all of them. The Japanese finished a fantastic competition with five gold, four silver and one bronze.
Japan has always been present in all events at worlds for the last few years. With this year's addition of the highlights on the world schedule, the Japanese simply added it to their training schedule and now intend on challenging for a medal on all 10 events come the world championships. Japan may very well end up being the only nation present across every single event.
The Japanese won all four available gold medals in the team events. They kept their technical team routine from last year for a 92.3000, but revealed their new "Japanese Festival" free team, which will surely be a hit come the Olympics in one year with the home crowd. With a 92.0000, they were able to distance themselves from the Spanish, although only by 0.3667. The combo remained the 'Mermaids' one, while the highlight was brand new as the nation entered its top squad in the event for the first time ever. The theme was 'Dinosaur' per the pool announcer…which is an abstract way to look at it, maybe.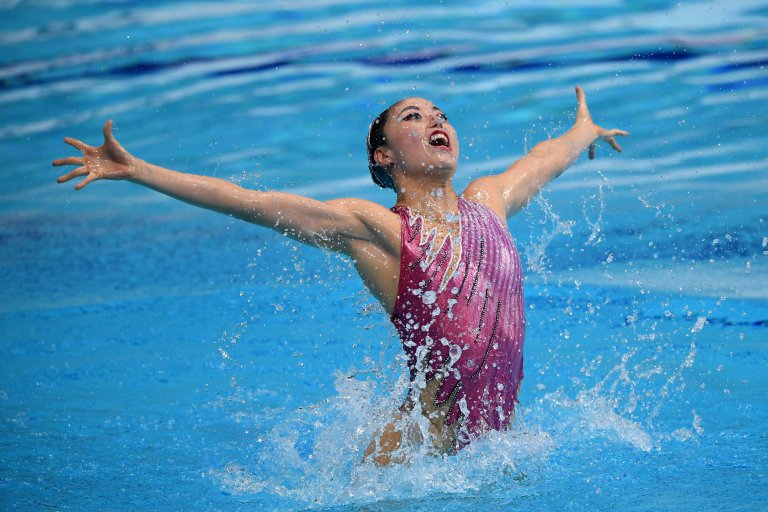 Yukiko Inui competed in the solo events, and extended her lead over Ona Carbonell in the technical solo to 1.5 points. There was only a 0.04 gap between the two in Paris. Paired with Megumu Yoshida in the duet events, the two succeeded in beating China's veteran and accomplished duet of Jiang Tingting and Jiang Wenwen. Granted, the Jiang twins swam their Swan Lake choreography for the 162nd year (sixth really, but it certainly feels like an eternity), so the judges likely are just over it now. Like all of us. The Chinese's scores are stagnating while the Japanese's are improving, which certainly could lead to very interesting results come worlds this summer, in the event the Jiang twins are selected as China's duet.
Finally, Japan's mixed duet of Atsushi Abe and Yumi Adachi also obtained incredible results and broke the 88 points in tech and 89 points in free. It is quite an improvement since Paris only a month ago, with over a two points increase in both events. They eve registered a career-high in tech one and a half points higher than its previous one. These two are certainly making their way to the top three and could cause an upset in Gwangju.
Russia obviously dominated the events it entered, i.e the technical solo, and both duet and mixed duet events. Nothing more to see here other than absolutely delightful elements, execution, and artistic impression.
A few more interesting shakeups did happen further down the rankings, particularly in the technical duet where the Austrian pair of Anna Maria Alexandri and Eirini Alexandri beat Canada's duet of Claudia Holzner and Jacqueline Simoneau. The Austrians were still two or more points behind the Canadians at worlds in 2017 and even last year at the Canadian Open, so their progress is quite impressive. Another duet not far behind is France's, with Charlotte and Laura Tremble. They finished 0.6 points behind the Canadians in tech and 1.1 points in free.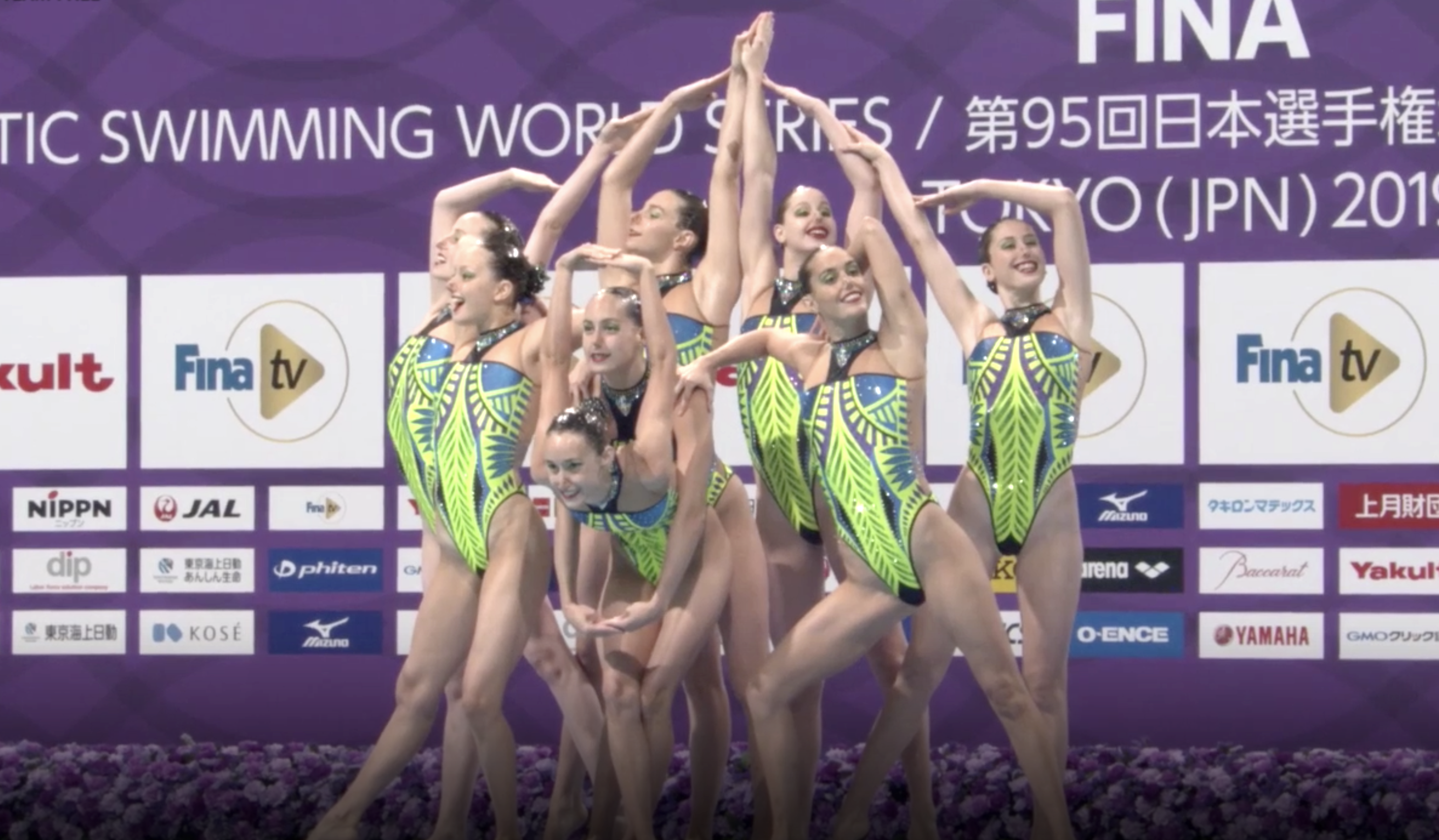 In the team events, Spain showed off its new free team routine to the theme of  'Discovering an Island' with a changed and different team composition. To make some space Ona Carbonell and the inclusion of Iris Tio and Abril Conesa, Carmen Juarez and Leyre Abadia have been removed from the free team. It does make sense in terms of levels, except now the team has no flyer, which had been Abadia's role for the last few years. Carbonell is used on the simple opening throw, but the routine overall does lack one big explosive throw. However, this routine is filled with interesting and innovating moves, cadence sequences in true Mayuko Fujiki style, and includes lifts with Berta Ferreras essentially doing acrobatic gymnastics in the water. The execution and pattern changes can be improved in the second half, but the artistic research and overall variety in the choreography is excellent. Spain's highlight routine to AC/DC was fantastic, with also a few changes in the throws and lifts since its first outing in Paris, and it placed 0.3667 behind Japan for silver.
France was back out for the first time since Paris, and the squad adapted well to the injury of Solène Lusseau. The French are so close to breaking the 86 points mark in tech, and are getting closer to the elusive 87 in free. They are noticeably closing in on Canada, finishing about one and a half points behind in both. Their highlight routine however was one they will want to forget, with two missed throws and lifts, a major mistake in the first hybrid, and hesitations in an arm segment. Canada also improved on its tech score since its last outing at the Hellas Beetles Cup by nearly a point, but much like the French can improve on reducing individual mistakes. 
In the free solo event, the rankings are extremely tight between the fourth and seventh place, with only 0.7667 points separating Vasiliki Alexandri (AUS), Halle Pratt (CAN), Eve Planeix (FRA) and Kate Shortman (GBR). After unveiling a new tech last weekend in Kazan, Alexandri revealed her new free solo choreography for a 85.8667, using music from the movie Frida. She even added a lovely artistic touch with her hairstyle mimicking Frida's.
Shortman continued to break records for Great Britain, and passed the 85 points mark for the first time of her career in the free routine. She also unveiled a new technical routine set to "Piece of My Heart" by Janis Joplin for a 83.0956, once again a career-high.
It was great to see Australia out at a big international meet in the team and duet events. It's a nation we don't get to see as much except at the Olympic Games or the world championships really. The Australians only made a quick outing last year at the Synchro America Open in free team. In Tokyo in the technical duet event, 2016 Olympians Amber Rose Stackpole and Amie Thompson finished ahead of teammates Kiera Gazzard and Rachel Presser. Stackpole and Thompson have been competing as a duet in the national circuit for a few years now, so it's great to have them both back on the international stage. The two had already been selected as Australia's free duet for worlds with their choreography by Andrea Fuentes, but were still vying for a spot in tech duet here. With this meet's results, we should anticipate to see them in both events in Gwangju.
Article by Christina Marmet.