2016 Olympian for Ukraine and 10-time world medalist Anna Voloshyna is the new coach of the U.S. junior national team through at least the 2020 season.
"I am really excited to be a part of the USA team," Voloshyna said. "I know that the girls on the junior team have a big potential and a great future. I'm looking forward to starting work together with such a great team, and all the more so I will work near a spectacular coach and ex-sportswoman, Andrea Fuentes! I hope that our collaboration will be interesting."
Voloshyna will start coaching the U.S. junior team in July to prepare for the upcoming UANA Pan American Championships in Windsor, Canada in August. They will be based in Las Vegas to start. Afterwards, she will stay on full-time and coach that junior team in the same training center as the senior team in Moraga, California, with the 2020 FINA Junior World Championships in sight.
Voloshyna last competed for Ukraine at the 2017 FINA World Championships in Budapest where she added six medals to her collection. She coached the 13-15 Ukrainian national team shortly after, and also served as an assistant coach for the junior national team. More recently, she was a consultant for Mexico's senior national team for three weeks, where she helped with the technical duet choreography and advised on the other routines.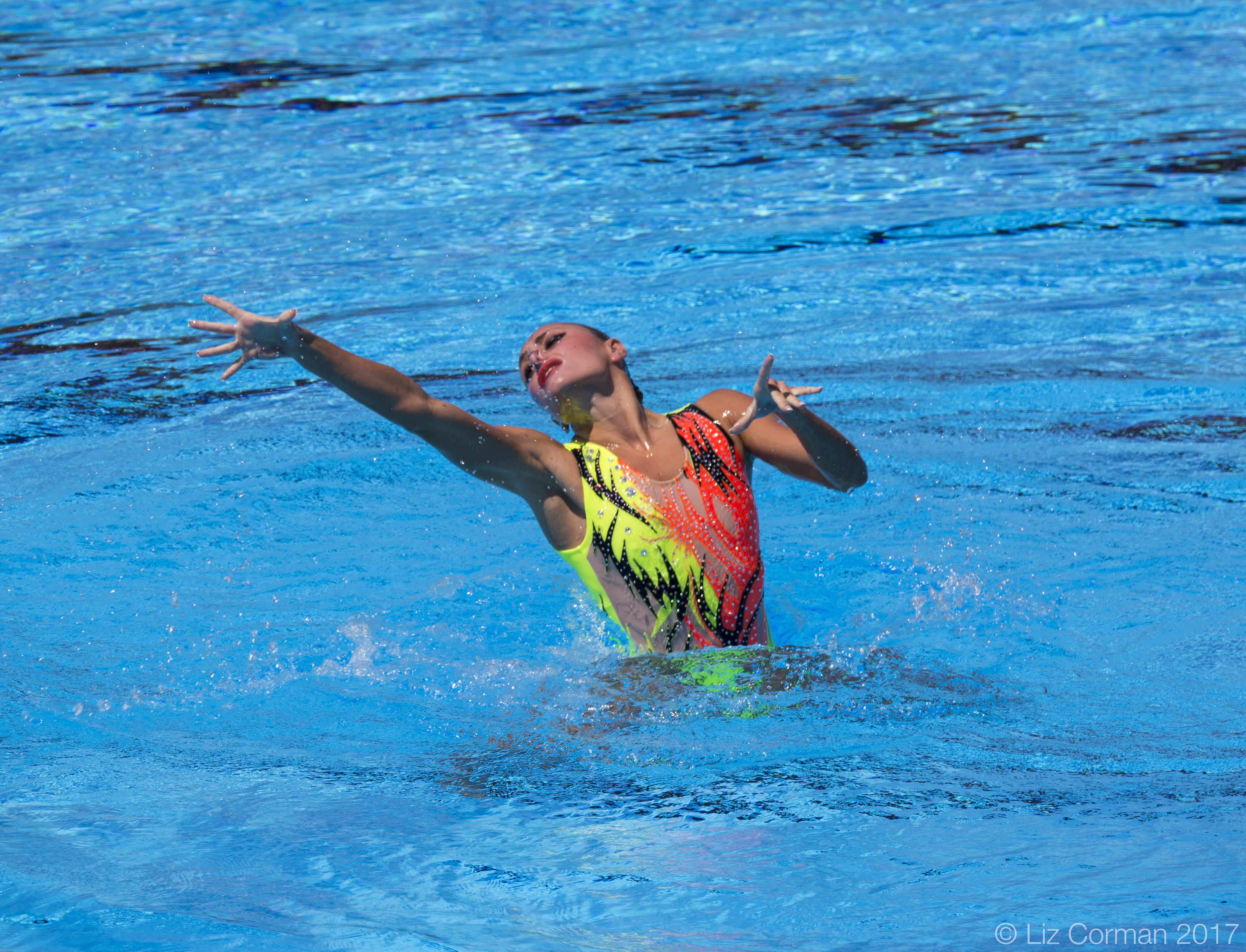 She is Ukraine's most successful and recognizable synchronized swimmer. She helped her country qualify to the Olympics as a team for the first time ever in 2016. In Rio, she finished fourth in the team and duet events. In addition to her 10 world medals across the solo, duet, and team events, she is also a 15-time European medalist and a two-time European champion (2014, free combination; 2016, free team).
The American federation is in the middle of rebuilding, and understands the value of having a strong junior team that in turn could lead to an even more competitive senior team. As a result, it decided to have its junior squad training full-time in one location starting in September, so hiring a full-time coach was only an obvious and natural progression.
"We are trying to put together something that looks more like a structured pipeline," Adam Andrasko, CEO of USA Synchro, said. "[We want] to dedicate a lot of focus on what those athletes are doing on a consistent basis. We believe that in the long term, it's going to result in increased competitive abilities in every world event we go to, junior or senior.
Voloshyna's hire could be considered another risky one as the federation is betting again on a younger, less-experienced coach. However, Andrasko believes in the potential of it, especially after seeing how fruitful Fuentes' hire has already been. Besides, he is convinced that it could only be beneficial to bring in the international talent and perspective from countries the U.S. hopes to reach the level of eventually.
"We are excited to see what the collaborative efforts will be like," Andrasko said. "The teams will have separate trainings but just with the overlap that will happen, and with different skill sets, different understandings of how [Fuentes and Voloshyna] excelled in the sport, it should produce something a little bit different from what we are used to seeing. It's an exciting time."
On paper, it certainly has the potential to be a promising and rewarding hire, especially if Voloshyna and Fuentes can collaborate often and bring their skill sets together. The Ukrainians are more renowned for their technique, execution and impressive acrobatics, while the Spanish have always been more daring in artistic impression and ingenuity. Thus, moving up the national team ranks from Voloshyna's guidance to Fuentes' coaching truly does have the ring of a perfect combination.
"We will work with Andrea at the same pool and it's really great," Voloshyna said. "I think both coaches, senior and junior team, should work the same way, because after the junior team, girls will have the selection for the senior team and they should be at the highest level for this."
Article by Christina Marmet