Ukraine nearly won it all this past weekend in Budapest for the first ever FINA Artistic Swimming World Series Super Final. The Ukrainians were entered in eight events out of 10 and came out with seven gold medals and a silver. The three remaining golds went to Russia in technical and free mixed duets, and to Spain in technical solo.
In the duet and team events, nobody could even come close to challenging the Ukrainians, who put up strong performances one after the other and shattered their own records mostly everywhere.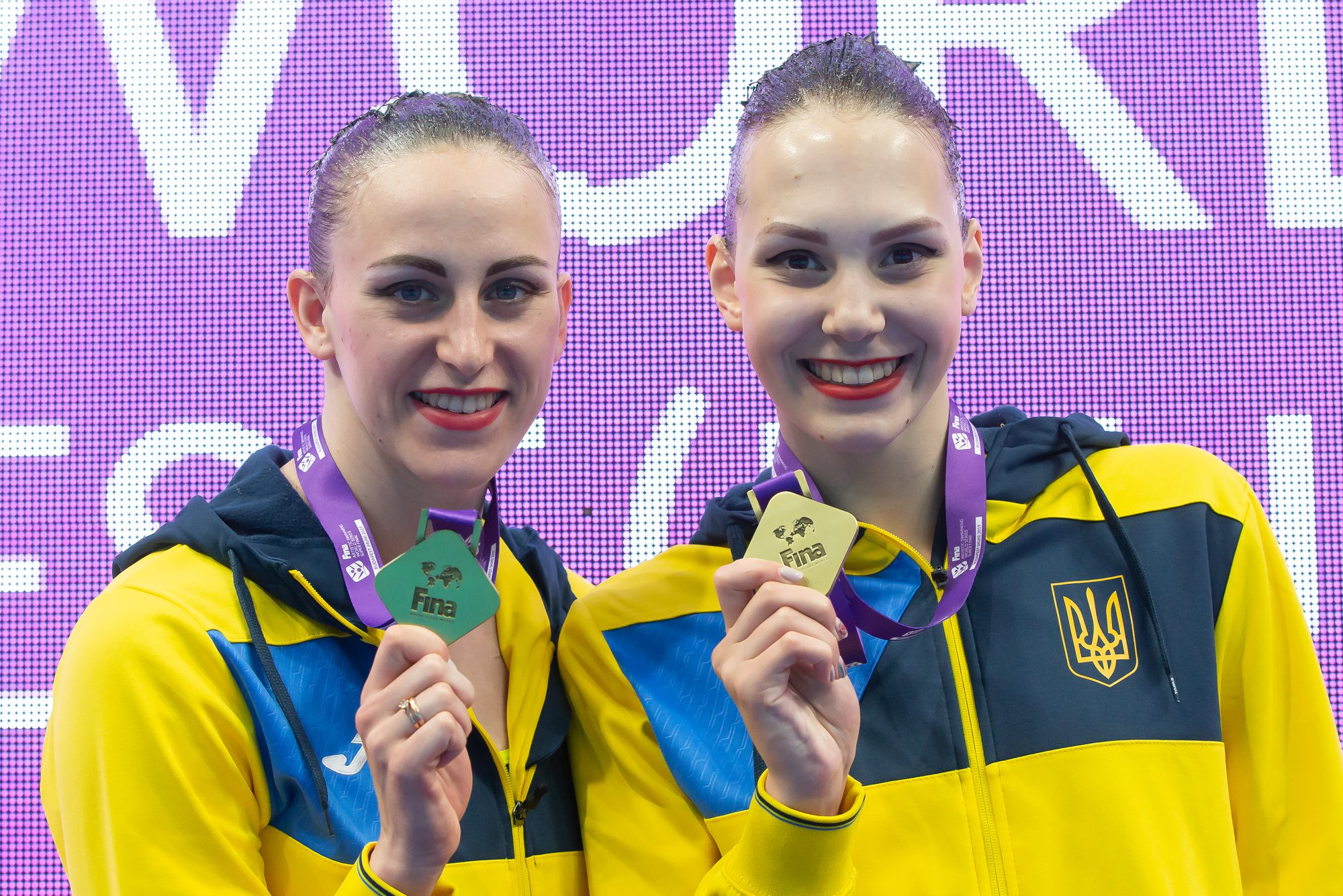 In their first season together, Anastasiya Savchuk and Marta Fiedina recorded a season-best score of 92.0205 in the technical duet, and the highest since the 2017 FINA World Championships, when the duet was then Anna Voloshyna and Yelyzaveta Yakhno. They repeated the feat in the free duet with 93.9000, their best score in nearly three years and almost equaling Ukraine's best-ever score of 94.000 at the 2016 Olympics.
The nation had not competed in the technical team event since the Hellas Beetles Cup in early April. It performed relatively well here, although with some small synchronization errors on some elements, particularly in the cadence action, and a general lack of precision — but those were issues we saw across all five teams competing. The Ukrainians nonetheless recorded their best score since the 2016 Olympics with 92.8734.
Of note, and this applied to everybody, it was difficult to get a proper view of most of the duet and team routines on FINA TV as the camera kept cutting and switching to zoomed-in or underwater shots in the middle of elements or hybrids…which is clearly not ideal when trying to get the full picture of a routine or simply understand what is happening.
In the free team and free combination (see below) events, the Ukrainians obtained again season-best scores with 94.2667 in both. Finally, a 94.4667 clinched the final team gold in Highlight with the best score ever recorded for the country in that event. As always, the acrobatics across all team routines were mind-blowing, and Alina Shynkarenko truly has got to be one of the best flyers out there.
Overall, those were massive scores for Ukraine, especially as it is looking to medal virtually everywhere at worlds in a month. With so many scores above 94 in three of the four team events, the Ukrainians positioned themselves as favorites for bronze against a Japanese team that has scored at best this year in the low to mid 93. As usual, it's complicated to compare scores across different meets, but if anything, this tells us it's shaping up to be a great battle for a spot on the podium again. Both nations are expected to compete in every single event – except the mixed duets for Ukraine – in Gwangju.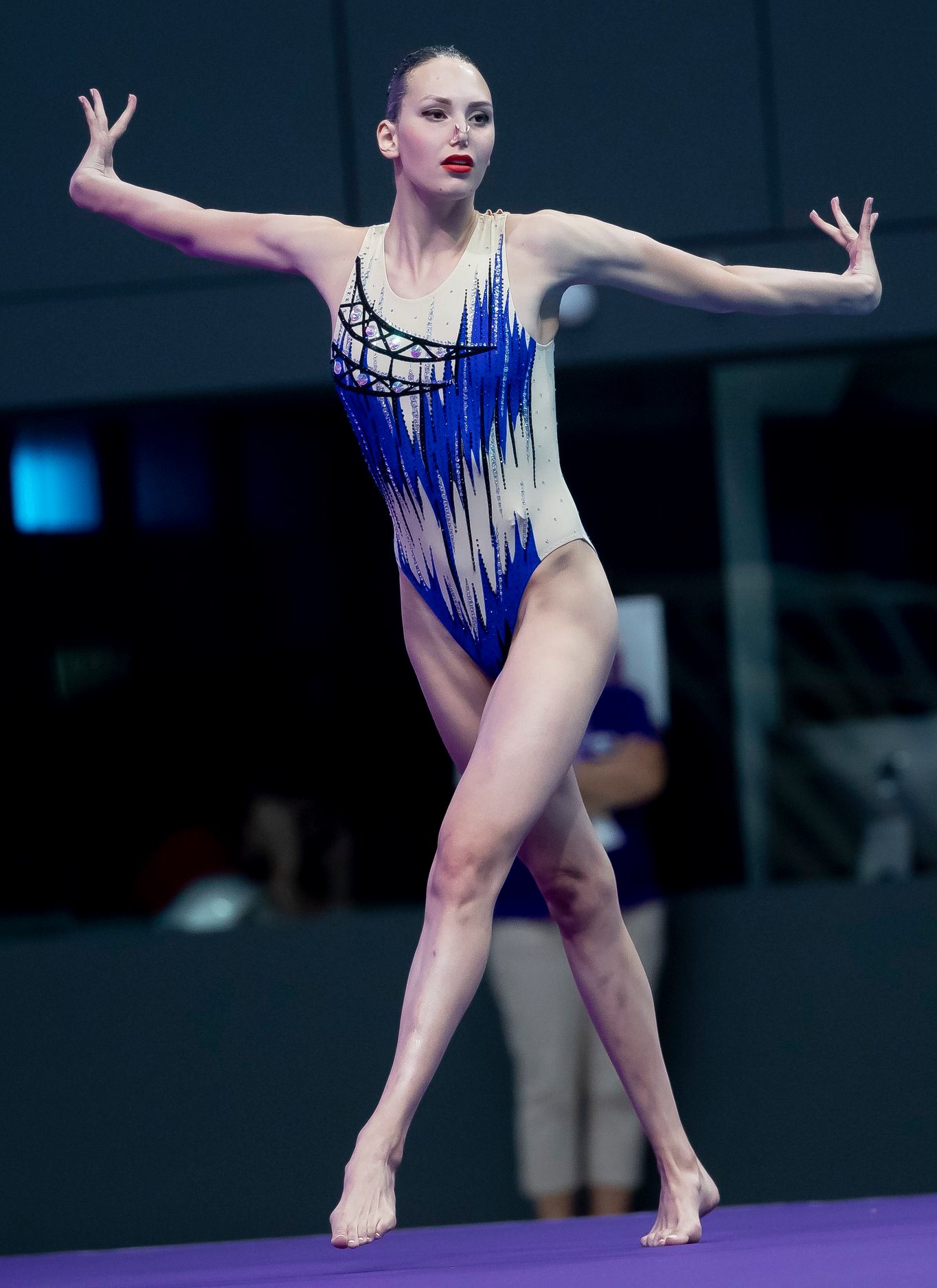 Finally in solo, Marta Fiedina, born in 2002 and thus still technically a junior for this year and the next, won the free event with a massive 93.4667, a score that visibly shocked yet delighted her when she heard it. It is indeed her best score so far, but most importantly it is the best score of any Ukrainian soloist ever. The last one coming anywhere close was Anna Voloshyna at the 2016 European Championships with 93.4000 in finals.
Fiedina was however barely edged out once more by Spain's Ona Carbonell in the technical solo event. The margin here of 0.1892 was not as small as in Barcelona (0.09), and Fiedina did struggle on a few elements while Carbonell was overall more stable, although she too admitted in her post-meet interview with FINA that she needed to work more on her last element.
Speaking of Spain, the nation was entered in every event but the free combination in Budapest, and finished second overall behind the Ukrainians at this Super Final. While Carbonell won in technical solo, fans got to see the young Iris Tio for the first time this year in the free solo as she prepares to compete at the European Junior Championships this coming week. Tio, another 2002 super talent, made her big senior international debut last year at the European Championships where she finished fourth with her 'Mermaid' choreography.
This time in Budapest, she re-used one of Carbonell's choreographies from 2015, and she earned the bronze medal with 87.4667. It's a bit of a risky strategy to recycle old solo routines, as solos are personal, unique and associated to each individual athlete, but with her entry into the senior team routines this season, it is likely there was not enough time to work on something new for the junior meets.
The Spanish team grabbed three silvers in all three team events it swam in. The technical team is edging closer to the 90 points with this time a 89.7990, its season-best score, and with a better and cleaner performance than in Barcelona a few weeks ago. The free team routine (see below) also recorded a season-best score of 92.0667. We saw even more shuffle in the team composition for the Highlight routine, with the return of Cecilia Jimenez, Carbonell coming in for the first time and likely replacing Tio, and Leyre Abadia, formerly the flyer of the team, completely out. Just like in the team events, Sara Saldana replaced the latter and nailed the opening double tuck throw, but struggled a bit on the lift where she jumps over an extra back-bent Berta Ferreras.
It was a bit of mixed feelings for both Spanish duets. In the technical duet, Paula Ramirez and Sara Saldana scored 86.4284, their lowest score of the season despite another solid swim with strong artistic impression, and were beaten for the bronze medal by Canada's duet of Jacqueline Simoneau and Claudia Holzner for the first time by 1.2382 points. In the free duet event, Ona Carbonell and Ramirez had a very strong swim going for them until the very last hybrid where the latter forgot parts of it. In spite of it, they did manage to grab the bronze medal with 90.4667 and to close in on Italy's duet, which also had a lot of small synchro mistakes throughout. There is however now only a 0.3666 margin instead of over two points at the 2018 European Championships between the two countries.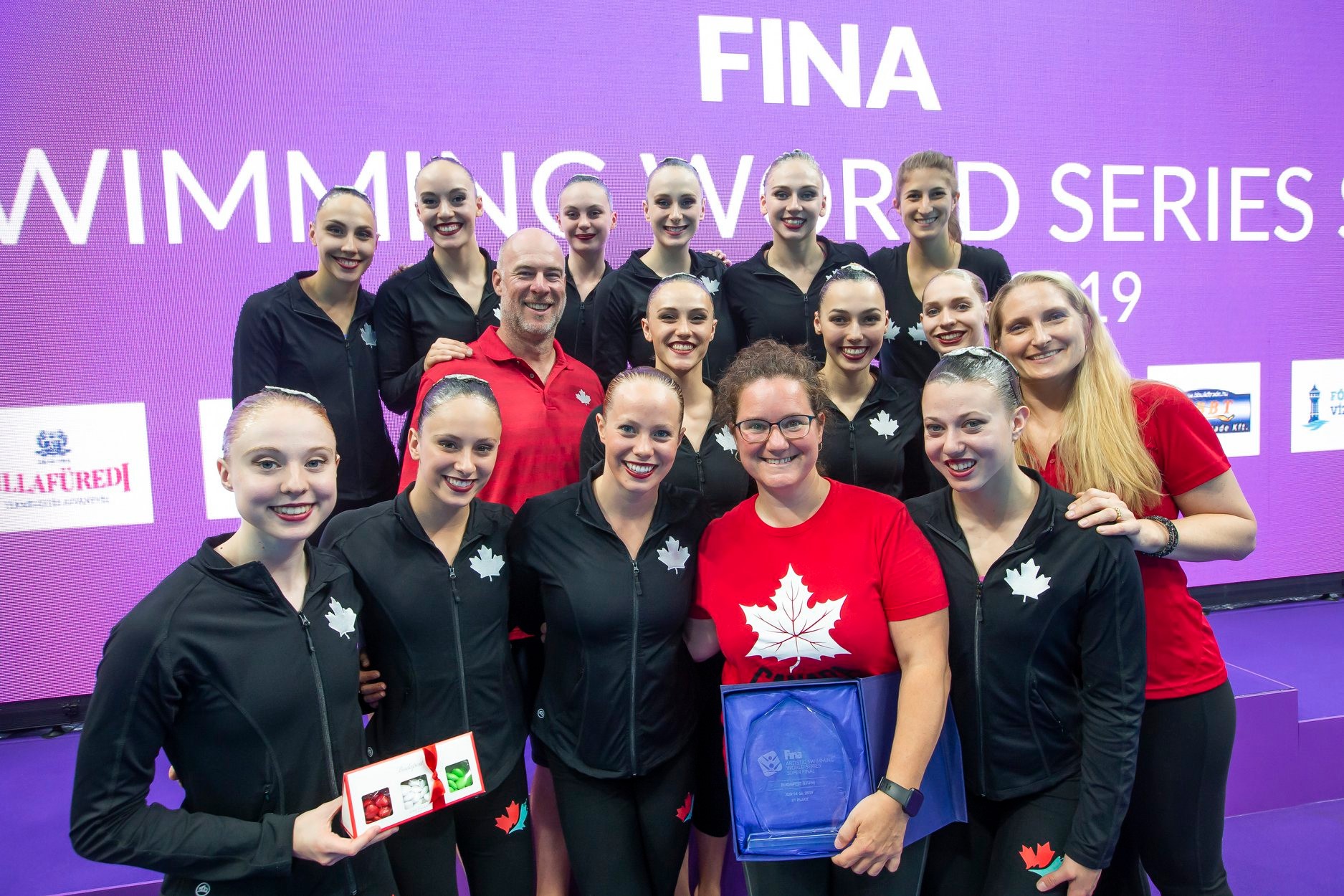 Canada finished third overall of the Super Final, but it nevertheless won the actual FINA World Series circuit using the rankings of the entire season. In Budapest, the Canadians continued to be as consistent as we've seen them this entire year. As already mentioned, the pair of Simoneau and Claudia Holzner medaled in the technical duet, despite a slight scare after bumping into each other during the Fishtail element, which they recovered nicely from. In the technical and free team events, the Canadians earned two more bronze medals, while they received their best-ever score in the Highlight event with 89.7667 for another bronze.
In the technical solo event, Jacqueline Simoneau did have a slight hiccup and received a zero on her last element which dropped her score to 83.5809. As she explained in her post-swim interview, she took a risk and went for height in her barracuda. She unfortunately was not able to complete the two required rotations fast enough before going underwater. It's too bad as her barracuda itself and stability in the spin, along with the height, were excellent. She did get some redemption in free solo for a final score of 90.2333 and a silver medal, after showing off why she should be counted amongst one of the best spinners and technicians out there.
France had also qualified to this Super Final in both duet and team events, along with the Highlight. In the technical team, Charlotte and Laura Tremble entered the lineup for the first time this season, a change of strategy as they initially were supposed to focus on  the duet this season. It paid off in the end as the French nearly topped their season-best score with 86.2352. Additionally and just like Canada, France received its best-ever score in Highlight with 87.2667. Hungary rounded out the team field and it finished the competition with a silver in free combination with 78.5000., which is always nice in front of the home crowd.
The mixed duets were both won by Aleksandr Maltsev and Maya Gurbanberdieva from Russia. It was actually the final time the two swam the 'Sing, Sing, Sing' free routine, which won Maltsev and his partner at the time Michaela Kalancha their second world title in 2017. Maltsev and Gurbanberdieva finished off in style in Budapest with a score of 93.0667, so close to coming to their career-best of 93.5333 from the Japan Open earlier this year. The two will finally unveil a much-anticipated new program at worlds in a few weeks.
Italy's Giorgio Minisini and Manila Flamini settled once again for silver in free with 90.8000. These two are also keeping a new choreography under wraps, but for the technical event. The Japanese Atsushi Abe and Yumi Adachi placed second and third in technical and free, respectively, while Spain's Emma Garcia and Pau Ribes won bronze in technical. They actually received a career-best score in that event with 84.6330. Kazakhstan's duet of Aigerim Issayeva and Olzhas Makhanbetiyarov rounded out the technical mixed duet field.
In a very touching note, Minisini performed another mixed duet routine during the gala with Arianna Sacripante, a synchronized swimmer with Down syndrome. It was visibly a very emotional performance for everybody in the pool as well as for Minisini, who could not hold back the tears. The two have been swimming together for a few years now for the Filippide project, an association in Italy that helps athletes with autism and down syndrome to practice their favorite sports. In 2018, Minisini and Sacripante performed at the ParaSynchronized Swimming Festival in Kyoto, Japan, and one of their many goals is to promote artistic synchronized swimming and to see it included at the Paralympics one day.
View this post on Instagram
Amongst the nations in Budapest without a team, Germany and Serbia competed in the solo and duet events. Germany's Marlene Bojer rounded out the technical solo field, where she recorded her season-best score of 78.9478. Italy and Singapore also swam in the duet events only. This marked the third meet in one month for the Singaporeans, and one month away from home after the U.S. and Canada Open, a training camp in Canada, and the Super Final in Budapest. The Italians Linda Cerruti and Costanza Ferro won two silver medals in technical duet (89.0333) and free duet (90.8333). 
A few other countries had actually qualified to the Super Final after competing in four world series meets throughout the season, but they were not present in Budapest in the end. Japan and Austria were technically qualified in the solo and duet events, while Kazakhstan was also eligible to compete in the duet.
The rankings per events (solo, duet, mixed duet, and teams) are not available yet, but we will make a separate post when they are. The overall rankings and points of each nation for the entire FINA World Series following the Super Final, are:
Canada: 1 425
Ukraine: 1 365
Spain: 1 220
Japan: 1 130
France: 708
Hungary: 678
Italy: 520
Russia: 500
Germany: 308
Kazakhstan: 198
Serbia: 161
Singapore: 92
Article by Christina Marmet