Let's continue our previews of the FINA World Championships in Gwangju, South Korea, with the duet events. The duet field is probably the one where the parity has increased the most over the last two years, and it's going to be quite the battle to simply make it into finals with so many improving nations in contention.
Once again and just like with the solo preview, at the time of this writing, full entry lists are not available, so these are based on observations from the season and other news updates. Edits will be made if/when necessary whenever the official entries are published.
Technical duets have been interesting this season, as just like in the technical solo, mistakes happen, penalties and zeros are given, and the rankings can change in the blink of an eye, which actually brings a little more excitement to it all. The duet event is likely going to be the one with the most entries as usual, and especially with so many countries trying to qualify to Tokyo in that event.
Russia is clearly the big favorite to win both golds here. After swimming with Varvara Subbotina last year, Svetlana Kolesnichenko is now back with Svetlana Romashina, who again made her big return to elite this year. The two made their season debut as a duet at Russian Nationals in April, marking their first appearance together for first time since 2013.
They have had a pretty stellar season already as they qualified the country to the Olympics at the European Cup and in front of their home crowd in St. Petersburg. They have already shown a new technical routine using the Japanese dance/electronic song "Wamono" by HIFANA. For their first outing in Kazan, they scored a 96.1481, nearly matching Russia's tech score from the 2016 Olympics. In the free event, they had up until now recycled the 2015 Alien routine that we had actually only seen that season.
However, head coach Tatiana Danchenko has already announced that they will unveil a new free choreography in Gwangju. We don't know much more about it, but with Danchenko's artistic creativity, and Romashina and Kolesnichenko's athletic abilities, we are certainly in for a treat, so don't miss this one.
Continuing with the successful comeback stories, China has its 2016 Olympic silver-medalists Huang Xuechen and Sun Wenyan reunited. Sun had sort of stuck around after Rio for the 2017 season but only competed for her province at the 13th Games of the People's Republic of China. Huang, three-time Olympian and China's most decorated artistic swimmer, took a long break and had a child before deciding to return to the national team last fall.
They made their big return at the Canada Open scoring 92.8049 in tech, and 94.5667 in free with their "Goddess of Hope" choreography. They are the likely favorites for the silver here. Don't miss their opening lift in the technical duet which is crazy high and could pass for a team lift.
Once again, we must wait for the entry lists to really confirm Huang and Sun will be the Chinese duet in Gwangju, and not Jiang Tingting and Jiang Wenwen. The Jiang twins competed at the Asian Games last season and won gold in the duet for the country while serving as alternates to the team routines. They also won two silver medals at the 2017 FINA World Championships in duets.
This year, we only saw them in the free duet event representing the Sichuan province at the Japan Open, and again one week later at the China Open in Beijing, which was the same meet that the entire national team of China made its debut at. They were not part of the national team squad competing in Canada as well. With their outings since season and the undeniable return of Huang and Sun, who are scoring just as well if not better than the Jiang sisters have these last three years, it's difficult to see how this team could make room for them.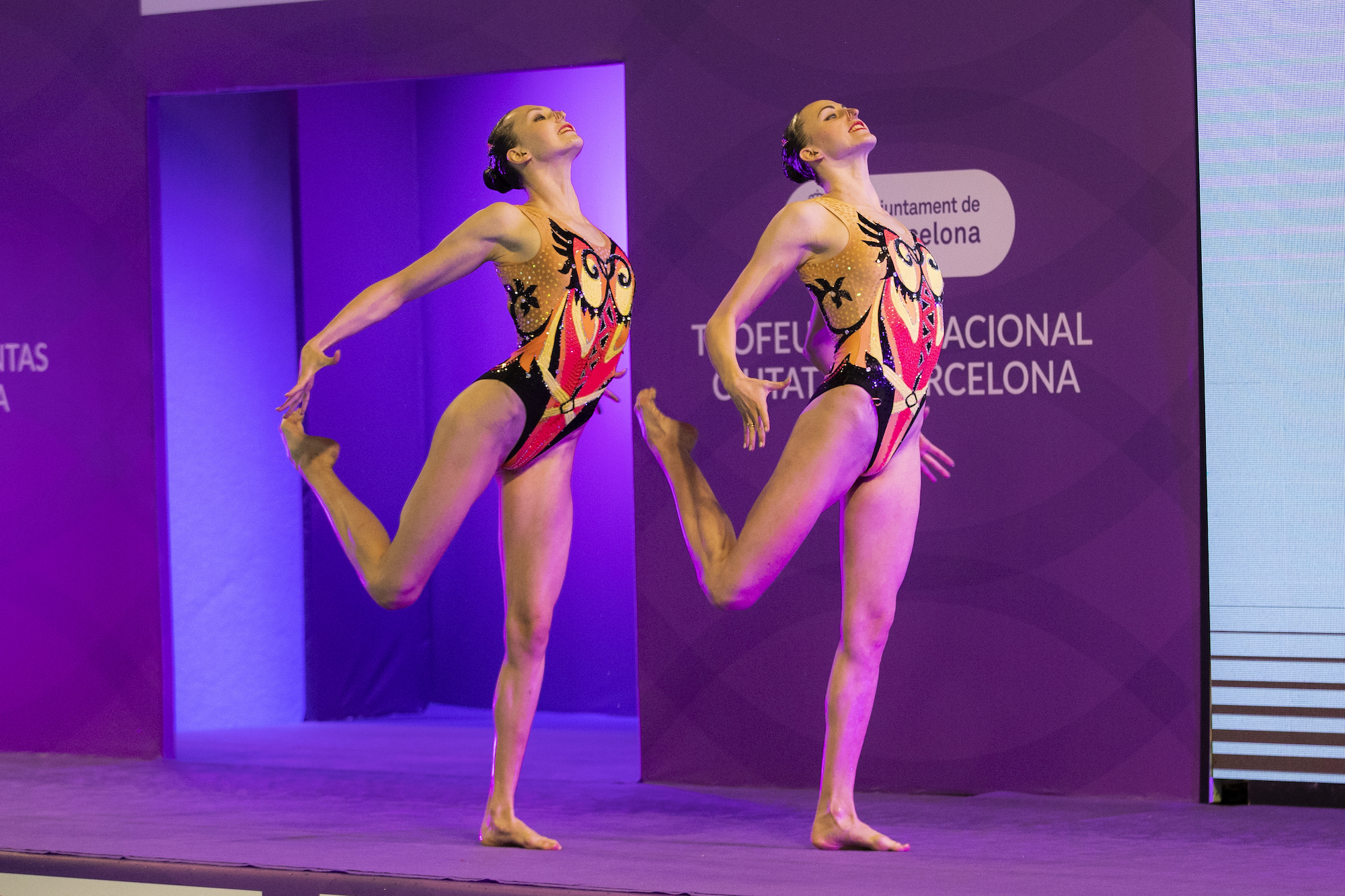 The race for the bronze will once again be as exciting as in 2017 between Ukraine and Japan, even more so as they have only competed against each other once in tech this season. Both have introduced new pairs since the last world championships, and both have improved all year. These two pairs are also qualified to the 2020 Olympics already: Japan by virtue of being the host, and Ukraine after punching its ticket at the European Cup.
Ukraine debuted a seemingly unpredictable pair this season with veteran Anastasiya Savchuk paired up with newcomer Marta Fiedina. This choice was however brilliant as the two match superbly in the water. Japan changed its duet composition about halfway through last season before the Asian Games and now has Yukiko Inui swimming with Megumu Yoshida. Much like the Ukrainians, the two match quite well in the water, and have improved their scores all year. They may have a slight edge in the technical event, as they are a bit more stable and sharp in their elements, but it will certainly be close.
As usual, comparing scores across different competitions is not ideal (different settings, different judges), but the two tables below compile the scores obtained by these four pairs throughout the season, and make it easier to look at the tight battle between Ukraine and Japan:
Technical Duet Scores:
| | | | | |
| --- | --- | --- | --- | --- |
| Competition | RUSSIA | CHINA | UKRAINE | JAPAN |
| French Open | — | — | 90.7207 | 90.6474 |
| Hellas Beetles Cup | — | — | 91.4462 | — |
| Russian Nationals | 96.1481 | — | — | — |
| Japan Open | 95.7896 | — | — | 91.3775 |
| European Cup | 95.3768 | — | 91.6143 | — |
| Synchro America Open | — | — | — | 91.1045 |
| Canada Open | — | 92.8049 | — | 91.7778 |
| Spanish Open | — | — | 91.0077 | — |
| ASWS Super Final | — | — | 92.0205 | — |
Free Duet Scores:
| | | | | |
| --- | --- | --- | --- | --- |
| Competition | RUSSIA | CHINA | UKRAINE | JAPAN |
| French Open | — | — | — | 91.5333 |
| Hellas Beetles Cup | — | — | 92.8000 | — |
| Russian Nationals | 97.1000 | — | — | — |
| Japan Open | 96.8333 | — | — | 94.2000 |
| European Cup | 97.4667 | — | 93.1667 | — |
| Synchro America Open | — | — | — | 92.3083 |
| Canada Open | — | 94.5667 | — | 92.9667 |
| Spanish Open | — | — | 93.1000 | — |
| ASWS Super Final | — | — | 93.9000 | — |
The pairs from Italy, Canada and Spain should be right near that top group, although it would realistically take one of them to mess up (which is possible particularly in tech) for a medal opportunity. The Italians Linda Cerruti and Costanza Ferro have kept shown the same choreographies, more or less, as last season, just like Canada's Claudia Holzner and Jacqueline Simoneau.
The Spanish have been trying out a few different combinations all season for their two duets, but it appears we should see Ona Carbonell and Paula Ramirez in free, and a surprising pairing of Carbonell and Sara Saldana in tech according to the Spanish press. This last one is a bit weird to be honest, as this would not only make it the first time Carbonell and Saldana swim together, but also the first time Carbonell competes in the technical duet since the elements have changed. Again, we will get confirmation when the entry lists is actually published, but this very much out of the blue and unlikely to happen.
At the World Series Super Final a few weeks ago in tech, Italy was ahead of Canada by almost two points, while Spain fell behind Canada by a little over a point. Although the Spanish have kept the same choreography as last season to James Brown "Superbad," which they ultimately scored 89.5215 with at the European Championships, Ramirez and Saldana just surprisingly haven't been able to get out of the 86s this season. Having Carbonell now potentially come in is interesting, but it certainly is a high-risk, high-reward situation.
The competition between these three nations should be particularly fierce in the free event. The Spanish have managed to close in on the Italians this year with their intense and heartfelt flamenco routine, to the point of finishing behind with a 0.3666 margin at the Super Final instead of over two points at the 2018 European Championships. Spain was ahead at the last world championships in 2017, so it will certainly look to regain that spot in Gwangju. The Canadian pair finished about 1.4 points behind Spain at the Super Final.
Just like in the solo event, we did not see much of Greece nor Austria this year, but they should certainly make it into both finals barring a disaster. The Greek Evangelia Platanioti and Evangelia Papazoglou only competed at the Hellas Beetles Cup, where they showed off a new technical choreography to Nirvana's "Smells like Teen Spirit" for a 84.4743. This rough score did not reflect their best abilities as it was a pretty poor swim then. It is however an original choice of music and a good change from what we usually hear, so don't miss this routine. They had kept their 'Sharks' free routine for a 88.6333 there.
Anna Maria and Eirini Alexandri from Austria have been keeping their new free duet under wrap, but they did compete their technical duet routine (the same as last season) at Russian Nationals and the Japan Open. They actually did manage to beat Canada at the latter, and received scores in the 87s that could certainly challenge Spain's.
In Budapest in 2017, the Austrians had moved ahead of Greece in tech, and they maintained themselves in that position at the 2018 European Championships. Greece has however stayed ahead in free. We have barely seen either of them this year, it will be exciting to see how they fare against each other and against other duets that have competed extensively this season, that have increased their scores, and that the judges are more familiar with.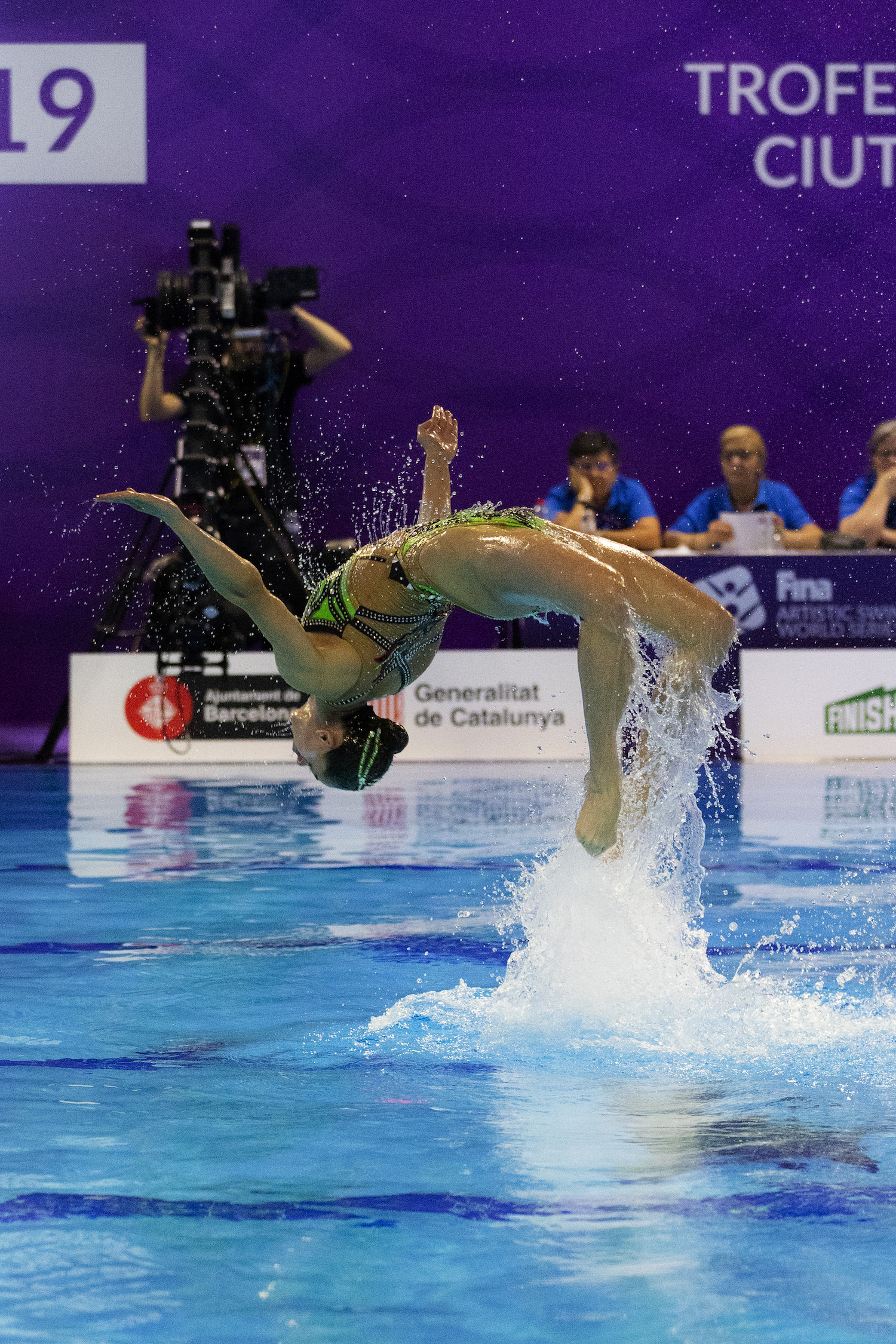 Charlotte and Laura Tremble were selected earlier in the fall as France's Olympic duet, and they will likely be right in this mix as they are now consistently scoring in the mid- to high 85s in tech and in the 87-88 in free, which is actually getting close to Canada's scores. The twins have worked extensively on the duet events this season, and kept their Prodigy tech routine while showing off a new 'Amazon' free routine. France missed qualifying in free duet at the last world championships, but it should not be too much of a worry here considering the strong performances of the Tremble all season.
If you're keeping count, ten nations are already listed that should certainly make it into finals with good swims, so it leaves only two spots for…. so many duets that are just so close from one another!
Another twin duet that has tremendously improved these last two years is the one from the Netherlands with Bregje and Noortje de Brouwer. Since the last world championships, they have increased their scores by five points in tech and six points in free. They did have a bit of a setback at the European Cup in technical duet, with a major mistake that dropped their score by a few points, but they have bounced back nicely since. With scores consistently in the 84s in tech and up to 86 in free, a spot in finals is certainly reachable.
The Dutch twins moved to a full time training regimen under the guidance of Esther Jauma after the 2017 season, and this stability has clearly paid off. The two have already received the necessary scores for the federation to allow them to continue on their road to qualifying to the Olympics, but they will certainly be looking to improve on them and of course to make a world final for the first time in their career.
There are so many other nations that have the potential to make it into finals, and it will truly all depend on the performances on the day of. Mexico revealed its new duet of Nuria Diosdado and Joana Jimenez a month ago at the Spanish Open, where they received 84.1916 for their 'Bella Ciao' tech and 85.5667 in free using the viral mashup "Summer 2015" by L.E.J. They have not competed against the Netherlands this season, but these two pairs have become close simply looking at the numbers.
The U.S. will bet on 2016 Olympian Anita Alvarez with Ruby Remati and/or Lindi Schroeder. Their technical choreography is to "Oh So Quiet" from Bjork (i.e. Virginie Dedieu's free solo in 2005), while the free routine is very original and takes some risks by using a R&B song, "Fragile" from Tech N9ne. This is an interesting routine to watch as it grabs your attention from the start and simply uses a style of music that's rarely heard in the sport.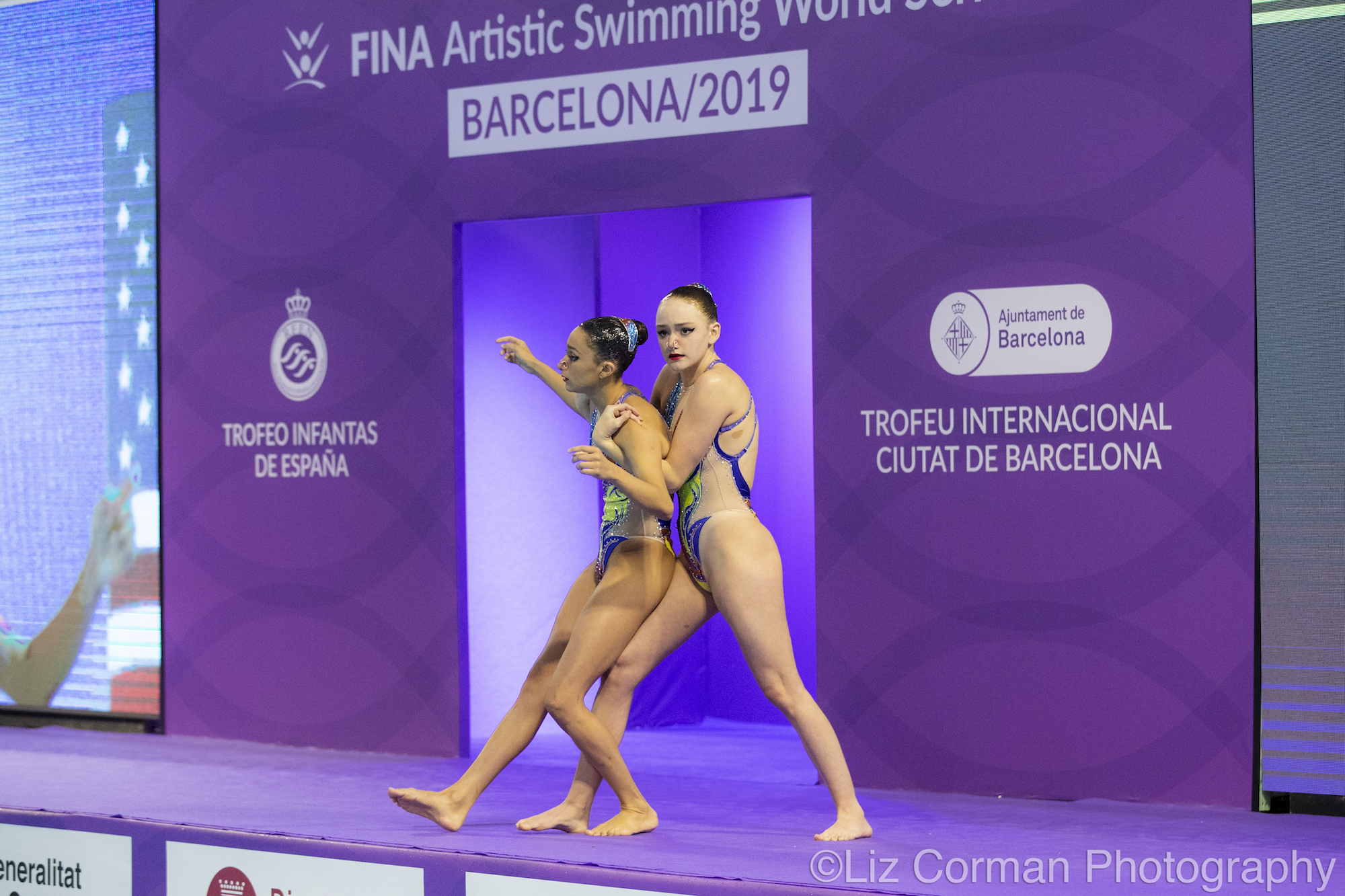 Kate Shortman and Isabelle Thorpe from Great Britain has also made crazy progress in the last two years and is certainly on the bubble to make finals. The two went for the same strategy as the Russians with the Japanese theme for their technical routine, but they have kept their "Heroes/Requiem for a Dream" free. In Barcelona, there really wasn't much between the pairs from Mexico, the U.S. and Great Britain, and the Brits were less than a point behind the U.S. in free and only 0.0059 in tech! They also just competed at the junior European Championships, where they placed fourth in both events, and will likely be the only duet to be both in junior and senior meets this season.
The duet from Israel is also new this season with Eden Blecher paired with Shelly Bobritsky. They have jumped up the rankings as well, following the trend of the team, with their 'Popcorn' tech (sounds familiar?!), and their Flamenco free. At the European Cup in May, the two improved by 5.5 points in technical duet and of 2.3 in free duet in less than a year. At the last world championships in 2017, Israel's duet was very far down the rankings finishing 27th in tech and 31st in free. A final is still a bit unlikely except if some of the other pairs falter, but if everything goes well, they should finish in the first half of the duet field in Gwangju.
The world series circuit was very well attended by the duets from Germany (Marlene Bojer and Daniela Reinhardt), Singapore (Debbie Soh and Miya Yong), Serbia (Nevena Dimitrijevic and Jelena Kontic) and Hungary (Janka David and Boglarka Gacs). All have been tremendous to watch through the entire season as they are also on the rise.
Germany's pair has worked with Virginie Dedieu on its choreographies, including their free to a cover of Britney Spears 'Toxic." Just like the Netherlands, Germany did not have a great performance at the European Cup and had to count a zero on its first element. But it hasn't happened again since, and it's safe to say they want to never repeat that again.
Singapore and Serbia are two other nations on the up. After trying out a different pair last season, Singapore went back to the more experienced duet of Soh and Yong that we see now. They have been training with Julie Sauvé, who was Canada's head coach for many decades, bringing Sylvie Frechette to the solo gold medal at the 1992 Barcelona Olympics, or the Canadian team to fourth place at the 2012 Olympics, amongst others. The Singaporeans passed the 78 points mark this is the first time ever at the Canada Open, which was the first time that a duet from southeast Asia passed that score in a major international competition. They will certainly want to continue showing their progress in Gwangju and that they can be amongst the 22 duets to qualify to Tokyo.
Serbia's duet has competed through five world series meets and the European Cup, while Kontic also managed to balance the junior Europeans on top of it all. Kontic and Dimitrejvic's free routine to the theme of 'Sea Monsters' has led to a lot of success, particularly at the European Cup where they qualified for their first final ever in free duet, where they ended up scoring a career high of 78.3667.
North Korea could maybe challenge for a spot in finals, if the nation decided to attend. In 2017, the North Korean pair finished 14th in tech and 13th in free. They finished fourth last year at the Asian Games with scores that would put them on the bubble for a final here (82.8094 in tech, and 83.8000 in free). Its junior duet at the 2018 Junior World Championships was however absolutely stellar placing sixth and eighth respectively, so they could give other countries a run for their money if this particular pair competes in Gwangju.
Vasilina Khandoshka from Belarus announced on her Instagram that she will also swim in the duet. She will likely be with Valeryia Valasach just like at the European Cup, as Daria Kulagina still awaits her Belarusian citizenship. There was a pretty fierce and close competition between this duet and the 2016 Olympic duet of Iryna Limanouskaya and Veronika Yesipovich, but the former did finish slightly ahead most of the season, so we will not get to see Limanouskaya and Yesipovich in Gwangju.
Switzerland held its duet selections at the end of 2018 and into early 2019. Vivienne Koch and Noemi Peschl, who had already represented the nation at the 2018 European Championships, were eventually selected as the official duet to try to qualify to the Olympics. We have not seen them since the French Open though, so just like with the Austrians it will be interesting to see how they fare against some of their direct opponents which have competed a lot more this year like Germany or Israel.
We can also expect a few other duets that we have seen sporadically throughout the season. Argentina will be represented by Camila Arregui and Trinidad Lopez Brasesco (these two have a fun Game of Thrones tech duet), Aruba by Kyra Hoevertsz and Abigail de Veer (who are now coached by Leslie Sproule, former head coach of Canada), Australia by Olympians Amber Rose Stackpole and Amie Thompson,  Brazil by Luisa Borges and Maria Clara Lobo Coutinho, Colombia by Monica Arango and Estefania Alvarez, the Czech Republic by a new pair of Alzebta Dufkova and Vendula Mazankova, Kazakhstan by Alexandra Nemich and Yekaterina Nemich (who had squeaked through to the free duet final in 2017), Liechtenstein by Lara Mechnig and Marluce Schierscher, Portugal by Maria Beatriz Goncalves and Cheila Vieira, Slovakia by Nada Daabousova and Diana Miskechova, South Korea by Baek Seoyeon, Lee Riyoung and Koo Yemo, and Turkey by Defne Bakirci and Misra Gundes.
There will likely be more duets in the competition as well that we just haven't seen yet. Once again as we have witnessed through the entire season, it can be very costly to make a synchronization mistake, go the wrong direction or miss an element, and with such a deep field of duets, no nations can afford anything if it hopes to qualify to finals.
Technical duet preliminary will occur on July 12 at 4:00 pm, while finals will be on July 14 at 7:00 pm. Free duet preliminary will start at 11:00 am on July 16, and finals will be on July 18 at 7:00 pm. All times are local.
The full schedule is available here, along with any other information you may need to follow the competition.
ARTICLE BY CHRISTINA MARMET
Cover photo by Liz Corman.