The free combination final at the 2019 FINA World Championships was the last event in Gwangju, and started quite quickly after the emotional free mixed duet final. Russia was back in the event for the first time since 2016 and won gold again, although it had to make major changes within the routine in less than two ways between preliminaries and finals.
Indeed, the Russians gave themselves a little scare in the preliminary round by getting a one point penalty for having a routine too long by 14 seconds, which is a significant chunk of time in this sport. They had not realized that since their last appearance at the European Championships three years ago, the time for combos had been shortened from four minutes and a half to four minutes.
With China only 0.5667 points behind after the preliminaries, the Russians could not afford to take another penalty in finals, and worked fast to cut both the music and the routine into the allotted time limit. The changes were flawless in the final, and it is only while watching the two routines back-to-back that one realizes most of what got cut was right before the final throw.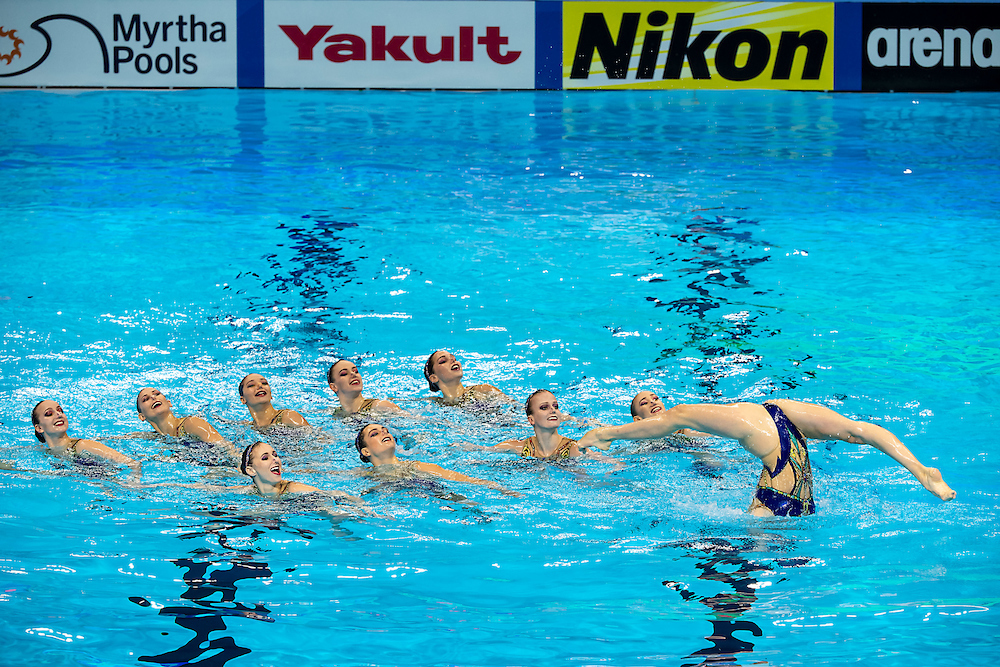 "We had to change [the routine], to cut it very quickly," Maria Shurochkina said. "We had only one final rehearsal before tonight's competition. We managed to do everything in the very best way, and get high scores even in this stressful situation."
"During the program I was saying to myself again and again, 'Don't forget, you have a new place, a new position in the routine,'" Vlada Chigireva said. "But there was another idea, that if the program is shorter, it will be easier to execute it. We are happy we could show our maximum. When I saw the scores I couldn't stop dancing, although I was exhausted. That meant we could relax, switch off and think about vacations."
Their combo used classical music from the opera Prince Igor, which may have sounded familiar to the hardcore synchro fans as Russia already swam to this for its free team program back in 2002. In the end and with the appropriate changes, they won another world title with yet another 98.0000.
The reigning world champions China really did come close in the preliminaries, but had to settle for silver in final with a score of 96.0000. The Chinese swam the same routine that won them their first-ever world title two years ago, to the theme of 'Master and Commander.' Eight of the 10 athletes competing in this combo in Gwangju were returning world champions from Budapest.
Once again, Ukraine could not be beaten by Japan yet again in this event, and it comfortably won another team bronze for its 'Magic Castle' routine, which is new from this season, with a score of 94.5333.
This has overall been a tremendous world championships for the Ukrainian team, which leaves Gwangju with a qualification to the 2020 Olympics, one gold and a first-ever world title, five bronze medals, and two fourth-place finishes by their next superstar Marta Fiedina. This is extremely encouraging for them heading into the Olympic year, as they are shaping up to be strong contenders to maybe win their first Olympic medals.
On the contrary, this competition has probably been a mixed bag of emotions for the Japanese team, who again finished out of the podium in fourth in this final with a score of 91.4667 for their mermaids combo, the same as in 2017 as well. The only medals that came for them were in the solos and mixed duets, which were absolutely incredible and historical in their own ways, but these are two events that are not on the Olympic program.
As the 2020 games are in Tokyo, it is absolutely evident the Japanese will want to win a medal in front of the home crowd. Their strategy for next season and to get closer to Ukraine will be interesting to follow.
Italy competed its 'Dolphins' free combination routine, which is another routine we had already seen in Budapest in 2017, for fifth place and 91.5667. Greece competed its 'Chess' choreography that they have been swimming since the 2018 season. The Greek were dynamic throughout and overall moved quite fast in their routine, and placed sixth here with a score of 87.6000 despite a small mishap on one lift that Evangelia Platanioti actually managed to sort of save nicely.
Israel made yet another world final and finished seventh, the highest-ever world ranking in any team competition for the nation, with a score of 83.7667. The Israelis were absolutely thrilled about their championships in general, and their joy throughout the performance and around the pool was truly infectious.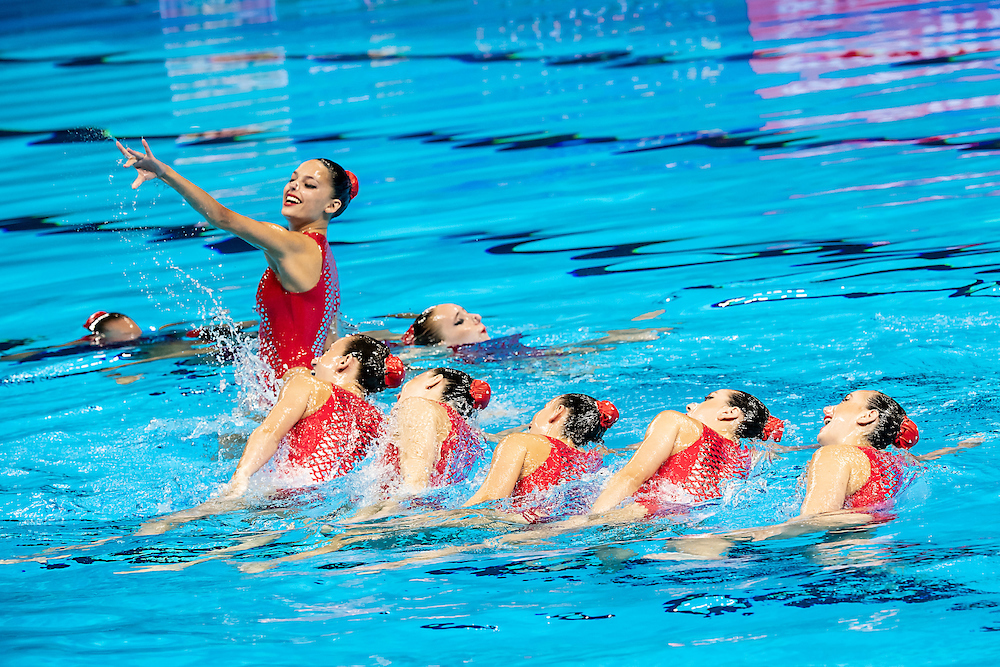 "It's very exciting, the audience really cheered us, we really enjoyed it," they said, talking over each other and giggling after their swim. "We all felt the energy and it gave us the power to do it all the way. We felt like in a show, not a competition."
In 2017, the nation wasn't even entered in this event, and was near the bottom of the rankings in the other team events. Fast forward two years later, and it made three world finals.
The Israelis have completely reworked their training system, and after working with Anna Tarrès, have received the help of Bet Fernandez this season. They have also increased their training schedule over the last year and a half, and now practice together all year at the Wingate Institute,  a sports training facility in Netanya.
"We learned a different way of training," Gal Litman said. "We learned how to train again from scratch. Everything that we were doing before, the coaches erased everything, and we started all over again. It was very different but we were very open minded so it's good."
"Our training conditions these two years became much better," Ariel Nassee added. "Because two years ago we didn't have anything, just us and the coaches. Now we have a physio, a trainer, and a pool, like a real, deep pool, not just two lanes!"
Brazil placed eighth with a score of 83.6333 for its 'Superheroes' routine, which was one of the crowd's favorite as the Brazilians really played into the theme and highlighted each of the superheroes and their powers throughout fantastic acrobatics.
As previously mentioned, it has been an unexpectedly difficult championships for the Brazilian team, which is far from being done with the season as it now has to head to the Pan American Games in a few days.
"It has been a really tough [competition]," coach Andrea Curig said. "One girl from the duet is home now. We were also penalized [in the free team routine], so it's been really tough. But every day, we try to bring them up, cheer them up."
Curig also explained that it will be the reserve who will come in for the duet at the Pan American Games, in the place of Maria Clara Lobo Coutinho. While nothing was said about her status at the meet itself, Coutinho posted on Instagram on July 21st about the reason why she was sent home. It appears she has tested positive at a doping control that happened prior to this competition, but was made aware of the results once in Gwangju. She states that she has never taken any illicit substances, and that she will challenge the decision.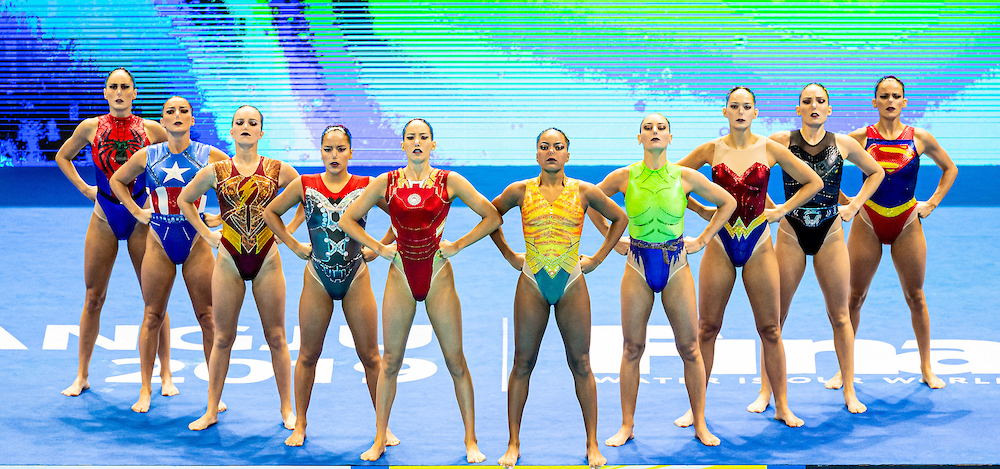 Belarus was the next country in the rankings with a score of 82.9667 for its new routine that used music from the video game Cuphead. This is the season-best score for the Belarusian team with this combo. Kazakhstan finished 10th with 82.0000 for its 'Spanish dance' choreography. The nation had not competed in combo since the 2017 FINA World Championships, so it was great to see it back here in Gwangju and with a new routine.
This competition marked the return of South Korea in team events at the world championships for the first time since 2003. The host team placed 11th with 78.8000 for its 'Lion King' routine. It was such an electric atmosphere in the venue when the Koreans arrived and after they completed their routine, with deafening screams and cheers all around. This is another nation we don't see often in team events, let alone in the combo, so it would be fantastic if it kept this team going for the next few years to continue growing the sport locally and on the international stage.
Hungary was the last nation of this combo final, and also made history by qualifying to its first world final. The Hungarians finished 12th with 77.9333. This is another nation that hadn't competed much as a team prior to 2017, and the investment in time and effort is starting to pay off, as this young team is slowly but surely improving.
The Slovakian team missed the final by 0.700 points, but the swimmers were simply happy for the experience and to show off their new Guns'N'Roses choreography. This is quite a young team with seven of the 10 athletes in the combo born between 2002 and 2004. It was for most of them their first experience on the big stage at the world championships.
"I think I can say for all of us that we are satisfied with how we performed," Linda McDonnell said. "We get along very well. Our season was long… (laughs) Full of competitions, so hard and stressful also, but it always ended in happiness. It's exciting, we are happy to be here."
South Africa and Thailand were the last two nations to compete in the free combination preliminaries, and both of them also rarely compete as a team in international competition, so the variety in countries and styles of swimming was quite appreciated.
The 2019 world championships ended with a gala, where the absolute highlight was a powerful piece created by Andrea Fuentes, revolving around the themes of prejudice and inclusion. It started with the U.S. team, dancing to their own voices, and every men from the mixed duet competition eventually jumped in to swim together. It cumulated into all of them lifting Bill May out of the water, quite the symbolism knowing this was his last hoorah in the competition pool, and I certainly melted into a puddle of tears at about that time.
Article by Christina Marmet.
Cover photo by Giorgio Scala / Deepbluemedia.