The free duet event on the last day of competition at the 2019 FINA World Championships wasn't necessarily all about the performances and the results, but mostly about the stories happening in the background and the meaning of mixed duets for each athlete and nation involved. 
While the podium was exactly the same as in the the technical event and came as no surprise after the preliminary results, the final itself was very emotional all-around with what were the last swims of two legendary athletes, Bill May from the U.S. and Manila Flamini from Italy.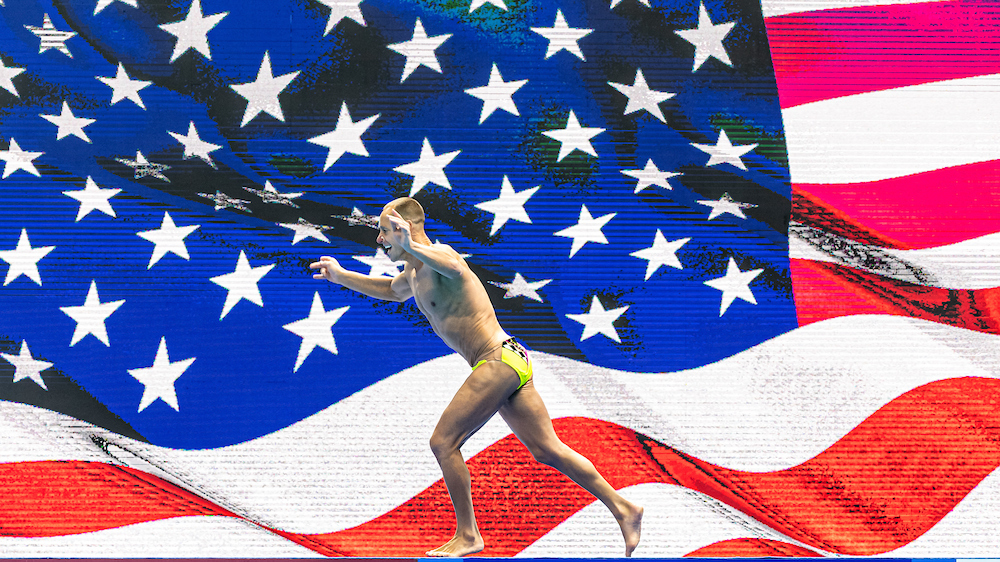 After his final swim, Bill May admitted with much emotion in his voice and nearly watery eyes that these world championships were his last ones.
"I mean…never say never," he said with a laugh. "But, yeah. It's… (he pauses). I am 40. I have my Cirque life, I have to balance other aspects of my life now. It definitely feels like a different kind of retired than before. I'm taking this big block out of my life…"
May has been the pioneer for the inclusion of men in synchronized swimming for the last 30 years, and has been the main and loudest voice to push for mixed duets at major international competitions. When the event was finally included at the 2015 FINA World Championships, May won the very first gold medal. Four years and three world championships later, he is ready to move on.
In Gwangju, May had taken the time to write individual letters to each athlete and coach in the mixed duet field, and handed each of them personally. But while being interviewed after preliminaries, the mixed duet from Uzbekistan handed May a gift as well, a gorgeous leather wallet. May was absolutely thrilled at the surprise.
"That's the best thing about the mixed duet right now, we are comrades," May said. "We are friends. We are here for a common goal, we all want to get better, we want to get men into the Olympics, so we are pushing each other, supporting each other, enjoying being in the company of each other. I think that's the greatest thing about sport, and that's the only thing that will help the event grow in the sport as a whole."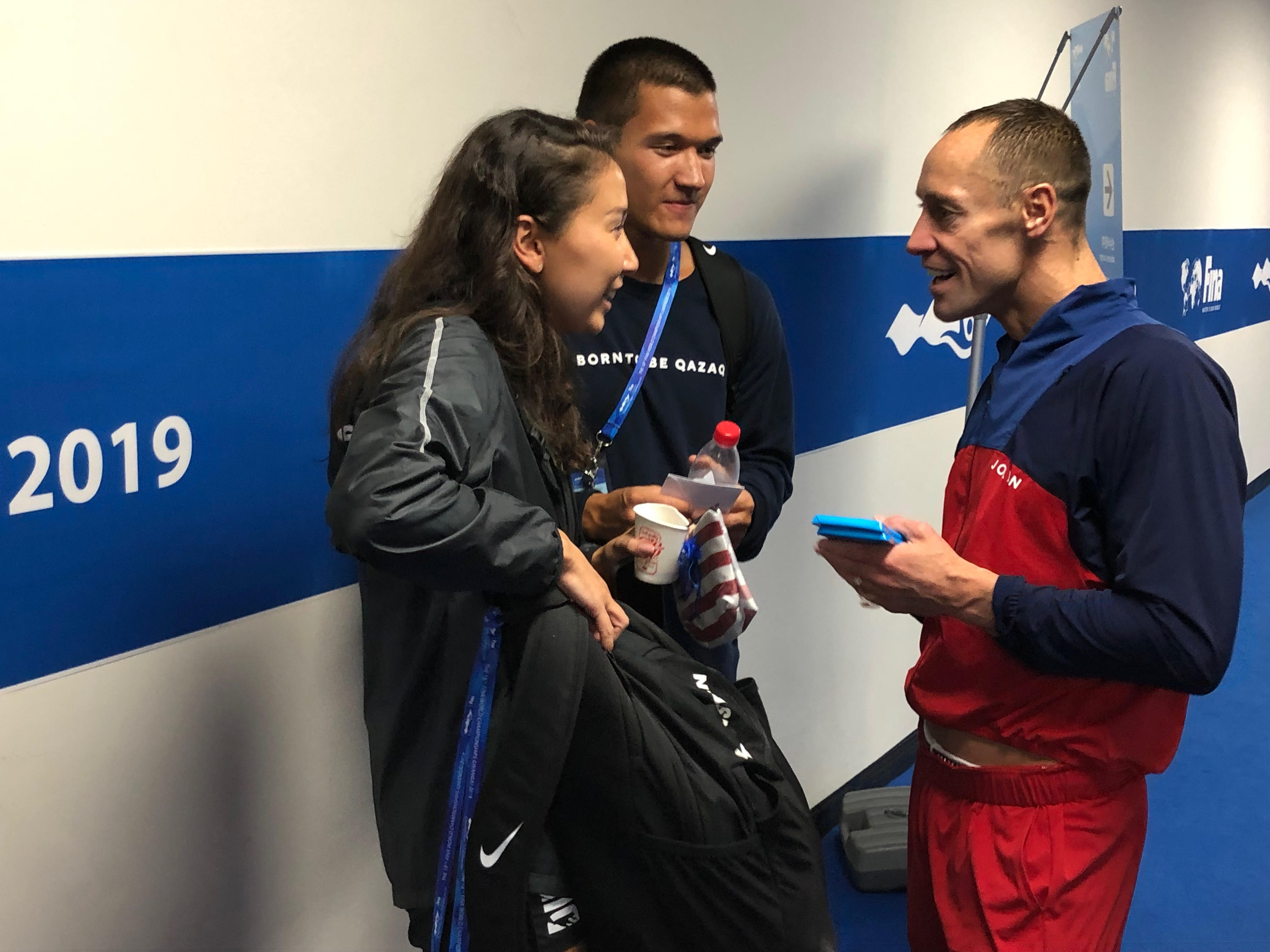 May and Natalia Vega finished fourth of the final with a score of 88.3000 for their new routine picturing the story of Salomé and the Dance of the Seven Veils. They had kept this routine under wraps all year, and the two, along with coach Chris Carver, actually left Gwangju for a nearby town for two days after the technical mixed duet event to continue working on it away from the hustle and bustle of the competition.
"We wanted to get it as refined as possible," May said. "We focused a lot on tech throughout the season first. This [Salomé] routine was in the mix from the beginning, and we just really wanted to make it like a true mixed duet, so people can separate it and see a difference between a mixed duet, and a female/female duet, or even male/male duet."
Bill May will leave the sport with a world title, one silver and two bronze medals, but his impact goes beyond any result and podium finishes. What is certain is that there will never be another Bill May, and that his legacy in this sport, along with his contagious smile and roaring laughter, will be for ever cemented in history.
Another emotional performance came from Italy as veteran Manila Flamini also announced she was retiring after this competition. She could not contain her tears after her free mixed duet swim with Giorgio Minisini. Once the routine was finished, she stayed a long time floating in the water, looking around and likely soaking up every second of this moment while her teammates chanted "Manila! Manila!" from the stands. The Italians placed second once again in the free duet event with a final score of 91.8333.
Flamini has been a staple of the Italian national team for decades. She has been on the senior national team since 2005 and has competed at eight world championships (2005, 2007, 2009, 2011, 2013, 2015, 2017 and 2019). Additionally, she is a 2016 Olympian, 2017 world champion in the technical mixed duet, 2015 world bronze medalist in the technical mixed duet, and two-time silver medalist in the mixed duet event in 2019, and has undeniably made history and paved the way for mixed duets in the nation.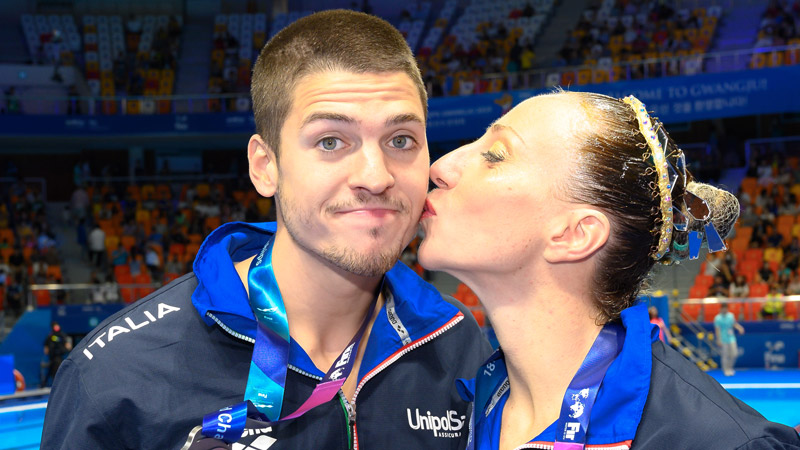 "I couldn't wait for this moment to come, but now I wish it wouldn't end anymore," Flamini said in Italian after the final. "My career could not have ended better. I stop knowing that I have always given my best. The years of the mixed duets were beautiful. Together with Giorgio we experimented, won, believed in change and put in place the basis for a different mixed duet, closer to the people, exciting, engaging and empathetic. The future will be this."
Aleksandr Maltsev and Maya Gurbanberdieva from Russia successfully defended their title from 2017 with a score of 92.9667 for their 'Sing, Sing, Sing' routine. The Russians had announced after the world series super final that they would unveil a new choreography in Gwangju, but decided to go against it in the end.
"We wanted to change, but we didn't have a lot of weeks before this competition," Maltsev said. "A lot of people say, 'Why change the routine?' So we decided to keep it for the world championships. Because it's only one time, and all season we did this routine."
Atsushi Abe and Yumi Adachi from Japan won another historical bronze medal with a score of 90.4000 with their 'Jungle' routine. The two were thrilled and emotional upon seeing their scores, and admitted in the press conference one of their big goals outside of winning a medal was to pass the 90 points mark.  
Spain had also a new pair for this season with Pau Ribes paired up with Emma Garcia. They finished fifth in Gwangju with a score of 86.3667 for their tango routine, thus moving ahead of China this time around as the latter was ahead in the technical event. The Chinese pair of Cheng Wentao and Shi Haoyu scored 85.6667, and they have only been training together for half a year.
The short preparation time did not phase them as they still managed to improve by 8.4337 since the 2017 FINA World Championships, which was then Shi's first appearance at worlds.
'We focused on improving the technique for the boy," coach Wang Fang said. "Because he started synchro later than the girls, so we needed to improve his technique."
Wang is also very pleased with the evolution of mixed duets in China, as more and more boys decide to take on the sport every year.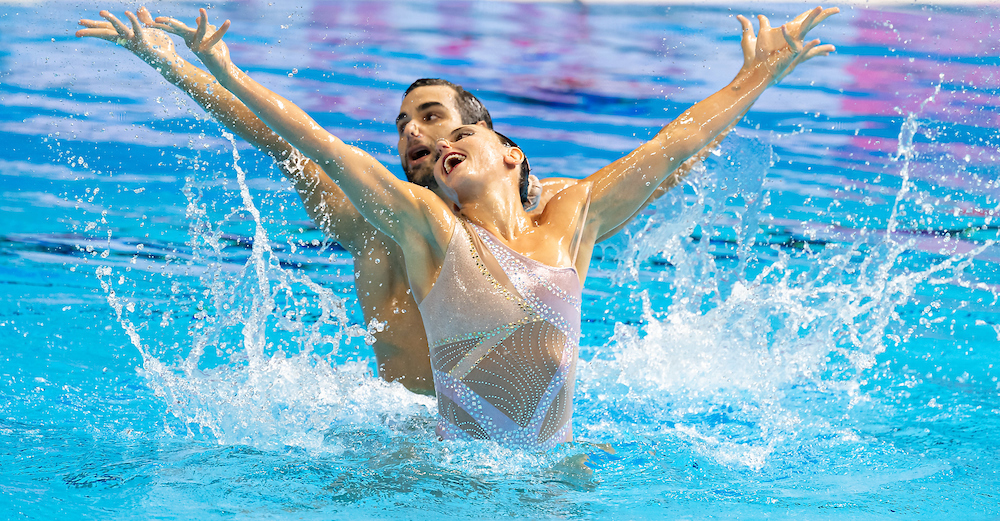 Renan Alcantara and Giovana Stephan represented Brazil in this event for the second time at a world championships, and earned a score of 81.2333 with their Zumanity routine, the same score they received in the preliminaries.
"I've never seen him so nervous," coach Andrea Curig said with a laugh after preliminaries. "They did good, but they were so nervous."
The Colombian duet of Gustavo Sanchez and Jennifer Cerquera swam their 'Hansel & Grettel' routine for a score of 78.7000. They have worked with Spanish Olympian Irina  Rodriguez on this choreography. Sanchez started synchro about two years ago and coming from water polo. The two have been practicing together for a little over a year, and this has been their first world championships as a duet.
Uzbekistan and Australia were also making their first-ever appearance at a world championships in the mixed duet, as they did not compete in the technical event. They respectively finished ninth (74.4333) and 11th (68.7000), and both were absolutely thrilled to be part of history for their respective countries.
"Our feeling is amazing," Dinara Ibragimova from Uzbekistan said. "We can't believe we are here because it's a long way. It's so hard in our country to say it, to be here, because nobody is talking about mixed duet. Now, we are at a historical moment for our country, we are the first to be here and we did our job, I think. I hope we can try to move up and go forward for a long, long time."
The Uzbek pair of Ibragimova and Vyacheslav Rudnev has been swimming together for a little over a year, while Rudnev started synchronized swimming three years ago after competing in swimming. They have actually competed together at the 2018 Suv Parisi meet, scoring 70.6333 in free. In 2017, Rudnev competed at that same meet as well,  but with a different partner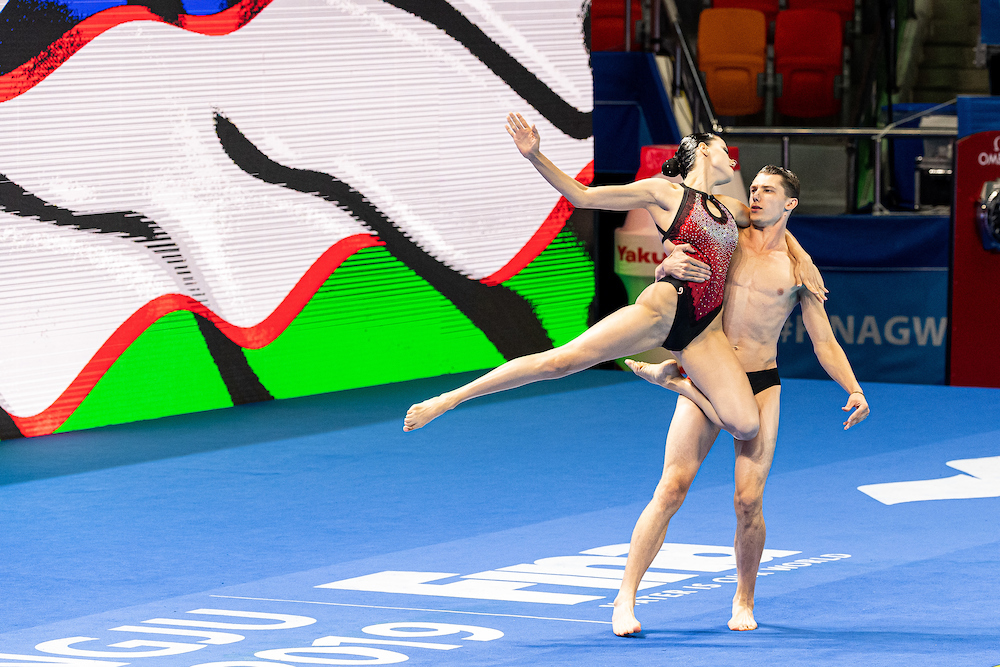 Rudnev decided to leave the world of swimming for synchro as he wanted to try something more artistic, different, and where he could grow more as athlete. He is actually the one behind the idea for their routine, and really wanted to swim to this particular music.
"I could not fall asleep last night," Rudnev said after the preliminaries. "I was doing the program in my mind, again and again. I tried to calm down and to tell myself that everything would be okay, that I will go through it, that I will do it. I am very happy that everything worked out."
The Australian duet of Ethan Calleja and Danielle Kettlewell was just as happy about making history for their country. Calleja only took up the sport a little over a year ago and came from swimming like Rudnev.
Kettlewell, a 2016 Olympian, returned to the sport after a break of one-year to be Calleja's partner in his first world championships. If you are more interested in finding out about their path so far, Inside Synchro interviewed them a few months ago.
"We are pretty excited," Calleja said. "It's sort of been a very long journey for us to get to this point, so it's been amazing to experience all of this. I'm very proud of us."
Kettlewell had already made it clear before this competition  that this would be her last one and that she was ready to retire. She is hopeful Calleja will have another partner for the next few seasons, and wishes to see Australia be represented in the technical event as well as in the free.
Turkey completed the field in the free event, and it is another nation we did not see in the technical competition a few days ago. It is fantastic to see Turkey again at the world championships as it was not in Budapest in 2017 as Gokce Akgun could not find a partner.
In Gwangju, Akgun was swimming with Rumeysa Unal, his third partner in essentially one year. Finding stability has continued to be an issue for Akgun these last two years, as he was swimming this season at the European Cup and the Spanish Open with Ide Ezgi Onal. At the 2018 European Championships, he was then paired with Rezzan Eda Tuncay.
"We have only been working together for a month,"Akgun said of Unal. "She is very young, 16 years old, but she works hard for the mixed duet. In such a short time, we have quickly adapted to each other."
With these major retirements, it will be extremely interesting to see who fills the gaps for each of these pairs and nations. This also means the rankings will certainly and excitingly continue to evolve and surprise us in this event for the next few years.
Article by Christina Marmet
Cover photo by Giorgio Scala / Deepbluemedia.