It's the last day of September, and the city of Barcelona is slowly waking up on this hazy Monday morning as I am already heading north towards the town of Sant Cugat del Vallès. The drive at this time of the day takes about 30 minutes, through the Collserola mountains and natural park, where Tibidabo and the Observatori Fabra are located.
Sant Cugat del Vallès has been home to the Centre d'Alt Rendiment (CAR) since 1987, where the Spanish national artistic swimming team lives and trains at year-round. Hundreds of athletes across nearly 30 different sports cross paths daily in this high-performance facility that provides everything they need to practice, recover, study and rest. 
Most of the synchro team has already arrived in the CAR's indoor pool facility by 8 a.m., and the swimmers have started slowly stretching or foam rolling at their own pace under the watchful eyes of coaches Mayuko "Mayu" Fujiki, Natalia Didenko and Judit Requena, all the while catching up on what they got up to the day before on their day off.
After going from winning team bronze in 2012 to not even qualifying in 2016, climbing back up the rankings has been a major goal for the Spanish team. Everything this year will be building up to the Olympic Games Qualification Tournament held in Tokyo at the end of April, where the squad will look to punch its ticket to the games in August. While the odds of a qualification are good, nobody takes it for granted.
"Obviously we have to do the best we can in April," Fujiki said. "So yes, one step at a time, doing the best we can, and showing that this team has the potential for the next Olympics. And if we get a second chance to swim again in Tokyo this summer, then we will have confidence in us to do different and memorable things."
Everything is a bit different since the last Olympic cycle, with a new coaching staff and a younger team with no returning Olympian this time around. Nonetheless, Fujiki, now in her third year as head coach, has embraced with open arms the challenges and opportunities this position has brought.
A 1996 Olympic bronze medalist with Japan, she is no stranger to the Spanish program as she served as an assistant coach from 2003 to 2010, and worked alongside Anna Tarrés and Bet Fernandez. Through these years, they led the team to its first world and Olympic medals and brought Spanish synchro to the forefront of the sport. After a few years as the U.S. head coach, a brief return to Spain in 2013, followed by three years at the helm of the Chinese national team, the Spanish Federation eventually called on her to return to Sant Cugat del Vallès, this time as the head coach.
"I thought about it a lot this time around," she said. "I saw the team for many years from outside of Spain. So with that information and also with the experience that I had being inside before, I thought, 'Okay, what needs to change and what can I do?' And I know from an outside point of view that synchro people have some sort of expectation to the Spanish team. That's a very good, positive thing for this team. So, I already was very sure that I wanted to put a lot of weight on doing something different choreography-wise."
During her first few months back in the fall of 2017, she naturally changed and reworked the entire practice schedule, but her first priority was not necessarily within the sport itself. Mainly, she wanted to get to know each of her swimmers, who for the most part were still eligible for the junior category and had just been moved up to the senior team after many retirements the previous years. Ultimately, she hoped to succeed in building a cohesive and mindful group.
"From day one it started with not much details of synchro but how to manage the team," she said. "I thought about how they can feel together, talk and think about each other during and outside practice, and how they can be acting a little more professional than any teenage swimmers. I think since then they have changed a lot. Now everybody has their responsibility and they understand that."
Fujiki has always aimed for her athletes to feel responsible and empowered while still staying true to themselves, so she implemented a familiar system that she'd already tried and tested with her previous teams. Once she understood what each of her new swimmers was good at or thrived in, she designated a specific task for them to be held accountable for. As a result, the entire team was not fully reliant on the coaching staff, but rather learned to trust and to listen to each other.
Paula Ramírez, one of the team captains, relishes the fact that everyone on the team has a role and a purpose. She explained that for example, Sara Saldaña and Berta Ferreras are in charge of finding exercises to stretch and use the foam roller. Ceci Jiménez and Xavi Guillén are responsible of dancing, and they both learn or create different choreographies to then teach the whole team. Ramírez loves learning and discovering what her teammates have come up with, especially it has further strengthened the bond between all of them.
"The best thing we have is the personality," she said. "Each one of us is different and gives something different and special to the group. We are very united. So, I think this is very positive, and it also shows in the water so people can see that. Well, really we do everything together (laughs). We are like sisters."
Once everybody is done warming up, the entire team heads right outside the building and gathers into a circle to follow Jiménez, who is leading today's dance exercises. The different songs fly by, from hip hop, to pop rock, to flamenco, while the team jumps, turns, or gets in formation to rehearse a specific choreography. Eventually, the swimmers split into two groups for a Spanish-style dance battle, where the group displaying the best flamenco moves will ultimately be declared the winner by Didenko who watches on. 
16 athletes are part of the senior national team for the 2019-2020 season, and all come from different backgrounds and with varying degrees of experience. For example, Ramírez and Meritxell Mas are the two main veterans this year, while Jiménez returned to the CAR last season after a hiatus of a few years, similarly to Alisa Ozhogina who is now back on the senior team after missing the 2018 and 2019 seasons. Mireia Hernandez and Xavi Guillén are two of the new faces on the team who just moved to Sant Cugat del Vallès.
The team trains approximately eight to nine hours a day, every day but Sunday, with workout sessions including water training, cardio, ballet, gym, acrobatics, and stretching. Each of the athletes lives on site and manages full-time training with academic studies. The younger swimmers are able to attend a high school right across the street, while the older ones are enrolled in university classes online, which provides them with more flexibility to work around their competition schedule. 
At around 9:30 a.m., the group returns inside for further active stretching and land drilling exercises before jumping into the water. The team enjoys its separate pool space, apart from the divers and speed swimmers who also have their own training pools.
As it's still only the beginning of the season, the focus at the moment is on cardio work and speed swimming. The team however also spends a significant time working in pairs on basic positions like eggbeater, verticals, boosts, and facial expressions.
The entire squad has only one goal in mind: to peak at the end of April and to qualify a team to the 2020 Olympics in Tokyo. Since one of its most important competitions occurs earlier in the season, everything in the training schedule had to be moved up.
"We are really focused on the qualification tournament so we have started earlier to do synchro," Ramírez said. "We are doing a lot of swimming and cardio to get fit, but also starting with synchro right now, so that we can be in our best earlier in April, not in July or August like before."
Fujiki knows exactly what the strengths and weaknesses of her team are. In the pool, she has had to juggle between improving her athletes' technique, giving international experience to each of them, and creating unique routines that retain Spain's signature style and artistry, all while making sure they keep up with the global evolution of the sport, now faster and more powerful.
"Mayu is very focused on our technique and our elements," Ramírez said. "So we are working on it, but without taking our creativity and our personality. The goal is to keep being ourselves but also training a lot of the technique because we have to."
Fujiki took over the helm of the senior team in September 2017, coming after Anna Tarrès (1997-2012) and Esther Jaumà (2012-2017). The coaching transitions for the Spanish program have all been complex, each time leading to a subsequent rebuilding of the core of the team. However, the few veteran swimmers who have lived through one of them make a point of only keeping the positives from these experiences in order to continue improving.
"We all think that every coach is different," Ramírez, who started synchro with the local club of C.N. Kallípolis, said. "Mayu is different in the way that she is very technical and with a schedule. She always keeps a perfect schedule, she's very Japanese in this (laughs)! We also had Esther who was someone we knew since we started synchro because she is from [Barcelona], and Mayu and Anna Tarrès before. They are very, very different, but we kept the good things of all of them. I think getting the good things of everyone is what creates our team now."
Of course, this head coaching position came with its own set of expectations. During the Tarrés era, fans eagerly awaited every year to see what Spain had come up with in terms of choreography, artistic impression, and innovation. While Fujiki has made technique one of her main priorities, she has also strived to find a balance between keeping the country's style and bringing her own.
"I had more of that pressure of starting any new job," she said. "But you also obviously want to show your style, and what you can do with these people who you have not worked with the year before. It was a new and young team, so every step I had to do well. In that sense, of course I wanted to show something different than the year before, but it wasn't much of a pressure because I know [the swimmers] like that kind of stuff. I wanted to do something not ordinary, outside of what's normal just because I wanted them to feel that we are doing something different. It was all for them because they like it, not for outside expectations."
In a sport where teams prefer to not divulge or show any of their new work until the last possible moment, it came as no surprise that Fujiki, laughing, remained purposefully elusive despite my poking around for some answers as to what she has in store for the Olympic year. All she could reveal was that she already knows she wants to use her Japanese roots to her advantage, and to create choreographies that she believes the local crowd will appreciate without being too cliché and predictable.
"We are thinking of making some, maybe a couple routines new, and really imagine that this is for Tokyo," she said. "It's an advantage that I have. I know what kind of things Japanese people would be excited about, but I don't want to do something very ordinary, like I want more than just having music from Japan. But I prefer not to say anything exactly yet!"
Fans can certainly expect some changes in the duet routines, particularly after the news that Ona Carbonell will forgo the 2020 season. Her announcement came as a bit of a surprise to the team, but the two-time Olympian has made a point to continue supporting her teammates from outside of the water, and to provide them with tips and advice when necessary as they all are on their journey to their first Olympics.
Three swimmers remain in the duet training squad: Ramírez, Saldaña and Iris Tió (as later revealed on RTVE). Fujiki hopes to have them compete a few times during the upcoming season so as to determine the best possible pair for the games. As the duet is already guaranteed a spot at the Olympics, the pressure is slightly lesser to peak for April. 
The morning training session finished around 1 p.m., after the squad worked on some sections from the 2019 free team routine. After lunch and a quick go in the gym on the trampolines, everyone is back in the water by 3:30 p.m. That afternoon, the athletes are split into two groups with the task of finding ways to increase the difficulty of a handful of hybrids from the free team.
This kind of collaboration between athletes and coaches was something Fujiki made sure to nurture. Just like she wanted the swimmers to trust each other and communicate amongst themselves, she aimed to establish the same with the staff. Each coach is open to feedback or suggestions on how to improve, or even try anything new that the athletes might have come up with.
"I am an obsessed person," Fujiki said with a smile. "Well, not obsessed, but I'm always looking for things and ideas. I love just knocking myself away watching videos for three hours on YouTube searching for some dance or other elements.The good thing is that [the swimmers] are the same way as I am, which is great. They are super open-minded. I think, 'Ok, this is good, but how?' And they always want to try it and find ways to make it work. We get along well in the creative process, and they also love doing weird and crazy (laughs)!"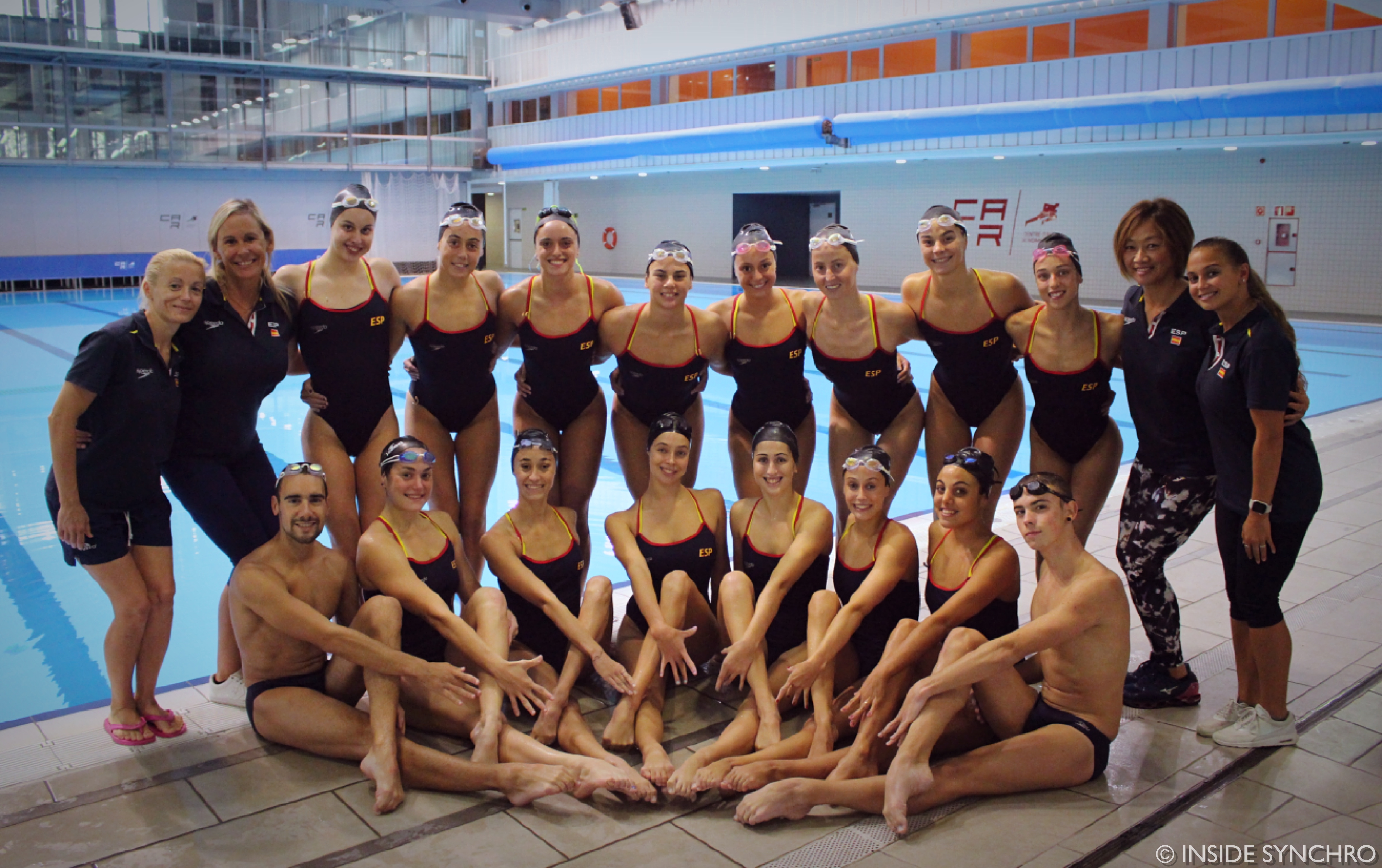 While the focus this season is on the two Olympic events (duet and team), developing and growing the mixed duet is also very important to Fujiki in general. She wishes to see the global level improve worldwide, and she will try to do anything she can to support that.
Spain has actually been at the forefront of the inclusion of men in the sport for the last few years, with a mixed duet entered in every major international competition of each age group in 2019. Now, the senior team counts two men in its ranks: Pau Ribes and Xavi Guillén.
Guillén, 18, is only entering his second year in artistic swimming, but already has lines and toe points that many female swimmers would die for ("Can I have those legs for the girls?" Fujiki added with a laugh.) Guillén clearly knows he is not in Olympic contention, as men are not allowed to compete at the games, but he is training alongside the team this season as if he were and has learned both the technical and free team routines.
"I think it's a woman's sport in the training, mentality, and communication with the coaches," Fujiki said. "And in how to manage yourself physically, mentally, or through five hours at the pool all day long in a non black-and-white world that men like to have, but it's never a black-and-white situation. I thought if Xavi could have that experience, he could go far. I wasn't planning to have him here this year because it's an Olympic year and I don't want to worry about him. But I thought if we can treat him as an alternate, he could experience one year of training 'like a girl,' with the same hours, the same recovery, the same communication with the coaches, the same everything, so he would learn to be part of a team and become great in the future."
In the end, this experience is likely to be mutually beneficial for both Guillén and his teammates. While he is already showing improvement in his skills, he has also quickly become a significant and meaningful part of the team, and never misses a beat to crack a joke, tease his teammates, lighten up the mood, or simply share some of his favorite songs with Fujiki. 
"I think his personality is also going to help," Fujiki said. "You have to be somewhat a happy guy to be in this and to go far. If not, you won't survive in this woman's world (laughs)! And you have some responsibility as a male swimmer in the sport because there are not so many, so you have to have that friendly personality to help grow the sport. In that sense, I think Xavi has that kind of character and that everybody will like him, just like Bill [May]. He's likable, friendly, happy. That's what we need for the mixed duet."
The Spanish team will continue training until about 6:30 p.m., and start it all over the next day. After two full seasons in Barcelona, Fujiki has managed to bring her own touch and style to the program while maintaining what has made Spain great and successful over the last 15 years. Nonetheless, her vision doesn't end in Tokyo and she is already looking ahead to what her team could accomplish in Paris.
"It's also not just about results," she said. "Or which team we get close. From day one when [the federation] offered me this position, it was more focused on long-term, and how can Spain be back to the top looking for medals in 2024."
Article and photographs by Christina Marmet. All photographs are available on Facebook.