Despite the looming threat of the coronavirus, the international season went underway as normally as possible in Paris for the 2020 French Open, the first leg of the FINA Artistic Swimming World Series.
After the last-minute withdrawals from a few nations like Russia, Australia or Kazakhstan, the field for the team competition was unfortunately a bit depleted. Nonetheless, the free team final ended up being unexpectedly drama-filled, and ultimately was truly a wild ride.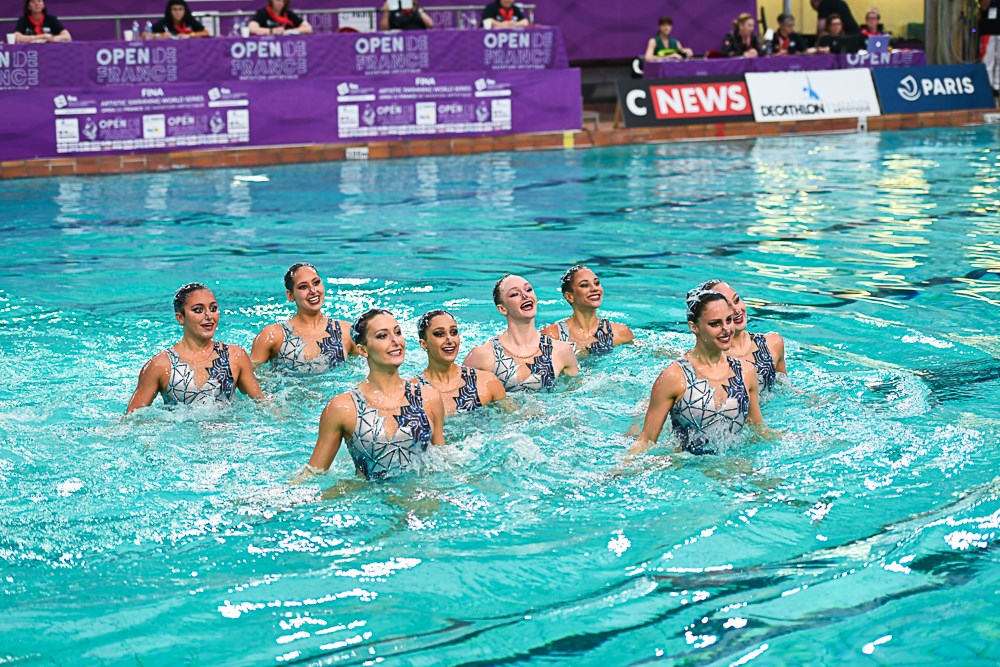 On the final day of competition, the U.S. senior team had virtually one of its best swim ever with its 'Robots' routine, including successfully landing the high-risk, high-reward throw where the flier falls straight back onto the base after hitting a split position. The Americans burst into tears after seeing their huge score of 89.2333, the best in a decade (!) according to the federation. This marked an improvement of five points since the team final at the 2019 FINA World Championships, and of nearly three points since the 2019 Pan American Games.
They had to wait until the home team performed right after to know their final placement. France, solely focusing on the Olympic events this season, unveiled its only new choreography with a 'Zombies' routine and performed to bits of "Thriller" from Michael Jackson. The French showed tremendously improved and impressive acrobatics, as well as a cleaner execution and an increased difficulty compared to last year's routine for a final score of 88.6667, thus putting them into third place behind Ukraine and the U.S.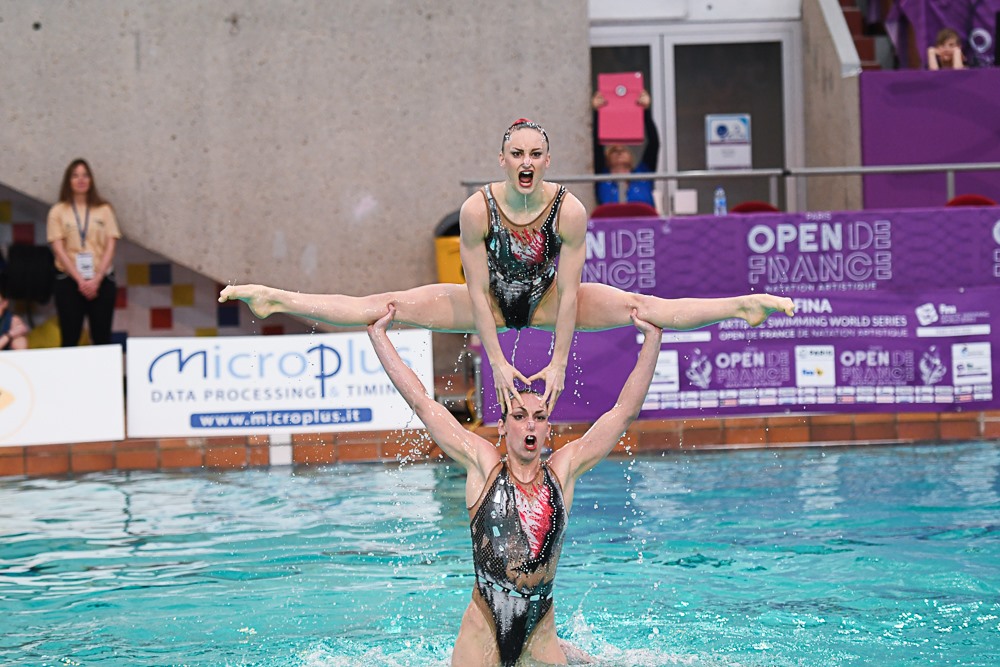 This was just as much of an impressive score for France, as it is its best free team score of the quadrennium and 1.2000 points better than at worlds, but it probably stung to finish behind the U.S. on home turf, with the difference ultimately coming down to artistic impression (36.5333 to 35.4667).
Nobody had seen this coming at all and while everybody was still fussing over it, the drama was not over quite yet. Unfortunately, the U.S. team ended up disqualified after a clerical error, as the swimmers listed to compete on the start list did not correspond to the swimmers physically in the water. This unfortunate mistake likely took the Americans from a very high high to a very low low and cost them the silver medal, but it ultimately does not take away from the 89.2333 performance.
During the medal ceremony, the French team showed world-class sportsmanship by holding the American flag after receiving their now-silver medal. While emotions were likely running high for both nations for very different reasons, both should ultimately be proud to start the season with such significant scores.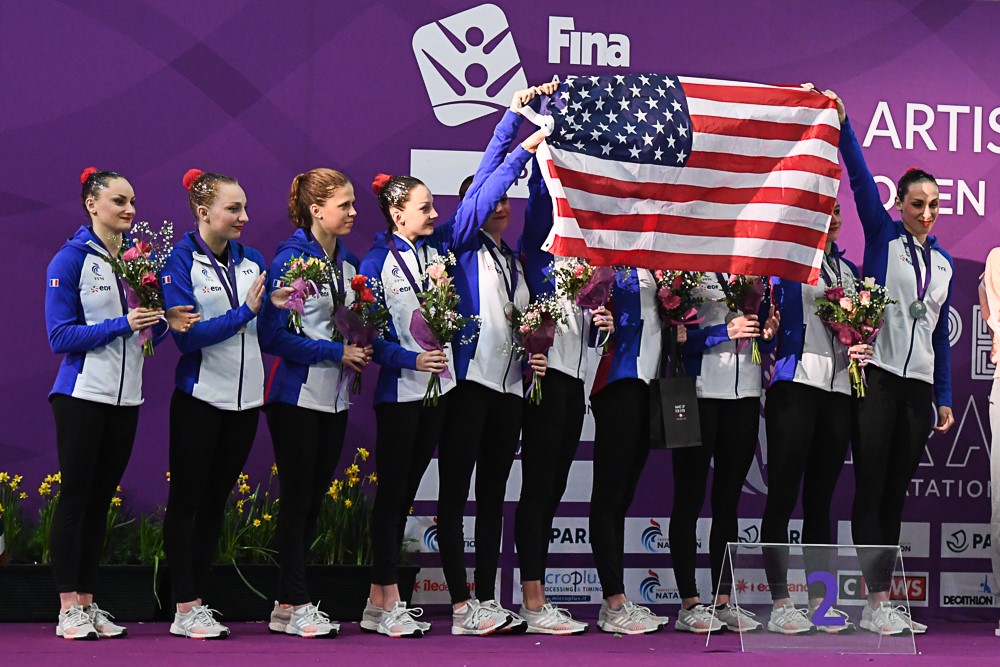 A few notable changes occurred within the French team roster, with team veteran and former captain Solène Lusseau being sidelined as alternate, and junior national team member Mayssa Guermoud making her senior international debut in the tech event.
Moreover, the Americans unveiled a new technical routine set to "Americano" by Lady Gaga for a score of 83.3925, this time ranking behind France (86.3274), which kept the same choreography as last season.
In duet, the U.S. pair of Anita Alvarez and Lindi Schroeder debuted a new free routine to Billie Eilish' songs "Bad Guy" and "You Should See Me in a Crown." They received a 86.4667, the best score in this event since 2012, with a fantastic artistic impression in a highly authentic and original routine true to head coach Andrea Fuentes' style and creative potential. Schroeder, who served as alternate to the duet at the 2019 world championships and Pan American Games, proved here that her selection was not a fluke and that she was very much up to the task of being in the Olympic duet.
Alvarez also returned to the free solo event with her Jessie J routine. She reached a career-high of 86.1333 for the silver medal, and appeared seemingly a lot more comfortable and at ease in the water. In technical solo, Ruby Remati made her debut for a final score of 79.8813. She somehow dodged what should have been a zero on her third element, but she did receive a penalty for not performing the fourth element parallel to the judges. With mistakes from other competitors, it was however enough for the bronze behind Ukraine's Marta Fiedina and Russia's Alina Mantulenko. It was encouraging to see the nation back in this event for the first time since 2017, and to see Remati's presence and potential as a soloist.
Ukraine, a regular on the world series circuit, won gold in free team, naturally without unveiling a new choreography yet; it's the Olympic year, they are qualified, and they want that medal, after all! While the top eight swimmers for Tokyo have been fairly clear since worlds, a few new faces made their senior debuts for two more gold medals in free combination and highlight with the same routines as in 2019. Anastasiia Soldatenkova, who was Ukraine's big star in the 13-15 and junior categories last year, was included in the routines, along with fellow junior national team member Olesia Derevianchenko.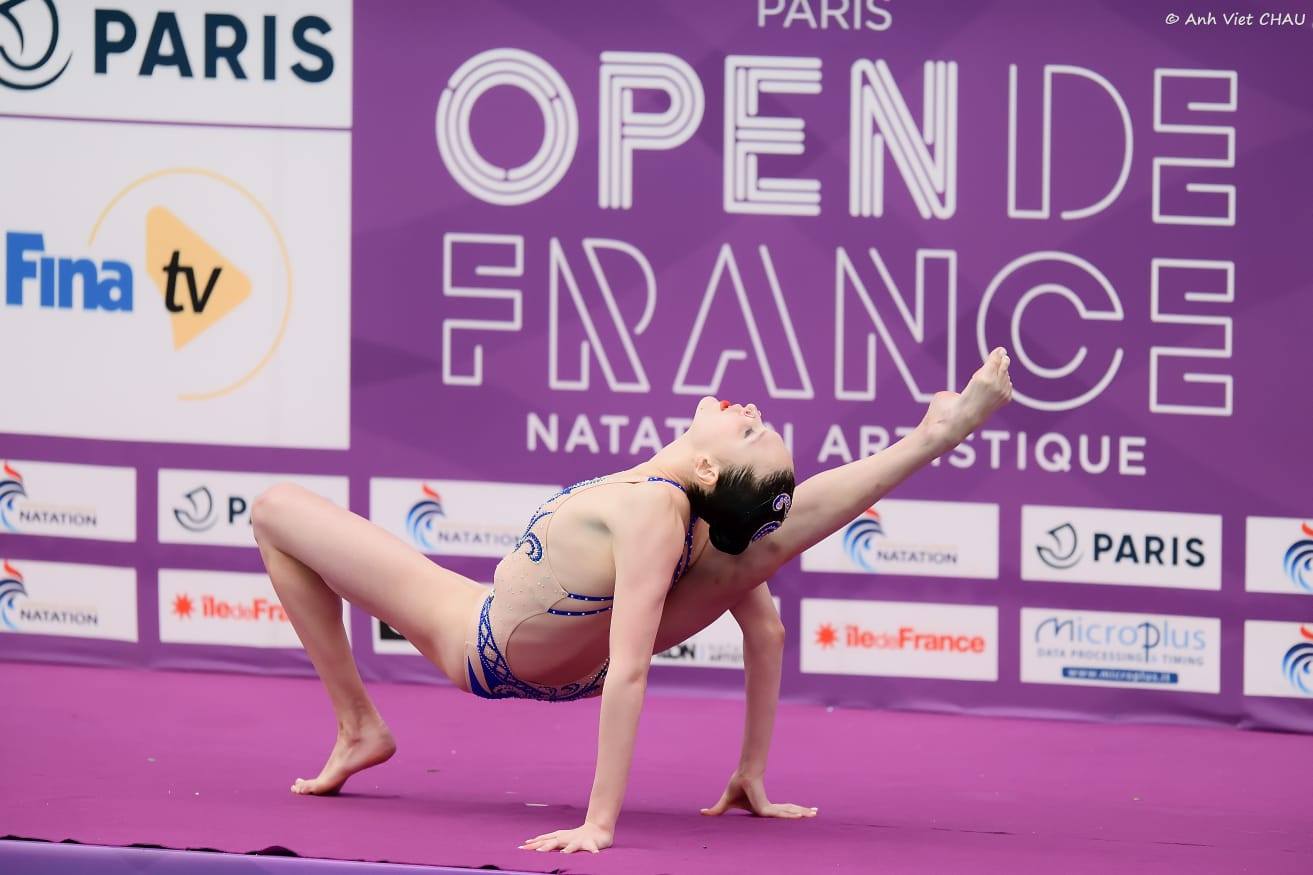 Both duet choreographies also remained unchanged from last season, but Marta Fiedina did unveil two new, dramatic solo routines in tech and free. The 18-year-old has truly grown into this new role of being the senior soloist since last season, and showed a certain poise and calm confidence in Paris to remain untouchable in both events.
Finally, Israel's 84.5000 in free team is noteworthy as it is also a team's best there and about 1.300 points higher than at worlds. The Israelis, who are now in limbo in Latvia to train for two weeks as they would have faced forced quarantine upon returning home, kept the same routines as last season but had to adapt to the retirements of Yael Polka, Gal Litman, and Emili Green. Maya Dorf moved up from the alternate position, while Polina Prikazchikova, who swam for her Moscow club at Russian nationals in 2019, joined the team.
Of note, only four judges were included in each panel instead of five on the last day of competition for the highlight, free combination, and free team events.  Aside from the craziness of the last event, this competition was also quite interesting amongst the duets. Many smaller nations are in the hunt for a spot to the 2020 Olympic Games, and all were eager to show their new choreographies.
Liechtenstein overall truly made a big statement in Paris. The pair of Lara Mechnig and Marluce Schierscher, who have been swimming together since 2016, was already on the bubble after the 2019 FINA World Championships, but their performance at the French Open allowed them to move ahead of their most direct opponents, Switzerland and Germany, and to inch closer to Israel.
Mechnig and Schierscher only competed in the free duet event with a new, fast-paced choreography to the theme of the Japanese calendar. They reached an all-time best score of 81.3667, nearly a point above their previous best. Mechnig also clinched a bronze in free solo, and was essentially all set up for a second medal in the technical event before receiving a zero in her final element which dropped her down to fifth place.
The Dutch pair of Bregje and Noortje de Brouwer only competed in the technical duet event and showed good precision on the elements with their new choreography for a final score of 84.0639, enough for fourth place. Continuing to rise at every competition, Great Britain's Kate Shortman and Isabelle Thorpe unveiled a new free 'Tango' duet, and started off the season with a new personal best of 84.3000, also putting them in fourth place in that event. Eden Blecher and Shelly Bobritsky, officially named as Israel's duet in this Olympic year, competed their new technical duet set to the famous Israeli folk song Hava Nagila for a final score of 79.9415, while keeping the same free Tango routine as last season.
The Swiss pair Vivienne Koch and Joelle Peschl, who replaced her sister Noemi in the duet only a few months ago, showcased two new choreographies but suffered a one-point penalty in free after touching the bottom. Both Switzerland and Israel were already very close in Gwangju with Israel barely behind in both events, but the French Open saw Israel move ahead in free while Switzerland had the advantage in tech. Both nations, along with Germany which also unveiled a new technical duet routine, are in a very tight fight for an Olympic spot in this event, obviously with Liechtenstein now thrown in the mix.
After her CAS ordeal which lasted over two years, it was great to see Viktoria Reichova, along with Natalia Pivarciova, from Slovakia back competing in a major international event for the first time since the 2017 COMEN Cup. The pair, coached by Ukrainian Olympian Kseniya Sydorenko, couldn't overcome the nation's most senior duet of Nada Daabousova and Diana Miskechova in the standings, but Reichova was however impressive with her technique and steadiness in both solo events, particularly in the technical solo with one of the steadier continuous spin element of the competition. She is still eligible for the junior  category this season, and is clearly eyeing the upcoming junior European and junior world championships.
On their side, Daabousova and Miskechova reached a career-best score of 78.8333 for their new free duet to the theme of witches, as well another best in tech with 77.1973.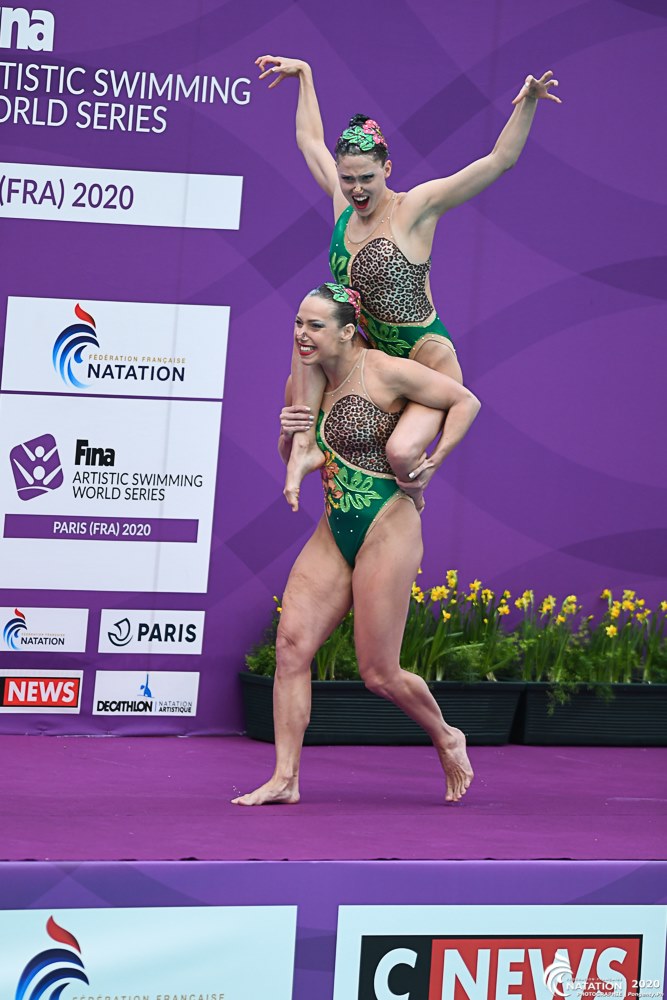 Another duet that showcased a nice choreography was Turkey's Defne Barkici and Misra Gundes, who swam for the first time their new technical routine with the theme of climate change, plastic pollution, and the effects of it on the animal world. Much like with their Voodoo free routine, their captivating deckwork takes us into the theme right away. Another deckwork not to miss was the surprising one from the Czech Republic new 'Jungle' duet of Alzbeta Dufkova and Vendula Mazankova, where Dufkova runs out with Mazankova on her back.
Only four mixed duets competed in Paris, but the Spanish senior pair of Emma Garcia and Pau Ribes took home both gold medals. The two presented a new fairly dark and scary technical choreography, which ends with Ribes "plunging a knife" into Garcia's heart. Alrighty, then! The pair looked improved across the board with better execution and presentation than last season.
Anyways, based on this small season-opener where most everybody showed readiness, the Olympics qualification tournament is going to be insane and come down to the wire.
All results as well as many YouTube video links (thanks to thelegendofNeshka like every year) are available on this page.
Article by Christina Marmet
Cover photo by Philippe Pongenty.