The COVID-19 pandemic has affected every single sport around the globe, and artistic swimming was no exception as nearly every artistic swimmer now finds him- or herself out of the pool indefinitely. Inside Synchro spoke with a few athletes and coaches in Italy, France, Austria, the Netherlands, and the U.S. to check in on them in the middle of nationwide lockdowns and to get their perspective on the situation.
Giorgio Minisini

and

Enrica Piccoli

(Italy), on full lockdown since March 9
On the announcement by the Italian government of a full lockdown: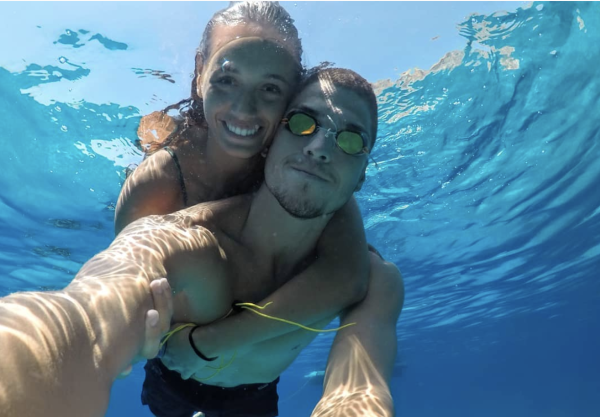 "The first reaction was between incredulity and calm. We thought that for us professional athletes, there would have been a plan to keep us training. But after a few hours, it became clear that the situation was worse than expected. Now we are halfway into the quarantine [the Italian government has since announced that it would extend the lockdown period]. We know that after this period, the situation won't go back to normal for months, and that many other countries still have to go through what we are passing through."
On missing so much training in the pool and how it may affect them: 
Minisini: "We are worried. We train as we can but it's obvious that without all the right equipment you have in the pool or in the gym, the trainings at home can only keep you in shape. But there is a nice countereffect: with less training in the water and more time to work on flexibility, I'm watching my splits and toes and knees getting better than ever! I hope you will get to see it this year (laughs)!"
On adapting to the situation and staying motivated:
Minisini: "Of course we're training everyday to keep a normal balance. We also have scheduled calls to keep up the work on angles and timing with coaches and the other athletes… And we also share ideas on how to spend the free time at home!
But for me, it's enough to have the memory of what happened in Budapest in 2017 to stay motivated. Every night when I'm in bed, I remember that feeling after the preliminary swim, and that everything is possible. After that day, I always swam to get that feeling again. It's not about winning, it's about having the chance to try, a luxury that only few have in this sport. I'm keeping that goal in mind while working on what I can improve here at home, and I'm taking this time to recharge the batteries for the comeback.
Piccoli: "Me and my teammates know that any decision that will be made is not up on us. So we are keeping an eye on the meetings and the decisions taken by FINA and the IOC, while working smartly on the choreographies via WhatsApp."
On what's next:
Minisini: "I just want to go back to training. I also have my tickets for Tokyo bought and cannot get my money back, so I really hope there will not be any change for the Games (laughs)! But when it comes to responsibility and wellness of the weaker population, that should absolutely come first. I hope we will slow down the spread of the virus and manage to find a vaccine, so that these main events can be played in safety. But anyway, I miss training, and I just want to get back to work. But if it will not be for May, then it will for June, July, or even 2021."
---
Charlotte and Laura Tremble (France), on full lockdown since March 16
On the closing of the INSEP training center and the subsequent nationwide lockdown: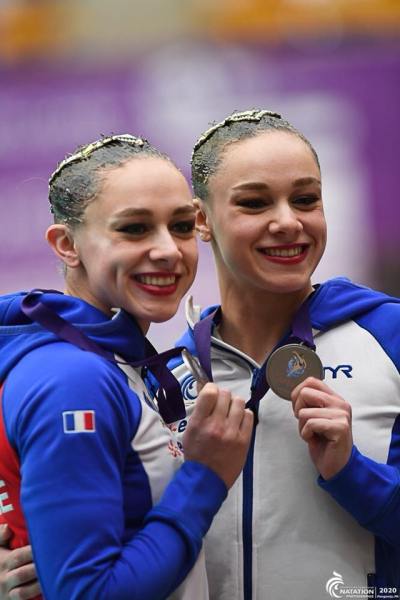 "We were in the pool all day on Friday [March 13], and we knew there was a meeting to discuss whether or not to close the INSEP. We found out right after the end of practice that the sports' minister had announced it was closing. We already had the weekend off to go home as it was the weekend following the French Open, so we grabbed everything we could before leaving as we thought we would still be able to keep swimming in different pools while living at home. But it all happened so fast, and next thing we knew on Tuesday the whole country was on lockdown, and all the pools everywhere were closed. We had to stay home.
Now that we saw the news that the Olympic qualification tournament was postponed and not cancelled, we are a bit relieved. We were all worried it would be cancelled, and that we wouldn't even be able to fight for a spot with the team and to be able to give our all for that big goal to qualify to Tokyo."
On the mental work to deal with the uncertainty of the situation:
Charlotte Tremble: "We try to stay focused because our lifelong dream is so close, but at the same time we have been doing a lot of work with our mental strength coach to put things into perspective and to realize that this is all way bigger than just sports. We started working on this eventuality early on as we saw the virus spreading. I was very stressed about it at first because this is totally not how we ever imagined our Olympic year would be, and I kept reading about people asking about postponing or cancelling the Olympics. I was so stressed thinking everything we had been working for might be gone just like that when we are so close.
Eventually I was able to calm down because this is not something we can control. Yes, this sport is our whole life and the Olympics our dream, but this is a pandemic so it's about the world, people's health, and our country's health. This is way bigger than us. We try to stay hopeful though because we see things are better in China, but all we can do right now is stay home, follow the rules, workout at home as we can, and hope everybody stays home too so the whole country can get out of this crisis sooner rather than later."
On keeping in shape at home and the eventual return to the pool:
"We had to figure out a schedule at home first because now we are back living with our parents and our little brother. Our mother has to give online classes during the day using video conferencing, so we can't be working out in the background or doing jump rope upstairs while she does that (laughs). Our little brother also has to be on video calls for his university classes. Thankfully, we have a backyard so we have been able to figure out a schedule and to do our cardio exercises there. The weather has been nice too; if this had happened a month ago when it was raining non-stop, it would have been so much harder mentally.
Of course we are worried a little bit about [the comeback to the pool], especially since we don't know how long this will last. Our physical preparation and everything had started way earlier this year, so we were in great shape and had been working hard to peak for the qualification tournament originally at the end of April. Now plans will change and whenever we return to the pool, we know it's going to be tough. We don't want to say we will have lost everything we did during pre-season, but it will definitely feel like returning from summer vacation after many weeks out of the pool. We are doing everything we can at home, but of course it cannot replicate all the work and intensity in the water that we are used to."
On staying motivated and connected with the team:
"We do live video workouts with everyone and the coaches, where we work on flexibility, strength and conditioning, land drilling, etc. Cyril, our trainer at the INSEP, has also given us a lot of specific exercises to do while on lockdown. We also can work on the little details, like in front of a mirror to fix angles. Thankfully, it's also so easy to stay in touch with the team nowadays as everybody is connected. We text a lot, we send each other videos that we like of music, shows or dance performances, and we try to maintain a bond during these uncertain times because keeping up the team spirit is important.
It's all we can do for now. The whole country is in the same boat, so there is not much we can do but wait. It's been nice to spend more time with our family too, because we aren't home a lot anymore [Charlotte and Laura have been living at the INSEP since 2014]. We are also able to focus more on our engineering studies since we aren't in the water as much. Anyways, we feel a little better knowing every country is facing the same situation and struggles, it's very uniting in a way."
---
Anna Maria, Eirini and Vasiliki Alexandri (Austria), repatriated from a training camp in the U.S. on March 13
On having to rush back to Austria on short notice: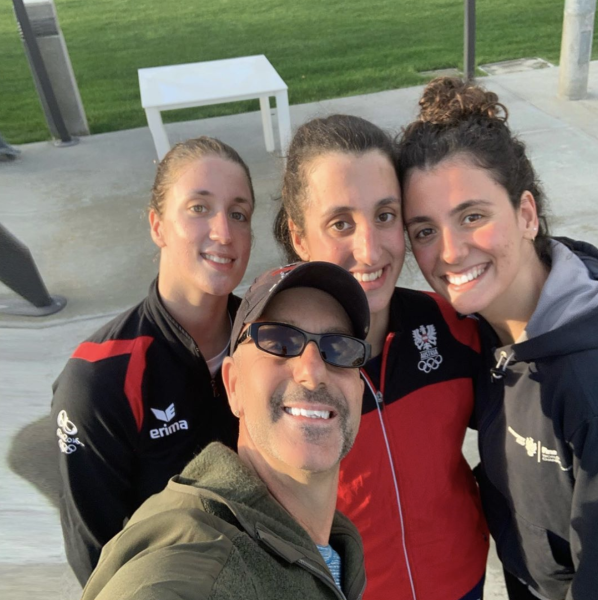 "We were at a training camp in California. Before we traveled to the U.S., Austria and generally Europe didn't have so many cases, except in Italy, so our training camp was never in question. The first two days were totally fine! We followed the news online and saw that the virus started to spread in Europe really fast, but no country had taken any restrictions yet. The third day, the U.S. government decided to suspend every flight from Europe, but it was still uncertain at the time if it was also the same from flights from the U.S. to Europe. We were very anxious about the fact that we could be stuck in the U.S., but our federation informed us they would keep in touch about the situation.
On the fifth day, we had planned to train at 5 a.m. We still had jetlag so we woke up much earlier, and the moment we opened our WhatsApp messages we saw that we had to fly back home the same day at noon. It was a shock. We couldn't believe what we were reading. The Austrian ministry had called all Austrians to return back home as quickly as possible."
On arriving back home and having to quickly adapt:
"When we arrived, we only knew that the pools would be closed for clubs and for the public. Then we got the information that the national team athletes also would have to stay out for at least one week. But now since Austria has enough cases, there are new rules and measures every day. The latest information we have is that we will not be able to enter any sports facilities until April 14.
Like every athlete, we have to adapt to new circumstances, but health is our priority. It's not easy, but we think that this situation will only make us stronger and empower our will to improve. We are in contact with our coach, and since the first day she's been giving us exercises that we need to do every day. We actually do more than what she tells us because we are motivated and want to keep the good physical condition that we had before we stopped training in the water.
We have set our goals and what we need to do to achieve them. We should admit that we are a little bit confused about the future and what will happen with the competitions and the training in the water. But now more than ever we don't lose sight of our goal. After all, we are talking about the Olympics, so that's a motivation in itself."
---
Noortje

and

Bregje de Brouwer

(the Netherlands), out of the pool and in self-isolation since March 15
On learning their training center was closing: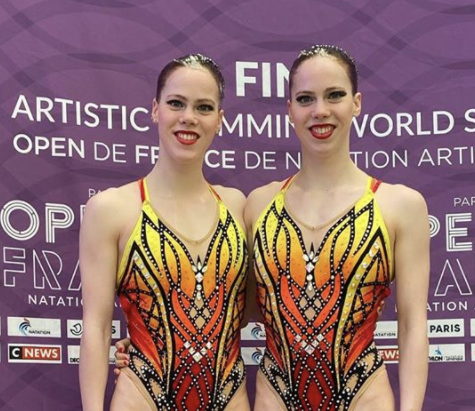 "Last Sunday [March 15] we got a call from our federation and we directly knew that it wouldn't be a very positive one. We expected that only the pool where we normally train would close its doors, but instead the whole Dutch Olympic Committee (NOS*NSF) decided to suspend all the high performance programs, including us. We had a lot of questions, but directly started to think about solutions, like could we train in a private pool when we find one? If we find a pool that's still open, would we be allowed to go and swim at least some laps? And could we go home to our family?
At this moment in the Netherlands, we are still allowed to go out for a walk, a run or to go to work, but all the gyms, restaurants, schools and many more things are closed. The situation across the country is very different. For example, the virus in our hometown where our family lives is spreading pretty fast compared to the place where we live on our own close to the pool in Hoofddorp. This is also why we are still here and not with our family in Goirle. During this crazy situation, we would especially love to be with our family but the probability to get sick is too big so that's why we were advised to stay here and be safe."
On adapting to the situation:
"This whole situation gives us the opportunity to work on things that we normally don't have enough time for, not only training-wise, but studying, cleaning the house, sorting out stuff, etc. Besides that, our coach writes to us every day a lot of exercices and programs to do at home to maintain our strength and flexibility, to land-drill etc. We have enough to fill a whole day so we won't get bored easily.
Of course we are worried about returning to the pool; we would lie if we weren't, especially at this moment and this Olympic season. But we know that the government and federation are both making the best decisions to keep everybody safe and healthy, even when they are not easy. So, we respect them and try to stay positive."
On the remainder of the season:
"Unfortunately, we know that this situation won't be over in the next few days, or weeks. We hope if everybody follow the rules to stay at home as much as possible, the virus will stop spreading and life will return back to normal as soon as possible so we can continue our Road to Tokyo as it is supposed to be. We are not sure what will happen, but we still believe that the Olympic Games will continue. This, and all the hard work we did motivates us to keep training every single day even without a pool to not lose what we have. Because the clock never stops."
---
Andrea Fuentes, head coach of the U.S. senior national team, in quarantine since March 17
On being forced into quarantine by the California and county officials: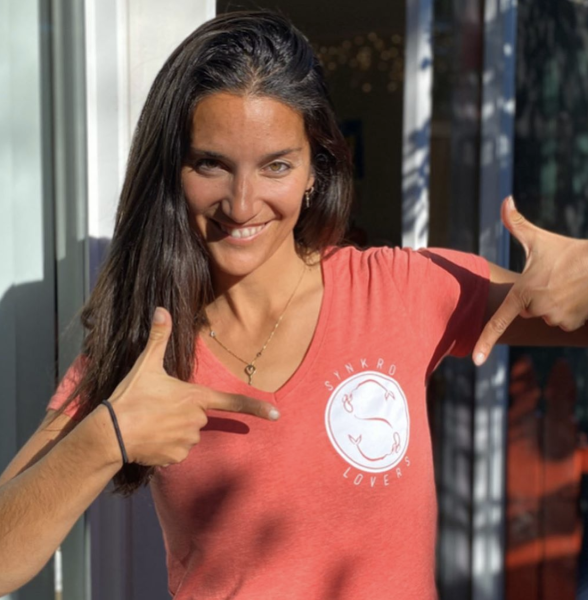 "At the beginning it was hard to accept. We saw in Europe everything that was happening and we knew it was going to happen here. But we said to ourselves it was a very good opportunity to grow and find other ways to keep our improvement moving forward. In times of crisis, some people fall, others remain and a few see opportunity in it. We want to be in  this last group. We don't know how long this will last either, but the good thing is almost the whole world is living the same situation. This unity is kind of beautiful inside this big disaster."
On having to completely change her team's training program:
"We decided to start online practices, but I didn't want to just pass a list of exercices to the team. Nowadays it's easier than ever to connect. One year ago a FaceTime call with 20 people wouldn't be possible, now we can all see each other and train remotely as if we were together. The challenge will be to keep the motivation up; these three weeks can be very long if we don't do it in a smart way, so I'm thinking a lot of ideas to be creative and keep it up.
This situation is new for all of us. I'm thinking to take the best of each [coach] and do the schedule from it. Everybody has unique strengths, so it's important that everyday is different and dynamic enough to make the swimmers push to the max in a land environment. This first week we are doing the specialities of each coach, and I want to keep the team united with some team online bonding activities. As a coach, you have to think about how to maintain cardio, strength, flexibility and general abilities for synchro like balance, extension, apnea… I'm also thinking about how to simulate water sensations. Imagination is limitless, so it's about as many exercices as your mind can create! You know, I love challenges and this one is a big one. I'm even excited to go through this situation (laughs)!"
On what each coach brings to the table:
"Víctor Cano is in charge of gymnastics, strength and acrobatics. Anna Voloshyna  [junior team head coach] does active flexibility and ballet. Reem Abdalazem [senior team assistant coach] does everything related to dance, we call it fitness and movement, and leads the time for reflection. Lara Teixeira [junior team assistant coach] does Tabata training (high-intensity interval training) and meditation. And I coordinate everything and do the team motivation and activities, while also trying to do specific exercices for synchro like the ones on Instagram live. Everyday I try to come up with a different one. The majority of these, we already have them in our weekly schedule but not everyday."
Article by Christina Marmet
Cover photo by Deepbluemedia