At the age of 25, Evangelia Platanioti is already gearing up for her third Olympic Games, an experience she aims to share with her whole team this time around. A veteran of the Greek senior national squad for the last decade, she took on a new leadership role last season to guide her young teammates to an Olympic bid for the first time since 2004. 
However just like for every elite athlete across the planet, all of these Olympic aspirations came to a sudden stop when the International Olympic Committee (IOC) announced on March 24 that the Games, set to open on July 24 in Tokyo, would be postponed to 2021 due to the global COVID-19 pandemic. 
Platanioti and her teammates had already been out of the pool for two weeks as the Greek Swimming Federation had ordered the end of all training activities of its national teams on March 13. Then on March 23, Greece joined Italy, Spain and France in a full lockdown.
Between thousands of athletes around the world unable to train, competitions and qualifiers across all sports being cancelled or postponed, and mounting pressure from National Olympic Committees, Platanioti was fully aware that the IOC and the Japanese government would have to make a decision sooner rather than later. 
"Honestly, I was sure about it," she said. "But for me, it feels like I was almost at the finish line and someone took me to the start line. My hope was that they would postpone it for later in 2020. But the truth is that 2021 was the best decision. We have to all be strong and healthy, and stay away to stop this virus. So… Tokyo 2021 it is!"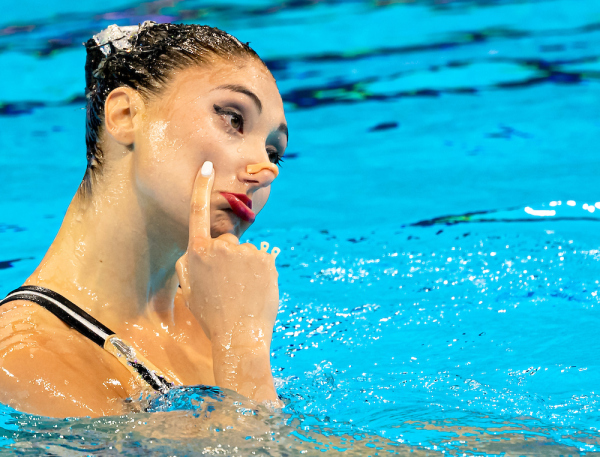 With the Olympics now officially postponed and the new dates still to be determined, most athletes around the world have been relieved to not have to continue fretting over training while stuck at home or to worry about risking their own and their families' health in the midst of the unprecedented crisis.
However, less pressure doesn't mean anybody gets to fully rest yet as the entire sporting calendar is still a huge question mark on top of the uncertainties regarding when each country will get out of lockdown. So like many other artistic swimmers, the Greeks now rely on technology to organize virtual training sessions daily involving cardio, stretching or land drilling exercises.
Before the pandemic paused the entire realm of sports, Greece was on pace to compete at the Olympic Games Qualification Tournament that would have started on April 30 in Tokyo. It has since been postponed and while the entire schedule is still up in the air, the athletes' target remains the same.
The qualification procedures for artistic swimming at the Olympics changed two years ago to open up the team competition to 10 nations instead of eight, thus creating a realistic shot for Greece to qualify a full squad. For the Tokyo Games, Russia, China, Japan, Ukraine and Canada have already qualified, and with respect to the continental quotas so have Egypt and Australia. While the Mediterranean nation is essentially next in line to earn a spot in duet, a team berth is a lot more competitive.
With only three spots left and two almost guaranteed to go to Italy and Spain, respectively the fifth and sixth current best nations in the world, the final place is realistically between Greece, France, Mexico, and the U.S. The first three were separated by less than one and a half points in both technical and free events at last year's world championships in Gwangju, South Korea. And while the U.S. had been in the underdog position up to this point, it stunned at the 2020 French Open by scoring 0.566 points above France in the free team event.
"We have eight hours a day, sometimes 10 hours in training," Platanioti said before COVID-19 broke out. "We are really tired, and I really feel exhausted. But the dream is so big that we don't think about the hours or about how tired we are… Well, how tired I am (laughs)!"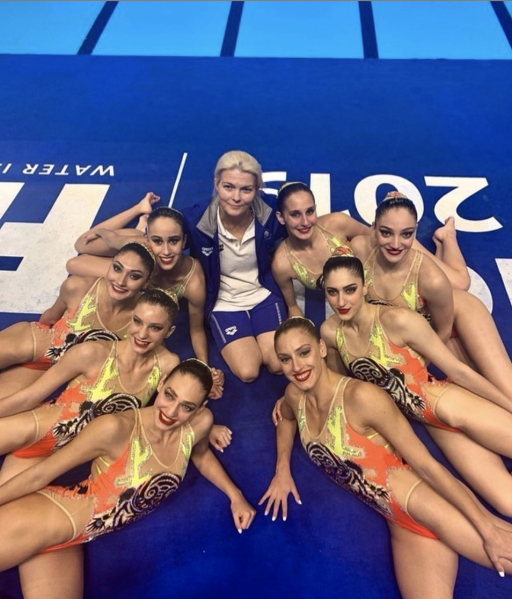 Greece underwent a major overhaul of its roster ahead of the 2019 season since losing over 50 percent of its athletes after the 2018 European Championships. To build a new squad, the national team staff brought on numerous young swimmers, including some who jumped from the 13-15 age group straight onto the senior team.
At first, Platanioti admitted she was not fond of the idea of swimming with teenagers, some 10 years younger than her, at all. When they were barely starting, she was already winning medals on the international stage. She just couldn't picture how swimming with inexperienced and young athletes could work out so close to the Olympic year. 
"I was completely negative and I told my coach that I didn't want to do team," she said. "I said I didn't believe in it, and I didn't want to waste my time. But she told me that they were really good and I had to see them first, because I didn't know them of course."
Thankfully, she listened and watched the new girls at trials. It didn't take much for her to be fully convinced of her coaches' grand plan for the Olympics. She quickly bought into the challenge, returned to the team routines for the first time since 2015, and was excited to pursue this unique opportunity for her country.
"With the right work, I think that this national team can be better than the others," she said. "It doesn't matter if you're young or if you're older, the only thing that is important is what you're doing when you compete and what you're doing in the water. This is the reason why I believe that we can do it if we work right and if we work hard. I really believe that we can [qualify]."
Initially, she had never imagined becoming a two-time, let alone a potentially three-time, Olympian when she started artistic swimming at the age of seven. Her parents first put her in swimming and rhythmic gymnastics classes when she was five, but synchro won her over rapidly and entirely. 
"I loved this sport from the start," she said. "I can even remember that if I was ill, I would lie to my parents and would take medicine by myself because I wanted to go to training even if I had a fever (laughs)."
She improved fast and eventually made her first national team when she was 12. She hadn't expected to be selected, and had not yet fully grasped the extent of the opportunities that being on the national team would bring her. The following year, she recalled watching the 2008 Olympic Games on TV and contemplating the possibility of maybe being there one day.
Her first breakthrough on the international stage came in 2009 in Belgrade, Serbia, at the COMEN Cup, the biggest international competition of the year for the 13-15 age group. There, she placed first in figures and first in solo, ahead of all the Russian swimmers.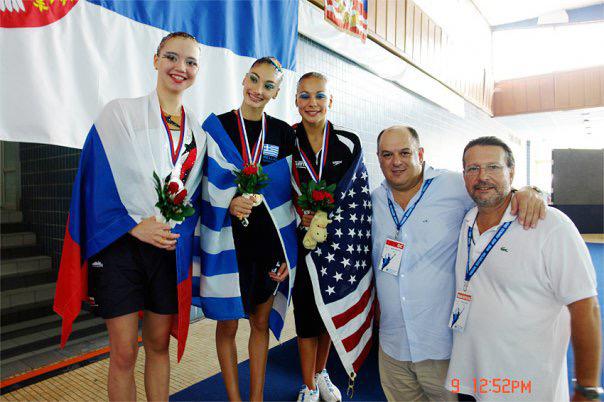 "It was my first big win with the national team as a young athlete," she said. "It was my first win, my first gold medals and I had passed the Russian athletes! I have kept this close to my heart and my mind always."
After Belgrade, the pace picked up for her. She competed that same year at the junior European Championships and finished fourth with the team. In 2010, she placed fifth in solo at the FINA Junior World Championships while also swimming with the senior national team at the European Championships.
In 2011 at the age of 16, she competed at her first senior FINA World Championships in the duet event alongside then-veteran Despoina Solomou, and finished 11th in technical duet and 10th in free duet. Most importantly, Platanioti's Olympic dream had suddenly become a very real and attainable possibility.
"My life was all synchro at the time," she said. "Then things happened fast. In 2011, I realized it [could happen] and told myself, 'Evangelia, this is your time and you have to fight for this.' I understood what I could really do in 2011."
The following year, Platanioti and Solomou easily qualified to the London Olympic Games as a duet. Platanioti celebrated her 18th birthday in the village that summer. The pair had come to London with the goal of passing the Great Britain duet in the rankings, which had been ahead at the 2011 world championships but was within reach particularly in the technical event with only a 0.100 points separation.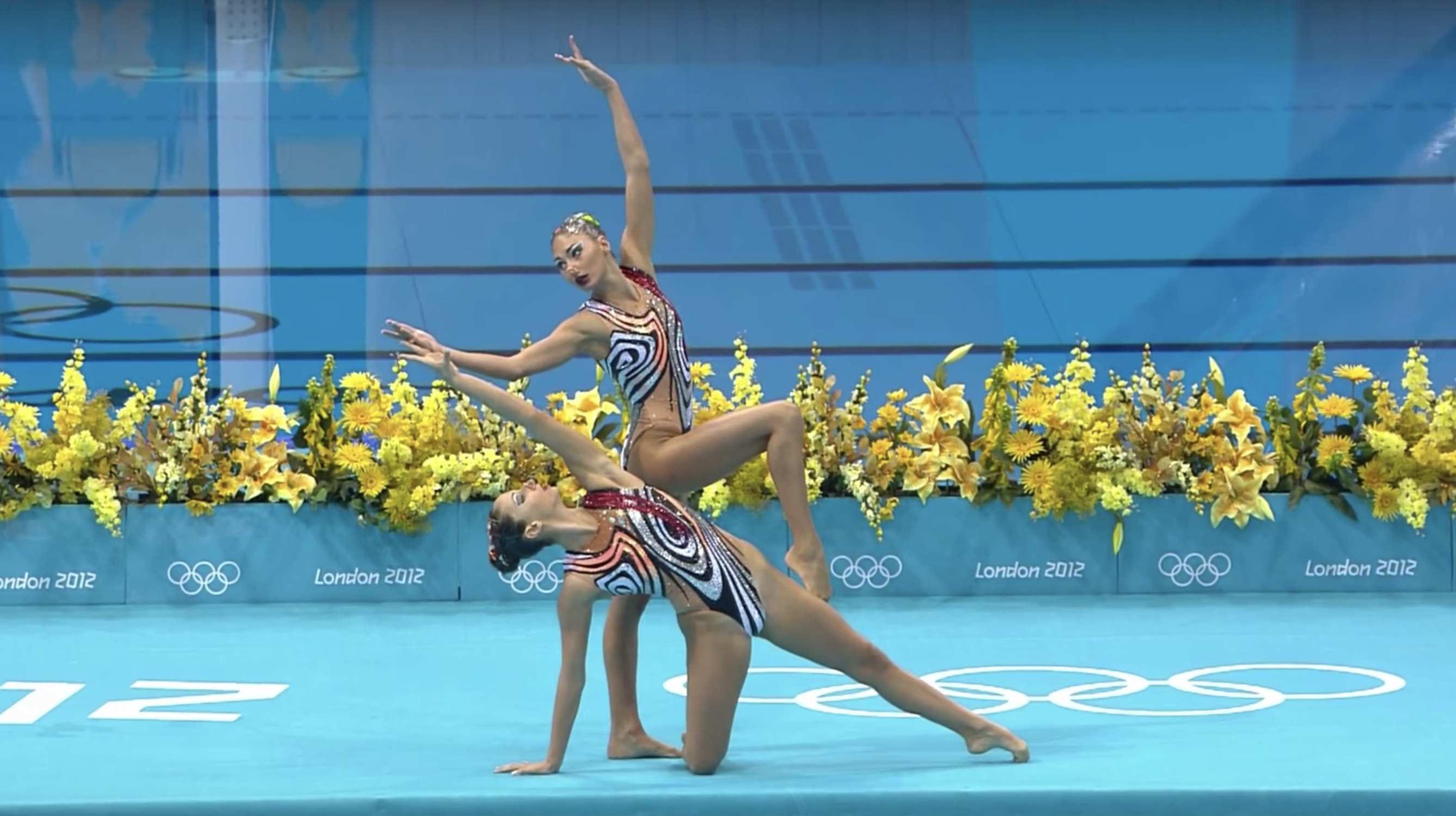 "I was so young and I can remember that I was really impressed," Platanioti said of her first Olympic experience. "I wasn't too nervous because we had worked really hard for this competition and we were sure about ourselves. But for a few seconds when we went out of the last call room, I really was in shock. The swimming pool was full and I couldn't see the last people all the way up in the stands. I was quickly focused on my routine but I could remember this moment for a lifetime, like it was yesterday."
Ultimately, Platanioti and Solomou reached their goal and finished eighth with a total combined score of 178.040, 1.150 points ahead of Great Britain. It also marked the nation's highest ranking at an Olympics in the event. Platanioti recognized to this day this was one of the most memorable moments of her career.
On top of shining on the senior stage, she did not miss any junior international assignments from 2010 to 2012, competing in the solo, duet or team events at the European or world championships. She had hoped to medal at the 2012 FINA Junior World Championships a little over a month after the Olympics and on home turf in Volos, but bad results in figures dropped her to fifth place in solo and fourth place in duet, as combined scores of figures and routines were used back then to determine the final rankings.
She continued swimming in the duet and team in the senior ranks, and eventually became the nation's soloist following Solomou's retirement in 2014  — a year which Platanioti described as "the worst" for the Greek team after problems in training and with pool availability. She also found a new duet partner in Evangelia Papazoglou (called Evelina by her teammates), and the two started gearing up for the 2016 Olympics.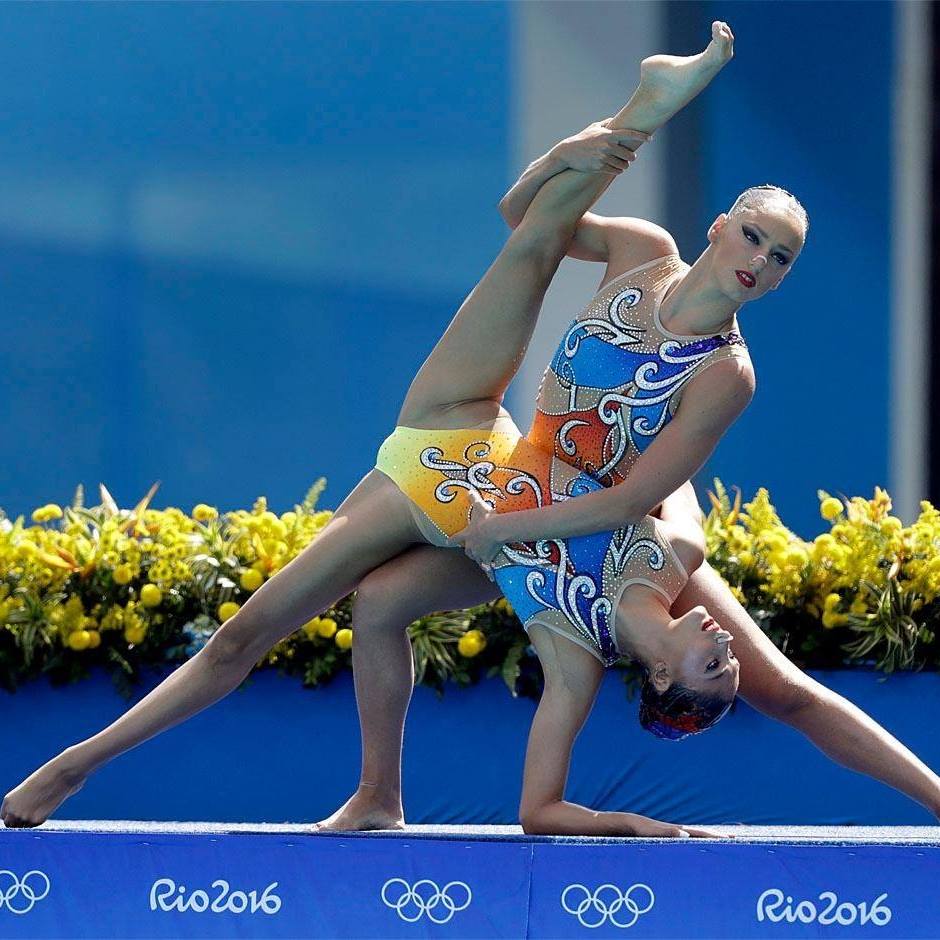 "It was completely different," Platanioti said. "Despoina was four years older than me, so she had more experiences and we matched better. With Evelina, we are completely different kinds of athletes with completely different legs and ways of moving so we had to figure it out at first. It took some time, but for sure now we are much better than before, and much better than in Rio."
The two finished 10th at the 2016 Olympic Games. These second Games were a much different experience this time around, but despite having to deal with pools turning green, a more hectic organization, and a smaller crowd than in London, Platanioti cherished this experience just as much as the first.
"If you have the chance to be [at the Olympics] and if you can make it happen, you have to do it," she said. " It's so impressive. I can't describe the feeling. I did it once, and then I wanted to do it again and again. This is the reason why I want to go a third time."
On top of a third Olympics, Platanioti's second major goal is to win a medal in solo at the European Championships. In 2016, she finished in fifth place in both events, but inched closer to the podium in 2018 as she ended fourth in the technical solo, while maintaining her fifth place in free.
In Glasgow that year, she truly had her eyes set on the medal especially after her results earlier in the season. A few months before at the Japan Open, she had indeed managed to pass her main opponent, Italy's Linda Cerruti, in the technical event by a full point while also finishing only 0.033 points behind in free.
"In Glasgow I really believed that I could medal," she said. "I remember how I was fighting and how it was as I swam. I think that I could have had a much better score, but the only thing that I can do now to get it is to work, and work, and keep working. I think that my strength is my technique, so maybe I can fight for this medal in technical solo. I have to be focused on my elements and find what can make the difference."
Of course, the 2020 European Championships are now also very much up in the air. The event was originally scheduled for May 11 to 24 in Budapest, but the European Swimming Federation (LEN) has already announced its postponement, with new tentative dates of August 17 to 30.
During her 10 years on the senior national team, Platanioti had already gone through numerous hurdles, from difficulties in terms of training conditions to a lack of stability within the team itself. 
The entire national team currently lives in Athens and trains at the Agios Kosmas Sport Center, right by the deep blue waters of the Mediterranean. The athletes do have a pool for themselves, but they often are forced to deal with cold, unheated water for hours on end. They also don't get to enjoy a proper federal, centralized training structure that other elite athletes in the world may have, with full-board accommodations, state of the art gymnastics facilities, access to nutritionists and physical therapy programs, or tutors to assist in their studies.
Platanioti acknowledged the conditions could certainly be better but she was quick to add that the Greek team has everything essential to get by, and that thankfully the federation has been able to help more these last few years: "We have a pool, we have a team, we have a coach! So we are good, we have everything we need. Well okay… We could have warmer water for sure (laughs)!" 
Additionally and like in many other nations, the opportunities for a professional career as an artistic swimmer are very few. Platanioti has been lucky enough to make a path for herself after two Olympic appearances and an impressive longevity in the sport. On top of never missing a beat for a decade, she has scored many sponsorships opportunities like more recently with Under Armour or Herbalife. She also participated in the reality TV show 'Nomads,' the Greek version of 'Survivor,' in 2017 which allowed her to gain new fans and sponsors while bringing more recognition to the sport in the country. Moreover, she has slowly but surely worked towards a business administration degree at the University of Piraeus, and now only has a few classes left before graduating.
Nevertheless, she is acutely aware that not everybody will get the same opportunities. While the nation has managed to be present in every major international competition across each age category over the years, she also knows that there are not many incentives for swimmers to stay on the national team in the long run.
"All these years, almost every year, I have new partners in the team," she said. "They are in the national team for some years and then they stop. Then we have new girls for a few years, and then they stop, and again we start from the beginning. In Greece, they have to help the athletes more to compete and to continue because they don't pay, so athletes stop to go to universities and to find jobs. But this sport needs every hour of every day, so if you have to be eight hours in training, you can't do anything else. It's a very difficult sport, the water is cold, they don't pay you… Every girl stops for their own reasons, but most of them stopped because they couldn't afford these conditions."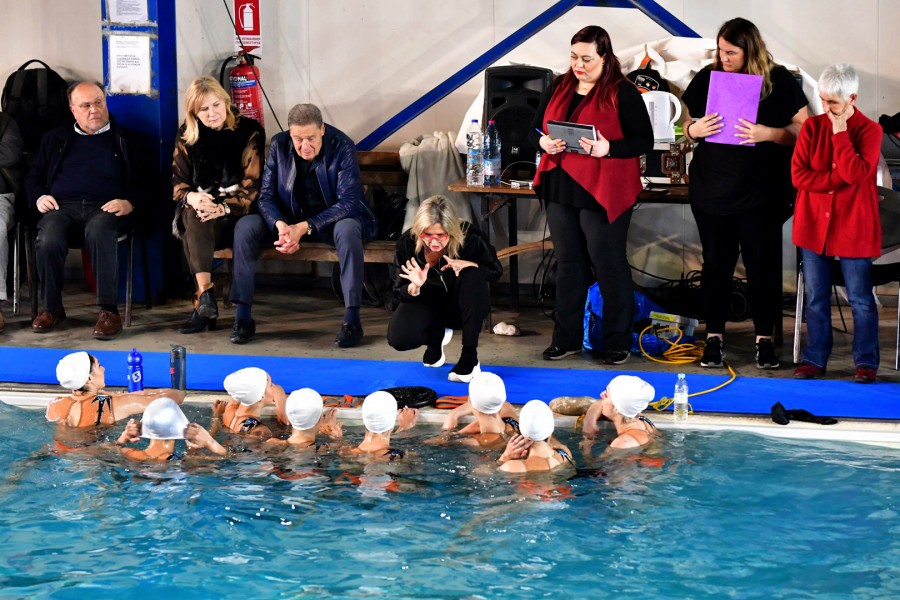 Thus, qualifying a full squad to Tokyo for the first time in 16 years would certainly help increase the team's visibility, which in turn may lead to more stability and opportunities for the future of the program itself. With that in mind, the Greek federation is certainly pulling out all the stops to make it happen.
At the beginning of the 2020 season, it revealed the team had been working with Anna Tarrés for its new choreographies. Spain's head coach from 1997 to 2012, Tarrés is famous for her creative routines, for bringing her country up to the top of the world and Olympic rankings, and for coaching some of the greatest Spanish swimmers. More recently, Tarrés collaborated with Israel, which wound up increasing its score by over 10 points in one year and qualifying to four world finals for the first time in the nation's history.
When asked about this collaboration, Platanioti remained purposefully and playfully vague about it: "The only thing that I want to say is that this year we are stronger than ever. We are a completely different team, but that's all I will say for now. Let's keep it interesting (laughs)!"
On February 17, the team presented its new routines for the first time to international judges and the media. Then, everything was halted. Greece was supposed to make its first appearance at the second FINA World Series stop in Hurghada, Egypt, at the end of March before competing at home for the third stop in Alexandroupoli in April. And then, the swimmers would have been off to Tokyo for the Olympic Games Qualification Tournament.
For now, all that each athlete can do while waiting to know more about the postponed Olympics is to stay at home and stay healthy. Once the new dates are set in stone, FINA and LEN will be able to further adapt their own calendars for the remainder of the year, with the assumption that the pandemic will be past its peak by then.
"Every few days we were counting down the days, the months on our fingers", she said. "Now it's too early to do this! Everything has changed. If the European Championships are on the new dates in August 2020, we have to train for this right now… So, we still don't know what we will do. But health is a priority. We will keep getting ready, and we stay focused on our goal."
Even if their countdown clock has been reset, the Greek athletes will undoubtedly try to make the most of the situation to perfect their new routines and to continue dreaming of the 2020NE Olympics, for now in their own homes until they can return to the water once again.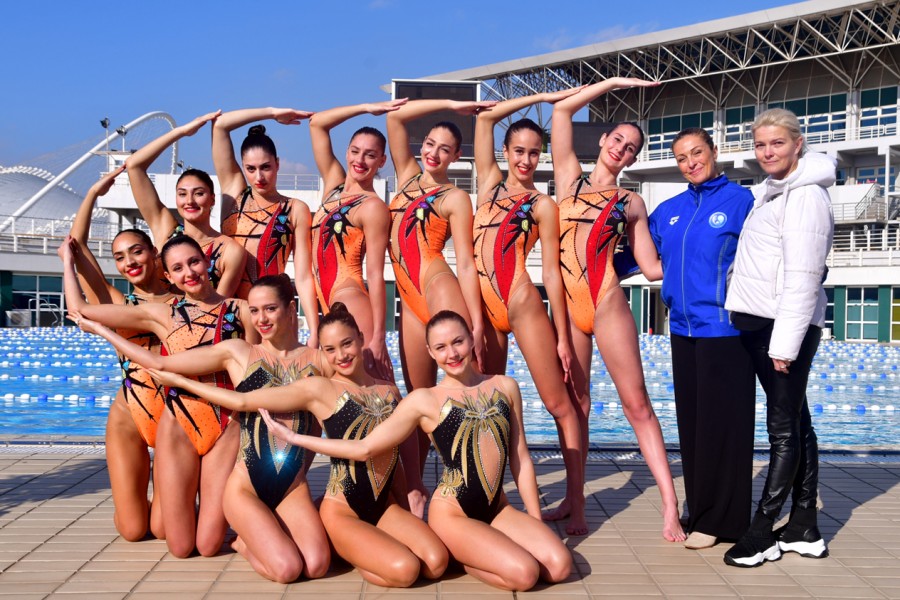 Article by Christina Marmet