On August 2, Alla Shishkina would have celebrated her 31st birthday in Tokyo. On August 8, she would have likely won her third Olympic gold medal. On August 9, she would have been able to step away from the sport after 11 years at the elite level as a steady member of the best artistic swimming team in the world.
Shishkina, one of the many veterans on the current Russian senior national team, had returned to the sport after a two-year break following the Rio Olympics with the hope of ending her career at the top of the podium this summer. But once the International Olympic Committee (IOC) officially postponed the Olympics due to the COVID-19 pandemic, she knew her new life away from the pool would have to wait a little longer.
"At first, it was a shock," she said. "Then, we had to accept the situation. We understand that the health and safety of people around the world is more important than any competition or medal."
The Russian team had managed to continue swimming until the very end in its isolated national training center of Ozero Krugloye (Round Lake), about 50 kilometers north of downtown Moscow. Competitions were cancelled or postponed left and right while teams around the globe were slowly being forced out of the pools, but the Russians trudged on. Eventually, it all started to catch up to them, first with all Olympic dreams being put on hold on March 24.
"[Head coach Tatyana Pokrovskaya] said that we will continue to work," Shishkina said. "She asked us, 'Who is ready to continue?' And everyone said that they were ready."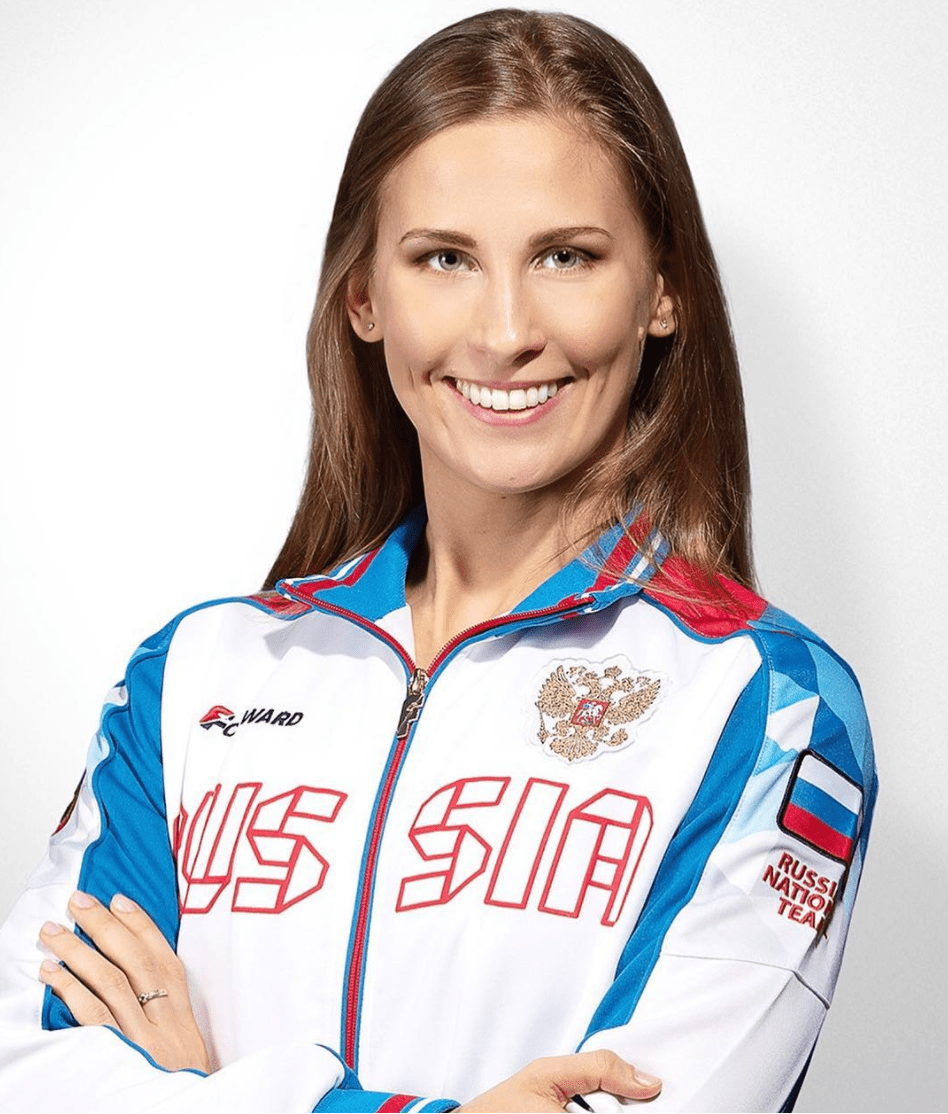 Then on March 28, officials announced the closure of Round Lake, forcing all athletes to either go home or find alternative solutions. The artistic swimming and artistic gymnastics teams moved to the training center in Novogorsk, in the periphery of Moscow and where the rhythmic gymnastics team trains year-round, as it would remain open for only a handful of teams.
But on April 2, one athlete and one coach on the artistic gymnastics team tested positive for COVID-19, prompting everybody to leave Novogorsk. All artistic swimmers had tested negative upon arriving, but they still went first into quarantine amongst themselves for two weeks. Shishkina paired up with Marina Golyadkina and Polina Komar, and the three tried to stay active and busy as much as possible, now forced into lockdown like thousands of athletes around the world. 
Unfortunately, the pandemic hasn't been the only problem looming over the Russian team recently. In December 2019, the World Anti-Doping Agency (WADA) announced further sanctions towards the entire country related to the Sochi systemic doping scandal. 
WADA handed a four-year ban to the Russian Federation, meaning that it would have no formal presence at any major sporting event including the upcoming Summer or Winter Olympic Games, the 2022 FIFA World Cup or the 2022 Youth Olympic Games, among others. Neither the Russian flag or the anthem would be allowed at those sporting events.
Nevertheless, the Agency left the door open for Russian athletes to compete under a neutral flag much like at the 2018 Winter Games as long as they can prove they are clean, and have not been a part of the alleged state-sponsored system of doping and subsequent data tampering.
However, this ban hasn't been implemented quite yet. The Russian Anti-Doping Agency (RUSADA) appealed the decision to the Court of Arbitration for Sport (CAS) back in January, and the CAS was supposed to issue a final decision regarding the appeal at the end of April. But as anticipated, the entire process has now been halted due to the pandemic. 
This situation is maybe a bit too familiar for Shishkina and her 2016 Olympic teammates, as Russia was already facing four years ago the same possibilities of sanctions linked to this doping scandal. Ultimately and a few short days before the start of the Games, the IOC rejected WADA's recommendation to ban Russia and announced that a decision would be made by each sports' federation regarding the participation of Russian athletes.
The artistic swimming team went on to win gold in duet and team, to see the Russian flag raised, and to proudly sing the national anthem. Whether these scenes will occur in Tokyo or not is now all up to the CAS. 
"For our team, all these conversations were completely incomprehensible," Shishkina said. "We never took any illegal substances, we followed all the rules, and thought and still think that they want to unfairly punish us along with the violators. We are honest and pure athletes, and would love to perform in Tokyo under our own flag. It's really important for us."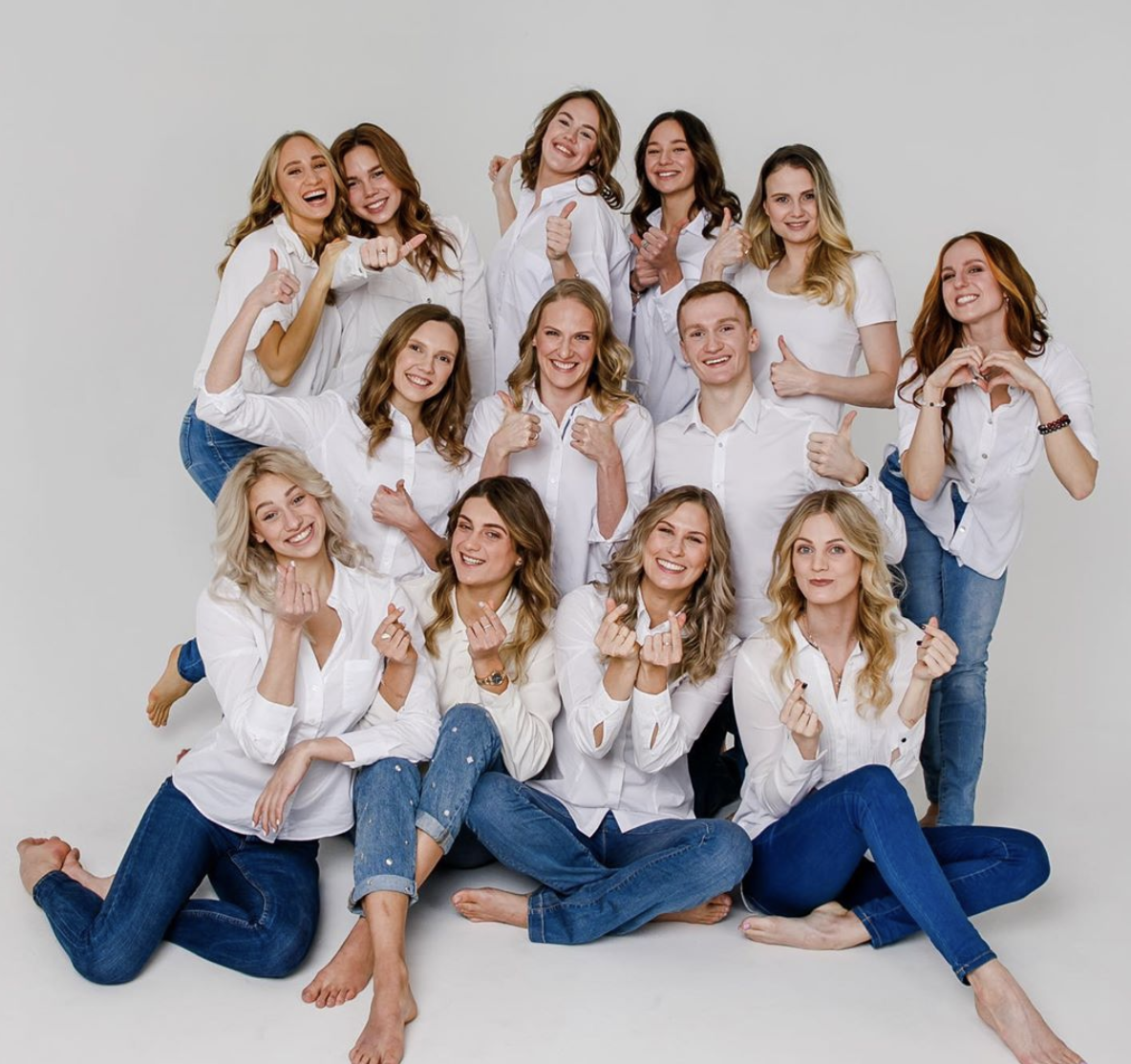 The honor of representing Russia on the biggest international stage is something Shishkina has strived for since the beginning of her career. She started at the age of seven in her hometown of Moscow in the MGFSO club, one of the best in town, after seeing footage on TV from the 1996 Olympic Games in Atlanta.
"I fell in love with this sport at first sight," she said. "Water, music, beautiful girls with shining smiles, it was an amazing world in which I wanted to be. It's good that my parents listened to me as a child and took me to the pool!"
Shishkina continued improving steadily throughout the years, but only made her first national team in November 2008 at the age of 19. Indeed, she was never selected to the 13-15 or junior national teams, and making it onto a first national team as a senior is quite unique and outstanding not only in Russia but really in any nation in artistic swimming. 
With a steady dedication in practice and a strong determination to reach her goals, she was selected as part of the squad that would compete at the 2009 European Cup in Andorra. She was a total newcomer, and felt like a deer in the headlights with no past international experience unlike many of her teammates.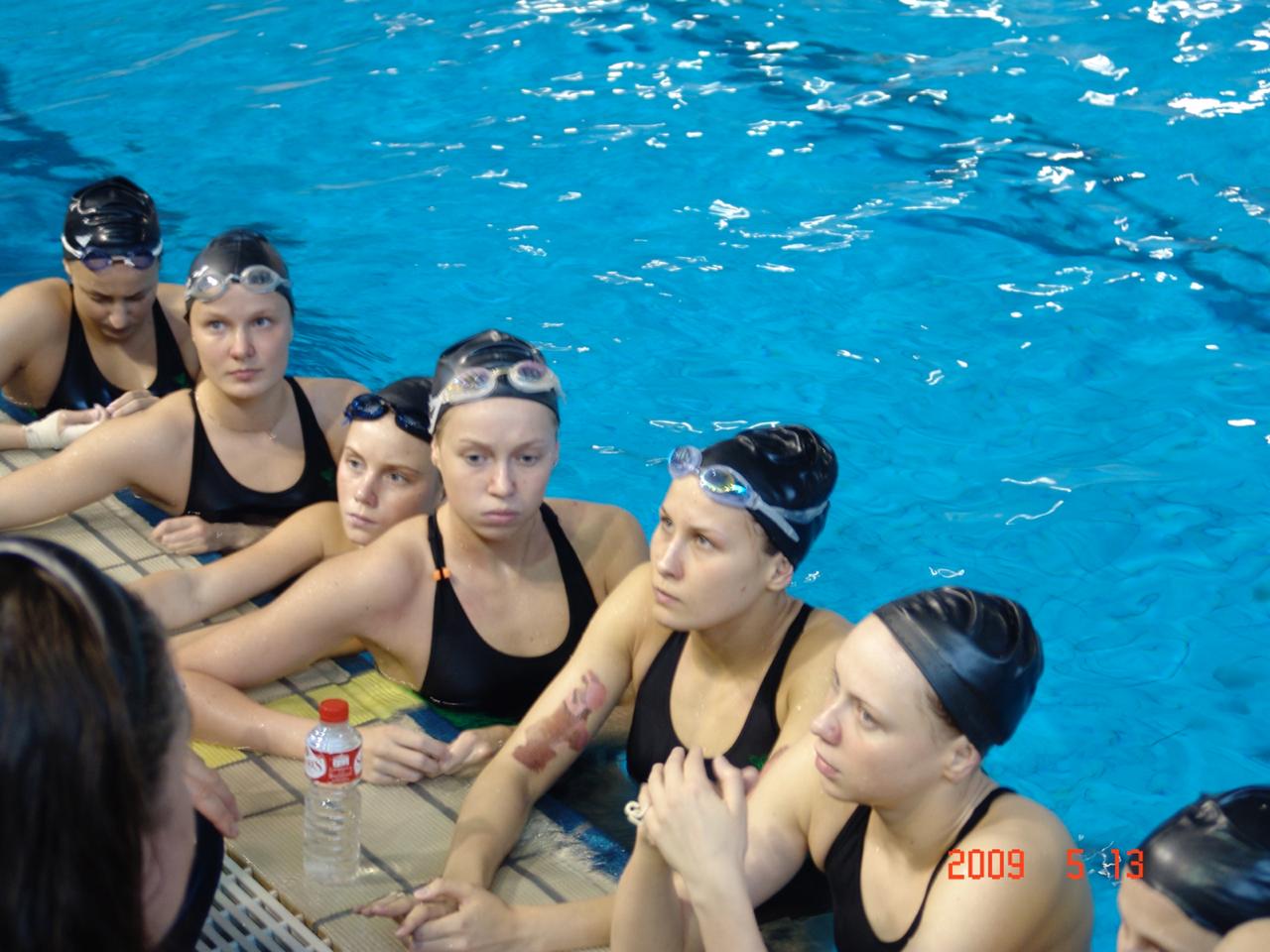 "I was very worried," she said of her first competition on the senior team. "And a week before leaving for the competition, I had severe chemical burns on both hands and arms due to a doctor's mistake. The skin was peeling off and it was very painful. I guess it distracted me a little from the excitement."
A few months later, she competed at her first FINA World Championships in Rome and earned two gold medals in technical and free team: "When we won, I realized that one of my dreams came true. And no pain, injuries and past failures could take this away from me."
From then on, she moved swiftly from one competition to the next, from one European or world championships to the next. She was selected for her first Olympic team in 2012 and won gold in the team event. Taking no breaks, she won three more world titles at the 2013 and 2015 FINA World Championships each, before making her second Olympic team in 2016.
After winning a second Olympic title and receiving the accompanying awards in Russia, including the Order of Honor from the president himself, a prize money and even a car, she decided to finally take a break, although knowing full well she would return eventually.
"Standing on the podium in Rio, I knew I was coming back," she said. "But I understood that I needed rest. At first, I asked for a year, but then I realized that I needed another year. Thanks to Tatyana Nikolaevna Pokrovskaya for understanding, supporting and trusting her athletes."
She got married, and enjoyed a newfound freedom she hadn't known previously. She did not train at all for a year and a half, but still stayed connected to the sport as she traveled to Budapest for the 2017 FINA World Championships to commentate on some of the events for the Russian television. 
Finally with the goal of coming back for the 2019 season, she started preparing with her personal trainer. She recognized it was extremely difficult at first, and that she had to lose four kilograms before even dreaming of attempting a full routine or pretending to be good enough to return to the senior team.
She was joined in her comeback by fellow Olympian Svetlana Romashina who also took a break right after Rio and gave birth to a baby girl. Both returned to the highest level successfully, in a great if not better physical shape than in Rio. They first helped the nation secure two Olympic berths in duet and team at the European Cup on home turf in St. Petersburg in the spring of 2019.
Then, Shishkina added three more gold medals to her resume at the FINA World Championships in Gwangju, South Korea, thus reaching a total of 14 world golds throughout her career.
Two-time Olympic champion Aleksandra Patskevich eventually decided to return as well for the 2020 season. These three athletes along with Vlada Chigireva, Svetlana Kolesnichenko and Maria Shurochkina represent six returning Olympic champions now amongst the senior team and vying for one of the eight spots on the 2021 team. With a potential average age of 27, the Russian team may end up being one of the oldest and most experienced in Tokyo.
"We have been friends and have worked together for many years," Shishkina said. "In my opinion this is very good. We feel each other almost without words. It is much easier to train with those with whom you have already come a long way than to grind with beginners."
Russia has won every single Olympic gold medal since the 2000 Olympics, and one can count on one hand the few times the nation has gotten beaten since in an event it participated in. To be able to stay on top for all these years, head coach Tatyana Nikolaevna Pokrovskaya has had to continuously find unique moves, acrobatics, or choreographies, and has in turn pushed the sport forward and forced it to evolve. The rest of the world has ever since been trying to catch up to Russia, but Pokrovskaya always makes sure to find a way for her team to remain one step ahead.
To create routines, the team frequently works with a composer but the athletes can also suggest their own music. Naturally, Pokrovskaya has the final say in whether to use it or not, but her swimmers do get to participate in the entire creative process as well.
"For example for the free team 'Shamans', we turned on the music and we all began to improvise," Shishkina said. "One at a time, in pairs, or in small groups of three or four people. Then, Tatyana Nikolaevna chooses the movements she likes, and sometimes she corrects them and puts them in the program."
As for acrobatics, they work with a specialized trainer. The team flyer Maria Shurochkina has her own training sessions to practice some of the jumps while the rest of the team tries to come up with the appropriate supporting structure for her once in the water. 
The free program 'Shamans', originally performed in 2017, is actually the hardest routine Shishkina has ever had to swim throughout her career so far. She never expected to learn it as it was created for the 2017 and 2018 seasons, and she aimed to return for the 2019 season. It's uncommon and perhaps slightly frowned upon for a nation to keep the same routine three years in a row, so she had hoped to avoid it altogether.
"There are a lot of underwater elements," she said. "And it's that feeling that you take a breath and dive again, and again. And a lot of two-handed eggbeater and a fast pace. This is the most difficult program in my life."
Year after year, any new routine from Russia is always highly anticipated, and the nation is almost always expected to win. Shishkina admitted the Russian athletes themselves don't necessarily feel this kind of external pressure, even though they are aware of what's at stake. Really, what they have to grapple with first and foremost is the intense pressure they put on themselves. 
"I can't explain it," she said. "If I thought of something like that, it was in the context of the fact that I have no right to let down those who won gold before me. I have to give my best and this is also pressure, but it is inside you. I think we are more afraid not to live up to the expectations of the coach."
Knowing how to handle this kind of stress comes early on for any swimmer in Russia. To simply get onto the senior national team is likely one of the most competitive and intense feats in artistic swimming. The incredible depth of talent across all age groups and a stringent selection process have helped the nation stay on top for these last few decades and assure a bright future for years to come.
The senior team lives and trains all year at Round Lake where it enjoys state-of-the-art facilities that allows the athletes to focus on essentially nothing else but training. Romashina and Patskevich are the only ones returning home every night to be with their families and young children, and the rest of the team sleeps on site. 
Around 15 artistic swimmers are currently part of the group that trains six days a week, twice a day, seven to eight hours in the pool on top of more hours in the gym. Only the swimmers of senior age are invited to try out, except for a few standouts like Romashina or more recently Varvara Subbotina who both were invited earlier on in their careers to move up to the senior ranks.
"It's very hard to get into the national team," Shishkina explained. "We go through a selection which suits Tatyana Pokrovskaya. It is necessary to pass the standards in swimming, perform technical elements, pass all the tests in the gym… Endurance, height, flexibility, she looks at absolutely everything. This selection lasts from 8:00 a.m. to 8:00 p.m."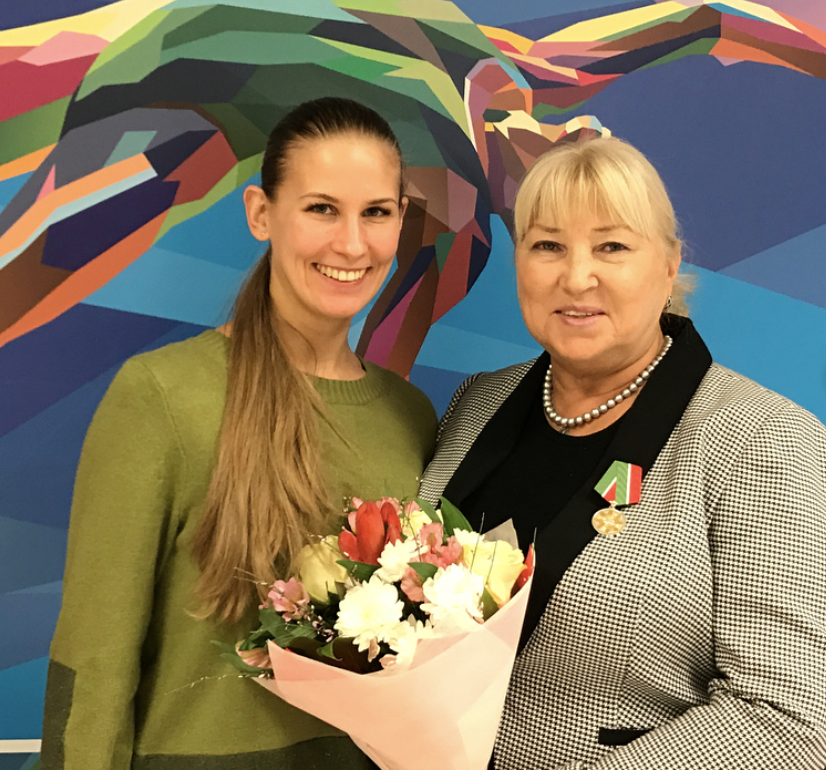 Of course once an athlete is "in" does not mean she can rest on her laurels, and the competition for one of the eight spots in the actual routines is cutthroat. With such a reserve of talent both at Round Lake and across the country, each swimmer knows her spot is not guaranteed and is dependent on consistent performance and fitness. 
"Olympic champions do not have to pass [trials] the second time," Shishkina said. "But I do not exclude that everything can change. We have a huge bench with girls who can change us."
Despite Russia's historical results, artistic swimming is not popular nor recognized in the country, to her great despair. In terms of artistic sports, the general population much prefers rhythmic gymnastics or figure skating, where Russia has also been dominant for years.
To remedy that issue, she has become increasingly more active on social media, particularly on Instagram, where she tries to maintain an interactive platform with her followers, asking questions about what they want to know about the sport, doing fun Q&A with the fans, or simply sharing some behind-the-scenes insights on the Russian program.
"I would very much like synchronized swimming to become a popular sport," she said. "I talk about the rules or about the elements. After all, when a person understands how to evaluate, it becomes interesting for them to watch. For many viewers, all the teams are approximately the same, so without knowing the rules they do not see much difference."
During her quarantine and throughout this period of lockdown for millions around the world, she has been relentless in staying active on social media and promoting the sport. She has been posting videos of some of her favorite routines, older memorabilia, synchro-oriented home workouts and challenges for her fans to do, or simply some silly videos of herself and her teammates dressing up and dancing, shattering the preconceived ideas that Russian athletes always appear distant and serious.
As she now waits back in her own home for training to resume, she already knows Tokyo will be her last hoorah. While there would really be only three years before Paris 2024, she will be 35 then, and has already plans in her near future.
"I would like to have a baby after Tokyo," she said. "And I know that if I have a child, then I will not return to sports."
Article by Christina Marmet