December 2020. 
On June 10, the International Olympic Committee (IOC) confirmed after an Executive Board meeting that it would not budge from this previously-set deadline to determine the 2024 Olympic Games event programme and athlete quotas.
In six months, male artistic swimmers will find out if they are allowed to compete at the Paris Olympics. In six months, they will know if all of their efforts have paid off, if all of their wildest dreams came true, and if the IOC finally acknowledged gender-equality in artistic swimming at the Games.
2020 would have been a year of continued growth for men in the sport, and for mixed duets to capitalize on momentum built over the last five years. Some countries would have made their very first international appearances at the South American Championships or the Junior European Championships. Some would have introduced new pairs or choreographies at the FINA World Series. Others would have aimed for a medal at the European Championships or at the 13-15 COMEN Cup.
Everybody knows what happened instead. Just like virtually every athlete around the world, artistic swimmers were forced out of their element and into self-isolation with the COVID-19 pandemic. Every remaining major event of the 2020 season was cancelled or postponed across all age groups. The Tokyo Olympic Games were pushed to 2021, subsequently leading to the postponement of the next FINA World Championships to 2022. 
With no world series competitions or European Championships in 2020, and no world championships until 2022, the men of artistic swimming now find themselves in an even tighter race against the clock to prove they deserve their place at the 2024 Olympics.
Despite the consequences of the pandemic as well as the Herculean task of rescheduling the Tokyo Games, the IOC wants to stay on schedule to determine its 2024 event schedule. The next Executive Board meeting in December will thus see a decision made on requests from 20 of the 27 Olympic International Federations (IFs) for changes to the Paris programme, as well as the approval of four additional sports proposed by the Organizing Committee. 
"There is a great opportunity for the mixed duet event and artistic swimming sport as a whole," said Bill May, 2015 world champion and four-time mixed duet world medalist from the U.S. "As our sport continues to evolve, we need new members and new events. The mixed duet will add a different form of athleticism as well as welcomed diversity, and in turn will support the growth of our sport. I think through social media and online platforms, we can still show that even amongst challenging times, the event continues to grow and gain support from all over the world. I hope the IOC will show the same support."
Last time around, the International Swimming Federation (FINA) had requested the addition of mixed duets, along with high diving and several swimming sprint and mixed relay events in their proposals. It remains to be seen whether any of these suggestions return for Paris 2024, but assuming FINA did send in a request for mixed duets once more, the final decision will be made at the end of the year.
Unfortunately, the task for IFs seeking the addition of new events to Paris appears a lot more challenging than for Tokyo. In that same board meeting, the IOC emphasized the need to reduce the total number of participants to 10,500, and to further prioritize new events that could accommodate athletes within the sport's existing quota allocation. And naturally, FINA is not the only federation asking for more.
However with so much decision-making out of their control, the more prominent male athletes of the sport decided to focus on what they could do at their own level until then. With the pandemic, they have had to find different alternatives to stay relevant and to continue raising awareness for their cause.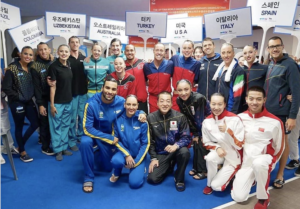 At the beginning of April, they first launched a new campaign on social media with the hashtag '#InclusionofMixedDuets' to highlight the events and get all athletes involved, as well as to gather as much support from the whole community itself. To their dismay, the original hashtag was reported and blocked, but they simply removed the letter 's' to now use '#InclusionofMixedDuet'.
"With the Olympics being pushed back, we thought it would be an opportunity for people to relate to us," May said. "We hope they can say, 'I now understand. We wanted to go to the Olympics, we lost our opportunity. You want to go to the Olympics, you don't have the opportunity.' Hopefully that will ignite something that will further people's support for us."
2017 world champion Giorgio Minisini from Italy led the charge on Instagram to start this campaign, and teamed up with former Mexican artistic swimmer and mixed duet member Arantxa Glez to create 'Intmixdu', an account focusing on the mixed duets. They regularly share the latest news as well as introduce individual athletes to the rest of the artistic swimming world.
A few weeks later, Russia's four-time world champion Aleksandr Maltsev and Spain's Pau Ribes joined May and Minisini for an all-male online workout. Over 100 boys and men attended, representing about 32 countries. All were ecstatic after the call, and particularly reinvigorated after realizing how many male swimmers were actually involved across all age groups.
"I was really impressed about the nations involved," Minisini said. "I really believe that if every nation would actually invest in this duet, we would have such a vast movement to show to the Olympic Committee. If we manage to show that all these guys are doing our sport, this could change many minds."
Similarly in Spain itself, Ribes joined some of his fellow national team teammates, including 2019 Youth World silver medalist Dennis Gonzales and 2019 junior European silver medalists Xavi Guillen and Fernando Diaz del Rio, in another Zoom call organized by the Spanish Federation. All four met virtually with over 20 young boys from all around the country to offer advice and motivation.
"Every time this becomes more normalized, there are more boys who are encouraged," Ribes said. "All together, we will achieve this dream of many. Not only do we want to be supported in this event, but little by little we can start being included in new categories too."
With a lighter work schedule than usual, May has also taken full advantage of these various online opportunities to connect. On top of continuing to coach his group of seven boys from the Santa Clara Aquamaids and leading workouts with clubs around the world, he also hosts daily 30-minute core and strength sessions on Zoom, open to anybody who feels like joining. 
He also particularly wants to use this time to start conversations with coaches, answer their questions on how to recruit male athletes, and advise them on how to properly nurture them. His main goal is for everybody to understand that boys cannot and should not be coached the same way as girls. They already face obstacles right from the start, with low representation, frequent mockeries, and bullying, which in turn may lead them to giving up. May argues that coaches must be ahead of it all to make their athletes as comfortable and confident as possible. 
"We talked a lot about not trying to hide a man or trying to hide the problems that can come of it," May said. "The second coaches start to treat the male athletes or expect the same thing as a female athlete, that's where it takes a downward spiral. We have to keep talking about how to get them into the sport, but also how to keep them because a lot of them get discouraged. There aren't many men, and at a young age you don't really see a future and start to feel out of place."
As a coach of young boys himself, May has quickly realized that his athletes simply don't have the same kind of focus that younger girls have. It is not a problem in itself, but once again May wants each coach to realize they cannot treat their male and female athletes the same way.
"Our attention span is so much different," he said laughing. "We need to have something constantly happening, whereas girls can focus on one thing a lot longer and get frustrated less quickly. We need constant stimulation and different challenges that will sometimes have nothing to do with synchro itself. It is such a tedious sport already. We all have to figure out the best way to coach guys to make it more attractive and interesting for them."
In addition, the mixed duets are receiving support on a lot of different fronts, and not from just current coaches or athletes. Filmmaker and former artistic swimmer Parmida Hamdollazadehkive is also using her time to help bring light to the events. She is working on a documentary "Men in Sync," which explores the gender inequalities men are facing in Olympic artistic swimming, as they are banned from qualifying and competing because of their gender. 
"The sport itself is such an undiscovered one and quite misunderstood as well," she said. "But the most unexplored part of the sport is the fact that men are very restricted. In Men In Sync, we're digging into the deepest part of the sea by spreading awareness of something unknown, and that's what I wanted with the film."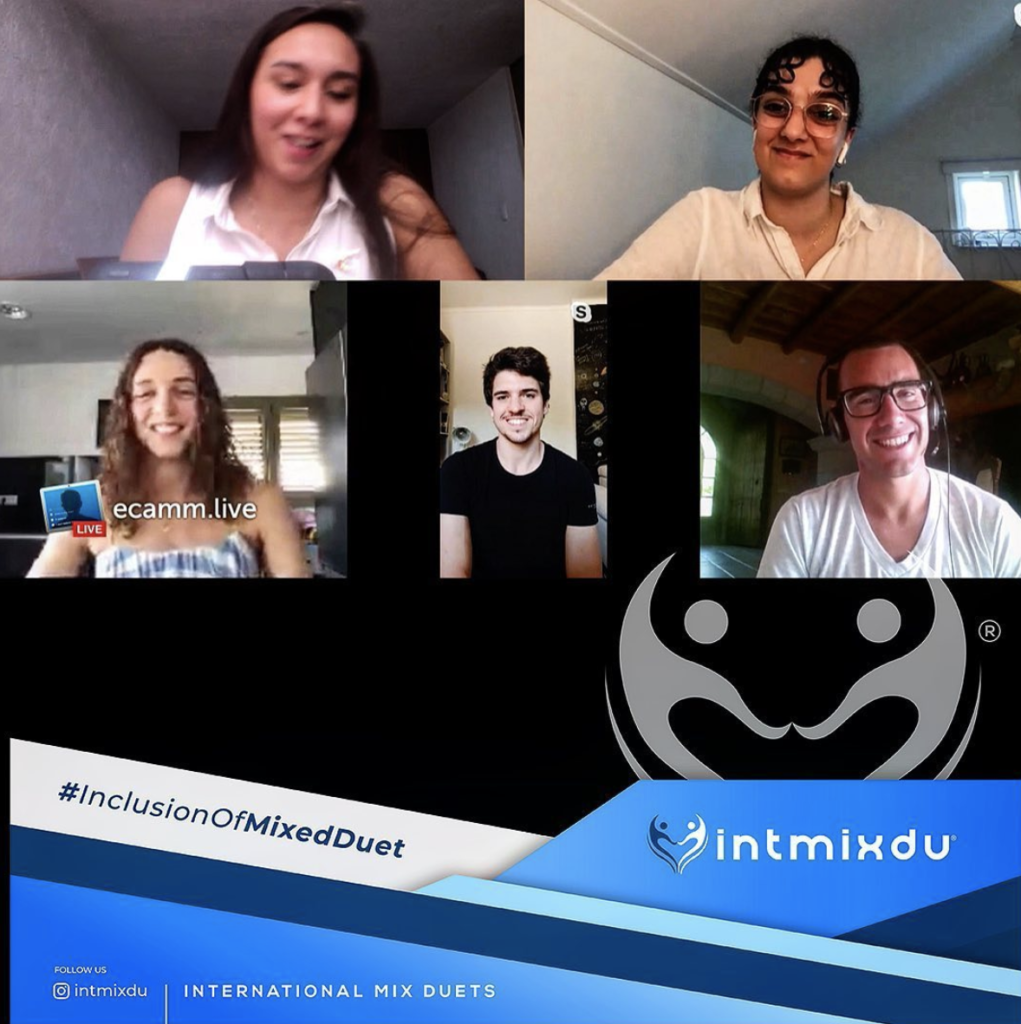 Her team started filming with the Spanish mixed duet of Ribes and Emma Garcia at the end of 2019, but the ongoing pandemic put the rest of the filming and production on hold. She nonetheless took part in some online initiatives herself, and joined Minisini, Glez, Ribes and Garcia for an interview live-streamed on YouTube to discuss the upcoming documentary.
"We are definitely blessed during these tough times with technology and social media," Hamdollazadehkive said. "I think anyone in artistic swimming wants the sport to grow, and we won't grow until we include everyone. When we're stuck at home, we should use our voice to spread the word that mixed duets should be included in the Olympics."
Most mixed duets are now back in the pool after long months out of the water. All are gearing up for the 2021 season, knowing full well it may feel entirely different than any others depending on the IOC's decision in six months.
Article by Christina Marmet
If you've enjoyed our coverage and are looking forward to it during the 2020 offseason and the 2021 season, consider donating to Inside Synchro! Any amount helps us run the site and cover meets.