Debbie Soh has been one of the mainstay of Singapore's national team for the last eight years. Since her senior debut at the 2013 FINA World Championships at 15 years old, she hasn't missed a beat. Soh swam at the next three World Championships and the 2018 Asian Games, and is a five-time Southeast Asian (SEA) Games gold medalist.
She now wants to become one of Singapore's first Olympians in artistic swimming. She and her duet partner Miya Yong have been working tirelessly these last few years to position themselves as contenders for Tokyo, most notably with the help of the late Julie Sauvé, renowned Canadian Olympic coach.
Inside Synchro chatted with Soh on her career in Singapore, her significant results at the SEA Games, the state of artistic swimming in the region, and naturally the major events of the last few months. The 22-year-old also took time to address her personal struggles with body image and weight management, and her experience trying to fit the stereotype of what an international synchronized swimmer should look like.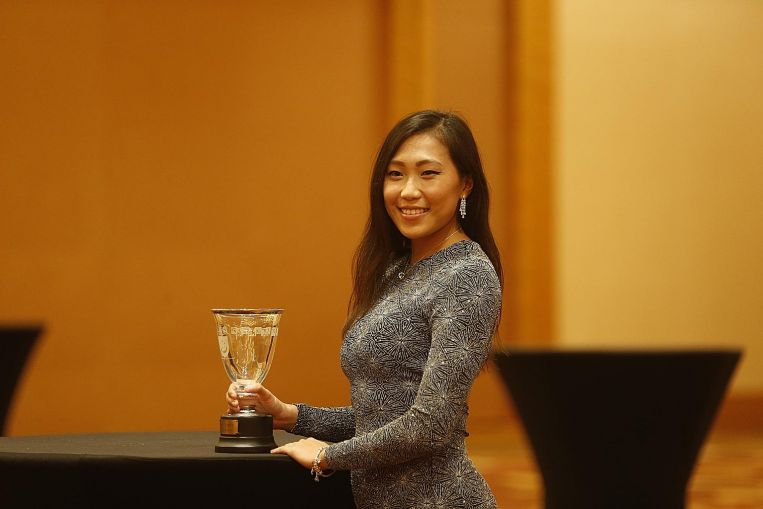 Inside Synchro: How have you been doing these last few months, going from preparing for an Olympic year to not competing at all?
Debbie Soh: We followed the news very, very closely. Julie sent us articles whenever the International Olympic Committee (IOC) would make an announcement. We were actually supposed to come to the French Open in early March but we couldn't travel. It was quite sad for us because we were ready to compete, and we were in shape, eager to show our new routines. 
IS: How did you stay motivated once lockdown started?
DS: We were out of the pool from April to about July, so for three or four months. We did Zoom training sessions almost everyday with the whole team. My main priority was just to stay healthy and fit, which was quite difficult because we were close to our peak of this year. To suddenly drop everything was hard. We were actually doing a lot of run-throughs, even with weights in the water, before it all stopped. It was quite a big difference training on land after doing full routines in the water.
Julie also passed during the lockdown. That was very heartbreaking. But I feel it is an additional push for me now. Whenever I feel like slacking off, I just think, "Julie would not be proud of you if she knew that!"
IS: She'll always be there at the back of your mind… Besides, the federation named Anastasia Goutseva, who worked alongside Julie in Canada for a few years, as your new head coach. That connection will still be there in that way too.
DS: Yes. I have full trust in Julie's decisions. If she thought that Anastasia would be a good fit for us, then I'll just go along (laughs)! She is still under quarantine so we haven't trained with her yet, but Julie had already told Miya and I that she was coming. Before Julie left for Canada [at the start of lockdown], she said she was trying to bring in someone who had worked really closely with her.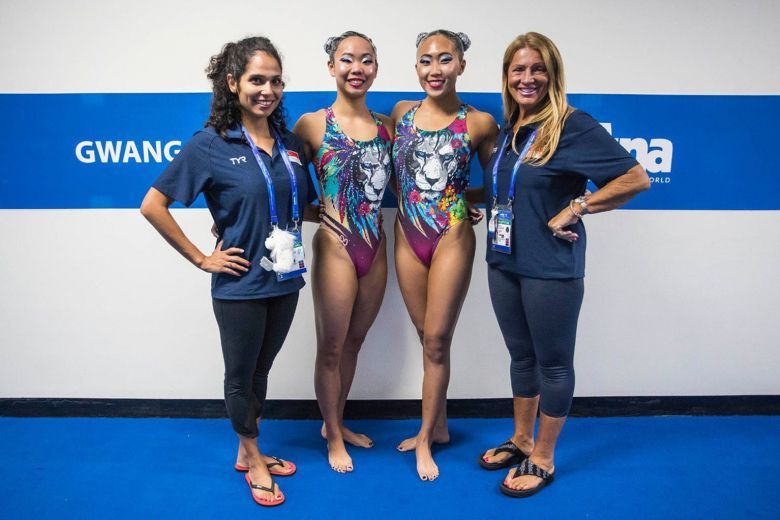 IS: During lockdown, you also took part in the online worldwide workout on May 3, and then the Southeast Asian one a few weeks later. How did you feel being part of these digital events? 
DS: It felt great, and such a privilege to be able to represent Singapore and Asia in the world workout, especially because we are just an up-and-coming synchro nation. We are nowhere near the top countries in terms of results.
The SEA online workout was also great with all the Southeast Asia athletes [from Brunei, Indonesia, Malaysia, Philippines, Singapore, Thailand and Vietnam]. It was a good initiative. The local papers wrote about it, and I hope many people watched it live. Not every edition of the SEA Games includes synchro, so being able to see everyone like that was really great.
IS: Indeed, synchro is one of the optional sports at the SEA Games. It was included in 2001, 2011, 2015 and 2017. It seemed that it would be regularly picked up from there, but it wasn't scheduled in 2019 nor 2021. How does that affect you in Singapore and in the region?
DS: It's very difficult, especially for the girls in the team. When they are so young, they just want to get out and get results. You just want to go to the SEA Games. They happen every two years, but now I guess [synchro] might not happen at every edition anymore. So, we are trying to aim for the Asian Games, but that's every four years. And to qualify for that under the Singapore National Olympic Council (SNOC), we need to show results that prove we can make the top six in Asia. So, we have to find something.
In Southeast Asia, there are not that many countries with artistic swimming. We are still hoping to revive the SEA Championships for aquatic sports [previously held in 2012 and 2014], so at least we have a regular competition and something every two years. 
IS: In 2015, you were part of the team and free combination routines that won Singapore's first gold medals in artistic swimming at the SEA Games. How did you feel?
DS: Because it was on home ground, I was very moved. I still get goosebumps thinking about walking on deck before our combo and team free. All of our family and friends were in the stands, and people were just shouting. It's just really heartwarming to know that the people who support you are right there, especially compared to when you're overseas and they can't be there.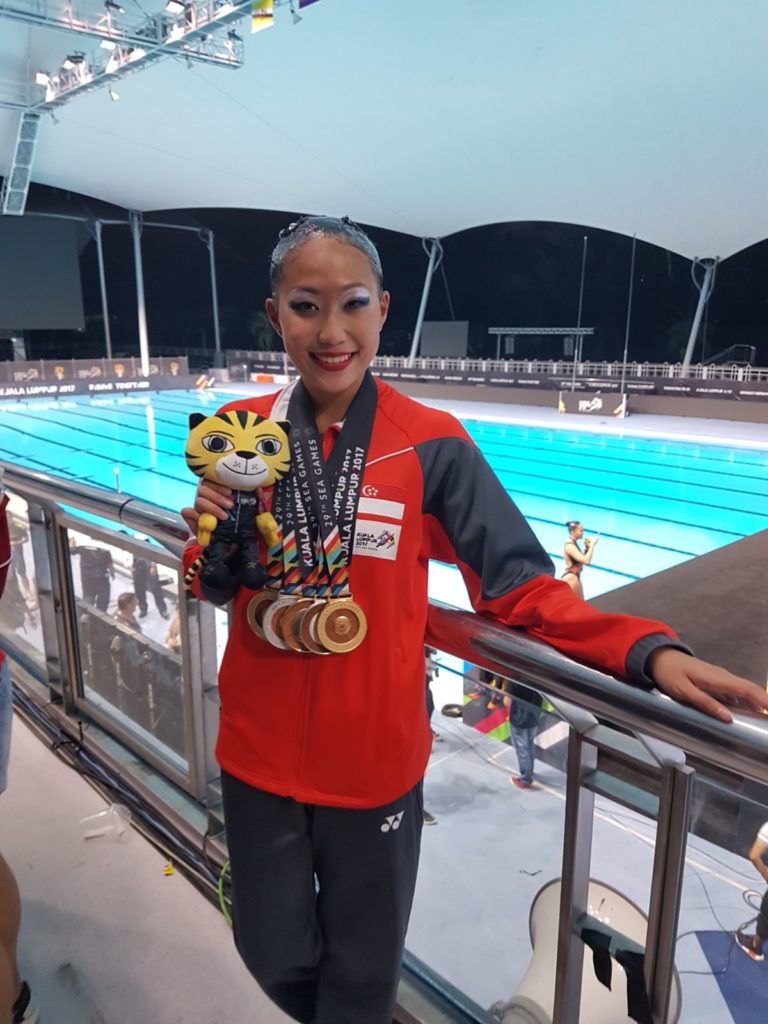 IS: Then in 2017, you won three more gold and two silver medals. That helped position Singapore as now one of the top synchro nations in the region. Have these results brought some recognition to the sport?
DS: I think it did, especially because in 2015 we won for the first time and at home. We got quite a lot of media attention. I think from then on, a lot of girls started to be interested in the sport. When I started in 2006, there were maybe three main clubs and less than 100 girls in total for our Singapore Open competitions, across all age groups. Now there are maybe seven or eight clubs, and a lot more girls.
IS: Speaking of, how did you get started in artistic swimming?
DS: I started when I was eight. I had a background in ballet and I really liked swimming. My older brother started swimming lessons, so my mom would bring me along every week when he had them. She saw me just playing in the water. I was having so much fun so she just threw me in swimming lessons.
Then, I actually watched an open house performance of synchro at one of the clubs when I was seven. I thought it was really cool. I had never seen anything like it and wanted to give it a try. Later, I made the national team when I was 13, in 2011. I was too young for the big international competitions. So, I left and joined again at 14.
IS: You have been on the national team for about eight years now. How has it been for you, going from your first World Championships at 15, to now being the veteran and most experienced one?
DS: Oh, I was really young [at the 2013 World Championships] in Barcelona (laughs)! I was the baby of the team. All the seniors were trying to help me blend in with the team. I feel I had to grow up quite fast and understand it's not all fun and play anymore.
As I got older, I felt this responsibility to help all the younger girls who come in because I had seniors helping me when I joined. I wanted to try to make the environment as welcoming and friendly as possible, and yet at the same time create a culture where people don't mess around too much. They have to understand the rules and their jobs in the team, but also while still having fun.
IS: You and Miya Yong have really picked up the pace these last few years to try to qualify for the Tokyo Olympics. What has changed in your training?
DS: Julie spotted us at the 2016 Rio Qualifiers. At that point, Miya and I had been training duet together for only three months or so, but she thought we had potential. Then somehow, I don't know what kind of magic happened, and Julie started working with us as a consultant. In the beginning, [Miya and I] couldn't figure out how to work together, and we actually had a lot of fights. Now it's so much better; we follow each other really well in the water. In 2018, I swam duet with someone else because Miya actually tried to retire, but I think she realized she loved the sport too much!
We really focused a lot on the duet starting in 2019. We spent maybe 90% of our time on it. It was quite a transition from doing solo, duet, and team before. It's mostly just the two of us, so we have to have enough willpower to push each other on for the long training hours. It takes a lot more in terms of motivation than being with the team. 
No other Singaporean synchronized swimmer has ever qualified before to the Olympics. We are really only the second pair to be sent to the qualifiers. [Tokyo] will only be the third time the nation tries. But we want to actually make it this time (laughs)!
IS: What do you think you need to do to make that happen?
DS: We already changed our routines from [2019] Worlds together with Julie, and they are very different. We added quite a bit of difficulty and speed. We wanted to incorporate what we feel we need more of to make it. Of course we will also work together with Anastasia to do whatever she thinks is necessary for us to get there considering her wealth of experience.
IS: You recently gave an interview in The Straits Times about your struggles with body image. You talked about weighing yourself up to 10 times a day, being ignored at practice or talked down if you hadn't lost weight fast enough, and trying so hard to adhere to the unspoken body standards of the sport. How has this all affected you?
DS: Yes. I was quite a skinny girl growing up until puberty, and then I got a bit bigger. I started struggling with weight, and it didn't help that my coach at the time wasn't very encouraging about it either. A lot of changes are happening to you at that age. It's really difficult to try and keep up, let alone be criticized for it. I would weigh myself all the time. It was very excessive. I'd especially do it a lot more during competition season. Even sometimes now, I still do it even though things are different. The expectations of me are ingrained in my mind.
You know, I see the reasoning behind it. The lighter you are, the easiest it is to propel yourself out of the water. But at the end of the day, it's still an aesthetic sport, and others like figure skating and gymnastics also face the same issues. I feel that these are the demands of the sports… I don't know if maybe we should change that.
IS: At the very least, change the way weight management is addressed and presented to the athletes, particularly the younger ones. And offer thoughtful and constructive guidance instead of berating.
DS: Yes. It all still affects me now because it's changed the way I perceive myself. It was not so much about being called fat, but more about how I looked at myself. I was doing things to look slimmer just to fit more into the stereotype of the sport, even though that's not naturally how I am. But I wasn't losing fast enough so I'd get scolded. For the longest time, I always thought that was the norm. That it was normal for athletes to be talked to in this manner.
IS: Did you ever feel like quitting because of this?
DS: I really considered quitting multiple times along the way. Again, in those moments I thought that how I was being treated was considered the norm. I knew I was affected by it, but I didn't know that it wasn't supposed to be like that. But I really felt I had a lot more to do, a lot more to give to the synchro community in Singapore. Winning and creating history for the country was just a bonus and positive experience. I really wanted to improve myself, hopefully win, and succeed as an athlete. What made me stay was really the love for the sport. So much so that I was willing to do whatever it took to stay on, including enduring all the scoldings and pain that came with staying in shape to fit the stereotype of the typical professional synchro athlete.
IS:  What have you implemented for yourself to strive towards a healthier relationship with your body?
DS: I work with a nutritionist. She helps me when the coach tells her to or if I reach out to her. I do so once in a while to ask different things, like what I'm lacking of if I'm tired, or what I need if I am doing this or that. It's been really good. I've been working with her since 2014 or 2015. She understands how my body is off-season and during the competition season. She really knows how to give me a plan, and do it gradually so I don't crash-diet or rebound after losing a lot of weight.
IS: Now, what's next for you, in and out of the pool?
DS: Outside of the pool, I study sports science and management. Right now because we are also doing school full time, we are only training about 30 hours a week. It's not as much as we used to when we were training with Julie. We try to put all our training in the morning so we can just go for school in the afternoon and evening.
Short-term, it's mainly all about getting back into shape. I gained a little bit of weight and lost quite a bit of muscle during the lockdown. Now, we are just training endurance, stamina, and slowly getting back into our routines because it's six months to the qualifiers. We will be focusing on the duet alone up until then. And if we make it, then all the way to the Olympics.
ARTICLE BY CHRISTINA MARMET
If you've enjoyed our coverage, please consider donating to Inside Synchro! Any amount helps us run the site and travel costs to cover meets during the season.