Her opponents and the landscape of the sport regularly changed, yet Soňa Bernardová remained. Representing the Czech Republic for over two decades, she is the only artistic swimmer to have competed in five Olympic Games.
It's easy to think of her as a high-performer. As an athlete, she swam at every Olympic Games, World and European Championships, and European Cups from 1993 to 2016. The only major event she missed was the 1996 Olympic Games, but really only because duets were not included in the programme.
In addition, she competed at the elite level while simultaneously working as a lawyer, and later on managing her own law office. After retiring from synchro, she started coaching and is now the assistant coach for the senior national team squad. Finally, she is a FINA G judge, and recently judged at the 2019 FINA Youth World Championships.
The Brno-native however never pictured herself setting a precedent, nor becoming the face of Czech synchro when she first started. Her mother, a speed swimming coach, did not want her daughter to deal with the grueling training and to mindlessly swim laps after laps. She thought synchronized swimming looked nice and easy, and signed her daughter up when she was 8. Little did she know.
Bernardová described herself as a perfectionist in everything she did, always setting the bar very high. At 16, she was one of the youngest on the senior national team, preparing for the 1993 European Championships as part of the team routines. Constantly hungry for more, she ultimately made it into the duet for the 1994 FINA World Championships and on. In 1998, she debuted as soloist at the European A Cup.
In 1999, she graduated from law school, but decided to take the following year off to focus on the 2000 Olympics. At the age of 24, she figured these would be her first and only Games. She had it all planned out: she would swim in Sydney, put her sporting career behind her, and start working thereafter. With a 15th-place finish in duet with Jana Rybářová, she remembered these first Olympics fondly.
"It was my biggest Olympic experience for sure," she said. "It's the first one, so you're wowed by everything. There is a 'wow' moment at every move, every step. It's amazing. If I could wish for something, I wish every athlete at the high level could enjoy that feeling."
However, she never could just do synchro, Olympics or not. Despite the one-year break from any professional obligations, the idea of only swimming bothered her. So, she decided to learn French. In between morning and afternoon practices, she would take daily, four-hour lessons to perfect the language and become fluent.
After Sydney, she started her career as a junior lawyer, but quickly realized that she could make it all work with her training. Of course, she never pictured herself competing non-stop for nearly 25 years.
"It just happened, and it came year by year," she said. "I was never thinking that I would do five Olympics. Never (laughs)! Synchro was just a part of me. Whoever gets in touch with synchro, you just have to have a passion for it because it's a crazy, hard, unkind sport. But I loved it, and that's why I was still there, still trying, still swimming."
The pool ultimately provided her a respite after a full day of dealing with clients, preparing briefs, or sitting in front of a computer for hours. Despite the tough training regimen, she still saw the water as a way to unwind and to hit the refresh button before starting work again the next day.
"Yes, it was kind of crazy," she said, laughing. "It worked well for me, but maybe for someone else it would be too much. But the time in the pool was kind of relaxing from the work time. And being in the water gave me energy in a way. I was very lucky that I could connect my normal life with synchro."
Bernardová thus happily continued her sporting career, and aimed for the next Olympics. After the 2003 FINA World Championships and disappointing results for the Czech squad, they all decided something needed to change. The small nation started to cooperate with the Walnut Creek Aquanuts club in the U.S.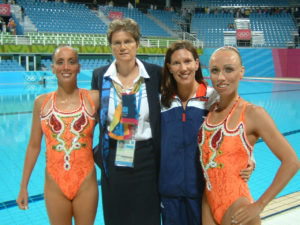 For three full seasons, Bernardová and her teammates would live in California to train and compete as part of the club's routines. There, she discovered a new approach to the sport and saw herself improve. She was mentored by renowned coaches and choreographers like Tammy McGregor, Gail Emery, Heather Carrasco, or Stephan Miermont.
She cherished the more nurturing and positive methods that her American coaches brought to the table, vastly different from the stricter, Russian school she was used to. During her time with the Aquanuts, she was able to focus more on details, synchronization, and expression in the water.
"For us, it was a synchro paradise," she said. "You could train however many hours you needed, with some of the best coaches in the world. When I started swimming, the U.S. was the number one country. It was so amazing to work with these people I used to watch and admire on video. Up until now, I am really amazed by all the work we did there."
The time difference with the Czech Republic helped her organize her workload. She would train during the day, and deal with important files or prepare the necessary paperwork for her staff back in Brno in the evening. This new schedule ultimately fit her perfectly.
In Athens 2004, Bernardová and Ivana Bursová placed 14th. For Beijing 2008, she was paired with Alžběta Dufková, 14 years younger than her. The age difference didn't deter the two as they ultimately ended up swimming together for three Olympiads. They placed 18th, 14th and 18th in 2008, 2012, and 2016, respectively.
While she cherishes each of her Olympic experiences, the 2009 FINA World Championships was her favorite competition, as she qualified to finals for the first time in the technical solo, free solo, and free duet events. This was one of the biggest satisfactions of her career.
"For smaller countries, it's really hard to get to the top," she said. "We knew we could not reach the medals, but we always thought we had potential to reach a final. That competition was proof of it. We sometimes were really close to [the final], but never in. It was a really good feeling to know that you can do it, you can make it."
Bernardová saw the sport change drastically throughout her career. Figures disappeared and became technical routines, patterns became closer, swimmers moved faster, and the scoring system was vastly revised numerous times. She however always kept up and adapted.
Up until her last season at the age of 40, she never felt too old or out of place. On the contrary, she was often amazed by the young talent, and by how much artistic swimming had evolved since she first started.
Eventually after her final Olympics in Rio, 10 World and 13 European Championships, she finally realized she had simply finished with this chapter of her life.
"I really needed to move on from the dream of being a swimmer and to go to a normal life," she said. "My now-fiancé and I met, and I realized I wanted to build something else too. I could not be there forever. There was also something after synchro, and I had my other life. It took me maybe a little bit longer than someone else to realize that (laughs)."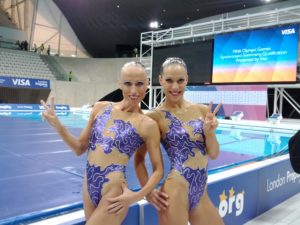 Bernardová however could not stay away from the pool entirely. She had already been judging at the national level for a few years, aiming to grasp what it felt like to be on the other side of the judging panel. However, she had never pictured herself as a coach, but again the sport had different plans for her.
"I felt that all the years I spent in the pool, the coaches gave me advice, and helped me a lot," she said. "So, I had to put something back to the sport. All these years, I was taking and taking, and now was the time to give it back. I have to give everything I learned to the next generation."
Representing the Czech Republic during five Olympic Games really helped promote and popularize the sport in the small nation. The number of clubs has increased, and more children are taking it up.
When she retired, Bernardová hoped that Czech synchro would not always be about her, and that the country could finally have an Olympics without her. She has been an assistant coach for the national team since 2017, and helps out with the solo and duet routines.
Working alongside head coach Libuše Zídková, she now trains up-and-comers Karolina Klusková, Lucie Alex Hrazdirová and Aneta Mrázková. They hope to be the selected duet to compete at the Olympic Games Qualification Tournament in March.
They swam at the 2020 French Open before COVID-19 brought their plans to a halt. Bernardová and Zídková had to rethink the entire training process, and focused on strength, ballet and stretching workouts. Over the summer, the team traveled to Bulgaria to collaborate with Ukrainian coach Maryna Krykunova, before facing another lockdown and closure of pools in the fall.
After completing training camps in Spain and Turkey, where pools were available, the athletes are now back in their country. They have finally received an exemption as national team members to continue swimming at home. Bernardová admitted that having to constantly adapt to ever-changing circumstances has been a major challenge.
"I've never had to deal with anything like that in my life obviously," she said. "As a coach, the hardest was to find the right motivation to keep them working just on land. The water helps you to work hard, to see and do what you're supposed to. On land, it's really just a different sport."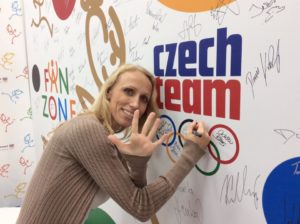 Bernardová still has her own law office, and continuously manages a small team of junior lawyers. She also became a mother less than a year ago, which has further sharpened her organizational skills in an already busy lifestyle. She however wouldn't change a thing.
"When you have the passion for synchro in you, you just cannot go away so easily," she said, laughing. "Synchro will always be a part of me. I am used to it now."
ARTICLE BY CHRISTINA MARMET
If you've enjoyed our coverage, please consider donating to Inside Synchro! Any amount helps us run the site and travel costs to cover meets during the season.