The artistic swimming international season finally got underway this past weekend. USA Artistic Swimming was the host of the first leg of the 2021 FINA Artistic Swimming World Series (ASWS).
This inaugural virtual competition gave men the opportunity to swim in the free combination and highlight routines, and in two solo events for the first time. The usual two mixed duet events were also on the programme. The U.S., Spain and South Korea all took advantage of it.
These new solo categories allowed each men to showcase their own strengths and individualities. In the technical event, Spain's Fernando Diaz Del Rio swam to synchro classic "The Double Life of Veronique." He managed to squeeze out a win by 0.0531 points despite scoring a zero on his Barracuda Continuous Spin 720°. Byun Jaejun from the South Korean club Star Synchro Club, swam to Adele's "Hello" for the silver medal. Byun, who had already competed in the mixed duet in 2018, showed great potential and artistry in the water.
In free solo, the American Bill May used a motivational speech by Billy Alsbrook to score 86.7333. He won gold ahead of another one of Spain's up-and-coming talent, Dennis Gonzalez, who received a 78.1333. May had originally announced his retirement from elite after the 2019 World Championships. Naturally, he could not pass up on the chance to swim a solo for Team USA. "Never say never," as he has continuously said about a potential comeback if more opportunities for men opened up.
While many nations barely manage to even have one mixed duet, Spain entered three here. Its veteran duet of Emma Garcia and Pau Ribes unveiled a new free program to "Cats" for a 82.2000. They comfortably won gold, but Gonzalez and Maria Bofill, first-year junior pair and 2019 Youth World silver medalists, wasn't far behind with a 77.9000.
Garcia and Ribes also won the tech program with their "Witch Hunter" routine (81.6159), over the country's second senior pair of Leyre Abadia and Fernando Diaz Del Rio (77.4407). South Korea's Byun Jaejun and Kim Hyobin (70.5517) finished in third. They however earned the silver medal as only one routine per country can medal in each category.
Finally, May competed in the highlight routine with the U.S. team. He thus made history yet again by being the first man to swim in a national team routine in a FINA-sanctioned meet.
The women's duets were the most competitive events at this meet. The U.S. pair won both technical and free categories. Anita Alvarez and Lindi Schroeder swam their new technical duet for the first time. Using different interpretations of  Beethoven's Fur Elise, they started off the season with 83.4588. In free, they kept their Billie Eilish choreography, already unveiled last March at the French Open, for a 84.9333.
While the American pair should easily qualify to Tokyo, the competition for the last few duet spots is going to be intense for about a dozen countries. First of all, don't sleep on Liechtenstein. Lara Mechnig and Marluce Schierscher had already made a strong statement at the 2020 French Open, where they had reached a career-best of 81.3667 in free to move past many of their direct opponents.
The result of the uninterrupted work accomplished during the past year, including extensive sessions with international coaches Olga Pylypchuk and Anna Tarrés, was evident here. They competed only in the technical event and won bronze with a 79.2052. This is their new career-best as well, topping their previous best of 78.1800 from 2019 Worlds.
The pairs from Portugal and San Marino also started off their season strong. Maria Beatriz Goncalves and Cheila Vieira received a 75.6094 in tech, just shy of their career-best score (76.2328). On the other end, Jasmine Verbena and Jasmine Zonzini earned a 77.7333 in free. It is their highest score yet internationally, and two points higher than in Paris one year ago. These two nations are certainly on the bubble for the Games, but definitely appeared as underdogs with this meet.
The duet from Colombia is also very much in the race for an Olympic spot. Estefania Alvarez and Monica Arango, who hadn't competed since the 2019 Pan American Games, showed two new choreographies. Their free routine used playful Salsa music, while their tech was "Wonderland"-themed. Just like in 2016, they worked with Spanish Olympian Marga Crespi on those.
Belarus entered two junior duets in each event. Although neither of them will vie for an Olympic spot at the Qualification Tournament, both were equally impressive here. For their first time out as a duet, Kseniya Kuliashova and Aliaksandra Vysotskaya won silver in the technical duet right behind the U.S. Some major synchronization errors unfortunately left them off the podium in free. Their opening lift however, a fully rotated back tuck, was quite remarkable.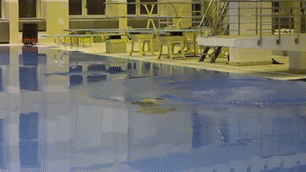 Silver went to the other Belarusian duet of Vera Butsel and Hanna Koutsun, who swam together at 2019 Junior European Championships. Belarus' team, again a junior-only squad, also won the technical team with a 80.4160.
Spain had entered its junior squad as well. It again showcased how much talent and depth the country has for the future. The Spanish won gold in free combination with its "Machines" routine, which it already had in 2019. In addition, they were absolutely superb in the highlight event. The routine used the senior team's former technical team music and was fast-paced, sharp, and dynamic. The young athletes finished in second, only 0.300 behind the U.S.
Overall, the U.S. dominated the podiums by winning six gold and a silver, and all while presenting four new choreographies. The Americans were the only competitor in the free team event, where they scored 87.5667 for their Robots routine. They also swam in the highlight event for the very first time. They scored a 85.9000 with a routine created by assistant coach and Ukrainian Olympian Anna Voloshyna.
In technical solo, Nicole Dzurko won the event with a new routine set to "Imagine" by John Lennon. She actually was the American soloist at the 2016 Junior World Championships. She then competed with the senior team at the 2017 World Championships before moving on to the Ohio State University. Dzurko re-joined the senior team last August. In free solo, Anita Alvarez grabbed silver, and continued swimming to Jessie J's "Confession." She received a career-best score of 87.1333.
Jacqueline Simoneau from Canada won the free solo event with yet another new routine. She had actually swam two different solos at Worlds in 2019, including a brand new choreography in finals. For her first outing since,  she decided to again present something new, and used music written by Michael Berger from a Canadian Rock Opera. She remained as solid and impressive as ever in her technique to score 90.1000. Vera Butsel edged out Lara Mechnig for bronze. Mechnig's kept the same heartfelt, gripping routine as at the 2020 French Open.
Of note, Clara Ternstrom won Sweden's first-ever medal on the ASWS circuit with a bronze in technical solo. Similarly, Aruba received its first two World Series medals here. Kyra Hoeverstz earned a silver in technical solo, and the entire squad grabbed another silver in free combination. It was the first time Aruba entered a full team in an ASWS competition.
All results from the competition are available here.
Article by Christina Marmet
If you've enjoyed our coverage, please consider donating to Inside Synchro! Any amount helps us run the site and cover costs to travel to meets during the season.