It was never supposed to be like this. Marlene Bojer, 28 and on Germany's senior national team since 2009, had been training with Daniela Reinhardt for years to qualify for the 2020 Olympic Games. They had been hitting their stride, intensely training together in Munich. The pair even showed a new choreography at the 2020 French Open, the one international meet of the season, and looked ready to tackle its Olympic challenge.
Obviously, the COVID-19 pandemic threw a wrench in everybody's plans, but even more so in the German duet's. Of course, it faced, adapted to and overcame multiple lockdowns, the postponement of the Games, and the rescheduling of the Qualification Tournament twice. But nothing could have prepared Marlene for Daniela's retirement this past September. Suddenly, her world almost came crashing down.
Meanwhile in Berlin, 24-year-old Michelle Zimmer was slowly but surely working on her comeback to elite. She had called it quits in 2018 after nearly five year on the senior team. She faced slim Olympic prospects and simply wanted to try life outside of artistic swimming. After a few months out, she quickly realized she had some unfinished business in the sport. 
It felt like the stars aligned all of the sudden for both of them. With a little twist of fate, Marlene and Michelle found themselves together again on the senior team, this time on a completely new journey. Germany last competed at the Games in artistic swimming nearly 30 years ago. They are determined to break that streak.
Inside Synchro: Well, I don't think anybody expected to see you two together heading into the 2020 Olympic Games. What a year, right?
Marlene Bojer: Yes… (laughs). It was a real "wow" moment for me to learn I would swim with Michelle after all this crazy and negative time. I remember the moment I talked to her on the phone for the first time. I was sitting in a cafe after training and working for my studies. We talked in a relaxed way about how we both felt, and whether we could imagine doing this together. We both didn't know at the time that it would work out so well.
IS: How did you take the news when Daniela announced her retirement last September?
MB: Honestly, this was pretty hard for me. I was super disappointed, sad, angry… Every negative emotion you can imagine, I had all of them at once. For two weeks I kept wondering, "What will happen to me?" I just had no perspective at that moment. We were training together over years to reach this goal. And then in one moment, it just wouldn't happen anymore.
IS: And obviously, that news came in a year already filled with setbacks and changes because of the pandemic.
MB: Yes. I had a lot of mixed emotions. At first, I was pretty relieved the Olympics were postponed because there was so much pressure on the athletes to train without equipment at home, or for us without a pool. On the other hand, I was like, "Oh my gosh, one more year?!" My studies were almost at the end. I had planned everything around that summer, not the next one. Would this now work for me, for my family, for my boyfriend? And then Dani left… It was a lot of questions and chaos in my head. 
IS: Michelle, you had been on the senior team since 2014 and often swam in the solo and team events. You also were the reserve to Marlene and Daniela's duet at the 2018 European Championships, but decided to retire after that meet. Can you talk about that decision, and your journey since?
Michelle Zimmer: After these European Championships in Glasgow, many of our team members quit. My duet partner in my club in Berlin had also stopped after 2017, so I had no duet partner there either. At that point, the only chance for me to swim was in solo, but it wasn't what I always wanted. The duet was already Marlene and Dani. They were in Munich, I was in Berlin. I couldn't see myself move there to continue. So, I thought it was the perfect time to concentrate on my future career and on my university studies. 
But after a year, I realized I missed the high performance sport. I never fully stopped synchro, and I was still swimming for my club [SC Wedding Berlin], and did a little bit of coaching with the juniors. But deep down I knew my time wasn't over yet. I wanted to do more, and I didn't achieve what I actually wanted to.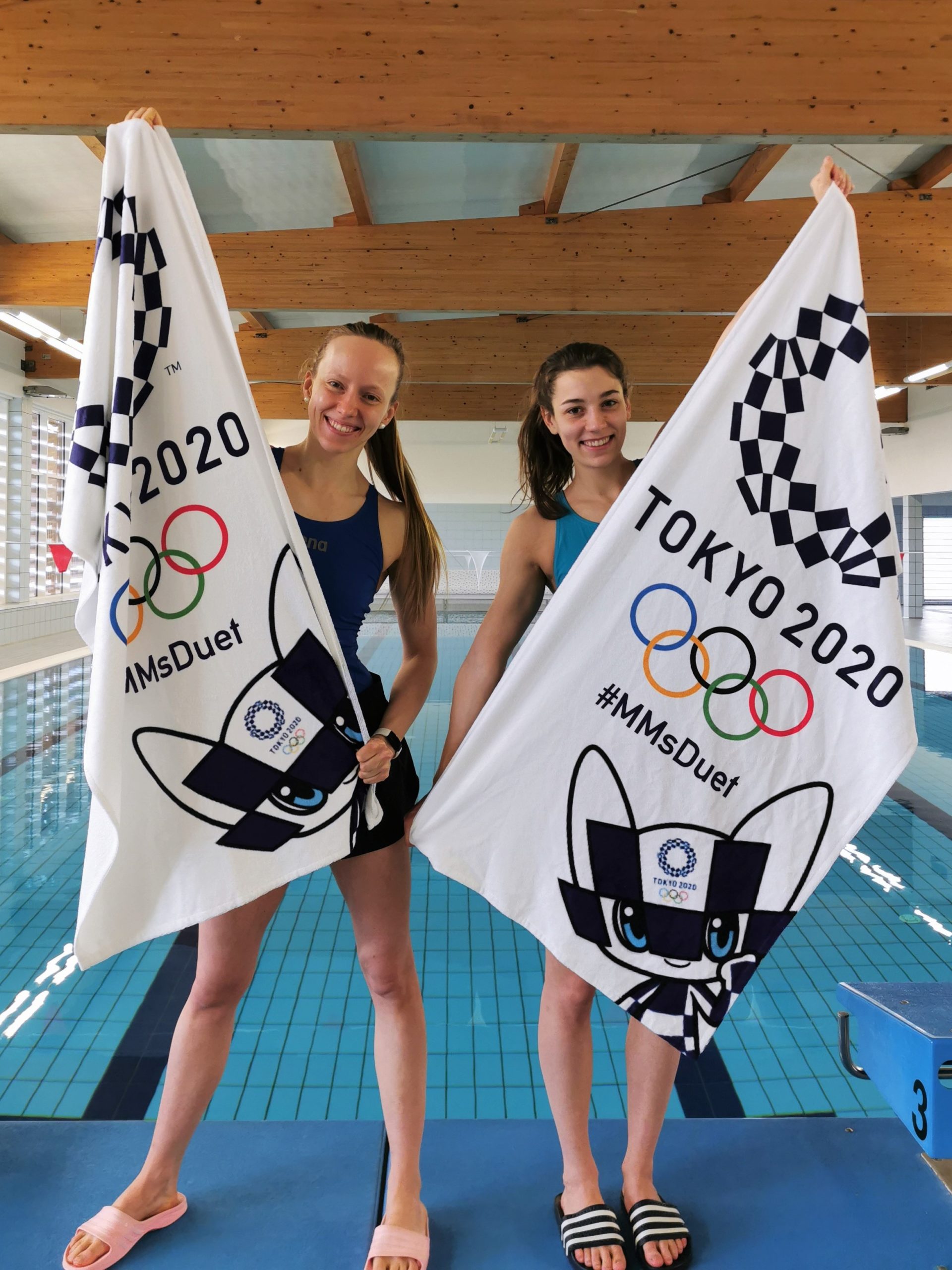 IS: So when you decided to resume elite training, there wasn't yet an opening in the senior duet?
MZ: No. I was already thinking of coming back, but I didn't know how or in which capacity. Maybe I could be in a mixed duet. At that time, we didn't know that mixed duets would not be at the Olympics in 2024, so in my mind back then it was still something I could do. 
When Dani quit, I heard the news. I didn't know what to do. My club coach and I talked a lot about it. Honestly, I didn't really have to think about it too much. It was really the perfect timing for me in the end.
IS: Meanwhile, you Marlene were sort of left in the dark as to what would happen next?
MB: We first all took a moment to process the situation after Dani left. I continued to train back in my club [Isarnixen], but only what I felt like doing and to have fun in the first place. After some discussions with our coach [Doris Ramadan] and staff, we came to the conclusion that the project "Olympic Games 2020" should live on and that I would continue to train with our alternate Jazz Lausch. It is precisely for such cases that the reserves are so incredibly important.
IS: And finally in November, Michelle joined you on this Olympic journey. 
MZ: Yes! We thought about it actually, and we realized we had already done a duet in combo before. So it's not technically the first time we swim a duet together, but it was never the whole thing like this (laughs).
MB: We have known each other for a long time. Since at least 2013, we swam a lot of team events together in European or World Championships, or smaller Open competitions, as part of the senior team. 
IS: So you started training together , focusing on the Qualification Tournament then scheduled for March 2021. But the International Swimming Federation (FINA) postponed it a second time to May. How did you react?
MB: Yes, it was right in the middle of our training camp. 
MZ: At first, we were a little shocked. We didn't know what to think of it. Everything was planned. We were right in the middle of our camp, we knew that this would be our last one before increasing our training load even more. We felt a little… 
MB: Empty.
MZ: Yes… Lost. Then we talked with our coaches and with each other. We went home after the training camp and took a break. Eventually, we could see all the positives of this. Maybe we could go to a World Series meet now before the qualifiers, which is good for us. And we also had two more months to grow together.
IS: You bring up training camps often. What is your schedule like?
MZ: Yes, it's a lot of training camps because Marlene lives in Munich and I'm in Berlin. We usually do a week or 10 days, sometimes 14 days. Then, we go home for four or five days, where we still train full time but not together. Then we go to the next camp.
MB: We have our training camps in a small town near Berlin, at the "Kienbaum – Olympic and Paralympic Training Center for Germany." We never trained here with the duet before. It's only been since Michelle and I train together. Many other athletes and sports train here as well. It has everything we need so we can prepare in great conditions.
IS: Were you heavily affected by the lockdowns in Germany, especially you Michelle as you were starting your comeback?
MZ: I was out of the pool longer than [Marlene] because I wasn't on the national team at the time, so I didn't get any exemption to train. She was allowed to start swimming again much sooner than me. I stopped in March one year ago, and went back to the pool in June. It was a really long time. And yes, it was also very hard for me to come back to elite since it was just after the lockdown in Germany. Actually, it was hard but it didn't take as long as I thought it would. 
MB: Yes, I was maybe two months out of the pool. We are now in a second but softer lockdown, and luckily we can still practice.
IS: Now it seems everything is behind you. How did you stay motivated during this time?
MB: We always have our goal in mind. That's how we dealt with everything. We want to go to the Olympics. We want to show how much we've worked together in this short time for such a huge goal.
MZ: Especially since we've been in this second lockdown, we are so focused. I can say at least for myself that I feel I have horse blinkers on, so I am just looking straight ahead. I don't want to talk or think too much about all the other stuff that's happening and lose my focus. We are so close…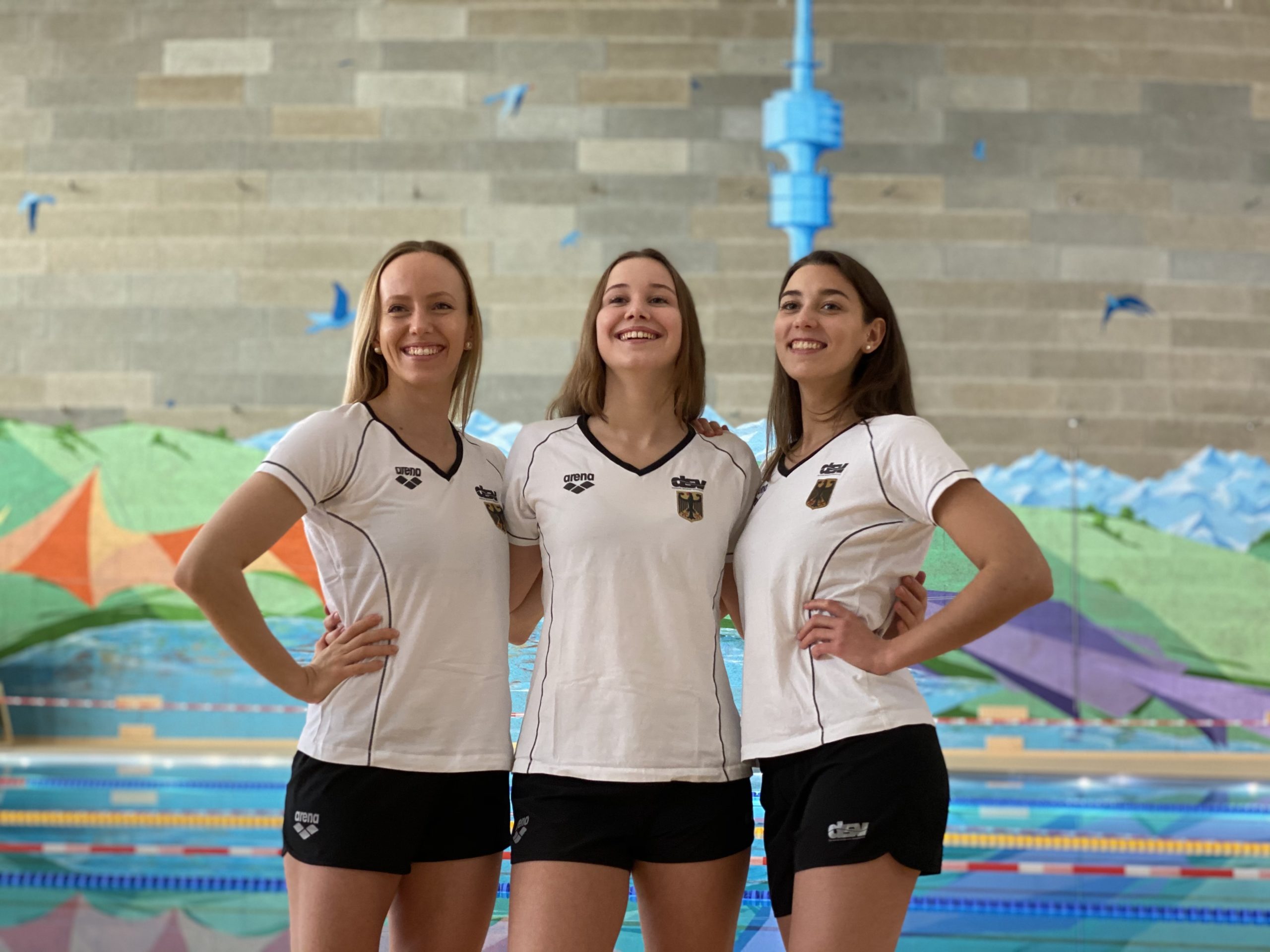 IS: You both are actually soloists at heart, with your own artistry, maturity and experience on the international stage. Using this to your advantage, can we expect some new choreographies from you now as a duet?
MB: The technical routine will be the same as at the [2020] French Open because it was already new. We made some changes since of course, but it will be more or less the same. Yes, Michelle and I are both soloists, but we blend together to form an even better duet. So, we do have a new free duet. We wanted to have our own, with our style, our movements…
MZ: Our story to tell.
MB: Yes. Our theme is "A Big Part of a Big Sun," which is also a piece of our music. We wanted to represent two worlds which at first-sight seem to be different, just like us, but that can express their concentrated power and ability once together. Our favorite line from the song is "Put your soul into the smallest things you do everyday." We have internalized this for our goal, and it literally accompanies us day after day.
IS: Obviously, the short-term goal is Tokyo, but you guys also mentioned your studies. What are some of your long-term plans there?
MB: At the moment, I am doing my masters studies in print media, technology and management. I am almost finished. All that's left is my masters thesis, but at the moment I have no time to do any research. I am a full-time athlete.
MZ: I study biotechnology, but I am still in my Bachelor's degree. I am also almost finished, and I just have to write my thesis. But right now, I too am "just" a synchronized swimmer. After the Olympics, I'll do my thesis and hopefully start my masters.
IS: And continue with artistic swimming?
MB: We don't know, anything can happen. We have so much fun in the pool, so why retire? Maybe we will swim for many more years.
MZ: And it's only three years until Paris 2024, so… (smiles)
ARTICLE BY CHRISTINA MARMET
If you've enjoyed our coverage, please consider donating to Inside Synchro! Any amount helps us run the site and cover costs to travel to meets during the season.