Tatiana Danchenko has been the head coach of the duet and solo of the Russian national team since 2001. She has helped her athletes to 29 victories at the World Championships, and 18 at the European Championships. Under her leadership, the Russians have also won gold in the duet at four Olympic Games in a row, and are poised to extend that streak in Tokyo. Moreover, she has coached some of the biggest names in artistic swimming, like Anastasia Davydova, Anastasia Ermakova, Natalia Ischenko, Svetlana Romashina, Svetlana Kolesnichenko, and more recently Varvara Subbotina.
In an interview with RT on April 29, Danchenko discussed how she approaches this Olympic season, how she and her athletes have coped with everything this past year, how Covid-19 affected her, and what the quarantine conditions at the Ozero Krugloye training center (Round Lake) really felt like during the height of the pandemic, where athletes could barely leave the base.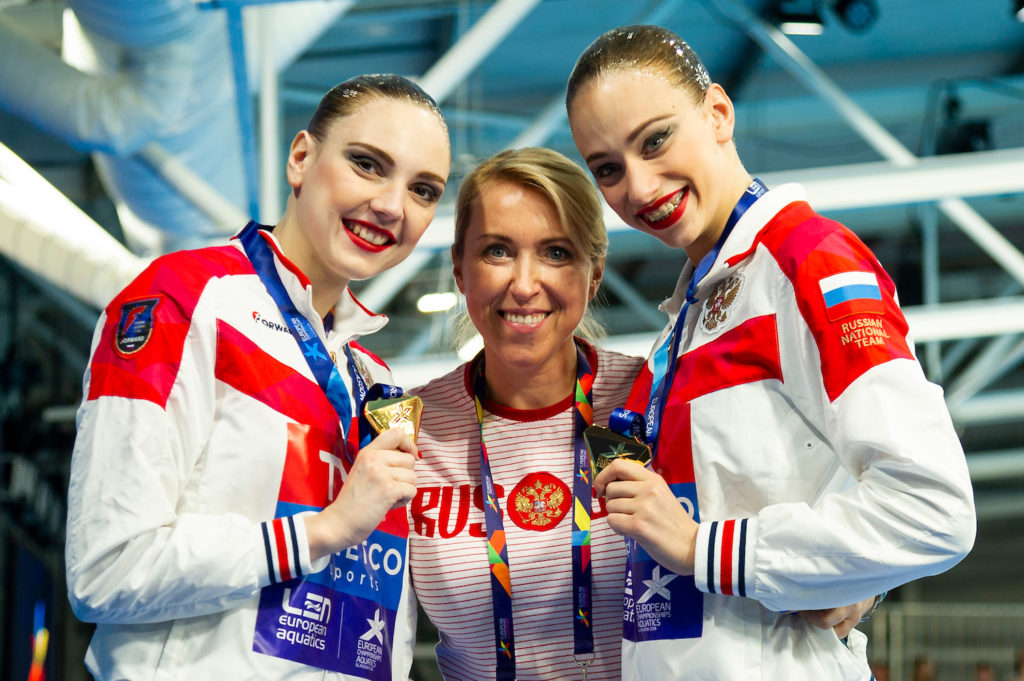 Q: During this coronavirus pandemic, coaches and athletes are talking about the preparations for the Olympic Games in Tokyo, and that [the Games] will certainly take place… I can't help feeling that they are trying to first convince themselves of that, so as not to fall apart and not give up.
A: Maybe you're right. Last year, I continued to hope for a long time that the Olympics would not be postponed. I believed it even when the International Swimming Federation (FINA) canceled the World Series.
Q: Did you really believe it?
A: Difficult question. Rather, I really wanted to believe. We discussed this with the girls every day, every free minute. After all, everything was already planned out in detail. We were really ready both for the Games themselves and for going through the entire series to show how well we prepared for the Olympic year. And then everything began to fall apart…
Q: At that moment, were you expecting to hear from your main athlete Svetlana Romashina that she could not endure another year almost completely isolated from her family and child, and that she would not continue?
A: I'm always ready for this. For the fact that the situation may turn out completely different from how I imagined it, at any moment. I can honestly say that this is one of my biggest inner fears over the years. Perhaps this would have been a blow, but hardly news. On the other hand, I always knew that Sveta is a very strong-willed person. Reliable, purposeful. For me, she is like a stone wall, and Romashina has always understood this. Plus, she has an ambitious goal: seven Olympic gold medals.
Although after last year's events, I found that I no longer want to predict anything at all. It has become meaningless to plan my life even for a year in advance. I only live with short-term objectives now. So in this moment, that's the European Championship in Budapest.
Q: When people with such dedication over the years have invested so much, there is a fine line between destroyed plans and a nervous breakdown, if not straight to a psychiatric hospital. Don't you think?
A: I don't want to say that after the cancellation of the Olympic Games, my life would have lost its meaning. Most likely, we would have found some other option, but I tried not to let it get my head. I drove such thoughts away.
Q: Is it the desire to protect your own psyche, or to do everything possible so that your uncertainty as a coach wouldn't be felt by the athletes?
A: I have enough stress in my life even without sports, although I am a very stable person in this regard. No matter how serious the problem is, I immediately cut off emotions in a purely masculine way, and turn on my brain. One of my favorite expressions, or life motto if you will, is: solve problems as they arise. Games haven't been cancelled? No, they haven't. This means that we work without being distracted by unnecessary thoughts. This approach helps greatly to eliminate any panic symptoms. There is a clearly laid out plan, and we know how to go along this path.
Q: Have you ever cried in the last year?
A: Because of sports? No.
Q: And your girls?
A: Sveta Romashina is generally an emotional person in this regard, but if she cries, it is only because she is very tired, misses her child, or because she is isolated and can't get involved in solving some family problems. But certainly not from the worries about the possible cancellation of the Olympics.
Q: Was the forced isolation at Round Lake comparable to imprisonment?
A: Ha! Good comparison. At first it really felt like a prison. I am by nature a very free person, easy-going, so for me everything that happened was quite violent emotionally. We don't think about our freedom until it is artificially limited. And here, I suddenly realized that first I had to give up a lot of my usual activities. I can't go to Moscow to coach my younger athletes in club, I can't go to the shooting range, I can't go to the fitness center, I can't go to the salon… 
It took some time to really let it sink in. Although protective measures seem draconian and sometimes idiotic to us, they are necessary. If we want to preserve the most important thing, that is, the health of athletes, then coaches must do everything in their power to also stay healthy. By the way, I would very much like to thank the head of the base Olga Domuladzanova. She did everything possible to ensure that our isolation on the base was as comfortable as possible. Now everything has become easier. Those who have been ill and are vaccinated have the right to leave on the weekends.
Q: I know that you have been ill quite seriously.
A: Not only me. Romashina and Sveta Kolesnichenko too. Both were forced to skip a couple of weeks of training, but generally got off fairly easily. I had a temperature of 39.5 for four days. I had to go to the hospital, where they diagnosed bilateral pneumonia. It was really awful. Before, I often had severe migraine attacks, even to the point that I had to call an ambulance. But that hellish headache that began with the coronavirus is not even comparable. At times, I thought that my head would just explode into small pieces.
Plus, there was a huge weakness. All the strength and muscles fall of a person like an unzipped dress. I lost a lot of weight and was absolutely exhausted. Fortunately, I found a doctor who I already knew and who gave me advice at the right time: no matter how difficult it is, you have to force yourself to move. The more actively a person moves, the faster strength returns. Now, having gone through the disease, I can say that this is indeed the case. It is also great happiness that I have a very reliable assistant – my daughter Elena Voronova, on whom I can always rely on for everything.
Q: Two-time Olympic champion [in swimming] Denis Pankratov, who had been ill with COVID-19 as badly as you, said that while lying in intensive care, he had greatly revised his attitude towards life. In particular, he realized that sport is not a paramount value.
A: I also had a decent reboot in my brain. I can't call it depression. Rather, I just went into total economy of strength and emotions. After leaving the hospital, I did not communicate with anyone. From time to time, I made routine calls to my mother and children, but I simply cut off all the others. And I understood that I was comfortable. On New Year's Eve, I went to the UAE all alone. I practiced yoga, meditated, wandered barefoot on the sand, and I can say that I have never felt so good in my life.
In the same place, I thought a lot about the fact that nothing happens to a person just like that. If COVID-19 happened in my life, then it was necessary. And to stop, think, rethink some things, reconsider your attitude to yourself, to the people around me… This disease, on second thought, manifests itself very selectively, as if it had been sent to humanity from above.
Q: Did the desire to leave the profession cross your mind?
A: I have been coaching for a long time, not for the medals or the ambitions. I just understand this area best of all, and it allows me to lead a way of life that I like. Besides, I have no one to rely on. Therefore, the thought "Screw this" has not happened in a long time.
Q: How important was it for your athletes to compete at the recent leg of the World Series in Kazan?
A: Very important. The psychological stress that we receive in competitions cannot be simulated in training. I understood that the entire planet would watch the World Series very critically. Then they will begin to evaluate, figure out where and how we can be beaten. Deep down, I was afraid that during the pandemic, my girls might not just forget how to compete, but that they might become very unaccustomed to it.  I worried, as it turned out, in vain. Many years of experience is not so easily lost.
Q:  Could you explain why the current programs of Romashina and Kolesnichenko are better than those from five years ago at the Olympic Games in Rio de Janeiro?
A: They're just different. Ask me which of our performance I like best, and I'm unlikely to answer.
Q: Why did you need a new technical program "Kalinka?" "Tokyo" was a wonderful and very thematic previous routine.
A: We started working on Kalinka last summer after we were shut down at Krugloye. We were somewhat tired of the previous routine. We wanted something fresh, brighter. Besides, the girls came across an interesting interpretation of Kalinka performed by the band Little Big, at this very timely moment. Now, I can say that the program looks much more powerful and brighter than the previous one.
Q: Was "Tokyo" an attempt to show some reverence for the host country of the Olympic Games?
A: You can say that, although we have always been oriented on what we like and what we don't. In most cases, the choice of music is a fluke. You listen to a lot of everything, but some compositions just etch into your soul.
Q: In figure skating, the rules are now such that series are evaluated, and not elements. Accordingly, they begin to be found across entirely from program to program. Is there such trend in your sport?
A: Fortunately, no. It is awful, in my opinion, to repeat what has already been shown. It kills the creative component. There are happy people who don't remember the previous routines at all. But I have a good visual memory in this regard. When I watch other people's performances, I highlight my elements and routines instantly. Yes, there are random coincidences. But when you see how shamelessly all your finds are cut and transferred to other music… It's an unpleasant feeling, to be honest.
Q: You can't patent elements or hybrids. So, all that remains is to be proud of the fact that they steal from you. Although, probably, for a woman it is comparable to a dress stolen from a wardrobe. It is not a pleasure to see an outfit on someone else, realizing that yesterday it was hanging in your closet.
A: Indeed, it's a difficult feeling. After we made the Olympic routine "Mermaids" in 2016, almost the whole world began to borrow some things from that program. It was quite nice to watch this, but when, at the next World Championship I saw whole sections of our Olympic program performed by the closest rivals, I was both outraged and discouraged at the same time. It's as real as with a stolen dress: everyone knows whose it is, but they are all silent.
Q: Where do you plan to get ready and to sunbathe before the Olympic Games?
A:  It's not about tanning, but about finding working conditions in a suitable time zone. We examined Ulan-Ude, but it turned out that from there it was impossible to fly to Tokyo without hurdles. There is either a flight through Moscow, or through Krasnoyarsk or Novosibirsk with unsuccessful connections, overnight stays, endless waiting for flights. Nobody offers us a personal charter, and flying to Vladivostok to be at the Olympic training camp is also problematic. Perhaps it will be Krasnoyarsk in order to minimize transport difficulties.
Q: That is, you will definitely not be able to get a tan?
A:  An outdoor pool is not important for us in this case, since the Olympic competitions will be held inside this time. Training outside really takes a long time to get used to. As there is no ceiling above you but the sky and the sun, these are completely different sensations in the water, and different markers. In such cases, we always try to carry out a full-fledged training camp with these conditions before performing at the main competition.
Q: What are the brightest moments of the last year?
A: Of course, a vacation after two months of  isolation at Round Lake last summer. Since we were deprived of the opportunity to go abroad, we went with friends across Russia. To Grozny, to Astrakhan for fishing, then to Rostov-on-Don, to Akhtuba…
Q: Are you a fisherman?
A: Inveterate. I love it very much. As well as shooting.
Q: What is the worthiest thing you have hooked on in recent years? Well, except for Romashina and Kolesnichenko.
A: Once we got into a flock of asp. After half an hour, it changed to zander. I caught them to my heart's content. In Finland, I once caught a huge wild pike on a spinning rod. Spearfishing can also be absolutely magical. When it comes to fishing, every time I catch myself thinking: "Give me a fishing rod and I will finally leave synchronized swimming behind!"
Q: You told me the same thing two years ago about your shooting training. Has that interest not faded away?
A: On the contrary. We have since formed an excellent shooting group, and training for me is pure pleasure. Unlike fitness clubs.
Q: Why?
A: I force myself to go to the gym. I understand that this is necessary, and I go there for health, for muscles and a figure. But every time it is a chore. The same goes for yoga. I know that the effect will be one way or another, but I do not get any pleasure from the classes themselves. Shooting is fun, another life. You leave completely empty, with a fresh mind. Right now, for example, we are talking, it's almost night, and I'm just returning from the shooting range to the camp.
Q: Why not home?
A: It makes no sense. It's closer to home. I'm not tired while driving, and I listen to audiobooks or music. Spending the night at Krugloye gives me the opportunity to sleep longer in the morning. Shooting training is also important because it really helps not to go crazy on the topic of synchronized swimming. Plus, when you see what you are doing, it is greatly inspiring. My goal is to reach the level of master of sports. I think it's cool.
Q: Then you will pass the selection and go to the Olympics?
A: Oh no. Firstly, we have a lot of strong shooters in our country. And secondly, I don't strive for this personally. I have had enough Olympic Games in my lifetime.
TRANSLATED FROM RUSSIAN BY VLADA SOROKINA.
Original author is Elena Vaytsekhovskaya. Cover photo by Pasquale Mesiano / Deepbluemedia
If you've enjoyed our coverage and are looking forward to it during the 2020 offseason and the 2021 season, consider donating to Inside Synchro! Any amount helps us run the site and cover meets.