The first major international competition since essentially the 2019 FINA World Championships is finally here! These European Championships for all aquatic sports were postponed from the 2020 season, and will be held in Budapest, Hungary. The artistic swimming events are scheduled from May 10 to 15.
The vast majority of European nations will be in a "bubble" format. Athletes, coaches, and all staff involved with the competition will live in isolation. They may only move back and forth between the official hotels and the Duna Arena.
It's a bit difficulty to know what to expect or how everybody's looking. Many nations haven't competed in at least one year, if not two. Nonetheless, all are eager to finally be back out, and fans can look forward to discovering new choreographies from many. Naturally, it is now time to start previewing each event to discuss what to be on the lookout for.
The solo events are the perfect occasion for each individual swimmer to shine. At the 2016 and 2018 European Championships, Russia, Ukraine and Italy predictably swept all the medals. This will not happen here.
Varvara Subbotina from the Russian Federation will finally make her solo comeback. The 20-year-old hasn't competed in this event since 2018. Even though everybody knows how crazy talented she is, she actually has yet to compete as a soloist at a senior World or European Championships. This year with Svetlana Romashina and Svetlana Kolesnichenko busy working on the duet and team routines for the Games, she quickly became the obvious choice for Russia. She will only swim in the free event, and is the clear favorite to win it.
Subbotina was notably missing from the Kazan World Series a few weeks ago because of a ruptured eardrum. The timeline on her injury was unclear at that time. However, it seems she has managed to be well enough to swim in this one event in Budapest.
Ukraine's superstar Marta Fiedina is the next obvious contender for podium finishes. Unlike Subbotina, the 19-year-old has constantly competed in the solo events on the senior stage since 2019. At her very first World Championships that year in Gwangju, she narrowly missed the podium and finished fourth in both technical and free solos.
Now two years later and a lock for the Olympic duet and team, Fiedina has undoubtedly continued to improve. Barring a disaster, she will likely snatch her first individual European title in the technical solo in the absence of Subbotina. Neither of them have competed yet this season. Don't miss these two as they truly will continue to dominate the senior stage, both World and European, in the foreseeable future.
Before continuing, it is important to note that Italy's veteran soloist Linda Cerruti will not compete here. The Italian federation announced she was out for three weeks with an ankle sprain. At the last European edition in 2018, Cerruti had earned silver in free and bronze in technical solo. Moreover, France will not compete at all at these European Championships.
With this, the fight for bronze in the free solo, and for both silver and bronze in the technical event, has become very interesting. Evangelia Platanioti from Greece and Vasiliki Alexandri from Austria are two likely candidates for the European podium this year.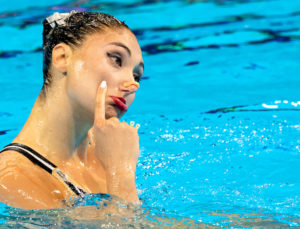 Two-time Olympian Platanioti has not competed internationally since the 2019 World Championships. She will likely unveil a new technical routine here after she "retired" her Armand Amar one at Greek nationals last fall. It is possible she kept her "Pantomine" choreography that she had only shown once in Gwangju.
Aside from helping her team qualify to the Tokyo Olympics, one of her main career goals has been to win a European medal in solo. In 2018, she came close by finishing fourth in technical solo, and fifth in free. This year however, we may very well finally witness her step up on that podium.
Alexandri is very much a medal contender as well. After a shoulder surgery last summer, she showed she was clearly back to full strength at the Budapest World Series a month ago. There, she  received two career-high scores: 87.6495 in tech and 88.7667 in free. These scores are very well in Platanioti's range, so a medal is potentially within reach if she can repeat. Which one can leave Budapest with one or more solo medals?
Alexandri has kept both of her choreographies from the 2019 season. Do not miss her especially in the technical event. She truly has one of the steadiest, most consistent Barracuda Continuous Spin 720° element.
The competition between Belarus' Vasilina Khandoshka and Kate Shortman from Great Britain should also be an interesting one. The two were neck and neck throughout the 2019 season, and haven't competed in solo since. Shortman actually finished 0.5319 points behind Khandoshka in tech, and only 0.3000 points in free at the last World Championships. In addition, the Brit actually did move ahead of the Belarusian in tech at the 2019 Spanish Open to earn a bronze medal as a result.
Two big question marks, and potential wildcards, are Spain's Mireia Hernandez and Italy's Marta Murru.
With most of the senior team focused on the Olympic events, Spain is testing out its depth here. Hernandez has only competed solo a handful of times throughout her international career, always having to contend against the likes of Iris Tio or Irene Jimeno. However, she has been a steady member of the Spanish 13-15 and junior national teams over the years, and frequently performs in solo domestically. Her last time out was at the 2019 Kazan World Series, where she swam in free solo for a score of 84.5667. She will only swim in free here as well.
Murru finds herself in a similar situation as Hernandez. A consistent contributor to Italy's 13-15 and junior teams, she competed more often in the duet and team than in solo. She too faced a fierce competition, and teammates like Enrica Piccoli or Francesca Zunino would often get the nod instead. She has however been steady on the national circuit, and has been part of Italy's reserve team since 2019.
While it will be difficult for either of them to contend for a medal against the veterans, it will be fantastic to watch them finally have their moment on the international stage.
Lara Mechnig, Liechtenstein's senior soloist since 2017, is expected to swim both solos in Budapest. She swam her new technical program at the Budapest World Series leg and showed her free solo in the virtual World Series back in January.
Switzerland will have a new soloist in Ilona Fahrni. Fahrni already represented the nation in these events at the 2019 European Junior Championships and the 2019 Hellas Beetles Cup. She recently swam at the Swiss Nationals, and earned 76.9112 in tech and 78.6001 in free. The 19-year-old is a very expressive artistic swimmer, and pulls you in her choreographies right from the start.
Israel will have athletes in these two events for the first time since 2017. Ariel Nassee, a steady contributor in the national team since 2018, will compete in the technical solo. Polina Prikazchikova, who first competed with the Israeli team at the 2020 French Open, will swim the free solo. Prikazchikova formerly trained in Moscow, and frequently was amongst the top finishers nationally in solo. She actually won two bronze medals for her club at the 2019 Russian Junior Nationals.
Alzbeta Dufkova, three-time Olympian and veteran athlete for the Czech Republic, will compete in both as well. Similary, fans can expect 2016 Olympian Nada Daabousova for Slovakia. San Marino will be represented by Jasmine Zonzini in the technical solo, and by Jasmine Verbena in the free event.
The rest of the field includes Aleksandra Atanasova for Bulgaria, Klara Silobodec (the youngest of the field) and 2019 13-15 soloist Antonija Huljev for Croatia , Pinja Kekki for Finland, and Clara Ternstrom for Sweden. 
Huljev and Klara Silobodec both made their senior debuts at the Budapest World Series a month ago. They will be the two youngest athletes in these two events in Budapest. Finally, Ternstrom won Sweden's first-ever medal on the ASWS circuit, with a bronze in technical solo in the U.S. leg in January.
Ultimately, the technical solo event might end up the most surprising one, as one badly executed element or a zero could quickly drop a top soloist a few spots down the rankings.
The competition schedule, and all the information to follow the competition, are available here.
ARTICLE BY CHRISTINA MARMET
Cover photo by natation_synchro_fc
If you've enjoyed our coverage, please consider donating to Inside Synchro! Any amount helps us run the site and cover costs to travel to meets during the season.