Four nations will battle it out for the podium in the mixed duet events at these European Championships.
To get the sad news out of the way first, Italy's Giorgio Minisini and Lucrezia Ruggiero had to withdraw after Minisini tested positive for Covid-19. The two have been working together since the fall of 2019, and performed already three times at Italian Nationals. Unfortunately, they will have to wait a little longer to make their international debut.
The Russians are the clear favorites for both European titles in the technical and free events. Aleskandr Maltsev, Maya Gurbanberdieva and Olesya Platonova have already competed twice this season in the Budapest and Kazan World Series.
Maltsev and Gurbanberdieva are the reigning World and European champions. They unveiled a new technical choreography this year, using Evanescence's "Bring Me to Life" song. Spain's mixed duet already used this same music back during the 2015 and 2016 seasons. However, the Russians interpret it in a completely different way.
Platonova will make her first appearance at a senior European Championships here. The 20-year-old was introduced as a member of the mixed duet in February 2020, as Gurbanberdieva was out after shoulder surgery. She is a former member of the Russian junior squad, and most notably competed at the 2019 Junior Europeans. She never got the chance to compete alongside Maltsev last season before all meets were cancelled.
In Budapest, they will swim together in the free event to Stravinsky's "The Rite of Spring." The two have already received stellar marks this season, with a high score of 94.1333 in Kazan. All in all, these two new routines from Russia are quite fascinating. Both are intricate, with excellent musicality and attention to detail, as we've come to expect from head coach Gana Maximova.
Spain's Pau Ribes and Emma Garcia will make their European Championships debut as a pair in Budapest. Much like the Russians, the Spaniards have been active on the World Series circuit this season. They performed at the virtual U.S. leg in January, and more recently in Kazan.
Don't miss the two in the free event, where Garcia's outfit will undoubtedly make everybody smile. The theme of this new choreography will simultaneously become quite obvious… Finally, their technical routine is on "Witch Hunters." Garcia and Ribes are in a strong position to potentially grab both silver medals for the country.
Using its fantastic domestic depth in the event, Italy was still able to send a pair to Budapest. The nation will be represented by Nicolo Ogliari and Isotta Sportelli. Ogliari used to swim with Federica Sala, a current senior team member, on the national circuit. They frequently finished in second position right behind Minisini's duet. Moreover, the two also won bronze in the free event at the 2019 European Cup.
Sportelli is another long-time member of Italy's youth and junior national teams. She moved to the senior reserve squad a few years ago, and has steadily competed domestically since as well. This competition will however be her first time swimming in the mixed duet on the international stage. So while this will be a first outing for these two together, they are also potential medal contenders.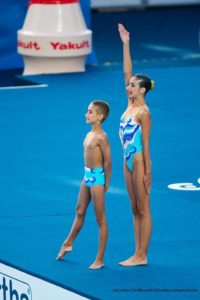 Now, the biggest question mark comes from the last country in this field: Slovakia. Brother and sister Jozef Solymosy and Silvia Solymosyova will finally make their "official" debut in a senior competition. "Official" simply because these two have actually been around for at least five years already. Most notably, they performed as pre-swimmers in major competitions like the 2017 FINA World Championships, the 2018 FINA Junior World Championships, or the 2019 European Junior Championships.
In 2019 while his sister was on the junior team, Jozef also finished fifth in mixed duet at the FINA Youth World Championships with Laura Domcekova. Now, he has grown and improved tremendously, and is old enough to be back swimming with his older sister.
They will be the youngest mixed pair of the competition, and are certainly the underdogs here. The 17- and 15-year-old already have extensive international experience on their resume, and have a high potential to cause an upset.
The championships schedule, and all the information to follow the competition, are available here.
ARTICLE BY CHRISTINA MARMET
Photo courtesy of the Russian Federation
If you've enjoyed our coverage, please consider donating to Inside Synchro! Any amount helps us run the site and cover costs to travel to meets during the season.