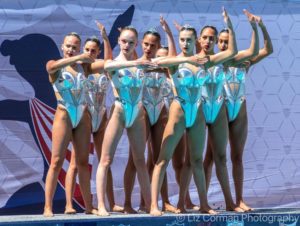 Coaches
Andrea Fuentes, Anna Voloshyna, Lara Teixeira
Athletes (as of June 5)
Competitors: Anita Alvarez, Paige Areizaga, Nicole Goot, Hannah Heffernan, Daniella Ramirez, Ruby Remati, Abby Remmers, Lindi Schroeder
Reserves: Nicole Dzurko, Megumi Field, Anya Melson
Returning Olympian
Anita Alvarez (2016)
Last Olympics in team
Beijing 2008
Last time out
May 2021 – World Series #4, virtual
Last scores received
Technical team: 83.3925  (2020 French Open)
Free team: 89.0667 (2021 ASWS #4 virtual)
Best scores of the season
Technical team: N/A
Free team: 89.0667 (2021 ASWS #4 virtual)
Best scores of the quad
Technical team: 85.5973 (2019 America Open)
Free team: 89.2333 (2020 French Open)
It's a Tuesday in early May, at 6:15 a.m or so, U.S. Pacific Time. Andrea Fuentes, Anita Alvarez and Lindi Schroeder all logged into Zoom before heading to their gym training session at 7:00 a.m. The U.S. team had just finished filming for the virtual World Series hosted by Canada. The weekend before, they swam both of their routines in an exhibition at the U.S. Collegiate Nationals.
As the Olympic Games Qualification Tournament finally neared after being postponed three times, the Americans tried to use every possible opportunity they had to get out as much as possible. They knew the challenge ahead wasn't going to be easy, as they fight with France and Greece for one quota to Tokyo.
Inside Synchro: How would you describe this past year?
Andrea Fuentes: It has been a year of constantly re-making ourselves. It will have been exactly one year since we started the season again, because we all thought the qualifiers would be in March. We have been fighting and learning a lot, but it has also been very hard. It has been a rollercoaster, really.
Anita Alvarez: This is true. We are not going to pretend that we are a perfect team, that this has been easy for us, or that we are positive all the time. There were definitely down times. With everything that's been going on in the world, but also because we are a group of young women and teenage girls. But the growth that's happened within our team is incredible. We still have our days, but it's been very cool to see the team evolve together.
IS: On top of the pandemic and everything that came with it, you also had to deal with the California fires last summer.
AA: We couldn't even be outside. The pools were closed, or only opened for the lap swimmers who are there for one hour. Not for us who are there all day. We all were just inside Abby's [Remmers] house for a week, land drilling, doing upside down exercises or Tabata, in the small living room.
Of course we hated everything that happened at that time. We thought we didn't have time to be out of the pool again. Now in the end, maybe it was keeping our bodies intact. We made the most of it, and we got a lot out of each of these obstacles.
IS: For people who may not know, you also don't have a centralized training center either like many other teams around the world. So, you're ultimately quite dependent on a lot of external circumstances.
AA: Right. Sure, we have our specific pool, but it doesn't really prioritize us as the national team. We also have to figure out living on our own. Some are in host families if they are younger. Others have to find their own apartments. There are a bunch of other factors that go into it that maybe other countries don't have to think about as much. But it's part of our challenge (smiles).
AF: I was very shocked when I arrived here. I wondered, "How are you going to train eight hours a day while also working to pay for your own apartments?" Dani [Ramirez] would work in the afternoon after practice until 11:00 p.m. And then the next day at 7:00 a.m., she is in the gym. I imagined myself working after all this training, and I don't know that I could do it (laughs). This makes it even more special because they are tougher than they think. This is a big shoutout to this team. After all of this, their minds are stronger than ever.
IS: As a coach, how did you handle the three postponements of the Qualification Tournament?
AF: This season was extremely difficult to prepare for, and in general to do a plan. And off course, there is no book that talks about any of this situation. So, I thought I would just follow my instinct. If I know anything, it's synchro. All my life is there. I just had to reinvent myself as much as I could to give them the best preparation. I told them a lot of times that the team who will win is not the one that will be more ready physically, but the one that will be ready mentally. 
But then, I realized this waiting [for the Qualification Tournament] was destroying us. It was beginning of April. Again it was postponed. For weeks, we were like "Do we know anything?" We were almost at our peak. We were at the top of the mountain, and all of the sudden we didn't know anything anymore. It didn't make sense to continue to follow the plan.
At that point, I said that qualifiers didn't exist anymore. I tried to put in place short-term goals. We did other competitions while we could. We were lucky because we had the U.S. Collegiates. Then, we did the virtual Canada Open. So, we focused on these one at a time, and what we could do to have a good performance there instead of just thinking about the qualifiers.
Lindi Schroeder: I've been trying to look at all the postponements as a good thing. They forced us to be ready a lot earlier than we would have been if we had known all along that the qualifiers were when they are now. We were perfecting and finishing things to the best we could for earlier dates. Now it's even beyond what I thought ready was (laughs).
IS: What do you think you've improved on the most this year?
AA: The easy answer would be our technique. Obviously, we needed a lot of work with that, our elements especially, and the tech routine in general. Now, [Ukrainian Olympian] Anna Voloshyna is one of our coaches, and she's the technique queen. She's helped us so much.
LS: The addition of time has made us a lot more consistent and a lot more mature as athletes. We are a lot more confident. Now, we know something is going to be work because it's worked so many times before consistently. That comes from experience and swimming together another year.
IS: Anything from your coaching perspective, Andrea?
AF: I really feel that compared to France and Greece, we are the underdogs. This is super beautiful because you don't really have this twice in your career. We were in a much lower ranking at the last World Championships, the last time all three of us competed against each other. But the [2020] French Open gave us that moment of, "Wait, maybe we can do this."
One thing I love from the U.S. is that they dream big. At the beginning, I just thought they were crazy, and that it would be impossible to qualify a team. Actually, they taught me something. That nothing is impossible. Maybe now we will qualify. We don't know, but we are doing our best. This is one thing that changed in me: to dream bigger.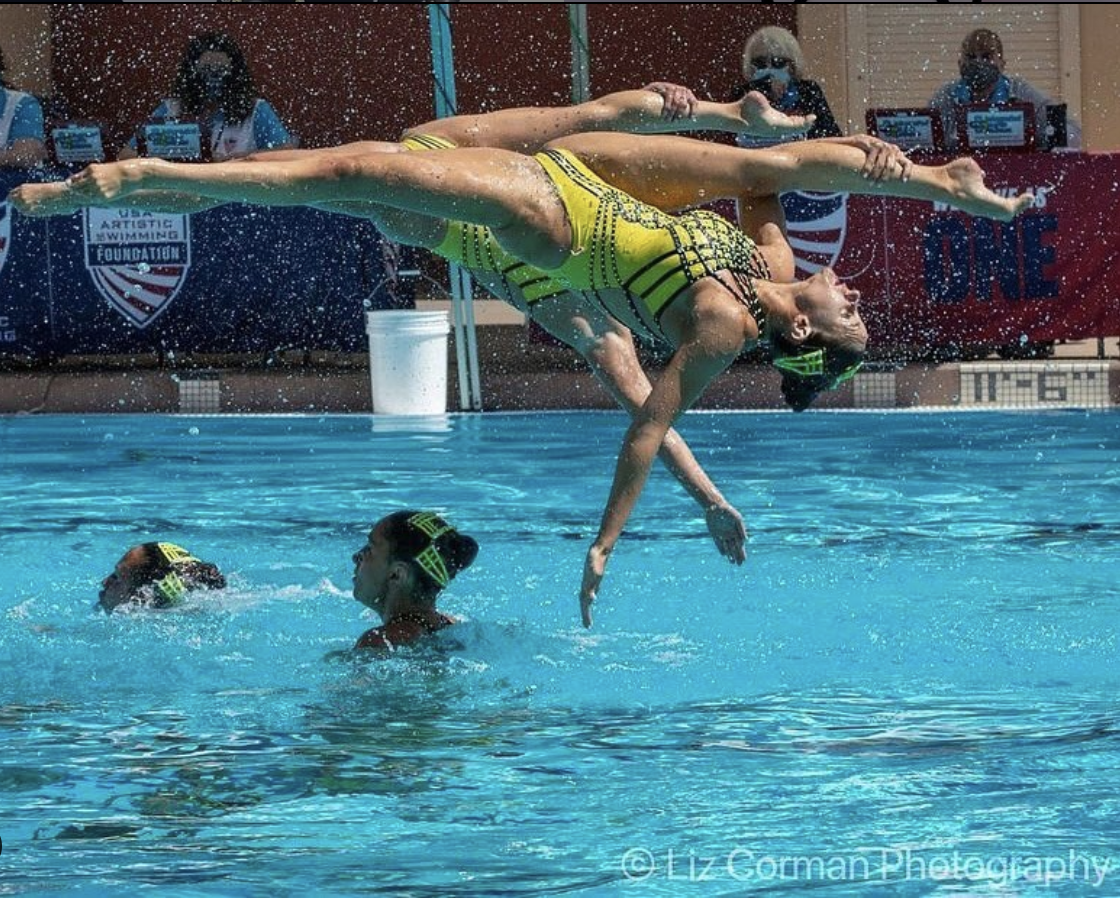 IS: Can you tell me more about your technical team routine, and why did you decide to create a new one?
LS: [The previous one] was too simple, for lack of a better word. Going into French Open, we decided to really focus on the elements and the execution. We just realized we could, and wanted, to do more. In the end, it turns out we had a lot more time than we thought (laughs). It's definitely been a good decision. It shows us and our strengths off more, and it's a lot more difficult.
AA: You could just tell when a routine is right for you or not too. We weren't all living that "Americano" one. We needed something new where we could try to be different. Something that would make us feel more like fighters, that we could own and really attack.
AF: At the beginning, there was a big division. Some people wanted to do something happy like we did before. The other half, me included, thought that we needed something that showed a fight. Because it was going to be war at qualifiers. We tried different musics and imagined swimming at qualifiers with each one. We took one day to show off and see what we had. That day, it was obvious that we needed something a bit more aggressive, but also bright at the end because we are a happy, driven team.
Maybe it ended up in a way being our story: the fight, the resilience, the drive, and unity we have, and also the happiness that I think is the character of this team. This routine is just about us and how we felt at that moment, doing artistic swimming to a music that we like. We think it's right for us to express ourselves and also to show our technical elements.
IS: You guys have already competed twice this year in both virtual World Series with the free team. Why did you ultimately decide to keep the "Robots" routine for a third season?
AF: I didn't want to change it because we haven't had time yet to execute it as well as it deserves. I believe that for people to appreciate a routine fully, or for it to shine, it needs a good execution. Now, a lot of things have changed in the routine. The biggest one are the acrobatics. We wanted a really high, impressive jump at the start. Of course, we kept the very hard "Operate" one, because it is also the trademark of our routine. We didn't want to take it out or replace it with another jump there.
So, we added one at the start, and we do a different beginning. We are still doing the little head moves that we used to do right there, because that's also a trademark move. We changed another acrobatic in the middle of the routine as well, which is much harder now but also more impressive.
We made many changes here and there. At first, we put a lot of energy into improving our technical program, and then to execute our free better. We know we have a good level in choreography and artistic impression, but we wanted to improve our execution first and foremost. 
ARTICLE BY CHRISTINA MARMET
Cover photo: Liz Corman
If you've enjoyed our coverage, please consider donating to Inside Synchro! Any amount helps us run the site and travel costs to cover meets during the season.