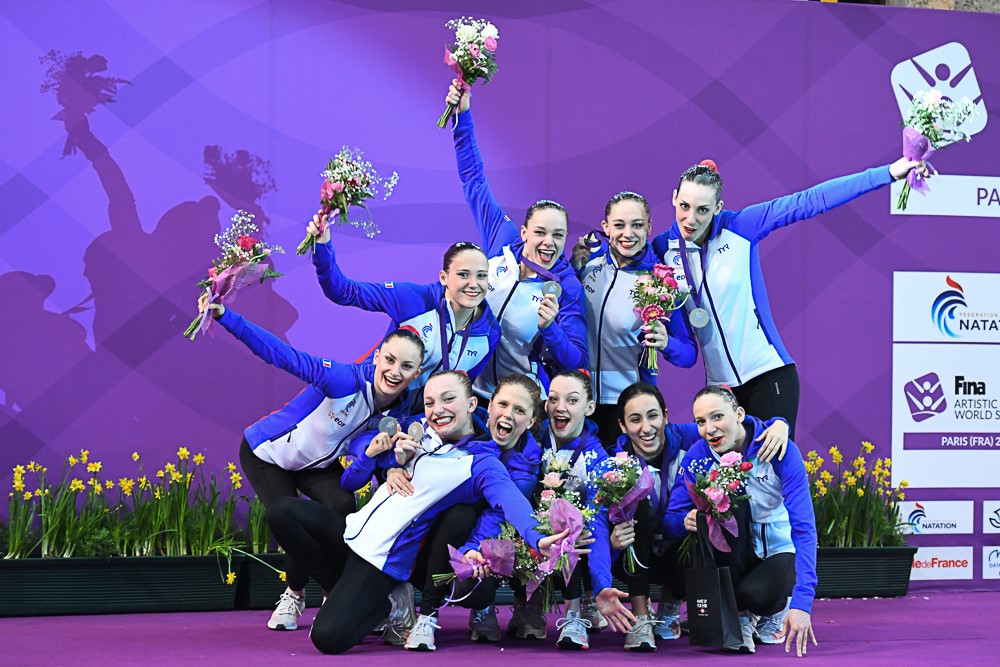 Coaches
Julie Fabre, Laure Obry, Delphine Maréchal, Stephan Miermont
Athletes (as of June 6)
Competitors: Manon Disbeaux, Ambre Esnault, Laura Gonzalez, Mayssa Guermoud, Inesse Guermoud, Maureen Jenkins, Charlotte Tremble, Laura Tremble, Mathilde Vigneres
Reserves: N/A
Returning Olympian
N/A
Last Olympics in team
Sydney 2000
Last time out
March 2020 – French Open
Last scores received
Technical team: 86.3274  (2020 French Open)
Free team: 88.6667 (2020 French Open)
Best scores of the season
Technical team: N/A
Free team: N/A
Best scores of the quad
Technical team: 86.6543 (2019 FINA World Championships)
Free team: 88.6667 (2020 French Open)
It's been a long day of training at France's National Institute of Sport, Expertise, and Performance (INSEP), near Paris. It's already past 6:00 p.m. Practice ran late, but Julie Fabre, Charlotte Tremble and Ambre Esnault are all logged in to Zoom.
France hasn't competed since the 2020 French Open in March. It originally planned to unveil their new technical team routine at the French Junior Nationals this past April. However, a third national lockdown during yet another peak of the Covid-19 pandemic cancelled that trip.
Much like for all teams, this past season has already been intense on its own. But now that the long-awaited Olympic Games Qualification Tournament (OGQT) finally neared, the French have had to face even more adversity. They all had to quickly adjust and regroup, and find a way to use that ultimate setback as a driving force in this home stretch towards Tokyo. In Barcelona, they will undoubtedly show immense grit to fight tooth and nail for a ticket to the Games.
Inside Synchro: How was this past year for you?
Charlotte Tremble: It has been full of twists and turns. We were preparing for the OGQT, but it kept being postponed again and again. Every time, it was very hard of course. But we managed to always bounce back and to find a way to look at the positives. We told ourselves it wasn't the end of the world, and that it left us more time to be even better for the big day. Certainly, the pandemic and the lockdowns were weighting everybody down, but we tried to make the most out of it.
Julie Fabre: During the first lockdown, we immediately put a lot of things in place to continue to move and to see each other. We realized quite quickly that we didn't know how long it was going to last in the end. But the whole world, every sport, was at a standstill. This never really happens when you're an elite athlete. So, we thought maybe it was the perfect time to start sharing with people whom we may never get to otherwise. For example, the girls had a weekly ballet class with professional dancers from the Paris Opera. Another day, we spoke with Teddy Riner [French judoka and Olympic champion]. We could have never done this in regular times. We really took everything in and fed off those interactions.
Then, we also took some time to examine and revise our own plans. Were we going to do the same Olympic preparation that we had just done? No. With the Olympics and the qualifiers postponed, we had even more time to implement more choreographic and artistic changes.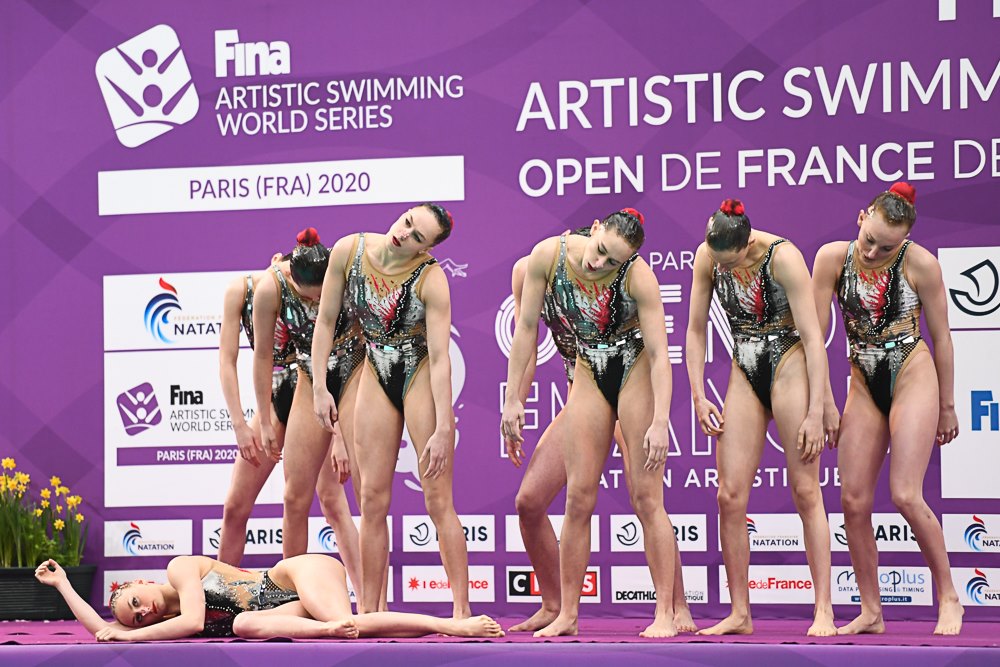 IS: Let's get into that. What has changed since your last competition back in March 2020?
JF: We kept our "Zombies" free program. Right after the French Open, we first analyzed the swim and tried to be pragmatic. What had made the difference between the "Robots" from the U.S. team and us? In terms of execution, it wasn't clean enough. We thought the atmosphere was also perhaps too heavy all the time, too anxiety-provoking. Finally, we also wondered what we could do to make our difficulty more obvious, and for it to be assessed positively. It started from there.
Back then, we thought the OGQT would still be a month and a half later. We quickly made a lot of changes in the following five days or so. Then, we had the lockdown. Ultimately, we had a lot more time to do what we really wanted to. We ended up even changing parts of the music. We wanted to end the routine with something a bit lighter and with less anguish. So, there are a lot of modifications in what already existed, but the last third is not at all the same. Neither musically nor choreographically.
For me, France has always been a driving force in creativity and in putting forward new ideas in choreographies. Maybe we had lost that a bit in Gwangju [at the 2019 World Championships], or we weren't ambitious enough. We had a young team, so we didn't focus too much on originality. It was more about execution and how to do the right things. Now, we have tried to push creativity even further, because it still remains part of our identity.
IS: What about the technical team routine?
JF: We quickly realized we didn't want to keep the [Aretha Franklin routine] one more year. We wanted something "feel good." A routine that would be ultra joyful and positive, yet contemporary and modern. Above all, we aimed to show something that would make everyone smile, whether it be the athletes swimming it or people watching at home. We picked Daft Punk since we wanted a French musical base. Back then, we had no idea they would split a few months later! Anyways, we didn't get into a particular theme for this one; it's just a routine that's joyful and catchy, and that we all enjoy.
IS: You've worked closely with choreographer Stephan Miermont for these routines. What does he bring to the mix?
JF: Stephan is strong at strategic routine construction. Where to place things so they are well seen by the judges. It is also nice to have somebody come in who's not in it the whole time. It's like a new pair of eyes. He's going to see things we might have missed before. It's very refreshing.
IS: What do you think you've improved on the most since your last competition?
CT: Our technical elements, definitely.
Ambre Esnault: We do so much technique, every day… For a long time (laughs). We have worked on that a lot with Stephan too. To be a lot more precise in each movement, from start to finish.
JF: We've definitely turned the corner in acrobatics as well. But yes overall, there is a greater awareness of doing the correct movement from beginning to end. It is all about precision and thoroughness. That's a big step forward. I believe they have also evolved in their maturity, and in relation to their performance.
IS: Do you also feel this as athletes?
AE: Yes. We approach each choreography and routine with more serenity because we know what to do, when to do it, and how to do it well.
CT: We repeat everything so much that in the end it becomes automatic. Also for example, we didn't add difficulty just for the sake of adding difficulty. Yes, we want to challenge ourselves, but more importantly we wanted to do it and execute it really well. We've improved on that also.
IS: What do you think can make the difference between you and your opponents at this meet?
AE: Everything (laughs)? We've worked on a lot of different things. Charisma, presentation, posture, the precise position on all our arm movements…
CT: Yes, every little thing is going to count.
JF: It will be all about which team can tick the most boxes, whether it be technique, synchronization, acrobatics, presentation, interpretation… All while also asserting your identity as a country. Obviously, you have to swim well and there must be no mistakes. It has to be assertive, solid, and well done. Afterwards, it's no longer in your hands. The only thing you can control is what and how you will perform. There must not be any regrets about that.
There will also be the added dimension of pressure. Which teams are going to handle that the best? It can make you excel even more than you imagined, but it can also quickly take you down. We have worked on it a lot, and thought of all the different possibilities. An Olympic Qualification Tournament in itself is already crazy, but even more so in this current situation and after everything we've all been through. The mind is going to play a big part in this meet. I believe that our worst enemy is going to be ourselves.
IS: And now shortly before your departure to Barcelona, both Marie Annequin (team captain) and Eve Planeix (team flier) had to pull out of the meet because of injuries. How did the team handle this news?
JF: Indeed. Both were injured while working on acrobatics. Eve suffered a concussion a month ago from a bad landing on a very complex jump. Recovery takes time. Marie has a ruptured extensor digitorum brevis in her hand. Fortunately, however, we have always prepared other fliers and bases to deal with this kind of situation.
Obviously, it was emotionally difficult for the whole team, but it makes us want to surpass ourselves even more. This final training stage is definitely not as smooth as we would have hoped, but we will do everything in our power to not give up on our goal.
ARTICLE BY CHRISTINA MARMET
Cover photo: FFN/P.Pongenty
If you've enjoyed our coverage, please consider donating to Inside Synchro! Any amount helps us run the site and travel costs to cover meets during the season.