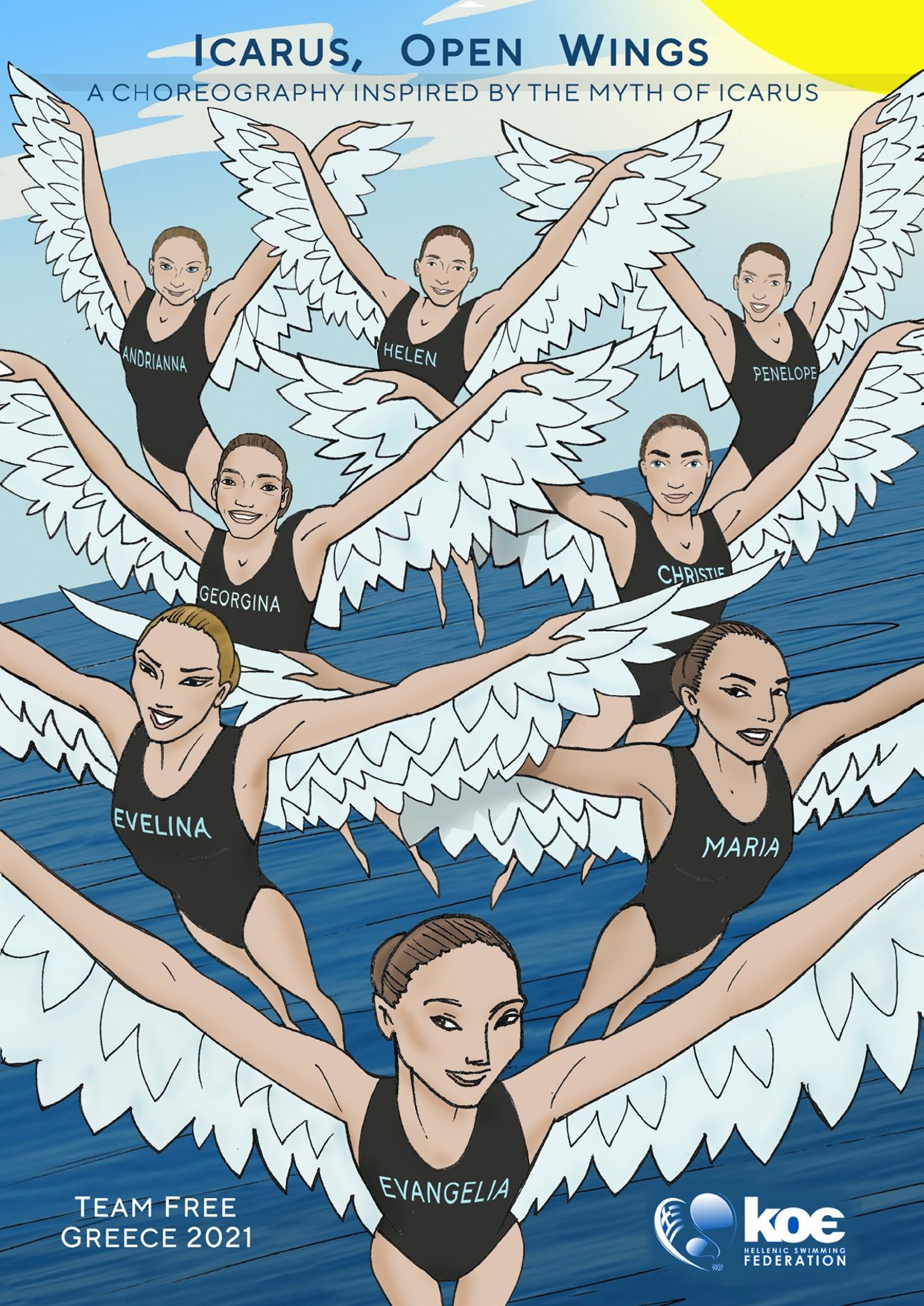 Coaches
Anna Tarrés, Bet Fernandez, Natalia Chernetska
Athletes (as of June 7)
Competitors: Maria Alziguzi, Eleni Fragkaki, Krystalenia Gialama, Pinelopi Karamesiou, Andriana Misikevich, Evangelia Papazoglou, Evangelia Platanioti, Georgia Vasilopoulou
Reserves: Eleni Deligianni, Danai Kariori, Violeta Zouzouni
Returning Olympian
Evangelia Platanioti (2012, 2016), Evangelia Papazoglou (2016)
Last Olympics in team
Athens 2004
Last time out
May 2021 – Copa Catalunya (exhibition)

July 2019 – FINA World Championships (competition)

Last scores received
Technical team: 87.0863  (2019 World Championships)
Free team: 88.3333 (2019 World Championships)
Best scores of the season
Technical team: N/A
Free team: N/A
Best scores of the quad
Technical team: 87.0863  (2019 World Championships)
Free team: 88.3333 (2019 World Championships)
"Okay, now I tell you everything," Anna Tarrés said with a mischievous smile back in Budapest at the European Championships. Greece had finally wrapped up its competition, winning three historical medals. She and the team were leaving the following day.
"Well, just a little bit, maybe not everything," she continued as she pulled her phone out of her pocket. "First, let me show you something."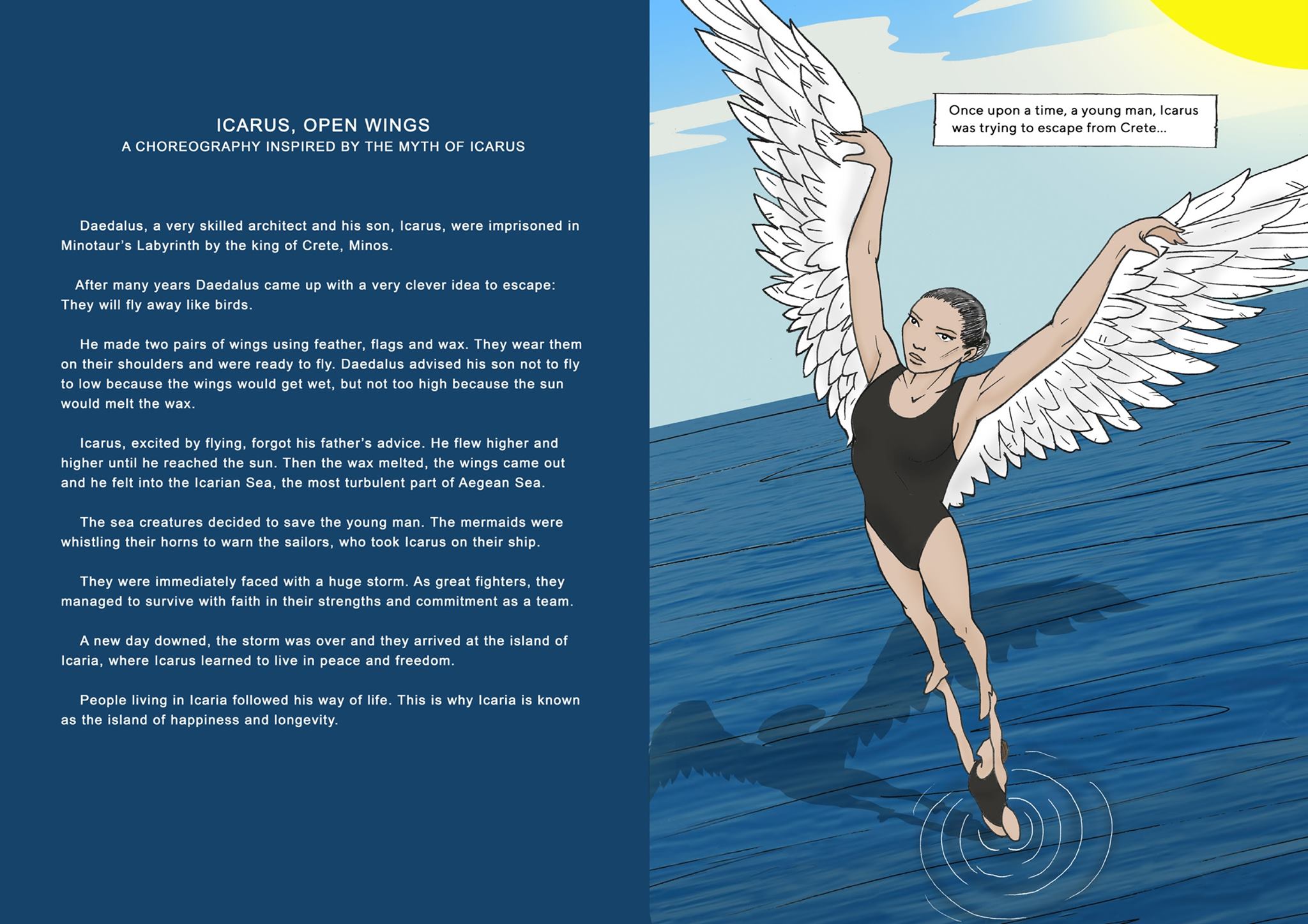 Tarrés coached Spain's national team for nearly 15 years and to four Olympic medals. Since the fall of 2019, she has worked with Greece to help the nation qualify to the Games as a team for the first time since 2004.
As we sat on the pool deck, she told me all about the Greek myth of Icarus, the inspiration for her free team choreography. In a marketing stroke of genius, she had a full storyboard to show me. Her routine was right before my eyes, scene by scene, in stunningly colored drawings.
She swiped through the different acrobatics, shapes and patterns the Greek team will ultimately do during the likely most important four minutes of their careers. Later on, Evangelia Platanioti and Maria Alziguzi, two of the veterans of this team, also shared their perspectives on this new experience with Tarrés, and what to look for from the country this upcoming week.
Inside Synchro: How was the creation process for this routine?
Anna Tarrés: We wanted something Greek, of course. Here, we are retelling the story. In our routine, he doesn't die (laughs). We save Icarus from the Aegean Sea, and he starts a new life in Ikaria. The routine begins with voices, explaining that in the Island of Crete, there is a young man who wanted to escape…
Evangelia Platanioti: Like Anna said, we wanted to show something Greek. We had a lot of ideas, but we finally decided to do this myth and to change the story a little bit so he lives. We really enjoyed the way Anna makes her choreography. She has so many ideas, and it's like a puzzle. It's like… You're seeing an artist do a painting in real time. There is a lot of inspiration and things in her mind all the time. We could be working on something, and then she will have another idea for something else (laughs). But it's really, really cool. We can't wait to show it at the Olympic Tournament.
AT: What we try to develop and demonstrate here is that you can overcome anything, through your commitment, innovation, solidarity, team work… And through believing that you can change your fate.
IS : This looks all very well thought-out, and all these drawings are so detailed.
AT: Yes. I learned a lot on Greek mythology, and it made me think about new ways to tell the story in the water. You will see some wing moves as he reaches the sun. We do an acrobatic move for that, followed by another that is the sunrise over Crete. Then, there are like turtles and crabs that try to get the attention of the mermaids in the sea to help save Icarus. Evangelia [Platanioti] is our Icarus… It's very beautiful, you'll see. Our free routine is a big story.
IS : You worked with Spanish reggae singer Irie Souljah to get an original score for this routine. What was it like to bring him into the mix ?
AT: I usually work with musicians. This time, I was trying to find somebody different from the people I usually work with in order to get new ideas. He is a young man originally from Catalonia, but he's been living in Jamaica since he's 18 or 19. Because of the Covid-19 pandemic, he was back in Barcelona working with a friend of mine who's a singer.
One thing leading to another, I thought we could do something very interesting. I asked him if he wanted to collaborate. At first, he was like, "Anna come on! I have never done this, I don't even know what synchronized swimming is!" But, he and I liked the challenge. Also, working with young people always gives me a lot of energy and a new vision on things. I really thought this young man could really do something different for us.
I also brought him to Athens, and the girls met him. They probably didn't expect somebody like him, a young  rasta man coming to the pool with his guitar. But the girls, they are even in the music. In some places, you hear their voices.
EP: Yes, it was  an amazing experience to record our voices, and to have them in some parts of the routine. It was nice to see him at the pool too. Every day, we were changing the music until we had the best version.
IS: Overall, it seems it was a very different creative experience for the athletes compared to what they are used to.
AT: For them, it was difficult to adapt to my way. I've already been with Israel for a few years. They know that when I'm in the pool, they have to be ready for anything. Everything could change from black to white in half a second. Now they all understand how it goes with me, and how I am trying to find the originality, the innovation…
EP: At the beginning, it was strange to work with Anna. It was something completely new, especially for [the younger swimmers]. She has her own way to do things. Now, we know her and we trust her. She's so passionate about her work, and makes us motivated. We are really hard workers, but with her, I think we are even more hard workers than before. She helped us with our technique yes, but also with our minds. To be good in the water and to continue working hard and focusing on the goal ahead.
AT: This is a young, talented team. I didn't realize how young they were when I first got there. I just found super talented girls when I arrived in Athens. Maybe they needed to find a way to put all this talent at the service of their qualities, as a team and as a country. I tried to create something with what they are good at, and to put that in the choreography so that the judges can really "taste" a new style from Greece. It has been a nice challenge to find these movements, and some things that nobody has done before or at least that expects from Greece.
They are learning that just by taking a risk, being brave, trying to go above your limits and to beat your own version of good, is the only way to achieve interesting things. They must believe that there are no limits for anything. Sure, this team is young, but they are dreaming big. And, dreaming works.
IS: Maria, you were on the senior team from 2012 to 2015, and then retired. You recently returned to the national team. How does this experience compare to your previous seasons? 
Maria Alziguzi: I really missed the sport, and my fellow athletes. I came back in 2019, and I am still very excited about it. The training we do for this Olympic Qualification Tournament is very demanding. Compared to my previous times on the national team, I think we've trained harder than we ever did for an European or World Championships. We gave our best to prepare properly for this big goal. With the significant help of our coaches and our great faith in our abilities, I am sure we will succeed.
IS: What do you think is the biggest improvement from Greece ?
AT: Everything (laughs). Through this routine, the technical routine, and the combo you just saw, they have shown great speed and very good power. They can also create an emotion, that I also saw from the very first time I was there. You just get involved in their energy. There is something… Maybe it's the Greek character that they talk about… You can see that when they perform.
One main improvement has been synchronization too. And artistic impression… It's another world. Because now, we have a theme, and they are learning how to perform. We are telling a story, that's the main goal.
EP: Synchronization yes, and technique. We are more solid throughout our elements. We are more mature athletes overall. The team is very close to each other, and the spirit of the team is very strong. I know it was difficult for all the countries with this situation. Maybe it made us stronger, and taught us to not give up. We have to keep going. We have such a big goal ahead so we have to. This made us stronger.
MA: My team has improved over the last year both technically and artistically. We are also a very united team with great coaches. The combination of that, plus the long hours of training, the careful diet and the good mental preparation have led us to a very high level. I believe our presentation will be impressive.
The full illustrated story is viewable here.
ARTICLE BY CHRISTINA MARMET
If you've enjoyed our coverage, please consider donating to Inside Synchro! Any amount helps us run the site and travel costs to cover meets during the season.