When Clarissa Johnston received a call from former teammate Laura Strugnell, she at first wasn't really sure what to make of it. Strugnell was unequivocal: she wanted Johnston to come out of retirement to swim a duet with her in the hopes of being selected for the 2020 Olympic Games.
South Africa had not been represented at the Olympics in artistic swimming since 1992. For Tokyo, the nation had again earned a duet quota via the continental route at the 2019 World Championships. However, the federation had historically not accepted that quota, and the athletes were convinced it would be the case again. After that summer, Strugnell decided to retire and move on.
In a random twist of fate a couple of months later, she found out while at work that South Africa actually would send a duet to Tokyo. She hadn't been out for too long, but her former duet partner was already swimming with somebody else. Facing this once-in-a-lifetime opportunity, Strugnell thus had to quickly find a new partner.
A past national team member, Clarissa Johnston was also living and working in Cape Town. She had however completely stopped swimming in 2014. Fortunately, Strugnell made her point and convinced her to give it a try until the national trials a few weeks later. There, the winning duet would be the one selected for the Games.
A long and tough year later, Johnston and Strugnell, 30 and 29 years old respectively, won the South African trials. Coached by Vicky Drinkwater and two-time Egyptian Olympian Reem Abdalazem, they are now getting ready to fly to Tokyo in a few days. The Games will be their first international senior competition together.
Inside Synchro: Can you tell us about your respective careers in artistic swimming, and how your paths eventually crossed?
Laura Strugnell: I started synchro when I was five. I competed in every World Championships between 2011 to 2019. After these last ones, it didn't seem that South Africa was going to take the Olympic quota, so I retired. I found out in February of 2020 that they were taking it, and that they were going to hold trials. I then contacted Clarissa, and here we are together (smiles)…
Clarissa Johnston: I started when I was 12. I actually swam with Laura on the 13-15 national team in 2005. Then in 2007, I was on the senior national team. We were competing against Egypt for the qualifying spot at the CANA Africa Olympic Trials. Reem was also there swimming for Egypt. After that, I went to Lindenwood University in the U.S. until 2013. I actually swam with Reem on the A team during the 2010-2011 season, and retired shortly thereafter. I went back to South Africa, and swam for a recreational club in 2014, more for fun. But I couldn't fit that in with full-time work so I stopped. Then, Laura messaged me at the start of 2020, and was like, "Do you… want to do synchro again (laughs)?" 
IS: Had you continued swimming or done any other sports in the meantime?
CJ: Not really. I did some trail running, and one open water swim, but nothing compared to normal synchro training. I hadn't even continued stretching my splits, but why would I!? It was quite a shock to my body to come back and do it all again.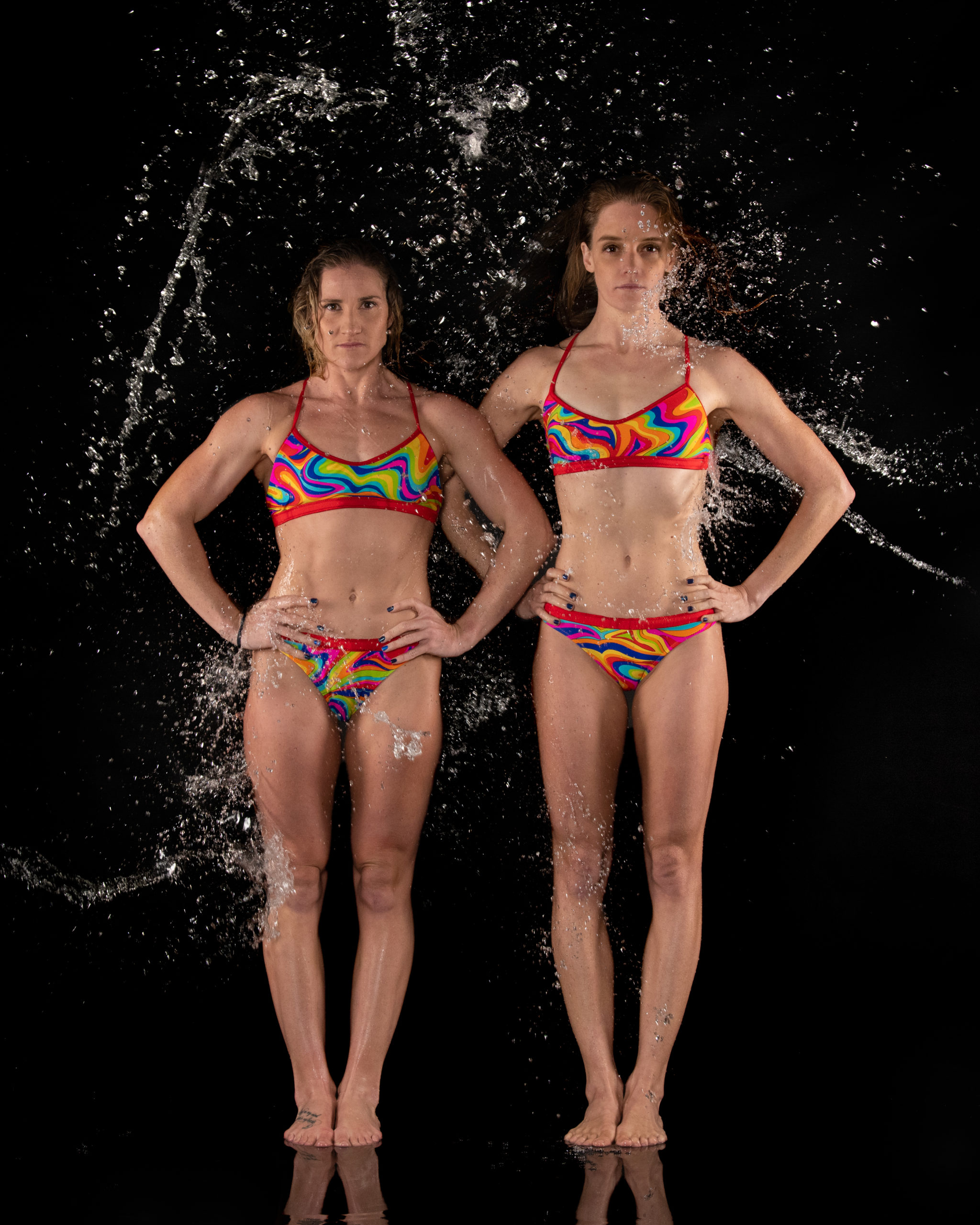 IS: And Laura, how did you find Clarissa?
LS: After I decided to retire in 2019, my old duet partner started swimming with another girl. Obviously, they were already together, so there wasn't really an opportunity to go back and be with her again. So, I had to find a new duet partner. I did ask a few people that I knew, even my sister who used to do synchro, but that led nowhere. Eventually, I found out that Clarissa was living in Cape Town too. So, I just took the chance and asked her. I was very excited when she said yes.
IS: Did you have to do a lot of convincing for her to agree to return to elite after six years?
LS: Well, the word "Olympics" did help a little (laughs)! She did say that she needed to get back in the pool and try a few things before she would consider it. But I don't know how much of an option I really gave her…
CJ: Back then, it was also only 10 weeks until the qualifiers. I was like, "You can do anything for 10 weeks." At the time, we were the underdogs and the mindset was completely different. I was just thinking, "Let me help Laura out, do these two routines at nationals, and then we will see." Her previous partner was in the duet we would be up against. They were almost the expected champions in a way. People didn't think that Laura would find someone else. But then with Covid-19 delaying the Olympics and our trials, it gave us much more time to catch up and try to pull ahead.
LS: Yes, to have that extra year was really a blessing in disguise for us. At the time, we would have only had a few weeks together before trials. Maybe we wouldn't even have made it back then…
IS: How did you manage to catch up, especially in such a complicated year?
LS: We took every opportunity that we could. Honestly, even though I didn't take such a big break from synchro, this is the hardest I've ever trained in my whole career.
CJ: Lockdown was very strict here, to the point where you couldn't even leave your house to walk your dog. We did a lot of workouts together on Zoom, and also with our coach Vicky who is based in Johannesburg. We really did anything we could find, any Instagram Live workouts or some of the U.S. team workouts on YouTube. As soon as pools reopened, we went even if we could only access the pool that was one meter deep. We worked so hard because we knew we were behind. There was never a time where we could be comfortable and take it easy.
IS: Then last April, you won both duet events at the South African trials. How did you feel, and when you realized you would indeed go to the Olympics?
CJ: It was really surreal. We actually had to wait two days to get our results because we had international judges, and they were given a few days to score. I was home alone when the email finally came through. It was amazing. For the Olympics, we still had to wait until June 24. The South African Olympic Committee (SASCOC) wanted to announce it live on national television. So, we actually waited two months until we finally got named. It was a very long wait, and we didn't want to say much until we had it officially, especially with all the uncertainty this year. In the end, we were all together watching it at our coach's house, so that was obviously awesome.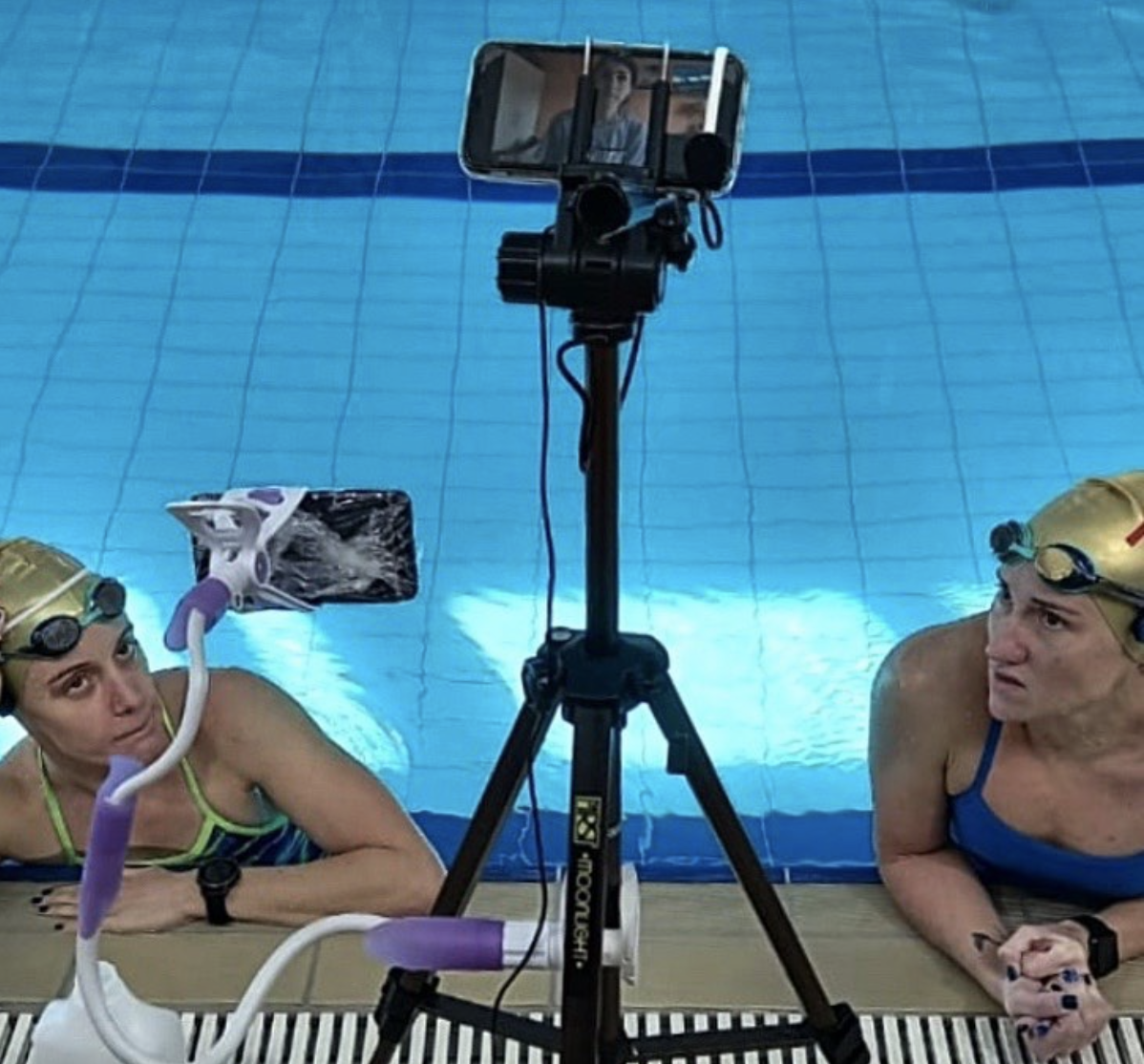 IS: How have you managed your training schedule with your full-time jobs?
CJ: I work in financial technology. In Cape Town, we both worked from 6:00 a.m to about 1:00 p.m. Then, we would train until 4:00 p.m., and go back home to work some more. We would do that for three weeks or so a month. Then for one week, we would fly to Johannesburg to be with Vicky. The training there was closer to six or eight hours a day.
LS: I teach swimming professionally. Honestly, not having our coach full time was quite hard. It was a lot to juggle. One of my sister's friends, Tanya, did synchro long ago, and she helped coach us a little bit in Cape Town. Vicky would give us training programs that would last three weeks. We would then send her videos, and get her feedback. We also would dial Reem in on Zoom for two hours, two to three times a week, and continue training that way. 
CJ:  Right now, we have both stopped working for July and August. We are all in Johannesburg, living at Vicky's house. We currently have night practices to simulate nighttime competition like in Tokyo, but we also have a nationwide 9:00 p.m curfew. Vicky races us out of the pool at 8:45 p.m. to get back home. We have no funding from our federation, so she has coached us for free this entire time while also juggling her own job.
IS: Before this year, did you ever dream of the Olympics?
LS: When I was little, yes. Then, you grow up and realize how difficult it is coming from South Africa, so it just becomes a distant dream. You don't really think it's ever going to happen.
CJ: When we went to Cairo in 2007 to compete against Egypt, I think there was a 10-point difference between us in teams. That's when I realized we were just so far… When you're 17, it's hard to realize and accept that there is not much more than that. That's also part of why I went to the U.S.
LS: Now, we know having this continental quota to the Olympics seems easy. But it's not. It's a lot of pressure. We want to get there and be competitive. We want people to see how much better we've gotten and to remember us. This is a really big step for synchro in South Africa. A lot of people didn't even know we had artistic swimming. It's given a lot of publicity to our sport.
CJ: Yes. People might think we should not be there because we are not good enough. Of course we are really grateful to have the spot that we do get, but we are also putting in the work. For us, it's not just that we are going to the Olympics because we got a lucky ticket. No, we want to be there to compete. Also, there were a lot of artistic swimmers that couldn't make it. So, we are kind of swimming for them as well. We want to honor all who worked just as hard to get there but who can't.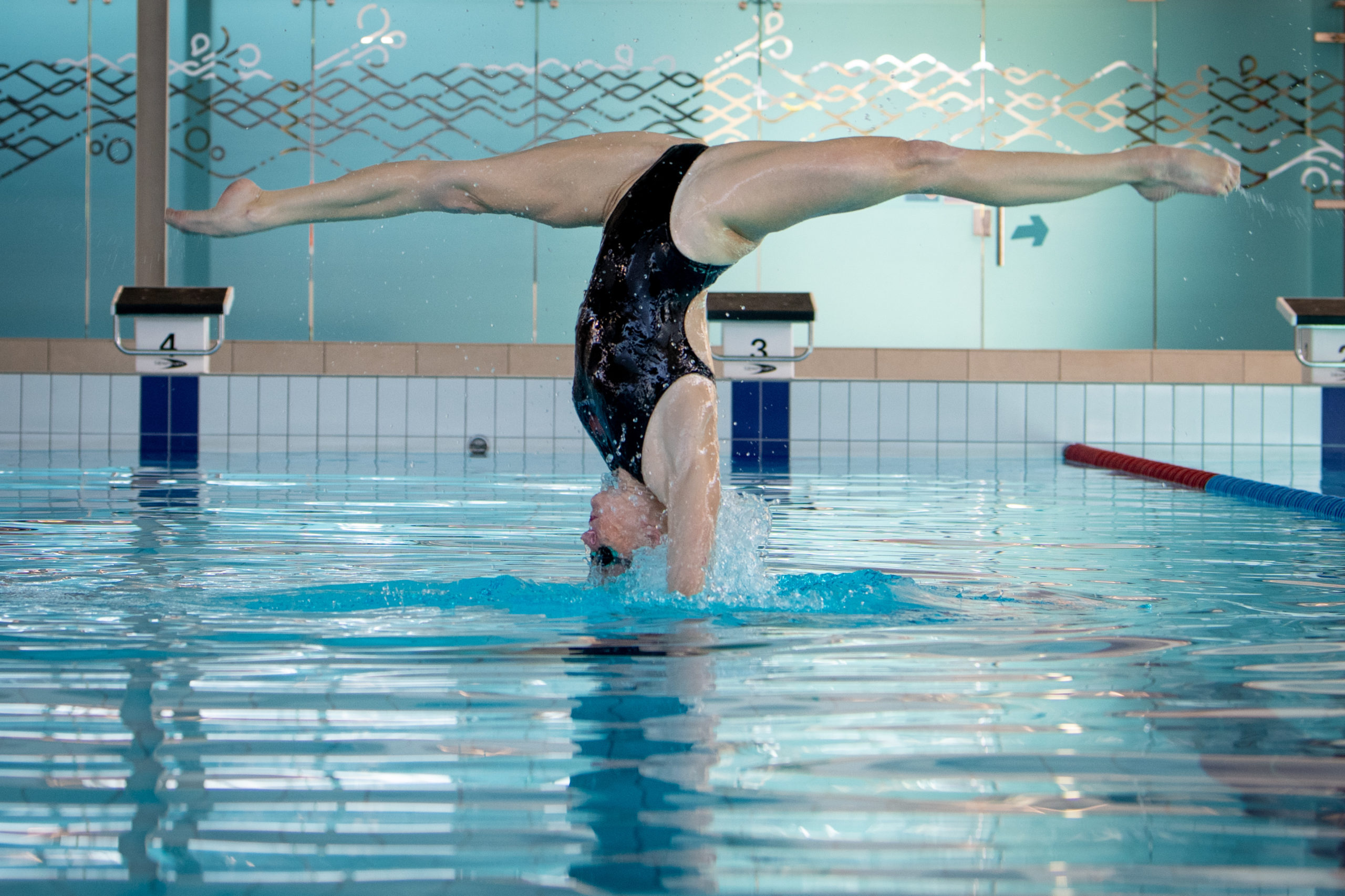 IS: Can you tell me a bit more about your Olympic routines?
LS: Our free routine is actually a routine that Reem swam before. It's based loosely on that choreography. The theme is "Reflections," so looking back on our journey, reflecting on our past, how we got there, on our growth… It's really captivating.
CJ: We actually changed the theme and music of our technical duet a few months ago. After our national qualifiers, we felt it was… fine. But it wasn't the routine we wanted to take to the Olympics. It was kind of slow, and we'd made it basic mainly so we could nail the elements. Now, we are at the stage where we can do that and still add some fast movements to challenge ourselves. This new routine has a theme of "Renewal." The music is from Amaluna from Cirque du Soleil. We thought this concept of rebirth and renewal was quite fitting for our duet. It's also all about looking forward, and how we can use our performance to inspire new generations in South Africa.
IS: What are some of your goals in Tokyo?
CJ: We want to reach scores in the 7s as a minimum. Our free duet is the type of routine we want people to remember, but we've worked really hard on both. So, we want to be memorable and to get those scores.
LS: Inspire the new generations, and show our routines at an Olympic level where people can be proud of South Africa.
ARTICLE BY CHRISTINA MARMET
Cover photo by Lauge Sorensen
If you've enjoyed our coverage, please consider donating to Inside Synchro! Any amount helps us run the site and travel costs to cover meets during the season.