Last May at the European Championships, Anna-Maria and Eirini Alexandri stepped off the podium tightly holding hands, a bronze medal hanging around their necks. They had just won Austria's first medal since 1985, and couldn't have felt more hopeful for the future.
The sisters had just reached a significant milestone. They had finally scored over 90 points in duet, one of their main goals of the last few seasons. Despite the challenges of the pandemic and nearly two years without competing, they had remained on track and showed drastic improvement.
Their triplet Vasiliki was just as emotional. Anna-Maria and Eirini have nearly always competed in duet together and Vasiliki, or Vaso, is the alternate. She knows every routine perfectly, and is ready to step in if necessary. While she now performs in solo on the international stage, she has been with her sisters every step of the way since the beginning.
"We are our own team," Vasiliki said. "A small team, yes. But it doesn't matter who swims what. We always support each other. It's really about the name. We all represent our family name and Austria."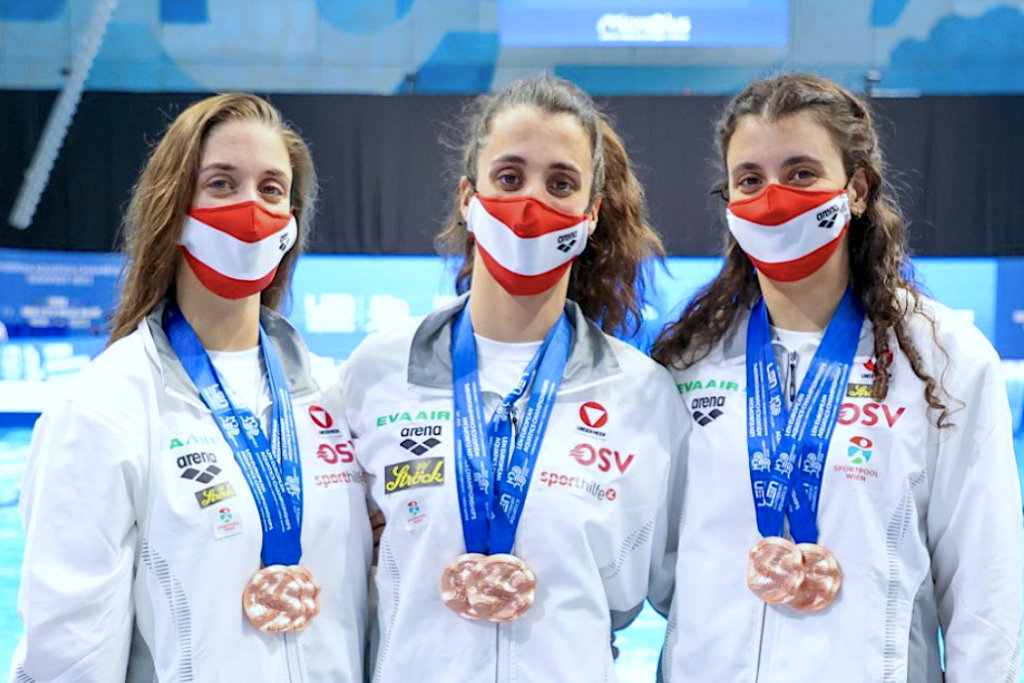 The triplets' lives have been governed by their love and unwavering passion for artistic swimming. It has shaped their childhood, their education, and their relationships. As teenagers, they uprooted their entire lives and moved across Europe solely for the sport.
Their careers started in Greece in their hometown of Volos. They first learned to swim at three and half. Quickly enough, a synchronized swimming coach noticed them and immediately saw potential. Twins in the sport are fairly common, but triplets are a rarity. 
At five years old, they tried it out, fell in love, and never looked back. They made their first national team at 13, and competed at the COMEN Cup in team and free combination. The following season, they swam again as part of the 13-15 national team, but were also selected to the senior squad. At the 2012 European Championships, they finished sixth with the Greek team.
Unfortunately, problems arose and the triplets felt they had reached a dead-end. The 14-years-olds decided to completely change the course of their lives. They moved to Austria, which welcomed them with open arms. Their mother, who they say has been their biggest supporter since the start, helped them settle in.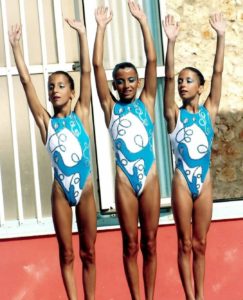 Eventually, she went back to Greece, and the triplets were by themselves in a new country. For the following five years, they lived in a boarding school and continued their synchro training.
"It was a difficult decision because it was for our life and we were so young," Eirini said. "At the beginning, we were very curious about this new experience, in a new country, a new school, and with new teammates. The second year was harder. We were waiting for the nationality and training, but we had no competition. We cried a lot…"
"The most important thing at the beginning was that we were sisters," Vasiliki added. "Our coach and our teachers helped us a lot, but also we were together. When we cried, all three of us cried. It's a gift that we are triplets, it's really special."
Eventually, the Austrian nationality arrived. They finally competed again at the 2014 FINA World Junior Championships. In solo, Anna-Maria finished seventh, and she and Eirini ranked ninth in duet.
The European Games in 2015 represented a big breakthrough for them. In their last junior meet, the duet won silver right behind Russia, and Anna-Maria also earned bronze in solo. They had everybody's attention as they headed into their first season as seniors.
In 2016, Anna-Maria and Eirini qualified for their first Olympic Games in Rio. They were the youngest of the field and eventually placed 12th, Austria's best finish at that time in 32 years. The sisters soaked it all in, and already knew they wanted to do it all over again.
At the same time, they greatly missed Vasiliki. Duet reserves are not allowed in the Olympic village, and she had not traveled to Brazil. For the first time, the triplets were separated.
"We are always together, the three of us," Eirini said. "[The Rio Olympics] was the first competition where we were not. It affected the simple things, our little habits, even doing the hair before the competition… It was just the two of us. She was really missing."
Solo has not been on the Olympic programme since 1992, and is unlikely to come back. As a specialist on that event and with the current rules, Vasiliki understands it is near impossible for her to go to the Games.
"Of course sometimes it's difficult," she said. "Especially when they leave and I stay. We train together all the time. When you do all the swim-throughs and you work like you're going to the competition too, it's difficult to stay at home. But it's not a problem for me because I'm always with them. Yes, I am the reserve, but the most important thing is that the duet which represents Austria is from our family."
In 2017, Vasiliki made her World Championships debut as Austria's soloist. She finished eighth in both technical and free events. She cherishes the freedom of expression that solo gives her, and the opportunity to show off her strengths. 
At the 2018 European Championships, she placed sixth in technical solo and seventh in free solo. At the next World Championships in 2019, she once again landed in eighth place. She was hungry for more improvement, and wanted to keep climbing up the rankings.
Unfortunately in the fall of 2019, she aggravated an existing shoulder injury during a training session. At first, she wanted to push through it, but she eventually realized she could not be at her best. As the pandemic quickly wiped every competition off the calendar, she decided to undergo surgery.
"The comeback was very difficult," she said. "After the surgery, I thought I would never get back to my level from the year before. I couldn't even move my arm. Then, you think you are okay because you can do things outside the water, in your daily life. But in this high-intensity training, it was completely different. It was very difficult, also mentally. You have to adapt and be strong."
She ultimately needed six months to safely return to the sport. Ahead of the 2021 season, she decided to keep the same choreographies as in 2019 to give herself enough time to fully master her skills again. 
At the European Championships in Budapest, she finished fourth in technical solo and fifth in free solo. She had successfully returned.
"I felt the most powerful in my whole career," she said. "I was very sure about my performances and what I was doing in the water. It was the first time that I felt so strong. This 'come back stronger' is actually true (smiles)."
However, it was a bittersweet competition for her. On one hand, she was back and earned her best finishes to date. Her sisters won two historical medals, and she was ecstatic for them. But she had also finished only 0.6301 points away from bronze in technical solo.  She felt disheartened, and truly believed she would be on that medal stand that day.
Each victory, disappointment, or significant milestone is deeply felt by each sibling. Anna-Maria and Eirini were just as upset when Vasiliki missed the podium. 
"When she lost that medal, it was like we also lost the medal," Eirini said. "We didn't feel well, even though in reality we know it's not us and the duet."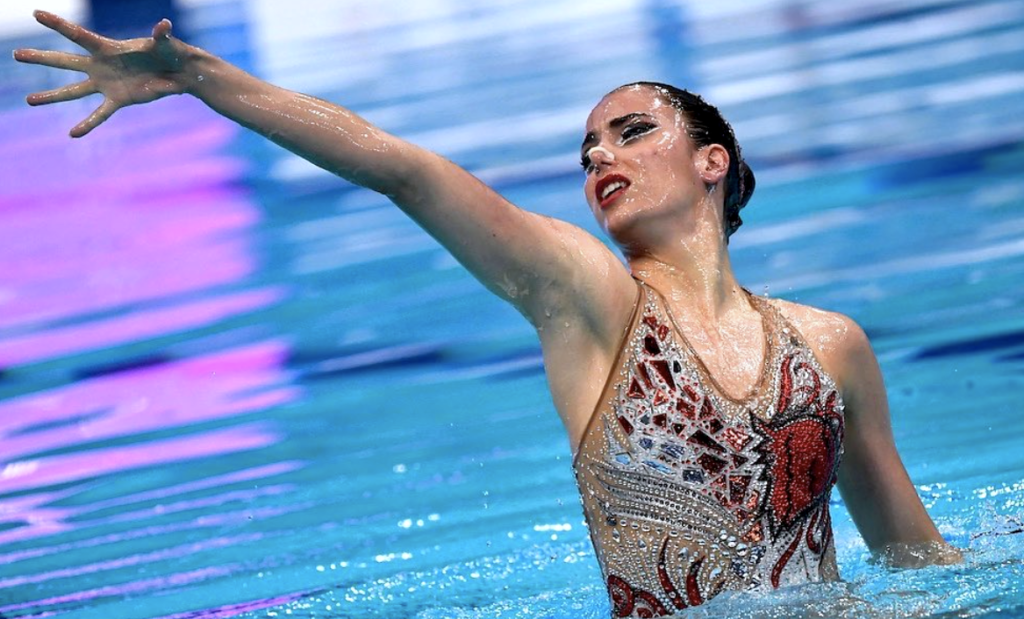 While Vasiliki's season ended in Budapest, Anna-Maria and Eirini still had two major meets ahead. The European Championships had given them a significant boost of confidence. They had approached 2021 with a different mindset, and had chosen to show their new routines so as to never relive the disappointment of the 2019 World Championships.
Back in 2018, they had competed extensively in five World Series stops before ending their season at the European Championships. There, they were told they should retire their "Alice in Wonderland" free choreography if they wanted to move on up.
Eager to make a change, they approached choreographer Stephan Miermont. They asked for something unique that would bring them closer to that elusive 90-points mark. They also decided to keep their new routine, "Heart of Glass," under wraps until the World Championships in South Korea.
"We were told that we had done the Alice duet too many times and it was getting boring," Eirini said. "So we thought, 'Let's keep our new one a surprise.' But in the end, that strategy didn't work either. So… there is no strategy (laughs)!"
Indeed in Gwangju, the pair felt like they got slapped in the face. They finished 10th, one place lower than in 2017, and with a 87.1000. That score was even below their last one of 87.1667 in 2018, and obviously far from 90.
"We were so disappointed," Anna-Maria said. "We really believed in this duet. Maybe not many people appreciated it, or recognized how difficult it was, or how our execution had improved… Some did, but maybe not everybody. We loved this duet, really. For us, it was difficult to leave it after Gwangju. But we could not keep it."
In the end, they only swam it once. After Gwangju, they called up Miermont again. They understood they had to make major changes. For their technical duet, they chose the theme of Warriors, with a more powerful music than they were used to. For free, they settled on the theme of Evil Dolls, also far out from their comfort zone.
Their willingness to own this setback and to try out new styles in the Olympic year ultimately paid off. In April 2021, the sisters opened up their season in the World Series in Budapest, where they received 89.3001 in free. A month later in the same city, they reached 90.8667.
In mid-June, Anna-Maria and Eirini finally competed at the Olympic Games Qualification Tournament. They admitted that this meet was more stressful than the actual Olympics. The threat of Covid-19 was constantly looming in the back of their minds, and they worried something would happen that would prevent them from qualifying to Tokyo.
Ultimately, they won that competition and punched their ticket to their second Games. They received 90.5721 in technical duet, their first time above 90 in that event, and 92.2332 in free duet. 
"The competition was very nice," Eirini said, smiling. "It was the first time that we got 92.2 so it was very big. And finally, we started to believe that we were good, that it was realistic that we could do this. Because many people tell us things and give us feedback. But when you see that the results also actually show that, then it's another thing. We felt more confident."
As they received their free duet score and understood they had qualified, Vasiliki hugged their coach Albena Mladenova on the pool deck. She was sobbing, overjoyed for her sisters. The three of them embraced as they walked away, realizing what had just happened.
"It was a big relief," Vasiliki said. "Not just after this year, but everything before. We always had those big goals, and we sacrificed things since we were very young. We saw synchronized swimming professionally from the beginning. Many times, we thought we would never be able to make history for Austria. But Austria believed in us. Now this is our home. We are also in the Austrian army, and it's an honor. We do all of this for something bigger than us too. So… Yes, it was this big relief when the results came. I was so happy."
Like every athlete around the world, Anna-Maria and Eirini traveled to Tokyo knowing these Games would not be like any other.  Everybody would be tested daily, and the competition would be held behind closed doors. More significantly, one positive test at any point could signify the end of the journey.
The sisters admitted they were terrified of contracting the virus. As they are not in a high-performance training center, they did not have a 'bubble' environnement at the pool. So, they created their own around their family unit. 
Their mother came to Austria to help them with anything they needed to prepare safely and optimally, like with grocery shopping and other chores. Vasiliki temporarily stopped seeing her friends or doing any other social activity. The triplets only traveled from their apartment to the pool, and back.
"We were very, very afraid of COVID…" Anna-Maria said.
"Yes, you can ask me about that!" Vasiliki chimed in, laughing.
"But we really worked like a team," Anna-Maria continued. "Our family was our team. We all supported each other."
Once in the Olympic village, they kept to themselves, always wore two masks, and tried to focus on their routines. Obviously, the atmosphere was different than in Rio. The sisters remember the peculiar and discomforting silence during the competition, and the overwhelming and unabating mental load of the pandemic. 
Despite the circumstances, Anna-Maria and Eirini had some of their strongest performances to date. They placed seventh, Austria's best-ever finish in artistic swimming at the Olympic Games, and again received above 90 points in both events. Mladenova was delighted and nearly speechless. They also called Vasiliki almost immediately to hear her feedback.
"She's our strictest judge," Eirini said of her sister. "We always ask her what she thinks. Our coach tries to tell us things a bit more politely and nicely, but Vaso goes straight to the point. She tells it like it is. But she was also very satisfied."
Back home in Austria, Vasiliki worked as a commentator during the Olympics. She could barely breathe, let alone utter a word, as she anxiously watched her sisters' swim on TV.
"I am so stressed when I watch them compete," she said. "Maybe more than them. I was so nervous. I cannot talk because I want to concentrate. And here I had to talk, and in German! It was maybe too much at once (laughs). In the end, it was a nice experience, but I liked it more when I commented on the other countries. I was more relaxed!"
Overall, this past season marked a breakthrough in the Alexandri's careers. Naturally, the 24-years-olds don't want to stop there. They aren't afraid to dream big, and would love to step up on more international podiums in the future in duet and solo. 
More importantly, they want to continue improving and making history for Austria. At the same time, they remain grounded and realistic. They know further success will only come with tireless hard work and determination. 
"We hope and believe that one day, we will reach our dreams," Eirini said. "We love synchronized swimming. Many people don't understand this. It's our life. That's why we are so emotional and invested, or after competitions where we are disappointed…"
"We also changed countries for synchronized swimming," Anna-Maria continued. "Now, we almost reached 92 at the Olympics. To pass this 90-points mark, it's another level. We came closer to the top group. People saw something different from us, and that we had improved. So step by step, we can continue to climb up. I can't say we will reach [our dreams], but we will try."
"Many things we believed we will not reach," Eirini said. "But we did it, so you never know!"
ARTICLE BY CHRISTINA MARMET
If you've enjoyed our coverage, please consider donating to Inside Synchro! Any amount helps us run the site and travel costs to cover meets during the season.