The Hellenic Swimming Federation has announced the hiring of Anastasia Goutseva and Barbara Lithadioti as its new coaching staff for the artistic swimming national team.
Goutseva will be the new head coach. She replaces Natalia Chernetska, who had been in that position since the fall of 2009. Lithadioti will serve as the assistant coach.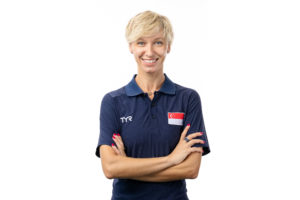 Originally from Belarus, Goutseva and her family have made Greece their home for over two decades. She is also no stranger to this role, as she already served as the senior national team head coach from 2005 to 2009.
Nonetheless, her career has ever since taken her across the world, from Canada to Singapore.
"I feel very happy to be back and I am very excited," she said. "I believe in signs, and that everything happens for a reason. All that happened lately was a sign for me to come back. It's been a lot of changes and unexpected turns, I had a lot of issues with paperwork, and I just had to settle down somewhere. Yes, my husband and daughter are [in Greece], but I was always traveling around. So I said, 'That's it, now I have to stop and stay.' And then, this offer came. It all connected, it was the right moment, and now I really can stay here."
Over 12 years ago under her leadership, Greece won two bronze medals at the 2006 European Championships. At the 2008 Games in Beijing, the Olympic duet of Evanthia Makrygianni and Despoina Solomou placed ninth.
After the 2009 season, she traveled to Canada and served as the assistant coach to the late Julie Sauvé, then head coach of the senior team. The two most notably led the Canadian duet and team to fourth-place finishes at the 2012 Olympic Games, and to a bronze medal in free combination at the 2011 World Championships. Goutseva continued coaching in Canada until 2016 before returning to Europe.
In the fall of 2020, she was appointed the new head coach for Singapore. Last June at the Olympic Qualification Tournament, the duet of Debbie Soh and Miya Yong reached two career-best scores in the technical and free events, and placed 14th.
As a synchronized swimmer herself, Goutseva represented the Soviet Union from 1982 to 1991. Once it collapsed, she competed for Belarus at major international events until 1998. That same year after retiring, she reunited with her former coach in the Greek city of Volos, herself started coaching there, and never looked back.
It is also there that she first met Barbara 'Vivie' Lithadioti, who then was a young synchronized swimmer. Everything clicked, and the two have maintained a strong bond and friendship ever since.
"We have this great connection and understanding," Goutseva said. "She observed all my methods, and knows how I work. She's also very open-minded, and we both like to learn. There were no questions as to who was going to be the assistant coach. I trust her blindly. It's very hard to find the right partner to work with, but with Vivie it's always been very natural."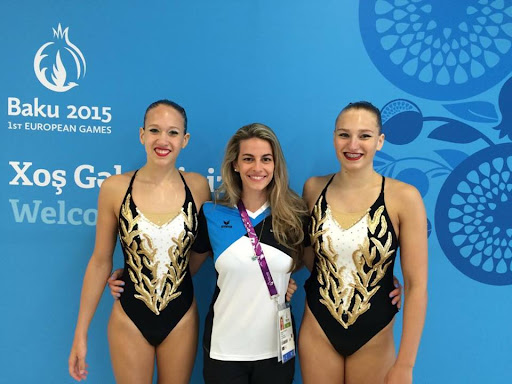 "For me, it's actually a dream come true," Lithadioti said. "She has been my coach since I was 11. She is the person that created me. Everything I know is because of her. It's also been 20 years that I was in the Greek national team as an athlete, so it's kind of coming full circle for me too."
After a first coaching stint in 2004 with the Greek youth team and retiring from competitive artistic swimming, Lithadioti followed Goutseva to Canada to continue learning and growing as a coach herself.
In the fall of 2012, she returned to Europe and served as the head coach for Switzerland's junior and youth national team during two years. Later on,  she became Lara Mechnig's coach shortly before the 2014 COMEN Cup.
She continued working with her and Liechtenstein's duet for the following two seasons, leading them to the 2015 European Games and the 2016 FINA Junior World Championships.
More recently, she was the head coach of Great Britain's national team for the 2019 FINA Youth World Championships. Finally over the years, Lithadioti has collaborated with numerous clubs in England, Switzerland, the Czech Republic, France and Greece, amongst others.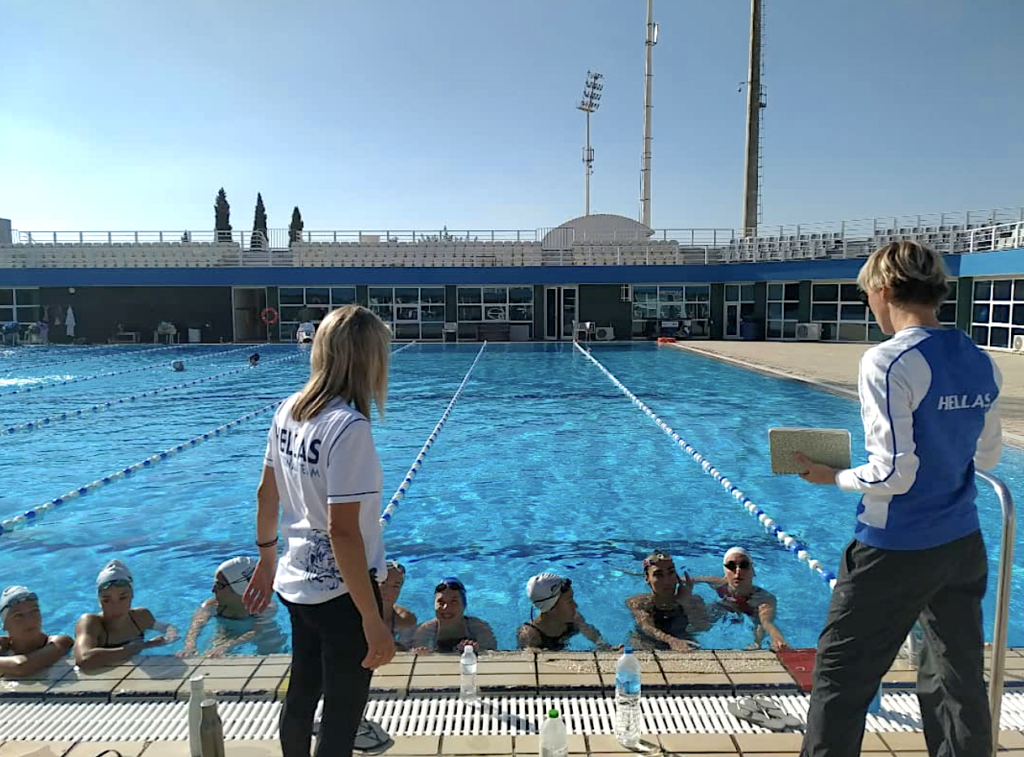 Goutseva and Lithadioti inherit virtually a full returning roster, and will enjoy the addition of up-and-coming talents to the squad as well.
Last season, Greece qualified as a team to the Olympic Games for the first time since 2004. Unfortunately, the nation ultimately could not compete in Tokyo due to a Covid-19 outbreak a few days before the competition.
"I can definitely see that they have broken hearts after everything that happened," Goutseva said. "But we discovered a lot of amazing things about our Greek athletes. They have this unique, unbelievable, magical Greek spirit, with unlimited soul, a deep heart, very stubborn, but at the same time amazing. They are unbelievably strong. This mindset just comes out naturally. It's incomparable to any other country. We want to build the team on that. The things they are showing now, or even in the Greek championships, it's… 'Wow'."
"Yes, we were sitting next to each other and really had goosebumps watching them," Lithadioti continued. "They have this incredible fire, this boiling energy and talent that we want to channel successfully and with the right structure. We are very excited from what we have seen. The future is here."
Both agreed that the main goals for this upcoming season is team building, as well as improving technique and bringing an overall greater quality and attention to detail in every day's work.
"We want them to first become this unbreakable team," Goutseva said. "To have this desire to win together. One heart, one soul, one brain. We want them to realize they are all moving together in the same direction, fully trusting each other, and supporting each other. And of course, we want them to enjoy the process. Not focusing so much on the final result, but on the best performance they can bring and the quality of the work. So, there is definitely a lot of small goals too. But everything really will be based on this strong Greek spirit and energy."
In the long run, the pair also wants to strengthen and expand the pool of athletes around the country. Helping the clubs nurture their young swimmers, educating coaches, and building a structured talent pipeline across all age-groups are one of the many challenges they hope to tackle.
They already have essentially implemented an open-door policy. They want to regularly invite club coaches from around the country to their training sessions to observe, exchange and learn from the entire national team staff and specialists working with the senior squad.
The main goals for the 2022 season are the FINA World Championships and the European Championships. The rest of the year will be planned accordingly once the international schedules are released.
"We are excited, confident, and hopeful," Goutseva said. "These last few weeks have been a lot of brainstorming to plan and structure everything. We are happy with what we've done so far. It's been a lot of changes, but the girls are in good spirits, excited and open to change. It's all been very good."
ARTICLE BY CHRISTINA MARMET
Cover headshot by Andy Chua for Singapore Swimming Association.
If you've enjoyed our coverage, please consider donating to Inside Synchro! Any amount helps us run the site and travel costs to cover meets during the season.