Nakajima Takako (née Konishi) has been appointed the new head coach of Japan's senior national team in artistic swimming. She replaces Imura Masayo, 71, who had announced her retirement shortly after the Tokyo Olympic Games.
Nakajima was a member of the Japanese national squad from 2004 to 2007, and was recognized for her strengths as a flier.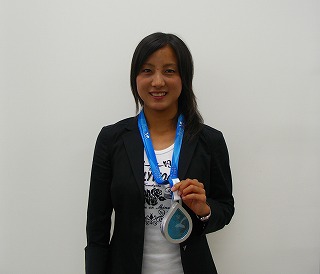 A reserve to the 2004 Olympic team, she went on to win four medals across the 2005 and 2007 FINA World Championships. At the 2006 Asian Games, she added a team silver to her collection.
In recent years, the 35-year-old has coached the national 'B' team and the junior national team.
In this shortened Olympic cycle, Nakajima will enjoy the return of many veterans to the squad as well as promising up-and-coming talent.
The top 10 at the most recent national team trials included all six returning Tokyo Olympians: Inui Yukiko (duet, team), Yoshida Megumu (duet, team), Yasunaga Mashiro (team), Kyogoku Okina (team), Kijima Moeka (team) and Yanagisawa Akane (team).
Moreover, 14-year-old Higa Moe made a strong impression by placing seventh overall. While the top 12 is still pending approval from the federation, she is certainly bound to become the youngest swimmer ever to be part of the Japanese senior national team.
Amongst the men, Sato Yotaro will likely be the new junior and senior representative. In 2019, he won bronze in mixed duet at the Youth World Championships. Last season, he appeared in the virtual World Series hosted by Canada. He ranked third in mixed duet and fourth in men's solo.
In this latest selection, the 16-year-old remarkably finished ahead of Iwasaki Jimma by two points. Iwasaki, now 18, represented Japan in mixed duet at the 2018 FINA Junior World Championships and earned two bronze. He had also won the men solo event in the same virtual World Series as Sato, finishing over four points ahead.
Imura Masayo, one of the most well-known sports coaches in Japan, will nonetheless remain at the pool a little longer. She is currently helping Inui Yukiko with her solos for the 2022 season.
Imura has been at every single Olympic Games. She first served as a head coach for Japan from 1984 to 2004. She guided the team through six Olympics, notably to second-place finishes in duet and team in 2000 and 2004.
Two years later, she became China's head coach and worked with the squad for the 2008 and 2012 Games. Under her leadership, the Chinese team won its first-ever Olympic medal in Beijing, and proceeded to earn two more in London. In 2014, the Japanese federation called her back. She was again the head coach in her home country until last August.
Nakajima certainly has big shoes to fill, with high expectations and a standard of excellence to maintain. Japan is the only nation to have competed at every Olympic Games in every single event. It has also never ranked lower than fifth.
Two major international events await the squad in 2022: the FINA World Championships at home in Fukuoka, and the Asian Games in Hangzhou, China.
ARTICLE BY CHRISTINA MARMET
Cover photo: Giorgio Scala / Deepbluemedia
If you've enjoyed our coverage, please consider donating to Inside Synchro! Any amount helps us run the site and travel costs to cover meets during the season.