Homma Miwako has worn many hats in artistic swimming, seemingly at all possible levels: Olympic medalist, coach, judge, referee, evaluator, researcher and author, member of the FINA technical committee, chairman of the artistic swimming committee at the Japanese Swimming Federation, and national team director.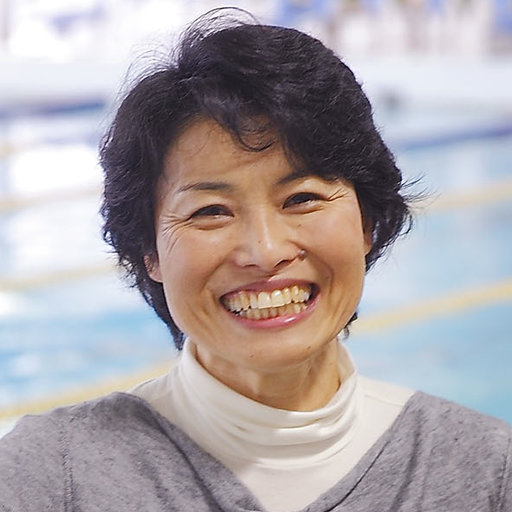 As an athlete, Homma, née Motoyoshi, became Japan's first Olympic medalist in synchronized swimming, winning two bronze medals in solo and duet at the 1984 Games. After retiring from elite, she joined the national team coaching staff from 1986 to 1991. She has also been a judge since 1994, an evaluator since 2000, and on FINA's Technical Committee since 2000 as well. She has contributed to and edited many sections of the FINA Handbook and Manual, and mostly focuses on establishing the degree of difficulty of elements and figures.
Invariably fascinated by the mechanics and hydrodynamics of the sport, she also pursued an academic career and focused her research on the techniques used in artistic swimming. She has published and co-authored several articles, detailing her analysis of the eggbeater technique, fluid forces during support scull, or the general biomechanics behind the sport. Homma is now a professor at the Faculty of Health and Sport Sciences at the University of Tsukuba, and contributes daily to the continuation of the scientific research on the sport.
In addition, she is on the Board of Directors for the Japan Swimming Federation and has been chairperson of its Artistic Swimming Technical Committee for over 10 years. Driven by her passion and endless curiosity for the sport and everything it entails, she now looks forward to helping build a strong and visionary national team program ahead of the 2024 Olympic Games, all while promoting the growth of the sport on the Asian continent. All in all, Homma's resume and contributions to the sport are only matched by very few individuals. 
Inside Synchro: When you started synchronized swimming, it wasn't on the Olympic programme yet. What were your aspirations then?
Homma Miwako:  When I started synchronized swimming, it was a very minor sport. No one knew about it. I went to a swimming school to learn how to swim, and it had a synchro course. My older sister was very interested in synchro, so she started. Since I wanted to do everything my sister did, I just followed her. I was 12 years old, so I didn't start very young.
At that time, I had no goal. I just wanted to have fun and enjoy the sport. I wasn't a competitive athlete either. At 16 or 17, my friends were selected for the national team, but not me. It took a long, long time for me to become a top swimmer. Once I started university, I realized I liked this sport and wanted more out of it. I completely changed my mindset, and worked very hard to make it.
IS: Synchronized swimming was first included at the Olympics in 1984. How were you selected for these Games?
HM: My first time on the national team was in 1979 for the World Cup here in Tokyo. I was at the bottom of the national team and only swam the team routines. We won silver there, but my really big debut was in 1982. I won the bronze medal in solo and team at the World Championships that year in Ecuador.
Back then, we didn't actually have any information about the Olympics. Actually, I had originally retired that summer after these Championships. I wanted to do a masters degree. But then we learned that synchronized swimming would be in the Olympics. Of course, I reconsidered and came back to the pool to try to go (laughs)!
IS: So you really only had a year and a half to train for the Olympics?
HM: Yes. We really had no information before 1982. It was a big surprise when we learned synchro would be in the Olympics in Los Angeles. At first, the duet event was supposed to be the only one at these Games. So in Japan, my partner and I were selected as the Olympic duet in April 1984. At the end of May, we got very surprising information that the Los Angeles Olympics had now also added the solo event. Our trials were finished and obviously Japan had not selected anybody for the solo event obviously. So, my coach told me I would also do solo in Los Angeles. I was the national champion the year before, but I had not trained for that event since then because I was focusing on the duet of course. 
I think I only practiced my solo for one month before the Olympics. We didn't have time to create anything new so I used my old music and routine. I don't know if many people know or remember this. It was very confusing and memorable for me, of course. I was so focused on the duet. But in the end, the result was okay; I got two bronze medals!
IS: You retired for good after these Olympic Games. Did you start coaching right away, or did you first finish university?
HM: The year after I retired, I actually went to Calgary in Canada to study the synchronized swimming coaching methodology with Debbie Muir. She was Carolyn Waldo's coach [two-time Olympic champion in 1988, solo silver medalist in 1984], and was really my mentor. 
I didn't study the year of the Olympics, so I still had two years left in my masters. After Canada, I went back to university and finished. Then I started as an assistant coach in the national team. I went to the qualification tournament for the 1988 Seoul Olympics. I was also the assistant coach for the 1991 World Championships in Perth, alongside Imura Masayo and Kaneko Masako. They both were my coaches, and my mentors too. It was very interesting, and I enjoyed being a coach. I am very curious, so I always think about and try to understand how the swimmers can improve their sculling technique or how they get the height… 
IS: Is that how you started your research on the biomechanics and hydrodynamic forces of artistic swimming?
HM: When I was a swimmer, I always had questions. Why can I get height above the water? Why can we do this movement above the water? Sure, we know that comes from sculling or the eggbeater kick. If we want to get a beautiful or very powerful movement above the water, we have to generate propulsive force in the water. But how and why does it work? No one ever answered me. It was only, "Just scull harder" or "kick harder" (laughs)! No one taught me the scientific principles I wanted. 
I needed some evidence. My masters was more about injuries in the sport, but afterwards I started to research more on all the biomechanics like sculling and eggbeater kick. I finally started to understand how we get that propulsive force, or what was producing that. It's very interesting, significant, and was almost shocking at first.  I found out why we have to scull in such a manner, and it was actually different from what was written down in the manual at the time. 
For example, it said that support sculling is 90° at the elbow and that we had to do a figure of 8 while sculling. In reality, the swimmers didn't scull like this at all; it was more of a 110° angle. But actually, the more important thing is to keep the horizontal movement, and it doesn't matter if it's 90° or 100° or 110°. Really, it also all depends on the swimmers' body, propulsion, and the length of their arms. 
Now I am a university professor in the faculty of Health and Sports Science. So, synchro is not my job but it is very much related to it! It's very meaningful to me that I can incorporate synchro into my research. 
A small sample of Homma's research related to artistic swimming:
IS: You have also been an artistic swimming official for over two decades. Was that always in the plans?
HM: I really wanted to be a coach, but I had to stop because I had two babies. Then, I became a judge, but I didn't like it at first (laughs). I didn't trust judges when I was a swimmer. Sometimes I felt my efforts weren't getting the logical result. But after being a judge for a year or two, I understood what judging really was like, the responsibility that came with it, what judges have to know, how much studying must be done, etc. I totally changed my mind. Judges are very important. It's very hard work, very challenging.
Now, I really like to judge. Since I am very curious, I love being on the artistic impression panel. It forces me to study more, more, more, and to accept any type of music or representation. I can have so much stimulation from that. 
IS: Most recently, you were the referee at the Tokyo Olympics. What does this role entail?
HM: There is a lot of responsibility and overseeing. One of them is to make the judges panel. It's like a puzzle, but a very hard one. It also involves communicating with the music manager and other officials. I want to start on time, and without music problems (laughs)! I want to manage everything smoothly and make sure the competition runs smoothly, that all scores are accurate and match.
That was my second time being a referee at the Olympics. The first was in London 2012, and that was very hard. There was big trouble with the judges scoring, and I had to make a big decision. [editor's note: During the free team event, one judge gave Spain a 9.7 but wrote a 8.7 on the paper.]  At the Tokyo Olympics, the committee told me two days before that I was the referee! But it wasn't so hard. I had many experiences as a referee or assistant referee before, and this was in Tokyo so I could speak Japanese and communicate with the local staff.
IS: You have also been part of the FINA Technical Committee (TASC, formerly TSSC) for the last 21 years. What are your current responsibilities?
HM: It's been a very long time (laughs)… I became part of the TSSC after the Sydney Olympics. I was team leader for the Japan national team, and I just replaced the previous person from Japan who was in the TSSC. She wanted to retire, so I got promoted to that position. I didn't know what it was, or what I should do at first!
Now, I am an instructor in the judges' schools, a database manager for the Asian continent, and I help organize the rulebook and the manual. I am also in charge of the Degree of Difficulty, so I calculate all the coefficients for figures and elements. A formula already exists so I only have to adapt to it. But now, we have to think about everything with the new code. We will have to make a whole new manual and educate everybody, particularly the smaller countries.
IS: You are truly everywhere, as you're also part of the Asia Swimming Federation, correct (AASF)? 
HM: I want to promote the sport in Asia very much. Since 2000, I have been the chairman of the artistic swimming technical committee at the Asia Swimming Federation. That is much more difficult than in FINA because most Asian countries are still developing in artistic swimming. Japan and China are okay, but the other ones need a lot of help. 
When I became chairperson, we only had six or seven countries. For over 10 years, I tried, I talked to each federation's key person, executive members, and begged them to send swimmers to competitions to promote the sport in their countries. I also helped educate coaches and judges. Now we have around 15 countries. I am so happy to have more countries than before, but still most countries need some help. They have less information, less funding, less chances to compete. They need a budget to send swimmers to competitions or invite coaches. 
In the future, I want to promote artistic swimming more everywhere, not just Asia.  I want to help as much as possible. That's my goal.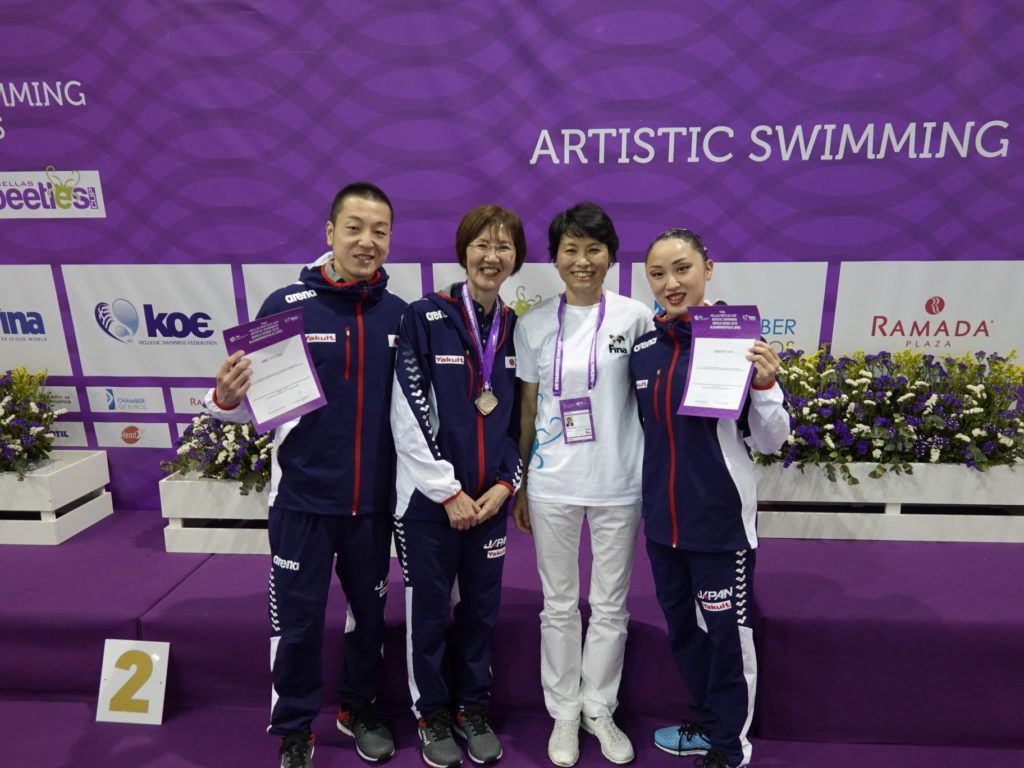 IS: Last but not least, you're also very involved in the Japanese federation. What is your current role for the national team?
HM: Yes, I am also the chairperson of Japan's artistic swimming committee, and the national team director. That is the hardest job, with much pressure and a lot of stress (laughs). We lost the medal in Tokyo, so I am creating a new strategic plan ahead of the Paris Olympics. Many of our experienced Olympians are still here, which is great. We will try to make a new team routine for this year. 
Our skills, accuracy and synchronization are still our biggest strengths, but maybe our weakness is creativity and originality. I don't mind Japanese music, but perhaps we can try different styles. This season will be a trial for us. I want to push the team to try anything, whatever they want, and to not keep our historical style if that's what they decide. We don't know what the results will be, but we need to do this.
To qualify for the Olympics will not be so easy. France gets the host country position. So, we have to compete against Russia, Ukraine, and all the other very strong European countries in the qualification process. We know that, but we are prepared for it. It will be difficult and challenging, but we will never give up. 
Now, we also have a new problem in Japan that I have to consider for the future. Everybody knows about artistic swimming, but the number of people who actually want to do it is decreasing. Other sports are more popular, like figure skating. People think that artistic swimming practices are very long, hard and demanding. They believe they have to spend too much time and too much energy, and that they cannot do anything else. Maybe younger generations don't want to go through all of that. We do have about 20 boys or so, and we are really trying to push and promote men in artistic swimming.
ARTICLE BY CHRISTINA MARMET
Cover photo courtesy of Homma Miwako.
If you've enjoyed our coverage, please consider donating to Inside Synchro! Any amount helps us run the site and travel costs to cover meets during the season.