A water lover from a very young age, Hur Yoonseo started swimming when she was just five years old. At seven, she chanced upon synchronized swimming as local clubs in the Republic of Korea were having try-outs, and immediately fell in love with it.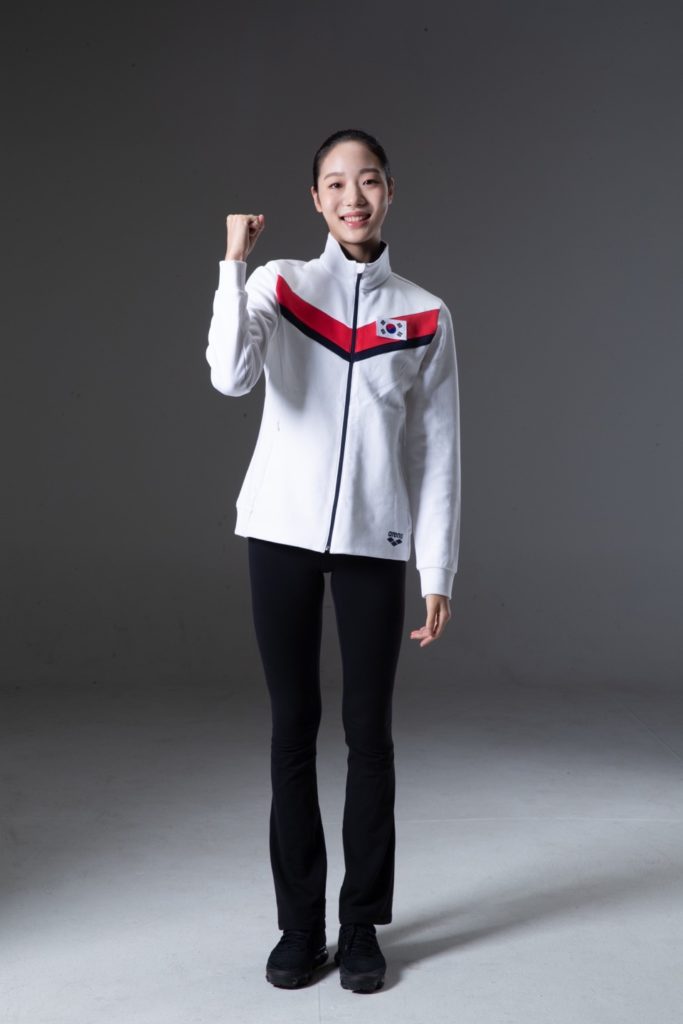 At 11, she was given the opportunity to train in the U.S. Her talent was quickly spotted there after ranking second in solo and figures at the 2017 Junior Olympic Championships in the 12 and Under category. In 2019, she represented the Republic of Korea internationally for the first time at the FINA World Youth Championships. She made a splash by placing fifth overall in solo and first from Asia.
After swimming in the team routines during the 2021 season, Hur is now part of the senior duet alongside Lee Riyoung and Baek Seoyeon that will compete in the upcoming 2022 FINA World Championships. Earlier in January, they competed in the first leg of the FINA Artistic Swimming World Series that was held virtually. They ranked second in the free event with a massive score of 84.2000, just 0.7 points shy from the American pair and improving by six points from the Olympic qualifiers of 2021. The nation hadn't scored that high since 2012.
Unlike most professional athletes who are able to take time off from school, the 17-year-old has to juggle daily training at the Jincheon National Training Center with studying for her second to last year of high school. Yet, it is her genuine passion and love for the sport that keeps her going, even if the going gets tough.
"I can't imagine myself not doing synchro. I just want to cry if I even think about it"
Inside Synchro: Take us to the start of your journey in synchro. How did it all begin?
Hur Yoonseo: I have liked the water very much since I was young. I learned ballet when I was two years old and started swimming when I was five. When I was seven, I wanted to start a new sport and that's when I tried out synchronized swimming at YC Synchro Club in Korea. On the first day of training, I swam in the diving pool that was five meters deep. I was so curious as to what I would find if I swam to the bottom, and this sparked my interest in the sport.
IS: When you were in the 12-and-Under age group, you trained with the Pirouettes of Texas (PTX) in the U.S. What was your experience like training and competing in a foreign country?
HY: I first went there in 2016 when I was 11 years old. At that time in Korea, my coach was Kwon Mira. She recommended that I participate in competitions in the U.S. That's when I met Shim Soohee, who is the head coach of PTX. As clubs in Korea did not have any team or free combination events, I was so excited for this new opportunity. That year, I placed sixth in figures out of 286 competitors and was very satisfied with my result. The following year, I competed in the Junior Olympics, where I placed second in both solo and figures! It was such experiences overseas that helped me gain the confidence needed to perform on an international stage.
IS: You made your big international debut representing Korea in 2019 at the FINA World Youth Championships. How was that experience?
HY: It was my proudest moment to date. Going into the competition, I was nervous because all the best swimmers of my age from all over the world were gathered here. On the day of music practice, I became even more nervous because everyone practiced so well. I was genuinely in shock when I ranked fifth overall and first in Asia. The goal set by my coach and myself was initially the podium, but we ultimately changed it to make it to the finals. When I returned to Korea, I was very happy to be congratulated by so many people. I will never forget that moment.
IS: What is the synchro culture like in Korea? Is it a popular sport?
HY: No. Artistic swimming is a rare sport in Korea. There are only about seven clubs in the country. Besides, many athletes have left the sport because of the pandemic. However, in more recent times, we have gained better support from the general public and even the sports' association.
Our national competition season begins in March and ends in September. There about six competitions each season. Then, the national team trial is usually held in October or November. Once the national team is chosen, the athletes have to stay in the National Training Centre during the national team training season. We usually only go home during the weekends. However, because of COVID, we initially had to stay at the centre full time.
IS: How else did COVID impact you and your training?
HY: In 2020 when COVID first hit, I had just been selected to be part of the senior national team for the first time, and I was the youngest athlete. It was very sad that the year my dream finally came true, the pools were closed and most of the competitions cancelled. I was disappointed that I did not have the opportunity to compete at a time I felt I could show my potential. Now that meets are being held again, I look forward to competing and improving myself for the future. When times are tough, I reminisce on the memories of the 2019 World Youth Championships and dream about upcoming competitions.
IS: Currently there are three of you in the line-up for the duet events. Has the main pair been chosen?
HY: As of now and based on the national team trial ranking, both duet free and technical routines will be swum by Lee Riyoung and me. Baek Seoyeon is the reserve. As both athletes are older than me, I learn a lot from their guidance and am grateful for their help.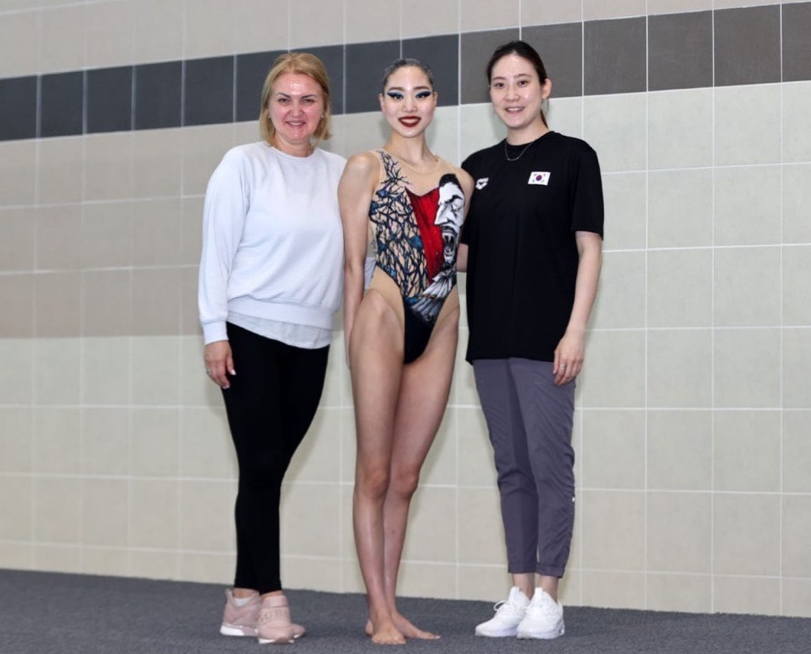 IS: You have all improved tremendously since your last competition in 2021. How is the training and choreography process like for Team Korea?
HY: Since January this year, we have been fortunate to be training with a new coach from Ukraine, Oksana Pismennaya. Coach Oksana is in charge of both the choreography and training. We started on the new free duet in January, and the technical duet a few weeks after. I really love both. I want our choreography and music to gel together like a masterpiece. In each performance, I want to convey the emotions and theme of the routines, and express the strength, power, and beauty of the sport.
For me, the styles of Europe and Asia are very different when it comes to synchro, with each having its own advantages. In my opinion, European-style focuses more on flexibility and actions that flow, while Asian-style focuses more on power and strength. I am grateful that coach Oksana joined Team Korea and am very happy with our excellent teamwork. Coach Kim Hyomi works with us on basic skills, elements and physical training.
As for my solo, I usually choose the music on my own. I actually have hundreds of playlists just for this! I take inspiration from musicals and newly released music. Then, I imagine the routine I can build for myself, with the help of my coaches of course.
IS: Which other coaches and athletes have you worked with?
HY: I am lucky to have worked with many coaches, among them many from the Korean national team. My greatest and long-time coach Kim Youngchae coached Kwon Mira and Choi Yujin, who are now coaches themselves. Park Hyunsun and Park Hyunha are currently my club coaches in Queens H Synchro Club. They were finalists at the 2012 London Olympics in the duet.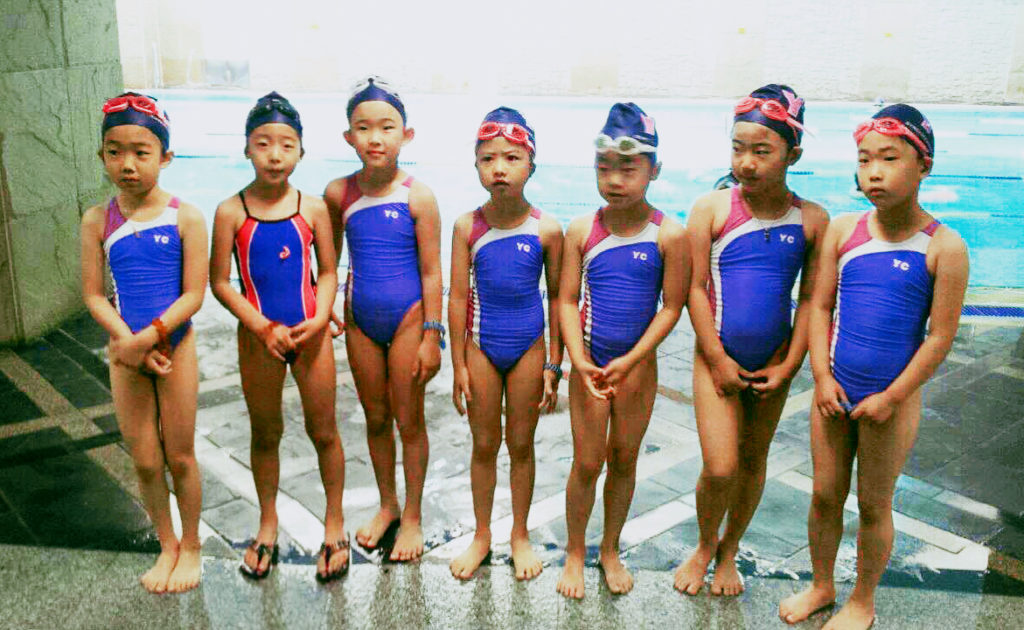 I have worked with so many senior and junior swimmers. But if I had to choose one, it would be Chang Yujin, who is currently a member of the U.S. national team. We swam in the same club for several years since the age of nine. Yujin is my favourite athlete, and I treat her much like an older sister. We were the youngest swimmers on the team to participate in competitions together in YC Synchro. Now, we are national team athletes of the Republic of Korea and the United States. It makes us happy, and we laugh whenever we meet in international competitions.
IS: Who are your idols, or someone you look up to?
HY: There are many coaches that have trained me in Korea. I greatly respect Kim Youngchae, who was previously a runner and is a renowned synchro coach who trained me for more than 10 years.
I also look up to Christine Lagarde who was a member of the French national team and who later became the head of the International Monetary Fund. It is my dream to follow in her footsteps, to work hard as an athlete and afterwards play a role in which I can contribute back to society.
IS: What are some interesting or fun facts about yourself that you would like to share?
HY: When I speak in Korean, my friends say that I usually speak and move very slowly. However, it is very funny because I am actually quite the opposite in the water. I am one of the fastest swimmers and people find that interesting. In my free time, I also like to draw and do calligraphy. I think if I hadn't become an athlete, I would have become an artist.
IS: I understand that you have a packed schedule. How are you coping?
HY: I usually find the time after dinner to study at the National Training Centre on my own. I know that the journey is difficult. It is tough studying by myself as I don't have time to go to school for classes. I only have to be physically present during exams. However, with the assistance of e-school (an online schooling system in Korea) and with the help of teachers and friends, I am able to better manage my academics and sport.  I do all of this because I can't imagine myself not doing synchro. I just want to cry if I even think about it.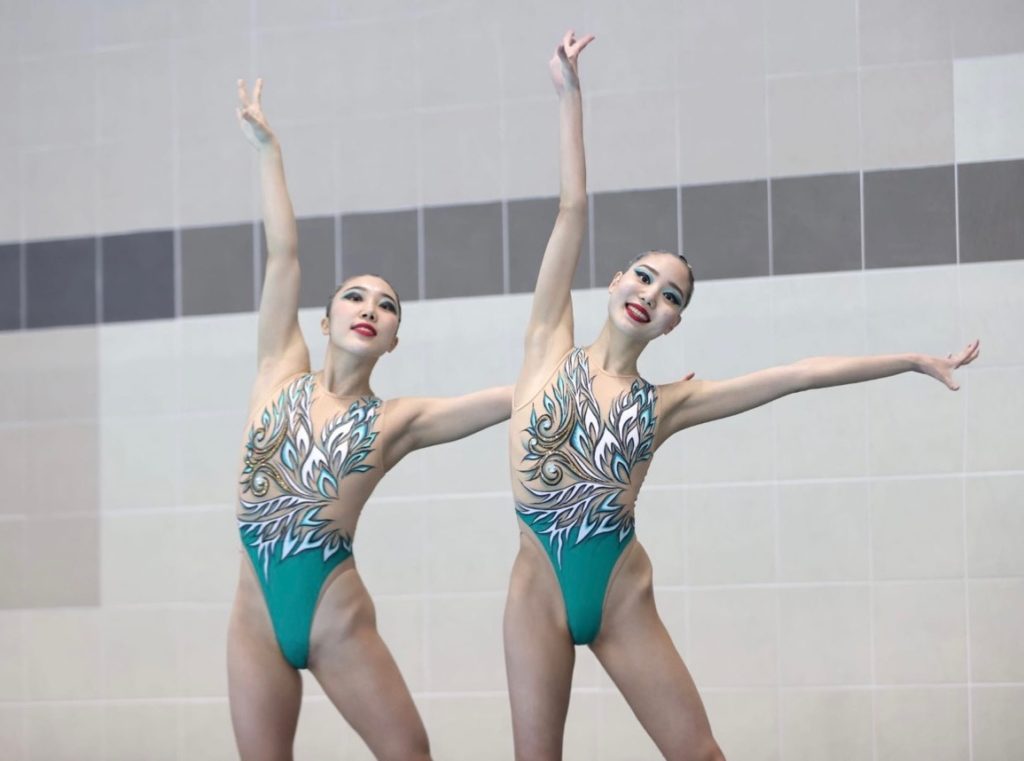 IS: What are your short- and long-term goals in the sport?
HY: My current desires are just to experience various international competitions as I was deprived of that during the pandemic. To me, each competition is an opportunity for athletes to improve and also a platform to put my skills to the test. My immediate goals for the World Championships are to improve the current results, and hopefully go past the 85 points mark. In the near future, I would also like to not only qualify for the Olympics as a duet, but also make it to the finals.
IS: How about career-wise? What do you think the future holds for you?
HY: I will work as hard as possible. Hopefully, I will be able to work in international institutions or organizations that are related to sports such as FINA and the IOC. My desire is to develop and share my experience in this field with more people so that I can contribute back to society. I want to live my whole life with pride as an artistic swimming athlete.
ARTICLE BY RACHEL THEAN
All photos courtesy of Hur Yoonseo.
If you've enjoyed our coverage, please consider donating to Inside Synchro! Any amount helps us run the site and travel costs to cover meets during the season.