The FINA World Championships are finally back after three years and (too) many postponements. Budapest, Hungary, is ready to host the biggest aquatics event of the season. The competition starts next week, with the artistic swimming events running from June 17 – 25. 
These championships weren't even originally on the calendar. Indeed, the 2021 edition, which was supposed to be in Fukuoka, Japan, was first postponed to 2022 because of the Olympics. Then with the Covid-19 Omicron outbreak in the country, it was again pushed back to 2023. Fortunately, FINA quickly announced that Budapest had been awarded an extraordinary championship this year.
However, these will be far from a "normal" World Championships. FINA has banned all Russian and Belarusian athletes and officials from participating in the competition following Russia's invasion and war on Ukraine. 
The majority of Ukrainian athletes left their country when they could, and are scattered all across Europe. The artistic swimming team has been living and training in Italy since March. It will finally make its international season debuts in Budapest.
Moreover, the Covid-19 pandemic continues to affect many countries and events. While this meet will be open to the public, all participants are still required to show negative tests before the start of the competition.
LAST TIME OUT
The last World Championships were held in Gwangju, South Korea, in 2019.
As usual, the Russian artistic swimmers came in as the favorites and delivered. Svetlana Kolesnichenko and Svetlana Romashina won the technical and free solo events, respectively. Spain's Ona Carbonell earned silver in both, and Japan's Inui Yukiko won two bronze. The then-rookie Marta Fiedina came in fourth place for Ukraine, finishing quite close to the podium and its veterans.
Of the medalists, only Inui Yukiko will be in Budapest. Obviously, the Russians won't defend their titles nor win any World titles for the first time in over two decades. On her side, Carbonell is pregnant with her second child.
THIS YEAR'S FIELD
On paper, the obvious contenders for the solo titles are Inui and Fiedina, who are the sole returning athletes from the top five in Gwangju. 
Three-time Olympian Inui intensely focused on the solo events this season, although she will also swim in the free combination routine for Japan. She has not competed internationally in the event since 2019. Nonetheless, she performed at the last Japanese nationals and showed that she is improving and still very much at the top of her game.
There, she showcased her new free solo where she depicts a snake inspired by Japanese mythology. Her dive in the water is particularly interesting, so don't miss it. She scored a massive 94.1667, a new career-best score and one point higher than in Gwangju. In the technical event, she kept the same "Phoenix" theme, and received 92.7089.
Fiedina's last outing was at the 2021 European Championships, also held in Budapest. She made history by becoming Ukraine's first European Champion in solo with a 91.8445 in the technical event. She also earned silver in the free event with a score of 93.7000. 
Obviously, her training was deeply affected earlier this year as she fled Ukraine alongside her teammates. The Ukrainians competed last weekend at the Italian Summer Nationals, but she only took part in the free team and free combination routines. It's hard to guess where she's at in solo, but if she looks as good as the team or even the duet did, there is nothing to worry about.
The scoring potential of these two outstanding athletes is extremely close, so it will be an exciting fight to see who can make history for their respective countries.
 Obviously, there are plenty more veterans certainly in the fight for the podium, although some of them have not competed yet this season, if not in a few years. Evangelia Platanioti from Greece and Linda Cerruti from Italy are surely two stellar athletes to keep an eye on.
Platanioti took a short break after the Tokyo Olympics and hasn't competed yet this season. However, she is certainly hungry for more after a historical season. Indeed, Budapest was good to her as she accomplished one of her biggest career goals there last year: medal in solo at the European Championships.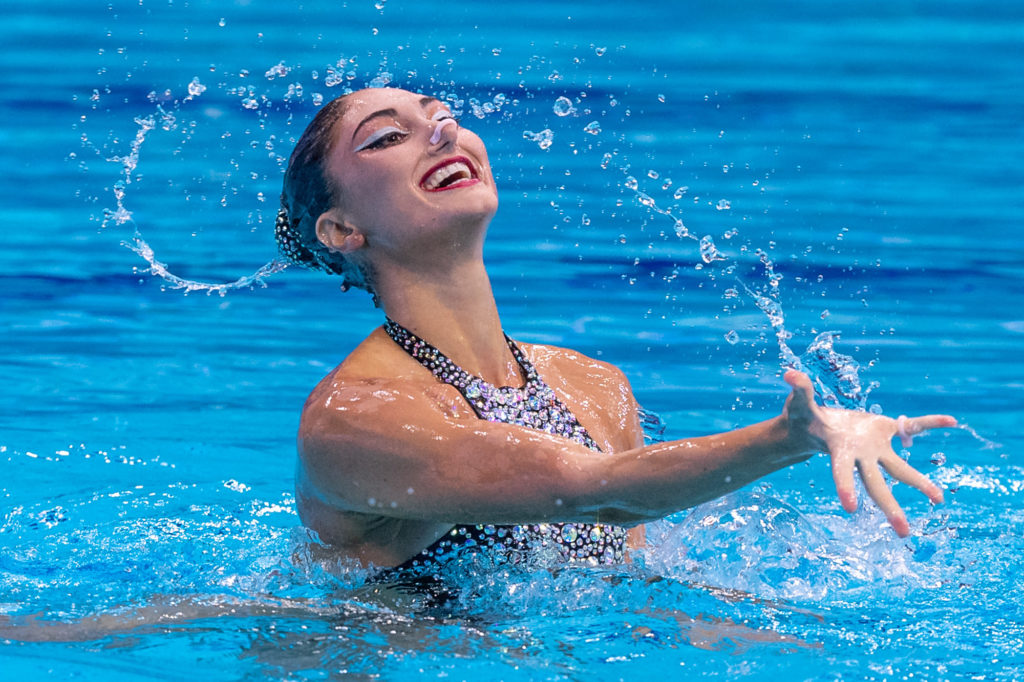 She won bronze in free with a new choreography to Queen's "The Show Must Go On" with 90.8000. She will perform this routine again this year. In the technical event, she scored 89.2897 for silver. These were the first medals in the event for the country since 2006.  She will unveil a new technical solo choreography at these World Championships. 
On the other hand, Cerruti has not competed in solo since 2019. The entire Italian senior squad dealt with a Covid-19 outbreak right before the 2021 European Championships and had to withdraw from the meet. 
Italy will compete in all 10 events in these world championships. Back January, Russian Olympic champions Svetlana Romashina, Aleksandra Patskevich and Vlada Chigireva worked with the team on new choreographies, like the free combination and free duet as mentioned on Instagram. It's quite likely they also helped out with more routines.
In Budapest, Cerruti will showcase two new choreographies. Although it's been three years, her last scores on the international stage were 88.0378 and 90.4667. Both are now clearly within Platanioti's reach.
All in all, these two swimmers are tremendously experienced, with multiple Olympic appearances each and decades competing on the international stage. These will be both their sixth World Championships. They know how to handle the pressure, which will undoubtedly come into play if a world medal is within reach.
One underdog to absolutely watch out for is Vasiliki Alexandri from Austria, particularly in the free event. She unveiled her new and captivating "Nature"-themed routine at the World Series Super Final a few weeks ago. It was well-received as she scored a career-high of 89.4333. Choreographed with Stephan Miermont, she aimed to do something different and more artistic to surpass herself. The technical content and intricacy of the routine were also particularly jaw-dropping and impressive.
Alexandri also should not be counted out in the technical event, where scores can quickly drop after a missed element. Overall, she has showcased some of the most consistent and reliable elements of this field over the years.
Iris Tio (Spain), Eve Planeix (France), Anita Alvarez (USA) and Audrey Lamothe (Canada) have also competed in the World Series circuit this year and should comfortably make finals in Budapest. Tio and Planeix will however only swim in the free event. Oriane Jaillardon will perform in the technical solo for France.
With seemingly limitless potential, Tio is poised to become one of the best Spanish soloists. The 20-year-old swims to "You've Got the Love" by Florence + the Machine, and her music includes bits and pieces of violin played by her own mother. She is not one to miss as her presence and charisma in the water are truly striking. 
Planeix competed in solo in person at the Super Final for the first time in three years. She picked the French song "N'insiste pas" from Camille Lelouche, which tackles the heavy topic of violence against women. Jaillardon, an up-and-coming junior athlete, already performed at the French Open in April and scored 83.5476 to win gold.
Alvarez has been fairly limited so far after injuring her foot earlier in the year. She did however unveil her two new solos at the Super Final. Entered in the technical event for the first time since 2017, she used the song  "Suspirium" by Thom Yorke. For this routine, she was inspired for this choreography by a dance from Marcelino Sambé titled "I Can't Breathe," done shortly following the death of George Floyd in 2020. 
In free solo, the American uses the song "Welcome to the Jungle" by Tash Sultana, an Australian singer. With coach Andrea Fuentes, the two aimed to use a different kind of music and style so Alvarez would get out of her comfort zone.
Audrey Lamothe, still only 17, has represented Canada in the solo event through three World Series legs this year. Her technical routine is set to "Cry me a River" by Michael Bublé. It may sound familiar as two-time Canadian Olympian Jacqueline Simoneau used it at the last World Championships. In free, she swims to the famous piece "Czardas" by Vittorio Monti, based on a traditional Hungarian folk dance. The local crowd will surely appreciate hearing this music throughout the pool.
Great Britain's Kate Shortman should be right in this mix as well, although she will only compete in the technical solo. A Tokyo Olympian in duet, she last swam in solo at the 2021 European Championships, albeit in the free event. At the Swim England Nationals a few weeks ago, she did show her new technical routine, an event she hadn't competed in since 2019.
This year, there will also be plenty of room for newcomers and up-and-coming younger soloists to surprise and position themselves well in the world's hierarchy. Sure, Russia and Belarus leave two massive holes, but many other swimmers have also retired over the years or are taking a break.
Polina Prikazchikova from Israel has shown further improvement, confidence and steadiness at her two outings in the World Series circuit this year. She unveiled a new free solo at the French Open, and has kept her technical solo routine from last season that she actually only performed once at the Super Final. Overall, Prikazchikova is a strong contender to qualify for finals at her first World Championships.
Other soloists who have competed this season and are certainly on the bubble for finals include Marlene Bojer from Germany — these will be her fifth World Championships —, Ilona Fahrni from Switzerland, Jasmine Verbena from San Marino, or Karina Magrupova from Kazakhstan. South Korea's Lee Riyoung and Hur Yoonseo both swam in the solo events as well in the virtual World Series, and should not be counted out.
Ana Culic, 18, will represent Malta in this event. 15-year-old Ece Ungor from Turkey will swim in free solo, and Sude Dicle will compete in technical solo.
Australia, Bulgaria, the Czech Republic, Finland, Hungary, Liechtenstein, Puerto Rico, Serbia, Slovakia, and Sweden have also participated in the solo events in the World Series this year, and hopefully most may compete again in Budapest.  
No entry list has been released at the time of this writing, so we will undoubtedly have a few more participants and surprises. China is however unlikely to participate in these two solo events. The nation hasn't had a soloist since 2015, and coaches don't necessarily focus heavily on them domestically, instead emphasizing the Olympic and team events.
ARTICLE BY CHRISTINA MARMET
Cover photo: Deepbluemedia
If you've enjoyed our coverage, please consider donating to Inside Synchro! Any amount helps us run the site and travel costs to cover meets during the season.