The artistic swimming events at the 2022 FINA World Championships wrapped up on Saturday, June 25 with the highlight final. This was only the second time the event appeared on the competition's programme after first being introduced in 2019. 
While there were nearly twice as many entries, the podium from three years ago repeated itself. Ukraine won its second World title of the competition, followed by Italy in silver and Spain in bronze.
The Ukrainians scored 95.0333 and showcased their choreography that honors and celebrates Karkhiv, their favorite city. The team used to live and train there before the war. Mostly everything they owed stayed behind, including their competition swimsuits, which originally were at their training facility Sports Palace "Lokomotyv." 
For this highlight routine, they wore new suits, where a Ukrainian flag is clearly visible amongst the flames. These were all made by a Marina Kholod, a former swimmer of Svetlana Saidova, technical director and coach of the Ukrainian team. Kholod lives in Australia and is the creative director of swimsuit brand Meadore Design. She quickly designed and created these for the squad, and brought the suits with her to Budapest.
Overall and despite the circumstances, these World Championships were successful for the Ukrainians, who leave Budapest with two gold and five silver medals. Ukraine and China (which did not participate in the highlight) are the only two nations to have medaled in every event they entered.
Finally, it was a particularly tremendous effort from 14-year-old Daria Moshynska and 17-year-old Anastasiia Shmonina. Both will now compete at the European Junior Championships in Alicante, Spain, in a few days.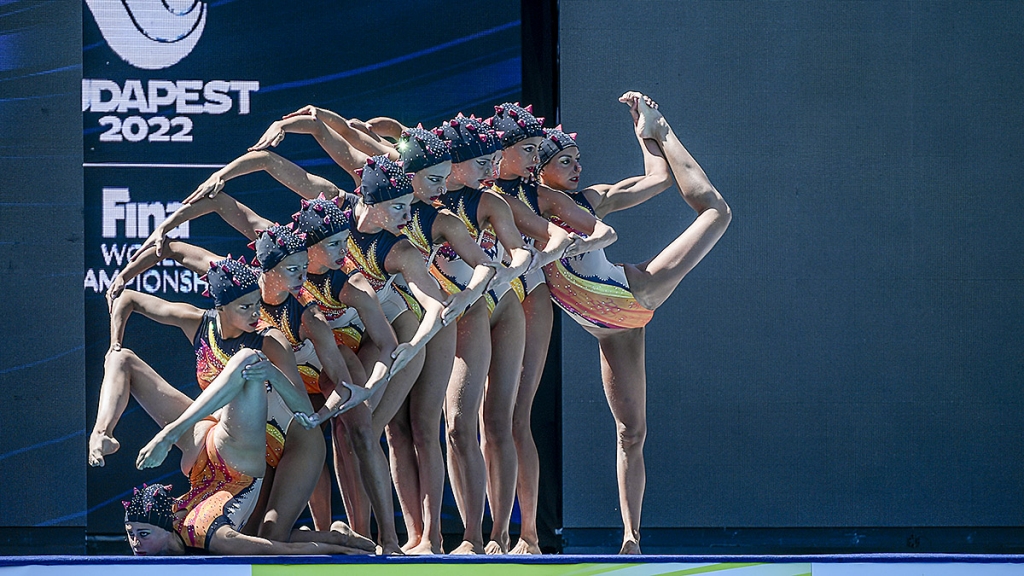 Italy defended its silver medal from 2019 with the same "Dragons"-themed routine as back then. It scored 92.2667, a new high for the team in this event ,which it only ever competed twice internationally.
The Italians also scored the most points throughout the week to receive the overall winner award. With two golds, one silver and two bronze medals, these World Championships were also remarkable for the Italians. They are now fully focusing on making more history at home at the European Championships.
"We are so happy," team captain Gemma Galli told the federation. "We had chills from start to finish. Our heart and identity came out. We wanted to win this silver medal after the disappointments with the team. Ukraine is still in another league, but we won Spain today. We will do everything to improve with the team as well and take revenge, maybe in Rome already."
Spain finished third and won its first and only medal of the competition here. Its score of 91.9333 is a new best this event. The team reused the same song as in 2019, "Thunderstruck" by AC/DC, but presented a new choreography.
This Spanish team is overall tremendously experienced and talented, as all but one Tokyo Olympian has returned. A few weeks before leaving for Budapest, Sara Saldana unfortunately suffered a cervical injury a few weeks before leaving for Budapest. She was replaced by Emma Garcia, who haas only been focusing on the mixed duet for a few years now. Nonetheless, she was more than thrilled to step up to the challenge.
"It was hard because we really didn't have much training time before the competition," she said. "It was strange for me to swim with that many people again! But they're the best team and have helped me a lot. We all enjoyed the competition and our performance. I really loved swimming again with all of them."
Moreover, it was quite a quick turnaround for her on that final day of competition. Indeed, she took part in the free mixed duet final less than an hour before having to change and swim in the highlight event. 
"That day was really hard, especially physically," she continued. "Mentally, I was ready, so I just wanted to enjoy it all and do my best in all the routines. I just flowed with the timing and did all I could to stay calm and do things as good as I knew how to. Of course, I am really happy with how the day went and with the swims."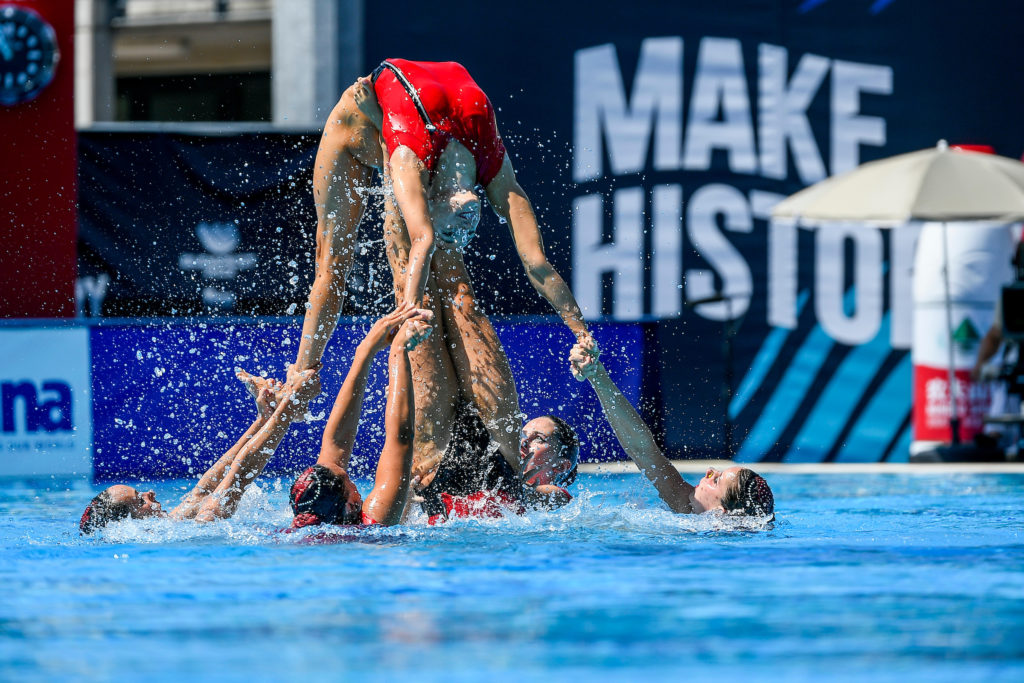 Just like in the free team event, Mexico was particularly outstanding once again with its fast-paced and precise choreography, and jaw-dropping acrobatics. In the final, the Mexicans had a fantastic swim to their "Aztec Warriors" routine and received a huge 89.3667, a score not seen for them since the 90s. This was also the very first time the nation performed in the highlight event internationally.
"Since we haven't competed for a long time, we didn't know what to expect regarding our scores," Regina Alferez said. "The only thing that was clear to us was that we had to present our best swim, to show that Mexico is still present. And so, it was! We are happy and excited."
After the rollercoaster of emotions following Anita Alvarez' accident, the U.S. finished the competition on a high note here. The Americans received a new team-best score of 87.8667 for their "Cave People" routine and moved up one spot from the preliminaries to finish in fifth place.
Greece ranked sixth with a score of 87.2333 for its "Unbreakable Spirit" choreography. It's already a big increase since the World Series Super Final, and the Greeks will certainly look to continue that trend next year.
"We strive every day to improve and we work hard with our new coaches with a view to climb up the international rankings," Danai Kariori said. "The new members have bonded easily with the old ones because we have the same goal and passion for the sport. In this competition, we had the chance to show our beautiful routines, and this was really important for us."
Besides, the Greeks have had to compete in Budapest without their new head coach Anastasia Goutseva, stuck in Athens because of bureaucracy. Barbara Lithadioti and Christina Thalassinidou managed it all incredibly well, but it was of course tough for all parties involved.
In her statement to the federation, Goutseva admitted it was heartbreaking for her to not be there, especially as she watched Platanioti from afar make history with a technical choreography they both poured their hearts into.
Canada showcased its new "Galaxy" choreography byDenise Sauvé, and finished seventh with a score of 85.2000. Kazakhstan landed in eighth place with an 83.7667, the nation's highest score in the event yet.
Brazil unveiled its "Carnival" highlight and earned 81.6667, also a new high for the nation in this event. This Brazilian squad is fairly renewed, although it did include five returning athletes from the 2019 World Championships. Gabriela Regly, one of the most experienced on the team, understands this first World experience is key for many of her teammates.
"We've been training together for six months and preparing new routines," she said. "We are here trying to do our best. Our objective was to make the final, so we are very happy to be among the 12 best teams in the world. And, we are listening to suggestions to improve for the South American Games at the end of the year so we get the medal there."
Switzerland competed in the highlight event for the first time on the international stage and scored 80.9000. The team swam to the theme of "Street Dance" to finish in 10th place. Hungary qualified to its second final of these World Championships. The host nation finished 11th with a score of 79.0667 for its routine set to Bonnie Tyler's "Holding Out for a Hero".
Finally, Slovakia rounded out the field of finalists, and finished 12th with 77.2667. The Slovaks had a blast swimming their Beyonce routine, and were absolutely thrilled to participate in this final.
"We felt absolutely amazing," they said. "Swimming this routine is really fun for us. The music is perfect, so we can dance, smile, and enjoy the swim. This was the first team final Slovakia has ever gotten into at the World Championships. It was an even bigger deal since we are all still juniors, and for many of us this was the very first World Championship. Now, we continue working hard and our next goal as a team is the World Junior Championship 2022 in Quebec."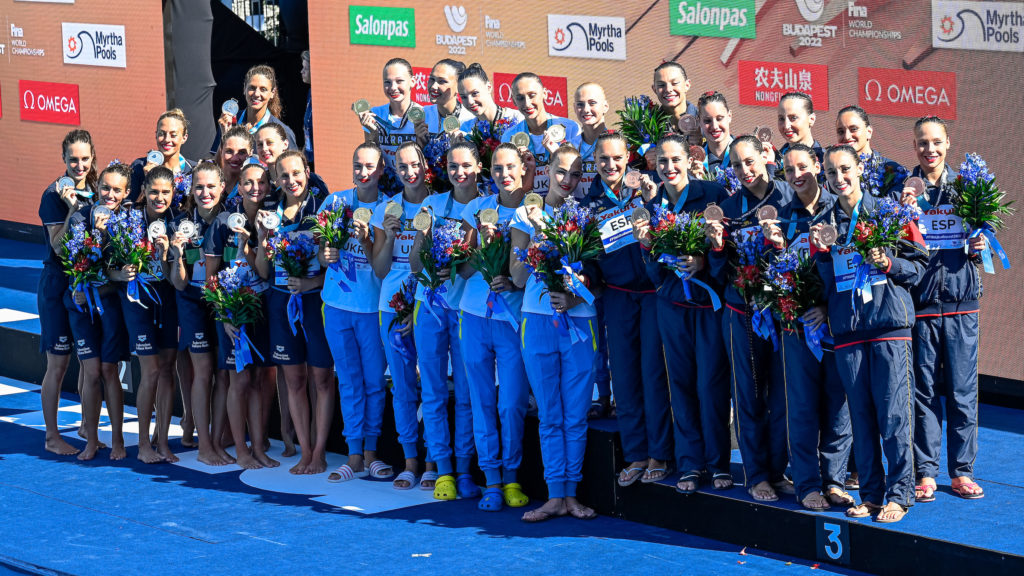 These World Championships marked the end of the season for a handful of nations in the senior category. However, many more still have some competitions to look forward to like the European Championships, the South American Games, or the Bolivarian Games starting in a few days. 
ARTICLE BY CHRISTINA MARMET
Cover photo: Giorgio Scala /  Deepbluemedia
If you've enjoyed our coverage, please consider donating to Inside Synchro! Any amount helps us run the site and travel costs to cover meets during the season.