14 nations took part in the mixed duets in these World Championships, the highest number to date. 13 pairs competed in each technical and free event. Mexico focused on the technical routine, and South Africa on the free.
Not only was it exciting to have such a big field, but the competition in itself was also quite thrilling and competitive. The overall skill level of each pair is increasing, and everybody is obviously getting stronger and better.
The Italians Giorgio Minisini and Lucrezia Ruggiero came in as the favorites, and nobody ultimately could come close to them. The young Japanese siblings Sato Tomoka and Yokaro were outstanding as well, winning two silver medals in their very first World Championships.. Finally, China's Shi Haoyu and Zhang Yiyao made history by earning two bronze, the country's first medals in the mixed duet.
TECHNICAL EVENT
Right from the preliminaries, the title was very clearly Italy's to lose as it led the rest of the field by nearly three points. Minisini and Ruggiero's new fast-paced and powerful technical routine was set to Verdi and choreographed by Anastasia Ermakova. It ultimately scored 89.2685 in the final. 
A multiple World and European medalist, this was Minisini's second World title, after a win in the same event in 2017. This was however Ruggiero's first title and medal on the major international stage.
"I still can't understand what happened," she said. "I feel so happy and proud of us. We prepared for three years before competing so it's even more special. Giorgio is a special athlete and person, so I'm so honored to train and compete with him."
Sato Tomoka and Yotaro won Japan's first silver medal in the mixed duet with a score of 86.5939 for their "Tarzan" routine. That music and theme was actually used in the free event in 2019 by the country's former senior pair, and had won them the bronze.
"It is such an important medal that I cannot express it in words," Tomoka said. "I want to show it to our parents as soon as possible. I felt that there was more audience than in the preliminaries, and I was nervous before the performance but I really enjoyed it." 
This is the sibling's first World Championships and first season together, so the future is clearly extremely bright for them.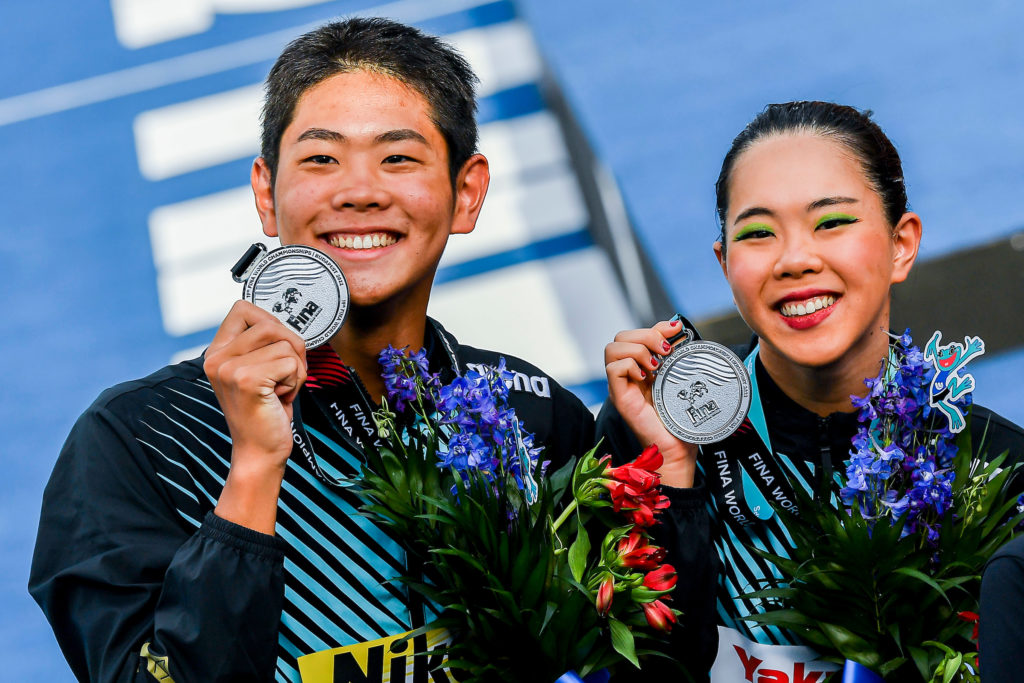 "I'm happy we are able to work together but I was worried whether I could keep up with my sister," Yotaro, 17, continued. "I wanted us to go to Worlds together, win a medal, and bring back a good color. It's not the top one, but I'm very happy." 
China's Shi Haoyu and Zhang Yiyao won the country's first medal in the mixed duet with their "Dragons" routine. This is already Shi's third World Championships after debuting in the event in 2017 at the age of 15. Additionally, the two had competed together previously at the 2018 FINA World Junior Championships, but this was their first Worlds together. 
In the preliminaries, the Chinese were a full point behind the Japanese, and actually were in a dangerous spot as Spain was only 0.4523 points behind. However, they had a stellar swim in the final giving it their all in their non-stop, fast and precise choreography. They scored 86.4425, nearly two points better than in preliminaries, and finished only 0.1514 points behind Japan.
Emma Garcia and Pau Ribes from Spain were indeed very much in the hunt for the bronze after the preliminaries. They felt satisfied with their swim, although still admitted there were mistakes to be fixed.
They swam last in the final. Obviously, they knew they would have to be flawless if they hoped to catch the Chinese for the bronze. Unfortunately, a pretty big error in the final hybrid took them out of contention, and left them feeling incredibly disappointed.
"I want to get rid of my anger," Ribes said afterwards. "We had to play our cards right and I failed. We are humans, not machines, but I feel very down because of the final mistake. It's not because of missing the medal; it's really because of failing."
"We have to learn from this and channel our anger towards the free duet," Garcia continued. "And get rid of this thorn in our side. We all make mistakes, but we gave it our all."
Claudia Coletti and Kenneth Gaudet from the U.S. finished in fifth place with their "Venom" routine and with a new personal best score of 82.8966. Like the Japanese, this was their first World Championships and season together.
Colombia's Jennifer Cerquera and Gustavo Sanchez also had a great showing in the technical event and scored 81.2272, their highest score ever. While Cerquera has been competing on the international stage for 11 years already, Sanchez only really got started four years ago. The two have been together since 2018, and were ecstatic to score above 80 points in the technical event for the first time. 
Eduard Kim and Zhaklin Yakimova represented Kazakhstan and scored 79.2599 for their "Chicago" routine, also a new high score for the country in this event. This was their first senior World Championships as well, although they are the reigning World Youth Champions.
Mexico entered the mixed duet event for the first time at a major senior international meet. Joel Benavides Lepe and Trinidad Meza scored 77.5890 for their "Bella Ciao" routine. Their energy throughout was contagious, and both were absolutely thrilled to be at these World Championships.
"Wooooooooooooooh!" Joel said smiling, fist-pumping, and bouncing up and down. "We are very happy because we gave it our all!"
"Very happy," Trinidad continued, smiling. "We aren't doing the free duet, but the truth is I am very glad that we represented Mexico for the first time at the World Championships. I am even more glad I got to do it by Joel's side."
Brazil was represented by the new pair of Fabiano Ferreira and Gabriela Regly. They scored 74.8994. While both have previous international competitive experience, this was their first competition together. Their acrobatics were true highlights as Regly reaches incredible height above the water. They swam to a routine with rhythms and music inspired by xaxado, a popular dance from the northeast region of Brazil. 
Slovakia's pair wasn't too far behind the Brazilians. Jozef Solymosy and Silvia Solymosyova made both their season and World Championships debuts. They ranked 10th with a score of 73.2881 for their "Dark Angel" routine. 
It was also a first World experience for Thailand's Kantinan Adisaisiributr and Voranan Toomchay, who swam to "Welcome to the Jungle" by Guns N' Roses. The pair scored 67.3477 in the final, a two-point improvement from preliminaries. 
Adisaisiributr is only 15 and started artistic swimming in October 2019. Due to the pandemic, he never had the chance to compete until this season. Head coach Claudia Tapparelli was particularly thrilled that her athletes had made it this far, and had qualified to a World Championships final. 
"We are happy with the scores and that we made finals," she said. "This is the first time in history that Thailand really qualifies for a final since there are more than 12 countries now. I am very proud of them."
Much like Mexico's pair, the pure joy and energy emanating from Puerto Rico's was contagious. Javier Ruisanchez and Nicolle Torrens gave it their all in their "Belly Dance" choreography and were overjoyed to make it to the final as well. The two have competed extensively on the World Series circuit this season before coming to Budapest for their first World Championships. 
"Having done the World Series was beyond helpful," they said. "We were excited to just go out there and perform. No matter what, we knew we just wanted to have fun regardless of the results. We took it one element at a time and enjoyed every second of the routine. It felt phenomenal. Honestly, it all hasn't sunk in, and it doesn't feel real yet. It is such a door opener for Puerto Rico and those who will come after us."
Cuba was sadly the nation to miss out on the finals, as Andy Manuel Avila Gonzalez and Carelys Valdes scored 62.6229 in the preliminary with their routine set to "Toxic" by Britney Spears.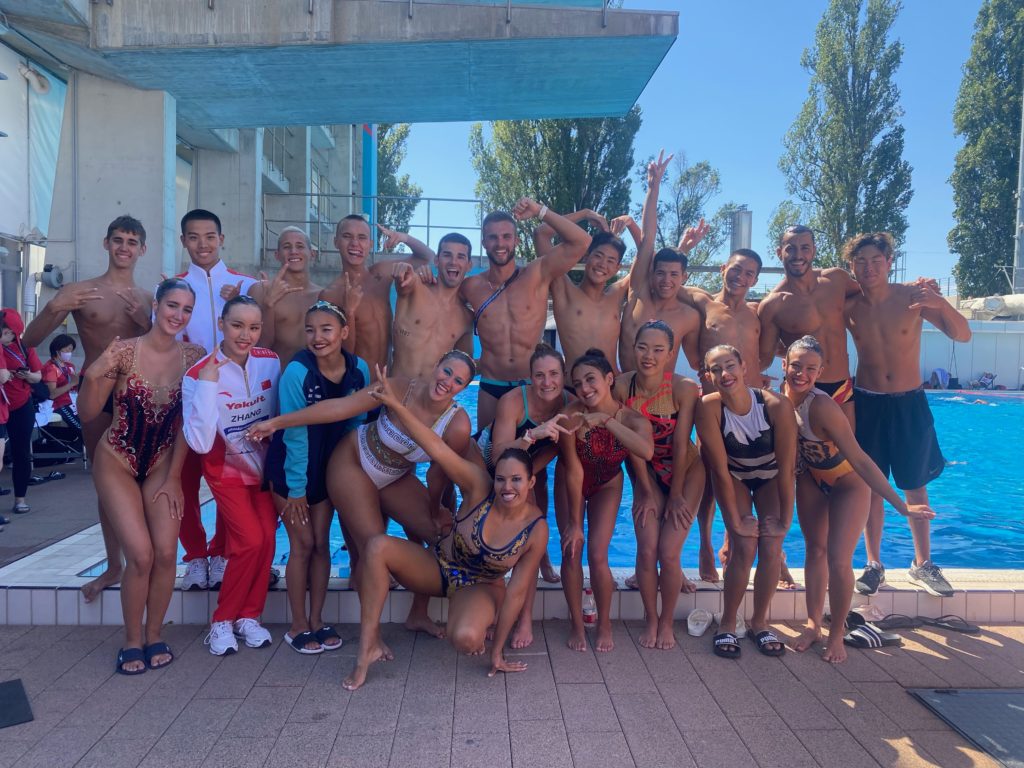 FREE MIXED DUET 
After the preliminary rounds, Italy seemed poised to grab the free mixed duet title as well after scoring 90.5000. In the final on Saturday, June 25, Giorgio Minisini and Lucrezia Ruggiero were indeed undeniable once again. They swam to their new choreography set to "Beggin'" by Måneskin and ended with a 90.9667.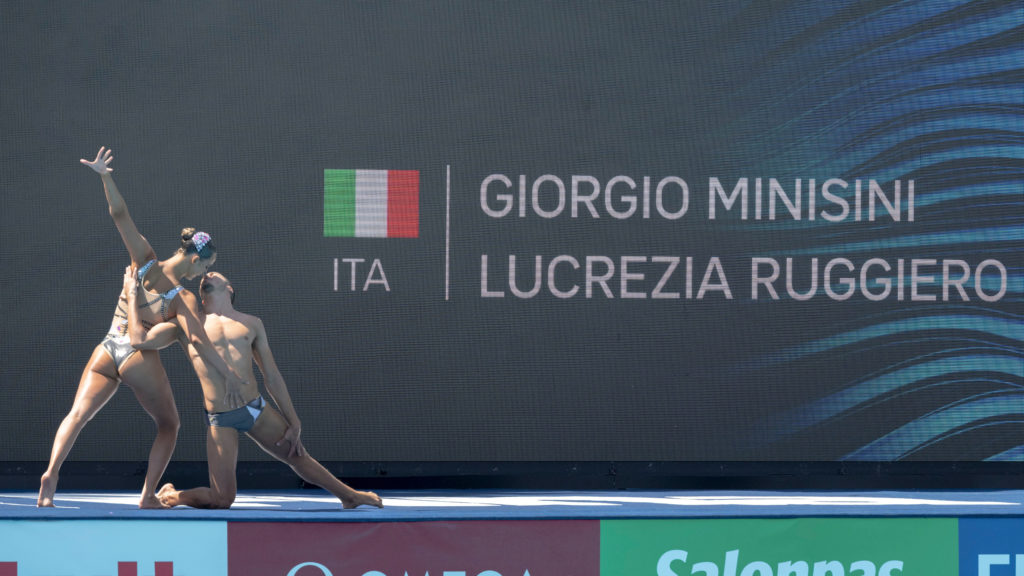 The pair was eagerly waiting for these championships, as they essentially had not swam on a major international stage together yet. They did compete once last year in the World Series Super Final in Barcelona, which was overall a bit overshadowed by the Olympic Qualification Tournament happening concurrently.
"It was really a pleasure to swim today," Minisini said. "In Barcelona, we were coming after missing one month of training due to Covid-19, so that was more a test than a competition for us. We wanted to see how it was to swim together outside of Italy, and we basically couldn't wait anymore (laughs). So yes, this is our first serious, major competition. We prepared a lot, and I have to say that I never felt more ready."
Of course, Minisini also never loses sight of the bigger picture. While he is ecstatic about his two additional World titles, he was even more thrilled to see the field of mixed duets continue to grow.
"These are the Worlds with the greatest number of participants so I just want to say thanks to all the pairs that have swum here," he said. "We are showing the IOC that mixed duets in artistic swimming are ready to boost the popularity of our sport at the Olympics. At the same time, we also bring a message of inclusion and equity."
Siblings Sato Tomoka and Yotaro earned a second silver for Japan with a score of 89.7333 for their "Samurai" routine. Yotaro admitted that winning two silver medals was not only unforgettable, but also gave them both confidence for the future. The season is not quite over for him as he will next compete at the FINA World Junior Championships in August, albeit with a different partner.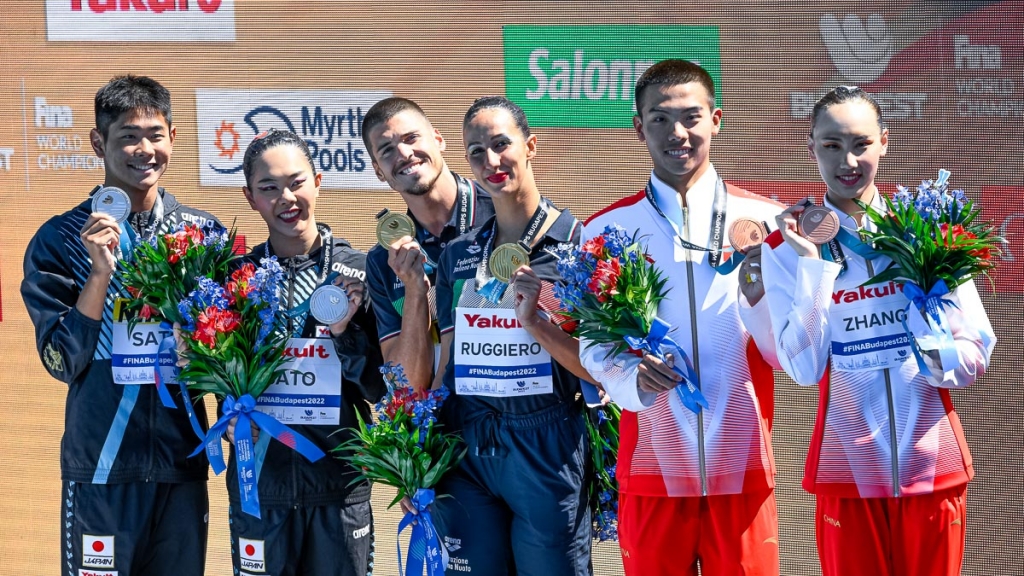 China's Shi Haoyu and Zhang Yiyao again won bronze with 88.4000, nearly three points better than at the last World Championships in 2019. Their routine was all about "Swordsmen." They played the roles of two Kung Fu masters with Chinese-style movements, and tried to demonstrate the inner content of Chinese culture.
"This is the first time that I stood on the podium at a World Championships," Zhang said. "We were here to learn from other top swimmers. We didn't try to compete with or aim to surpass others. All we wanted was to show the best level we were capable of."
Emma Garcia and Pau Ribes from Spain swam their "Cats" routine, and settled for fourth place once more with a new high score of 87.1333. While the podium seemed unattainable already after preliminaries, they really wanted to do their best and be happy with their performance.
"Today, we swam enjoying it all and feeling strong," Garcia said. "We were really excited to show the best version of ourselves, and get rid of the bad end and emotions from the technical final. We fought until the end and "meowed" it."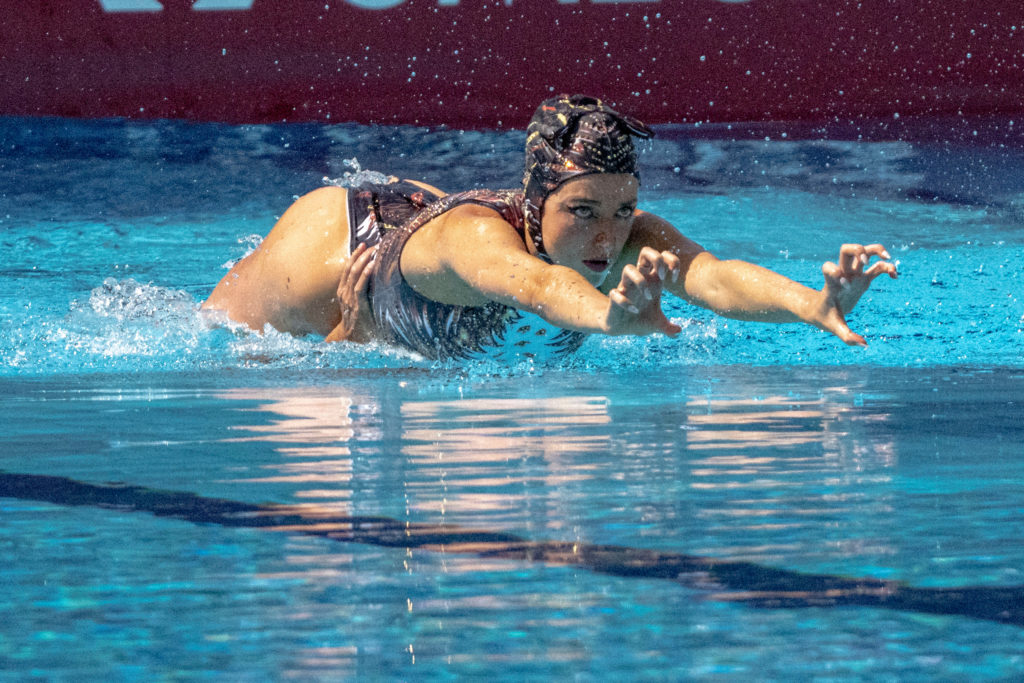 Of note, Ribes and Minisini are both tremendously experienced. They are the only men in this field to have competed in all four World Championships since the inclusion of mixed duets in 2015.
Again in fifth place were Claudia Coletti and Kenneth Gaudet, who had one of their best swims to record a season-best of 85.2000. It is fantastic to see the U.S. continue to be compete in this event following the retirement of World Champion and three-time World champion Bill May. 
Gaudet, who only joined the national team this year, has already significantly and visibly improved throughout the season, and his potential seems limitless. Ultimately, he hopes to follow in May's footsteps and to also write his name in the record books.
"It really feels like I'm starting a new legacy," he said. "I get to really show other people that it's a great sport for men. I'm just glad to have such an inspiration that was before me that I can look up to and ask for help. It's truly an honor to be the U.S. guy now."
Colombia's Jennifer Cerquera and Gustavo Sanchez also had a tremendous showing in Budapest, recording a new career-best score of 83.0667 in this final as well.
"This World Championship has meant a lot to us," Sanchez said. "It is our second one together and we came into it a little more confident. Since we have been swimming together for four years, that created a bond that is reflected in the water. We passed the 80 points barrier in technical and again in free, which is something historic for our country. We are very happy about the progress we have made. Yes, we know that we have a lot to improve. But we also know that we have to do it and we want to do it."
Performing their "Aladdin" routine, Eduard Kim and Zhaklin Yakimova from Kazakhstan ranked seventh with 82.3000, also a new career-high score. Respectively 16 and 17 years old, the two are still eligible for junior events this year and may compete at the World Junior Championships.
Brazil's Fabiano Ferreira and Gabriela Regly ranked eighth with a score of 78.7667 for their "Dracula" routine. Although this is only their first year together, they were particularly thrilled to be amongst this record number of mixed duets.
"I am very happy to be part of the history of mixed duets in a World Championship," Regly said. "With each dive and each mixed duet competition, the hope of adding mixed duets in the Olympics is growing."
The two will be back competing in the fall at the South American Games in Paraguay, where they aim to medal.
Slovakia's siblings Jozef Solymosy and Silvia Solymosyova finished ninth with a 75.1000 for their "Don Quixote" routine. While Silvia is now enjoying a short break before the senior Europeans in Rome, Jozef is headed to Spain for the junior Europeans where he will swim in the mixed duet with a different partner.
Thailand's Kantinan Adisaisiributr and Voranan Toomchay qualified to the final once more and finished 10th with a score of 68.1333. Javier Ruisanchez and Nicolle Torrens from Puerto Rico wrapped up their season with a score of 65.7000 and a final ranking of 11th.
The last finalists of the free event were Cuba's Andy Manuel Avila Gonzalez and Carelys Valdes. They swam to "I Will Survive" by Gloria Gaynor and scored ​​64.6333. This was also their first World Championships together, and hopefully the first of many.
The sole pair to miss out on the final was South Africa. Nonetheless, Laura Strugnell and Ayrton Sweeney undoubtedly brought the party to the pool during their preliminaries swim. In between showcasing incredible acrobatics, they clearly had a blast through it all.
Strugnell is a 2020 Olympian, but Sweeney started artistic swimming back in February after a competitive career in speed swimming. They have hence been swimming together for only five months.
"We are so excited," Strugnell said. "It was the most amazing experience for both of us and I think we really just had a party out there. We are excited that we were able to bring back the love and spirit for the sport. We understand that it can get very intense, but it's important to also remember that we do this because we love it and it's fun."
ARTICLE BY CHRISTINA MARMET
Cover photo: Giorgio Scala /  Deepbluemedia
If you've enjoyed our coverage, please consider donating to Inside Synchro! Any amount helps us run the site and travel costs to cover meets during the season.